Chimichurri Sauce Recipe
By Amy Dong
Published Mar. 26, 2019
Updated Aug. 17, 2022
This traditional, versatile chimichurri sauce is SO easy and flavorful. Make it ahead of time and serve it over grilled steak, chicken, or seafood. No food processor is needed to make this delicious sauce. Just toss and enjoy.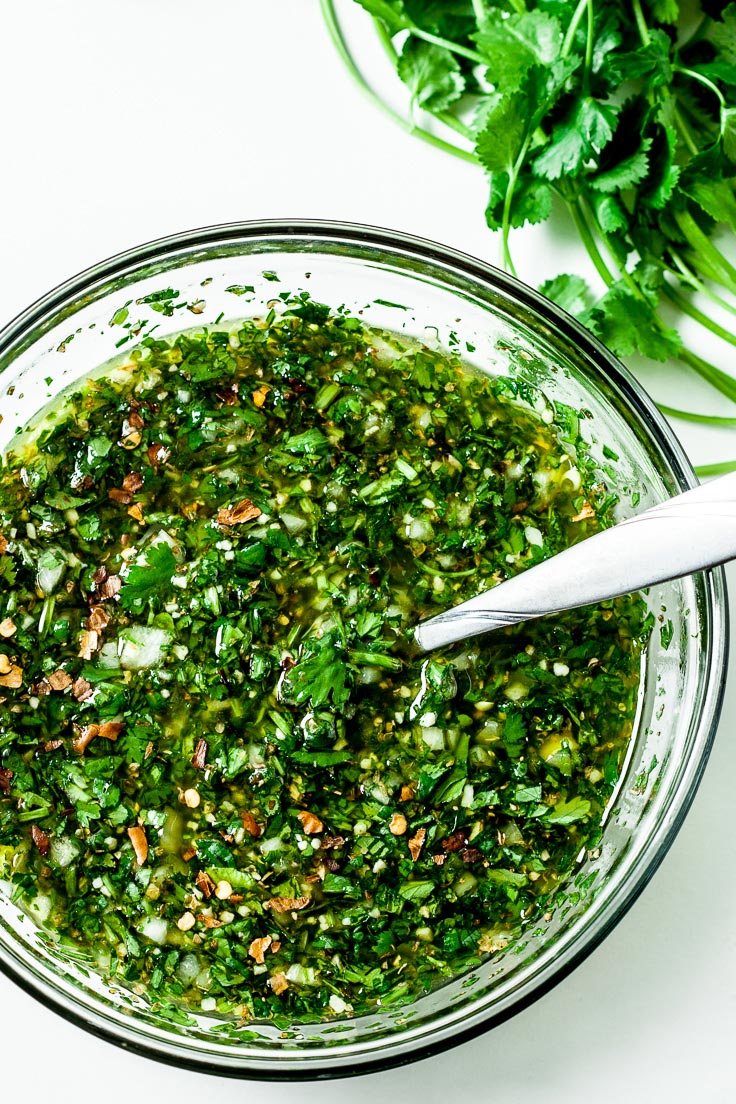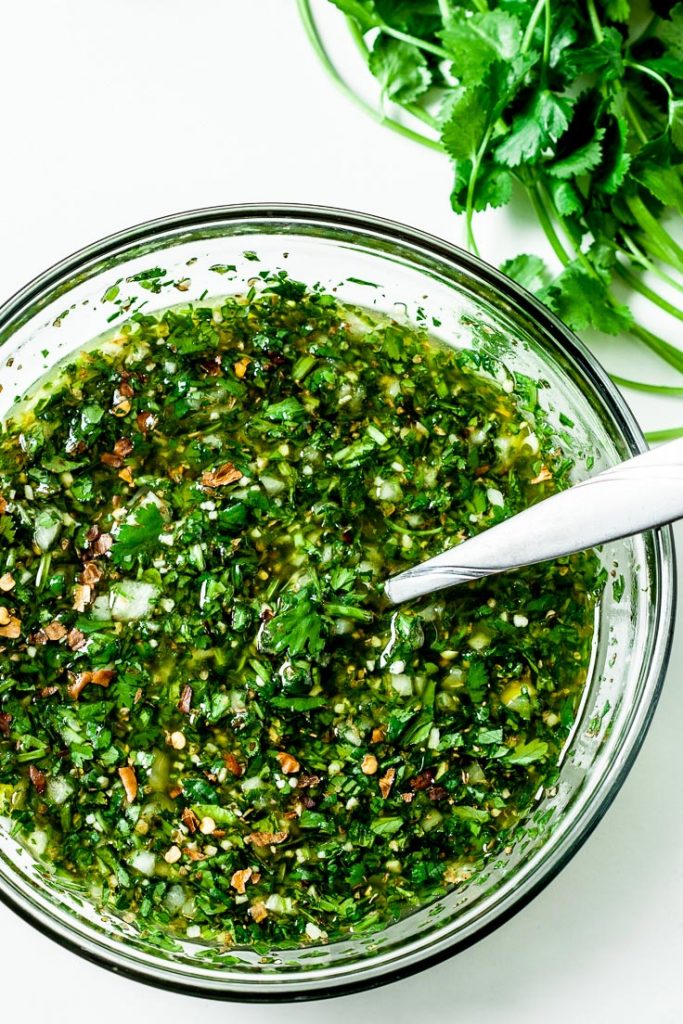 Chimichurri Sauce
If you're familiar with chimichurri sauce, then you know all about its genius attributes. If you haven't tried refreshing chimichurri sauce before, you're in for a delectable treat today.
First of all, chimichurri is ridiculously fun to say out loud. My peeps have to shush me because once I get started, I can't stop. Feel free to try repeating it aloud and have fun with it, but please don't be mad at me if people start giving you the eye.
Secondly, this chimicurri sauce recipe is unbelievably easy to make. This recipe requires zero cooking or blending. That's right; you won't even need to pull out that food processor for this one. It comes together super fast, it keeps well, and it tastes incredible over grilled steak, chicken, or seafood.
Make a batch of healthy chimichurri sauce to use as a tasty marinade or as a beautiful spoon-over sauce…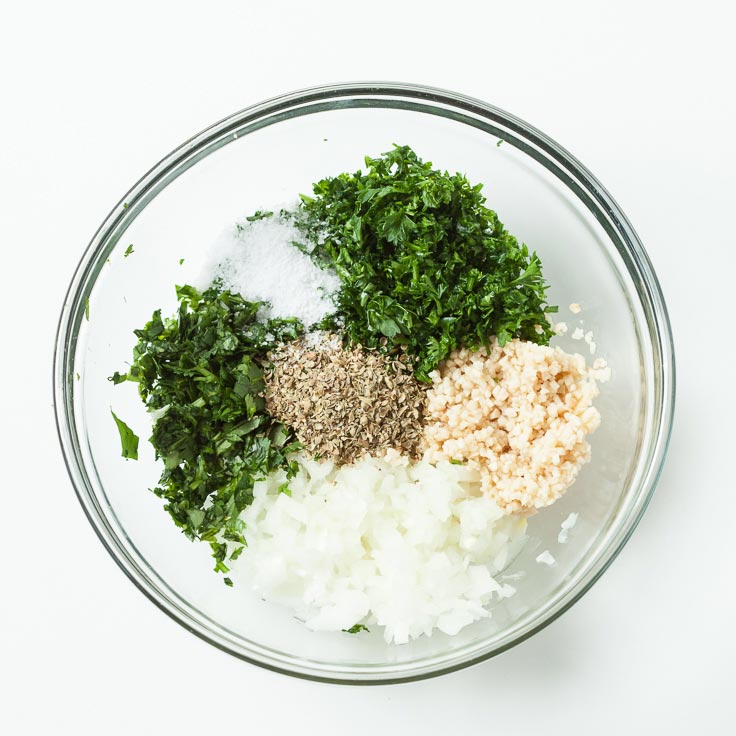 What ingredients do I need for this chimichurri sauce recipe?
Plenty of freshly chopped garlic and onion are called for, which melds deliciously into this sauce.
Many recipes use parsley as the only fresh green herb, but we're serious cilantro fanatics, so we use both. Feel free to stick with just parsley if you're not into cilantro.
Good quality extra virgin olive oil helps to bind the sauce together.
Dried crushed red pepper provides a zippy kick. You can seed/chop a fresh chili pepper, if you prefer.
Dried or freshly chopped oregano works fabulously in this sauce.
Red wine vinegar lends that wonderfully tangy flavor.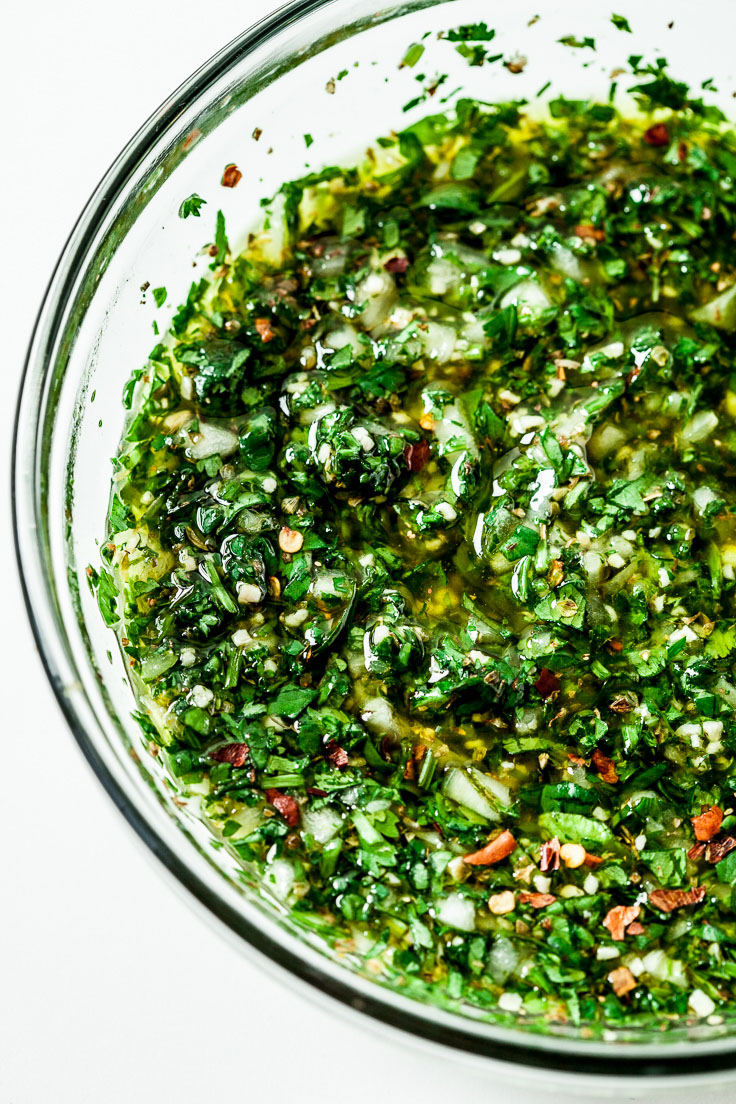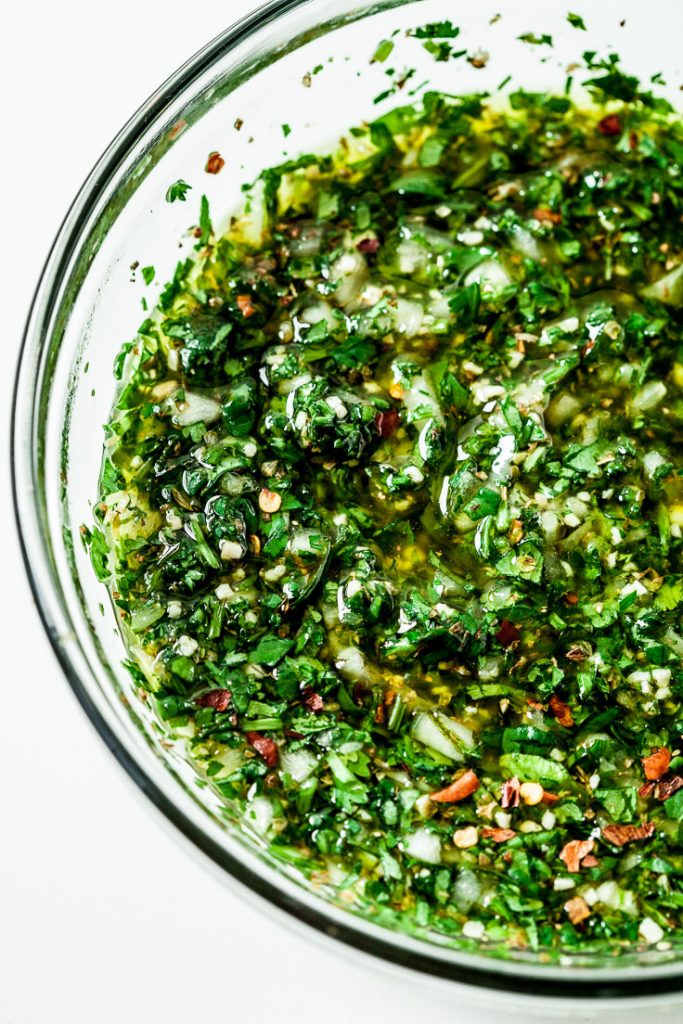 What are some ways to serve Chimichurri?
This is the fun part. Anything goes, so let your imagination soar. We love chimichurri sauce paired with a myriad of dishes!
Traditionally, chimichurri sauce is generously spooned over luscious grilled steak. The steaks can be marinated in some chimichurri sauce for a few hours before grilling for extra flavor, as an option. If you use it as a marinade, be sure to have extra chimichurri to generously drizzle on the finished dish.
Chimichurri sauce is delicious over Grilled Chicken, Fish, and Shrimp. It would be beautiful over any variety of grilled foods, including grilled vegetables.
I sometimes toss chimichurri sauce over my grilled chicken salads for an ultra tasty twist. So. Good.
Chimichurri Sauce
Commonly Asked Questions
What does Chimichurri Sauce taste like?
Chimichurri sauce is the quintessential "everything sauce." Its flavor profile is tangy, savory, slightly spicy, and herb-mixed. It's refreshing and simple to toss over a myriad of meals.
Is chimichurri basically the same as pesto?
While pesto sauce tends to be basil-heavy, chimichurri indulges cilantro and parsley. Both sauces display a tangy balance, with chimichurri also showcasing a spicy kick.
What culture or nationality does chimichurri come from?
Chimichurri was originally popular in Argentina and Uruguay, but has become popular worldwide, as it's fresh, flexible, and pairs well with a plethora of cuisines and dishes.
What goes well with chimichurri?
Chimichurri sauce is not only fabulous as a marinade for chicken or beef, but it's also amazing as a garnish for grilled meats and seafood.
---
Did you make this?
Please give us a rating and comment below. We love hearing from you!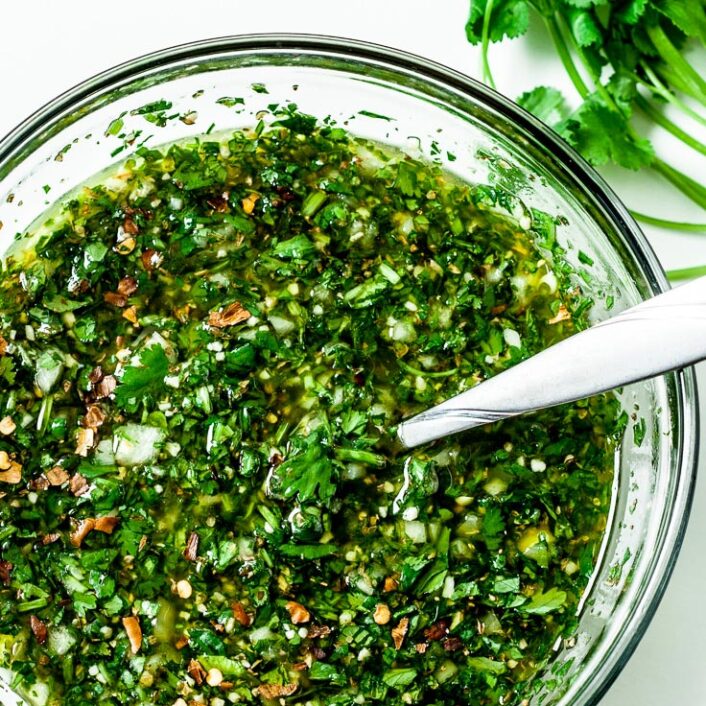 Chimichurri Sauce Recipe
This traditional, versatile chimichurri sauce is SO easy and flavorful. Make it ahead of time and serve it over grilled steak, chicken, or seafood. No cooking or blending is needed to make this delicious sauce.
Ingredients
½

cup

extra virgin olive oil

½

cup

red wine vinegar

½

cup

finely chopped cilantro

⅓

cup

finely chopped parsley

¼

cup

finely chopped onion

5

garlic cloves,

peeled and minced

1

TB

fresh or dried oregano

1 ½

tsp

kosher salt,

not fine table salt

¼

tsp

crushed red pepper
Instructions
Combine: In a bowl, combine all ingredients and toss well. Let sit at least 10 minutes for flavors to meld.

Cover and Chill:

If making ahead of time, cover tightly and chill until ready to use. Generously spoon over

grilled steak

, chicken, or seafood.
Notes
Leftover sauce can be kept covered and chilled for several days.
Try this tender, juicy Steaks with this Chimichurri Sauce.
Recipe makes 6-8 servings of garnish for drizzling over steaks, chicken, or seafood.
If you enjoyed this recipe, please come back and give it a rating ♡
Nutrition (per serving)
Calories:
129
kcal
|
Carbohydrates:
1.4
g
|
Protein:
0.3
g
|
Fat:
14
g
|
Saturated Fat:
2
g
|
Sodium:
236.1
mg
|
Fiber:
0.3
g
|
Sugar:
0.3
g
No-cook sauces
3-Minute Magic Honey Mustard Sauce (+ Best Ways to Use up Your Mustard)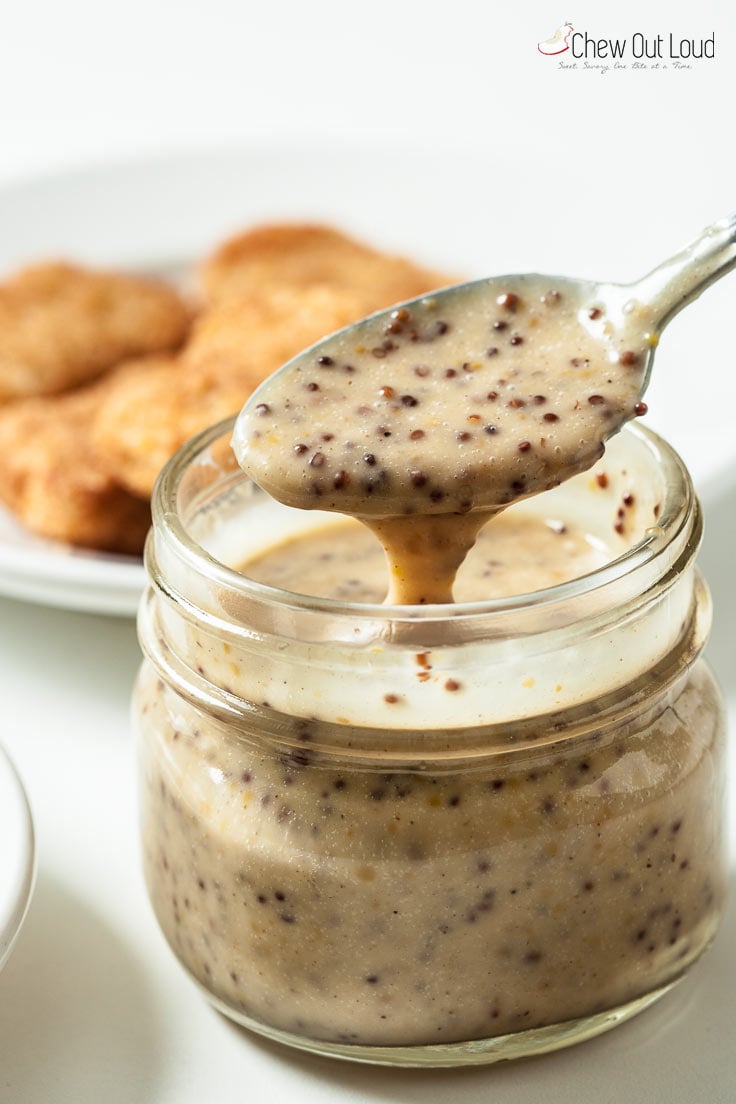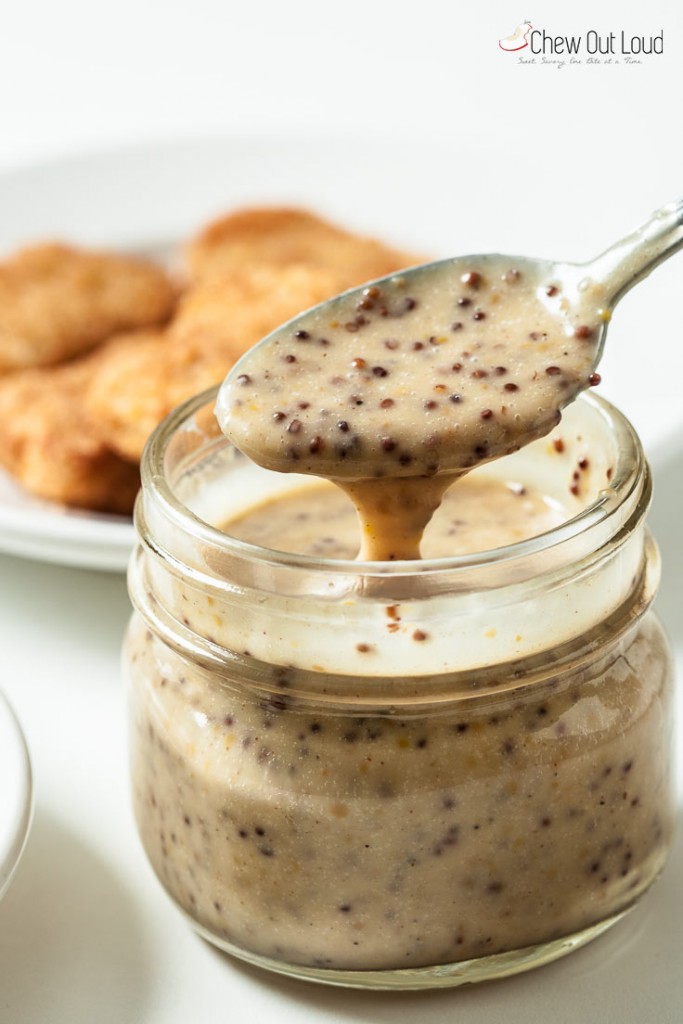 Easy Tahini Sauce Dip (Whole30, Paleo)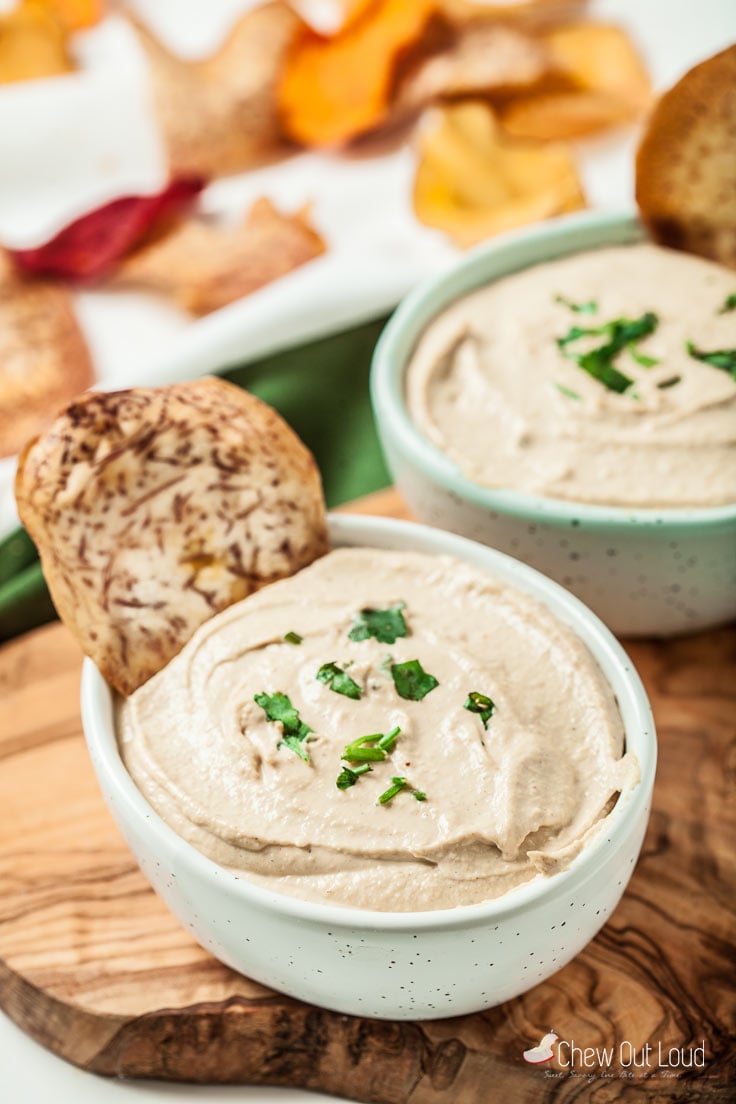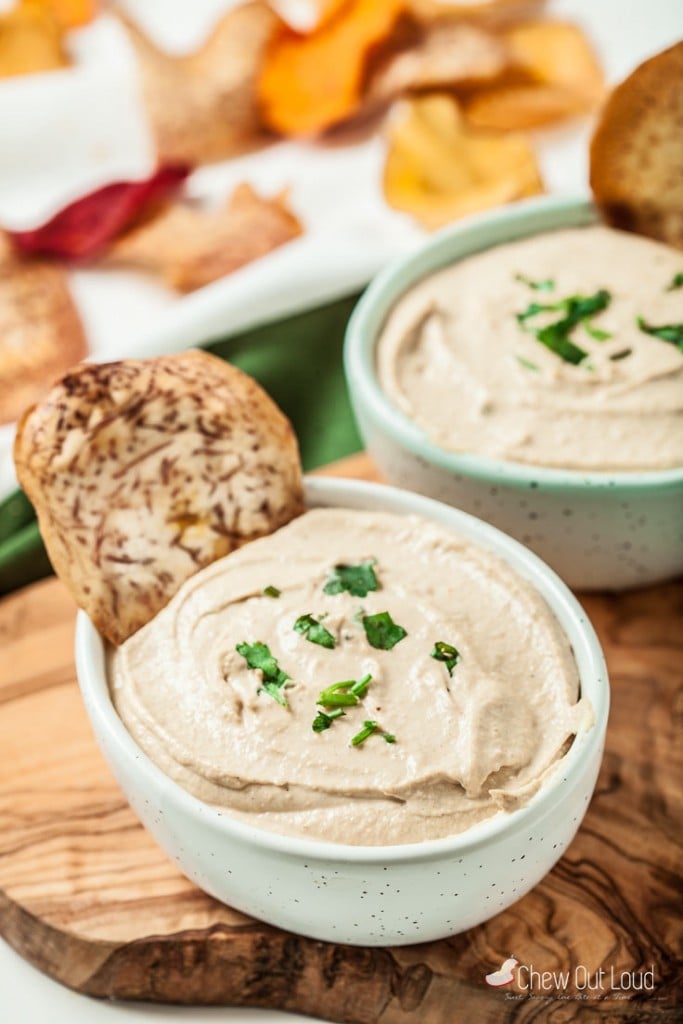 No-Cook Tomato Garlic Sauce (With Pasta)