Basil 'n Lemon Pesto
By Amy Dong
Published Oct. 10, 2012
Updated Sep. 27, 2023
My beloved basil plants have just completed their season here. If you're lucky enough to grow herbs in a climate where it's still warm, you're probably not seeing the sad demise of your plants. Alas, mine are pretty much seeing the end of their days. I salvaged what was left of my basil plants, brought them indoors, and stuck them in water until I could figure out what to do with them. I thought about blanching and freezing the leaves. Or drying them for future use. In the end, I decided to whip up a batch of pesto, which I know will keep in the fridge awhile and comes in handy for all those weeknight meals.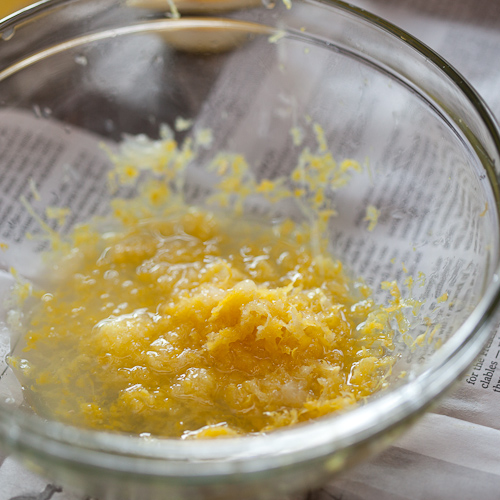 We usually have fresh lemons around, so we make lemon-basil pesto. It is so refreshing, and gives the pesto that perfect lemony tang. If you prefer plain basil pesto, just omit the lemon.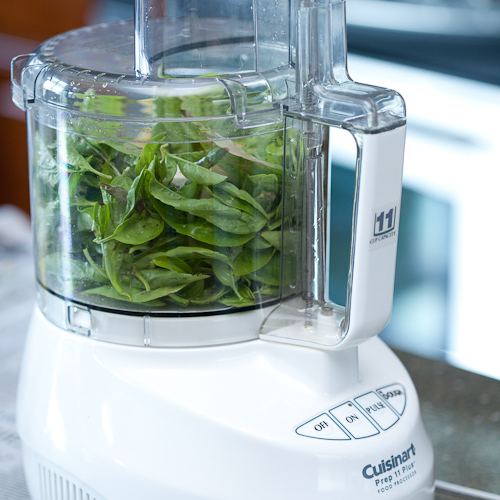 Pack in those basil leaves. Goodbye, garden, until next spring!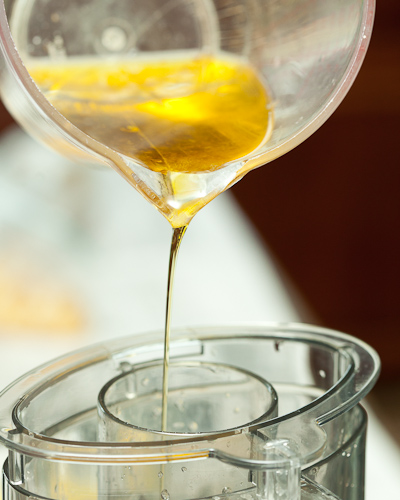 Of course, good extra virgin olive oil.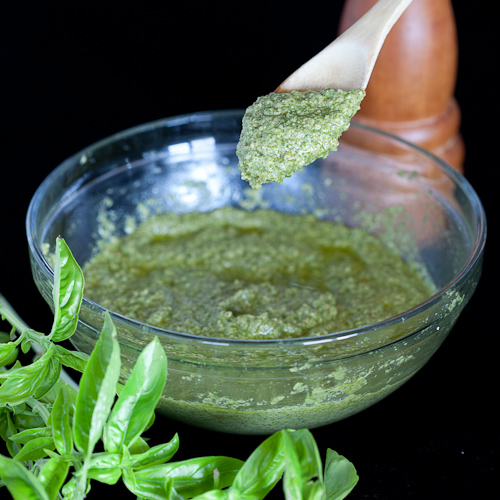 Voila! That's it! Now we've got a nice reserve of beautiful pesto, ready to go when needed.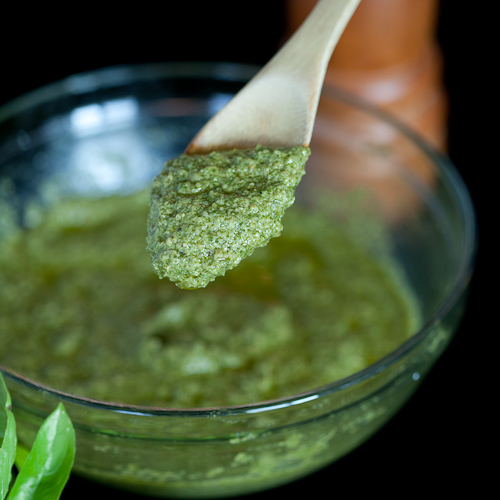 Pesto is awesome in so many pasta and chicken dishes. It's supposed to be good in some fish recipes, too. I used to avoid pesto, for some reason. I suppose I thought it was greasy…probably from less-than-ideal restaurant experiences. What a difference when you make it yourself! Pesto is actually pretty healthy when I get to put in my own fresh ingredients.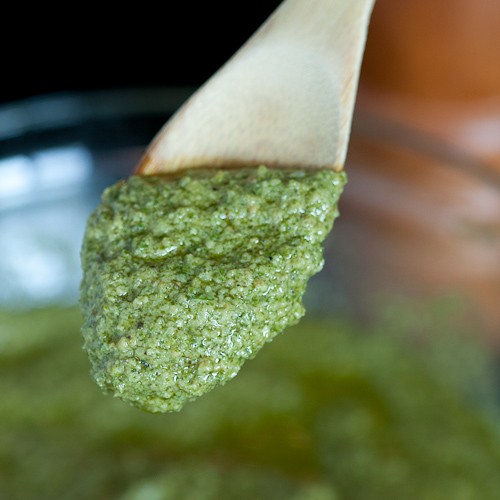 No need to ever buy jarred pesto sauce. A little goes a long way, and this keeps nicely in fridge awhile. I am generous with the salt in my pesto, because once it marries with all that pasta, the richness of the sauce thins out and becomes lighter.
The great thing about pesto is how versatile and flexible it is. If you don't want to use pine nuts, other nuts can often work nicely. Sunflower seeds are a decent alternative, if you're allergic to nuts. You can make it more or less garlicky, depending on how much close social contact you're expecting to have in the next 24 hours 😉 If you'd like the color to be greener, simply add some flat leaf parsley to the mix.
Here's our favorite basic (and easy!) pesto recipe. Enjoy!
Did you make this?
Please give us a rating and comment below. We love hearing from you!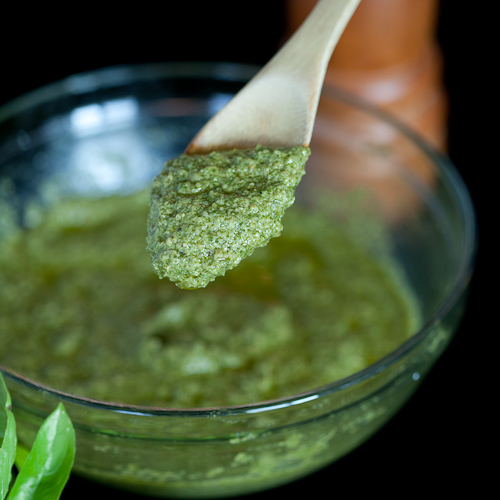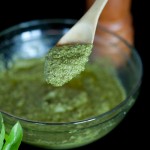 Basil 'n Lemon Pesto
Make this easy lemon-basil pesto. It is so refreshing, and the fresh gives the pesto that perfect lemony tang. You can also make it without the lemon.
Ingredients
2

cups

fresh basil leaves

,

packed

3-5

cloves

garlic

,

peeled

¼

cup

pine nuts

½

cup

good extra virgin olive oil

zest and juice of 1 small lemon

,

or half of a large lemon

kosher salt to taste

freshly ground pepper to taste

¾

cup

freshly grated parmesan cheese

,

only add upon serving
Instructions
Put basil, garlic, and nuts in food processor and pulse several times until chopped. Add olive oil and lemon zest with juice. Process until smooth and well blended. Transfer pesto to large bowl and season with kosher salt and fresh pepper, to taste.

If using immediately, add in Parmesan cheese and mix together well.

If saving for future use, just transfer pesto to airtight container (if desired, divide into 2 separate containers) and drizzle with bit of oil on top or place cling wrap directly on pesto to seal out air. Simply thaw and mix in the Parmesan cheese when you want to serve it up!
Nutrition (per serving)
Calories:
188
kcal
|
Carbohydrates:
2
g
|
Protein:
4
g
|
Fat:
19
g
|
Saturated Fat:
4
g
|
Polyunsaturated Fat:
3
g
|
Monounsaturated Fat:
11
g
|
Cholesterol:
6
mg
|
Sodium:
151
mg
|
Potassium:
58
mg
|
Fiber:
0.3
g
|
Sugar:
0.3
g
|
Vitamin A:
391
IU
|
Vitamin C:
2
mg
|
Calcium:
125
mg
|
Iron:
1
mg