How to Cook Steak Perfectly
Take the guesswork out of cooking your favorite types of steaks. We're sharing our best tips for ensuring a perfectly cooked steak every time.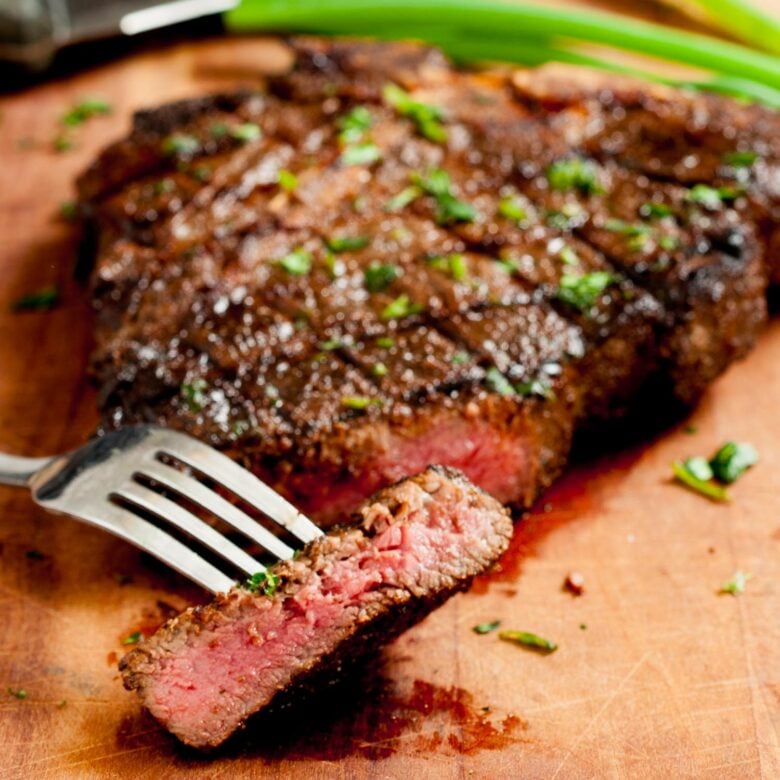 Video: Steak with Chimichurri Sauce
Buying the Perfect Steak
A perfectly cooked steak begins with buying the perfect cuts of steak. Be sure you're buying fresh, high-quality meat. The quality will largely determine the texture, tenderness, and flavor. We highly recommend ribeye steaks or tenderloin steaks for their tenderness. Ribeye steaks have more marbled fat, which produces a tender steak with great flavor. New York steaks are a nice choice as well; they're leaner, so they'll be a bit less tender than ribeyes, but still with wonderful flavor.
Generally, the thicker the steak, the easier it is to cook evenly. We recommend steaks that are at least 1″ thick throughout. If steaks are thinner, they'll need much less cook time, and tend to over-cook easily.
Meat labeled Prime by the USDA is the best option, though it can be hard to find.
Choice is the next best option, as it has a decent amount of fat marbling, which helps with tenderness and flavor.
Select is a lower grade quality meat, as it's less tender and juicy, due to less marbling.
How to Cook Steaks Perfectly
By perfect, we are referring to the most popular medium-rare preferred by so many. It's just the right balance between rare and too-done. Medium-rare steaks provide a nice amount of juiciness and tenderness, while still allow you to enjoy a hot-temperature steak. That being said, do adjust the cook time to your preference.
Start out with steaks that are at least 1-inch thick and even thickness throughout. This allows the steaks to brown nicely on the outside without overcooking the inside, as well as cooking evenly throughout.
Use steaks that are fresh and chilled in fridge. Chilled meat is easier to char on the exterior without overcooking the center.
Be sure your indoor or outdoor grill is hot, hot, hot! Be generous with greasing the grill and get it smoking hot before placing steaks on grill. This helps to ensure the exterior gets a nice sizzle and great grill lines.
If cooking steaks on the indoor, on the stovetop, use a cast iron grill pan – it makes a significant difference.
Do not poke the steaks with a thermometer or cut through with a knife while they're cooking; even though internal temp is key, if you repeatedly poke meat while cooking, the precious juices will escape from your steaks.
Instead, use a meat thermometer that has a probe you can keep lodged in the center of steak while it's cooking.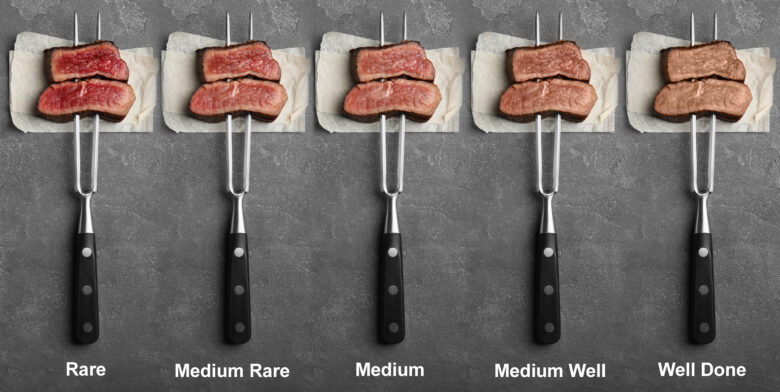 How to do the Press Test
We use the "press test" which admittedly takes a bit of practice, but once you have it down, you'll forever be cooking perfect steaks, without guess work.
Cook the first side for 3 minutes, without moving the steak around. Flip to the second side for another 2 minutes, again leaving it in place.
Then carefully press the center of the steak with your finger or utensil. If it feels quite soft and has a lot of "give," it's more towards rare. If it feels rather firm without much give, it's over-cooked.
A medium-rare steak will feel like a "loose fist" — if you form a loose fist with your left hand, when you tap down on the fleshy center of that fist (spot next to thumb) it should have some give, but bounce right back. Medium-rare steaks have that same bounce-back feeling.
Your first steak or two might be a bit of trial and error, but once you get the feel for it, you'll be cooking perfectly medium rare steaks without relying on a thermometer at all.
Alway let your finished steaks rest on the cutting board for 5 minutes before cutting into them. This allows the juices to be retained in the steaks.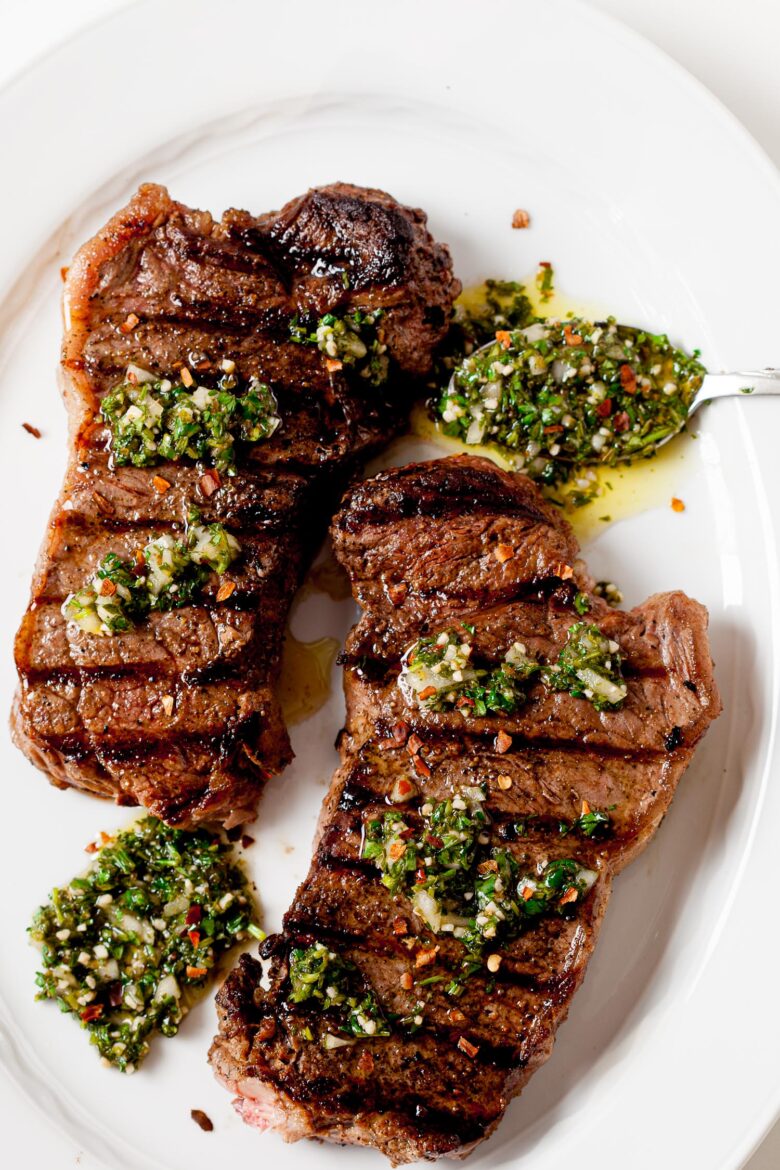 Steak Temperature Guide
If you'd like to use a meat thermometer to ensure accurate cooking, here are the appropriate temperatures. Keep in mind that meat will continue to rise in temperature, so you can take steaks off the grill a few degrees prior to these temperatures.
Rare: Internal temperature: 120-130°F
Medium Rare: Internal temperature: 130-135°F
Medium: Internal temperature: 135-145°F
Medium Well: Internal temperature: 145-155°F
Well Done: Internal temperature: 155-165°F
Delicious Beef Recipes
Commonly Asked Questions
What are the different cuts of steak?
There are many cuts of steak, including ribeye, filet mignon, New York strip, sirloin, T-bone, and porterhouse, among others. Each cut comes from a different part of the cow and has its own unique flavor, tenderness, and characteristics.
Should I marinate my steak?
Marinating steak can enhance its flavor and tenderness. Acidic marinades (using ingredients like vinegar or citrus) can help tenderize the meat, while other ingredients add flavor. Marinating times can vary from a few hours to overnight, depending on the cut and the recipe.
Do I need to rest a steak after cooking?
Yes, letting the steak rest after cooking is important. This allows the juices to redistribute throughout the meat, making it juicier and more flavorful. Resting for around 5-10 minutes under a tented foil is recommended.
What's the difference between dry-aged and wet-aged steaks?
Dry-aged steaks are aged in a controlled environment with controlled humidity for an extended period, resulting in enhanced flavor and tenderness due to moisture loss. Wet-aged steaks are aged in vacuum-sealed packaging, preserving their moisture content but still allowing for some aging-related changes.
What's the difference between grass-fed and grain-fed beef?
Grass-fed beef comes from cattle that primarily graze on grass and forage. This can result in a leaner meat with a slightly tougher texture due to less fat. Grain-fed beef comes from cattle that are raised on a diet of grains, which can contribute to more marbling and a different taste and texture.
Did you make this?
Please give us a rating and comment below. We love hearing from you!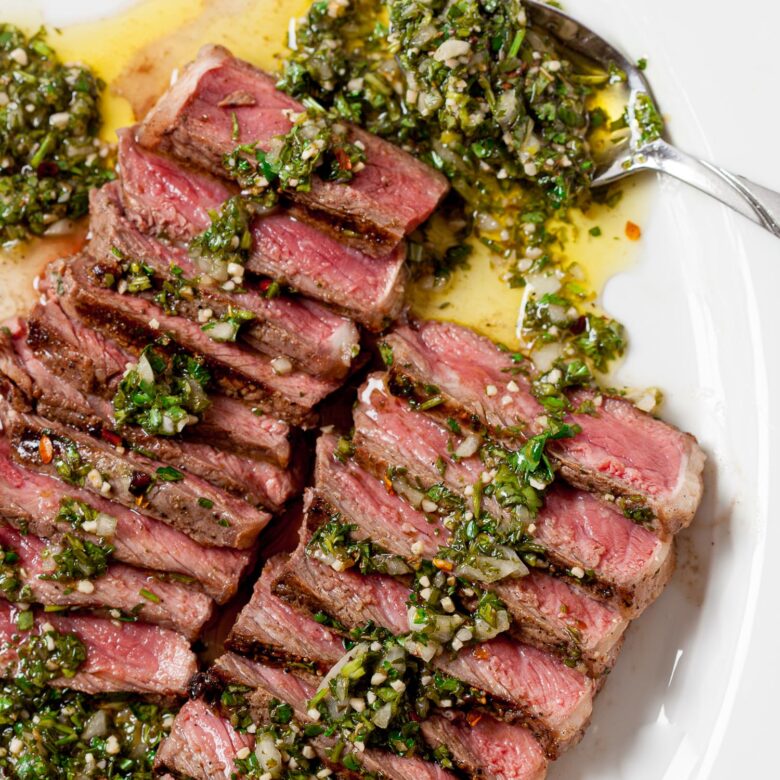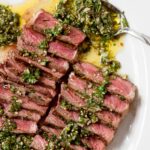 How to Cook Steak Perfectly | Recipe
This steak with chimichurri sauce recipe is cooked perfectly medium-rare and has loads of flavor.
Ingredients
For Sauce:
½

cup

extra virgin olive oil

½

cup

red wine vinegar

½

cup

finely chopped cilantro

⅓

cup

finely chopped parsley

¼

cup

finely chopped onion

5

garlic cloves

,

peeled and minced

1

TB

fresh or dried oregano

1 ½

tsp

kosher salt,

not fine table salt

¼

tsp

crushed red pepper
For Steaks: 4 ribeye or New York steaks,

at least 1″ thick, garlic powder, kosher salt, and freshly ground black pepper
Instructions
Make Chimichurri Sauce ahead: In a bowl, combine all ingredients and toss well. Let sit at least 10 minutes for flavors to meld. If making ahead of time, cover tightly and chill until ready to use. Can be made 1-2 days ahead.
Make the Steaks:
Use paper towels to thoroughly dry chilled steaks well. Sprinkle evenly with kosher salt, black pepper, and garlic powder on all sides. Generously grease outdoor grill or stovetop grill pan; using high heat, get grill smoking hot.

Once oil is smoking and very hot, place steaks on grill for 3 minutes on the first side, without moving them around. If using outdoor grill, brush tops of steaks with oil, turn them over, and grill another 2 minutes. If using indoor grill pan, there is no need to brush with oil before turning them over.

Once the exteriors are browned with nice grill lines, do the "press test" by tapping the centers of steaks with finger or utensil. They should have some give, but spring right back; not too soft and not too firm. If they're feeling a bit too soft, give it another minute of cook time. For medium-rare the centers should feel similar to the fleshy area by your thumb when you make a loose fist.

Place steaks on cutting board and let them sit for 5 minutes before cutting. Do not slice or poke into them until the 5 minutes are up. This allows the juices to be retained, as well as gives the steaks a bit more "cook time" as they rest.

Serve steaks sliced, with chimichurri sauce generously drizzled throughout.
Notes
If using bone-in steaks, cook time will be a bit longer than boneless.
If you want to cook by temperature, it's important to use a meat thermometer that has a probe that can safely be lodged in the center of meat while it's cooking; that way, the meat will not lose juices with repeated temperature-checking.
If cooking steaks on stovetop, use a cast iron grill pan, which will cook steaks evenly and quickly.
If cooking steaks in a pan, a splatter guard greatly helps in preventing random oil splatters.
If you enjoyed this recipe, please come back and give it a rating ♡
Nutrition (per serving)
Calories:
297
kcal
|
Carbohydrates:
2.7
g
|
Protein:
6.6
g
|
Fat:
29.5
g
|
Saturated Fat:
4.6
g
|
Cholesterol:
17
mg
|
Sodium:
487.2
mg
|
Fiber:
0.5
g
|
Sugar:
0.5
g