Creamy Tomato and Sausage Pasta
On busy weeknights, this Creamy Tomato and Sausage Pasta will readily come to your rescue. It's not only easy to prepare and comes together quickly, this pasta dish is scrumptious and a crowd favorite.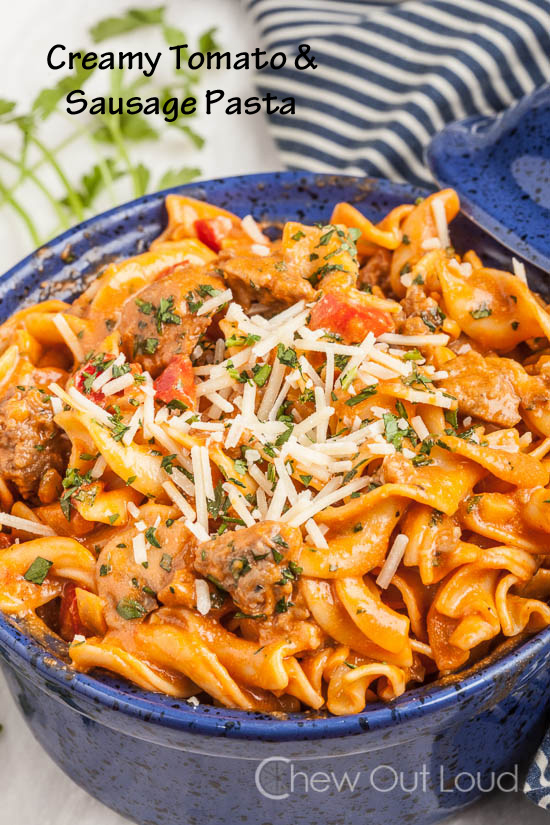 This past weekend, the weather pulled a wow here in the Twin Cities, and we actually hit 60F for one day. One fine day. Naturally, it didn't last beyond that day, but it seemed like the whole state put the day to good use and went exploring outdoors.
We've all had to grow some tough skin since moving to the Land of 10,000 Lakes. Here we are, back to bouncing around in 30-40 degrees in April. Not to mention the slush and slosh that currently blankets the ground. Slosh season means bottom pant legs will get wet if you go out…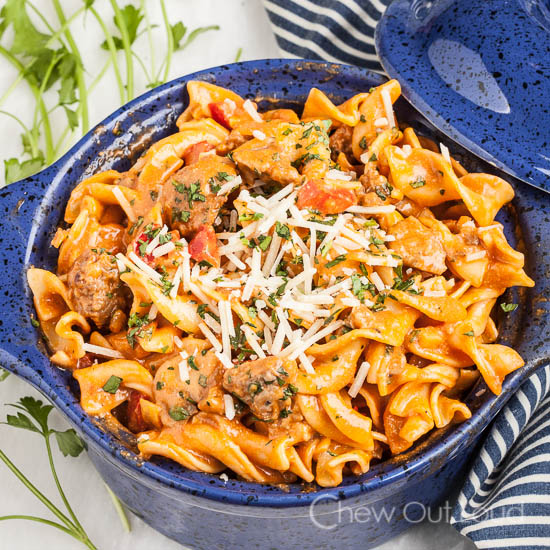 Like the day this past weekend that was unusually "warm." Despite our entire family fighting colds, we determined to get outdoors. That one fine day was not going to waste.
We packed ourselves into the car and headed to our nearest lake trail. It seemed everyone else had the same idea, because the muddy trails were packed with walkers, bikers, and runners braving the slushy terrain. It helps to remember that we've all been going stir crazy for the last 5 months.
Yeah, the kids' roller blades came home caked in mud and our pant legs were soaked and there was laundry galore. Why I wore my good sneakers is beyond me. But it was worth it to go through the trouble for an afternoon in the great outdoors.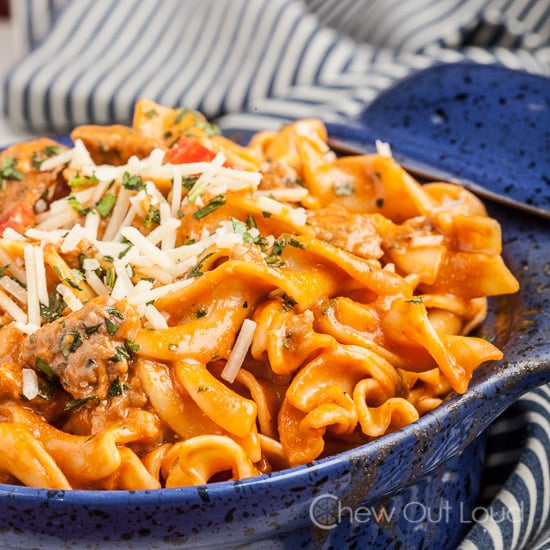 Thankfully, you don't have to go through nearly that much trouble for a satisfying homemade meal. Case in point: Creamy Tomato and Sausage Pasta, which effortlessly goes from stovetop to tabletop. It's recipes like this that make weeknight dinners worth sitting down for.
This pasta recipe uses the simplicity of tomato and roasted red pepper soup, which is creamy and flavorful. Add your favorite sausage, some spice, and a happy sprinkle of cheese. Toss it all together for a mouthwatering meal.
Enjoy!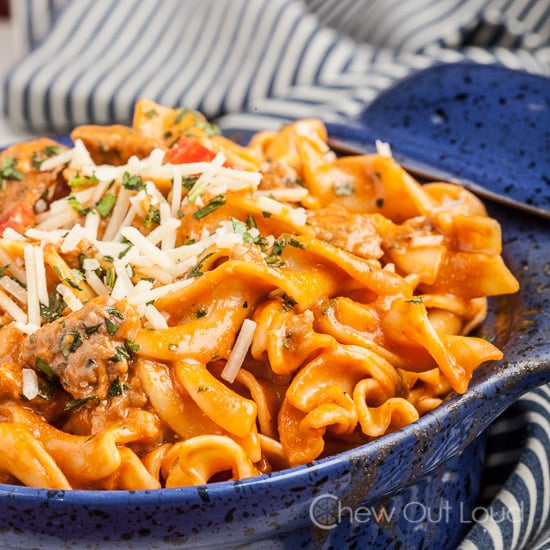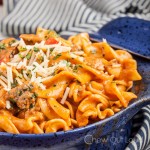 Creamy Tomato and Sausage Pasta
This creamy tomato and sausage pasta comes together in about 30 minutes! Perfect for a weeknight meal that tastes like you spent way more time on it than you did.
Ingredients
1

yellow onion

,

chopped

3

cloves

garlic

,

chopped

2

lb

uncooked Italian sausage

,

without casings

8

oz

sliced mushrooms

1

red pepper

,

seeded and diced

1

can/box

,

32 oz Tomato and Roasted Red Pepper Soup

1

cup

sour cream or plain yogurt

,

whole preferred

16

oz

dry egg noodles

salt and pepper to taste

shredded Parmesan cheese

,

for topping

fresh chopped parsley for garnish

,

if desired
Instructions
In a large saucepan, combine sausage with onion and garlic. Cook over medium-high heat, stirring and breaking up the sausage into small pieces. When almost cooked through, add mushrooms and red pepper. Stir and cook until softened.

Add Tomato Red Pepper Soup. Simmer, covered, for 15 minutes.

Meanwhile, bring a large pot of salted water to boil. Cook egg noodles according to package, just to al dente. Do not overcook. Drain, but do not rinse.

Add sour cream or yogurt to the red sauce mixture. Stir to combine well. Add salt and pepper to taste. Pour sauce over noodles and toss to combine.

Top with cheese and parsley, if desired.
Did you make this?
Leave a comment below and tag @chewoutloud on Instagram
Need more fast yet flavorful weeknight meal ideas? Here's my tried-and-true: Cheesy Ravioli Bake!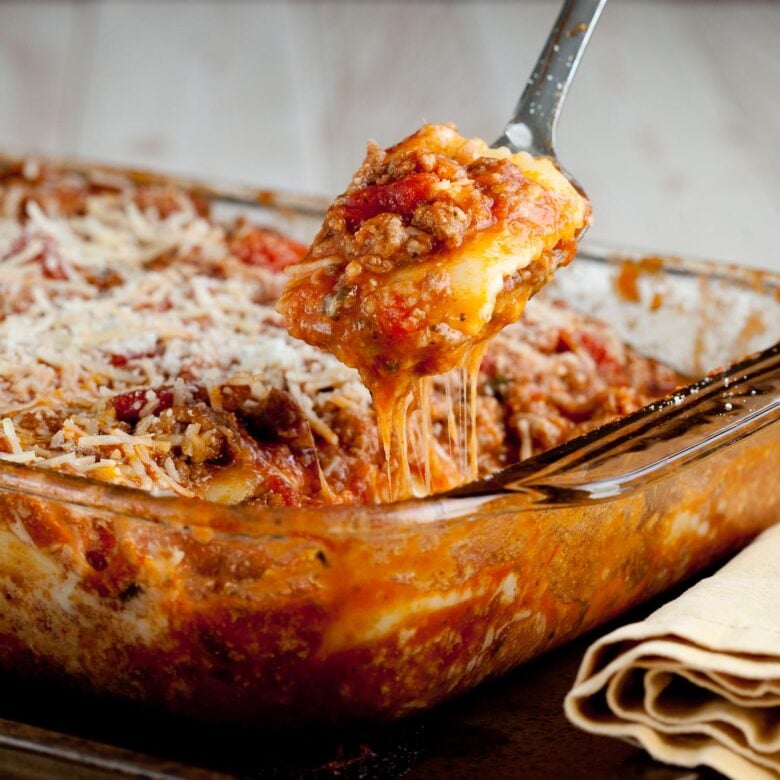 If Tortellini is your thing, you'll love this weeknight Tortellini Casserole.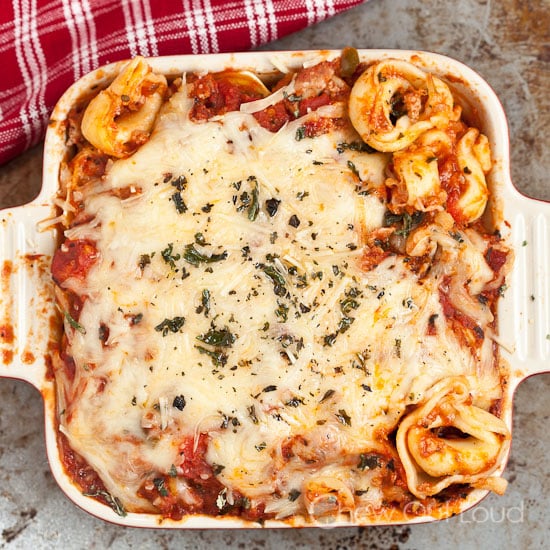 We adore this easy, cheesy Mexican Pasta Bake: