Chicken Fettuccine Alfredo (Healthier)
By Amy Dong
Published Aug. 16, 2012
Updated Nov. 16, 2023
This Chicken Fettuccine Alfredo is made healthier with fresh zucchini and a lighter cream sauce that doesn't skimp on flavor. Feel better about enjoying this delicious dish.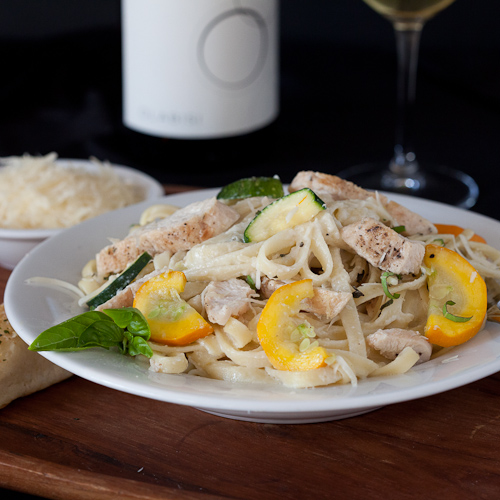 Healthier Chicken Fettucini Alfredo
My family, like many others, loves pasta. I like mixing things up when it comes to pasta, as a fun way for the kids to get used to eating different ingredients (aka vegetables). Fettuccine Alfredo is one of those comfort foods we all want to eat more of, but it tends to be heavy – with a bit of a healthier spin, we can feel good about indulging in this creamy yet lighter version!
Many versions of Fettuccine Alfredo include lots of butter, heavy cream, and even cream cheese. Yeah, OK, we love that stuff too. You know I indulge in my fair share of butter and cream. But for this particular pasta dish, it's SO easy to pare down the fat and get fantastic flavor with plenty of creaminess. Why not??
Healthyish Fettuccini Alfredo, with or without chicken
By using milk instead of the heavy cream and butter, we keep the creaminess of the Alfredo with less guilt. Adding seasoned chicken breast and freshly sliced zucchini gives the dish a healthy boost of veggies and protein, with flavors that complement each other beautifully. In fact, if you want to make it a meatless dish, just omit the chicken and add more veggies.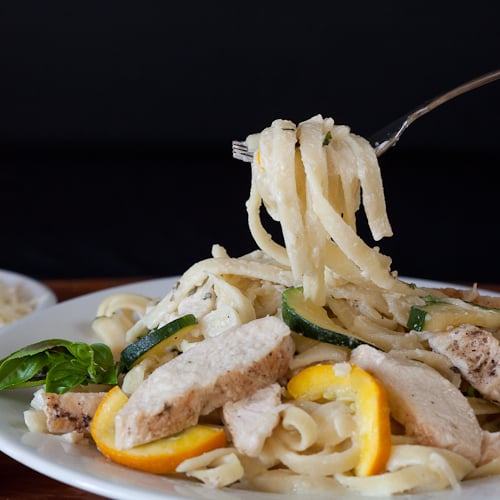 Try this easy chicken cacciatore or spicy chicken pasta for some other easy weeknight dinner options!
Important Tips
This Fettuccine Alfredo, like most, is best served immediately after cooking. Make sure to go al dente on the pasta, as it continues to cook a bit after it is drained. You probably already know this, but just in case – be sure not to rinse cooked pasta with cold water.
When cooked pasta gets rinsed with water, the pasta loses its absorbent starchy exterior, and sauces will not cling to the pasta well. The best method is to always cook pasta in salted water to al dente and drain immediately. Then add sauce to it while it's still hot.
This chicken fettuccine Alfredo with zucchini is awesome dressed up or down; feel free to garnish with freshly torn basil leaves and shredded parmesan. It makes a fantastic family meal, and is delicious and nice enough for dinner guests on the weekend. When the farmer's markets are full of fresh zucchini and basil, be sure to grab a stash for Alfredo night.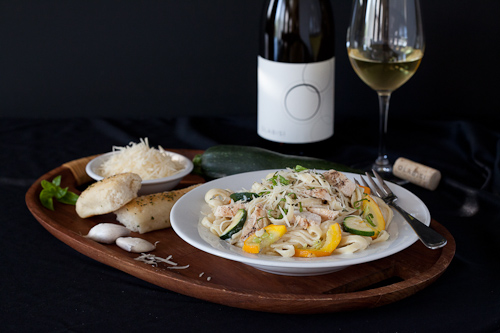 Did you make this?
Please give us a rating and comment below. We love hearing from you!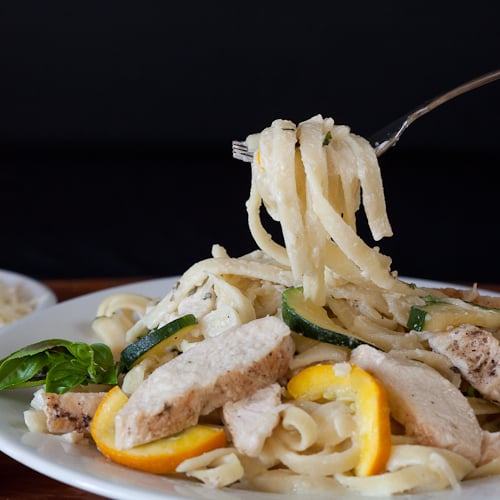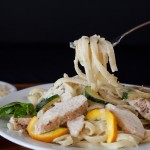 Chicken Fettuccine Alfredo (Healthier)
Ingredients
4

boneless

,

skinless chicken breasts1 green zucchini, sliced1 yellow zucchini, sliced4 cloves garlic, chopped5 TB extra virgin olive oil12 oz fettuccine1 TB + 1 tsp flour2 cups milk (whole or 2%)1 cup freshly grated parmesan cheese, plus extra for sprinkling on top1/4 cup fresh basil, chopped1 cup salted boiling water, reserved after pasta is drainedcoarse kosher saltfresh ground peppergarlic powder
Instructions
To sauté zucchini, heat 2 TB olive oil in skillet over medium heat. Add half of the chopped garlic, and cook until fragrant. Add zucchini, stirring frequently, and cook until just tender. Sprinkle with kosher salt and fresh pepper to taste. Sauté another minute. Set aside and keep warm.

Pound chicken breasts to even thinness. Do this 1 at a time, on cutting board, covering chicken with cling wrap to prevent a mess. Generously sprinkle chicken on both sides with kosher salt, pepper, and garlic powder. Heat 2 TB oil in large skillet over medium high. Pan fry chicken 2 pieces at a time, until just cooked - about 2 min/side, depending on thickness. Take care not to overcook, or chicken will be tough. Remove from heat, and let sit 3 minutes. Cut chicken into strips and keep warm.

Begin boiling large pot of salted water while you make the sauce.

For the sauce: Mix milk and flour in bowl. Saute remaining chopped garlic in 1 TB oil in skillet over medium high for 30 seconds. Add milk mixture and bring to boil while stirring. Reduce heat to low and stir for a few more minutes. Add parmesan cheese. Stir until cheese is melted. Add salt and pepper to taste. Turn heat off and keep covered.

Cook fettuccine in boiling water to al dente. Reserve 1 cup of pasta water, and drain the rest. Do not rinse pasta. Put drained pasta back into large pot and toss with sauce, zucchini, and chicken. Add as much reserved pasta water as needed until desired consistency. Gently toss in fresh chopped basil. Serve immediately, sprinkling with additional parmesan.
Notes
Wine Pairing Note: This pasta dish goes well with a Crisp (non-oaked) Chardonnay or Sauvignon Blanc.
If you enjoyed this recipe, please come back and give it a rating ♡
Nutrition (per serving)
Calories:
631
kcal
|
Carbohydrates:
71.5
g
|
Protein:
29.6
g
|
Fat:
25.1
g
|
Saturated Fat:
6.4
g
|
Cholesterol:
37.5
mg
|
Sodium:
411.7
mg
|
Fiber:
2.9
g
|
Sugar:
8.7
g