Curried Salmon Salad (Sandwiches)
Ready to kick things up a bit? This Curried Salmon Salad recipe works as a delicious chopped salad over greens, an appetizer on top of crostini or baguette, and a great filling for your sandwich. So many healthy possibilities that taste fantastic.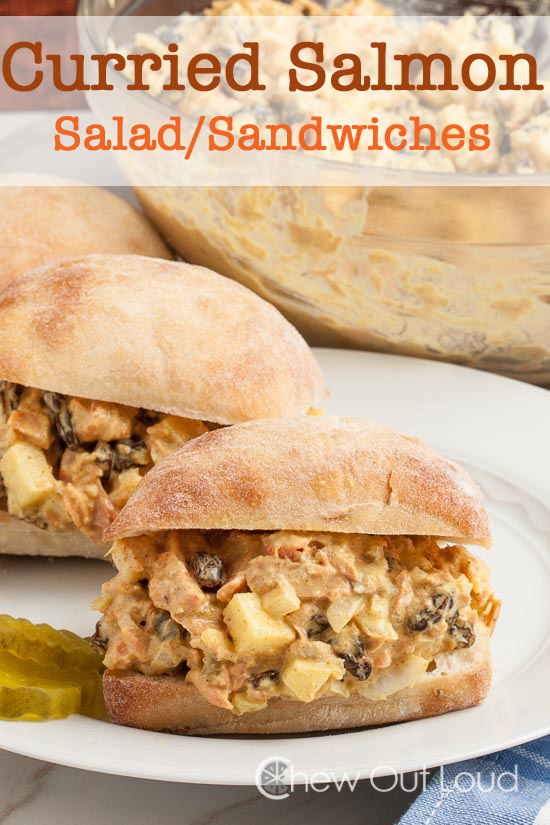 When I was a little girl, it's fair to say sandwiches weren't on my brown bag radar. Besides the occasional ham and cheese, we didn't get sandwiches for lunch. In fact, I hardly remember using my tin-metal lunchbox (totally back in style) at all.
I usually was given seventy five cents or whatever it cost for hot lunch back in the day… and I usually came home with that exact same amount of change.
I wasn't pilfering spaghetti from the lunch lady. I simply wasn't a big eater as a kid — irony of ironies — and I was happy with a little carton of chocolate milk for lunch.
Or a can of grape soda. Gross, yeah. But it awesome at age 7. Remember Pop Rocks? That and grape soda. Crazies.
Plus, I can't even imagine skipping a meal on purpose now…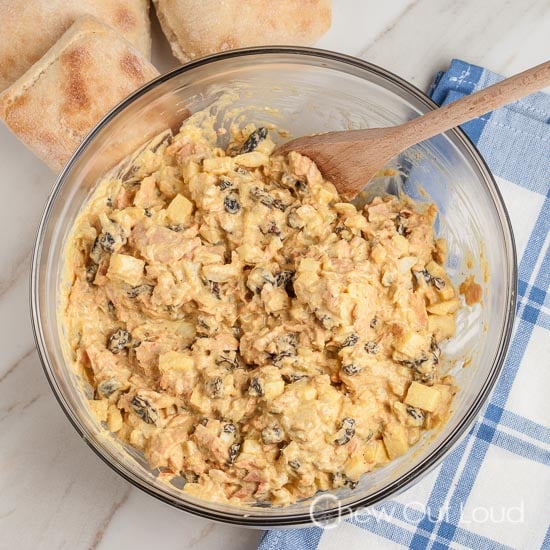 These days, I'm still not a regular sandwich eater. Unless it's this kind of sandwich we're talking about. The Hubby and Littles are with me on that one.
When I have fun with sandwiches these days, it's mostly with my girlfriends. It's fun and easy to have friends over for build-your-own lunches. Little prep and everyone's happy.
Put out some cheeses, deli meats, and veggies. Your favorite breads like ciabatta or croissants. Have something different, like this Curried Salmon Salad filling to kick things up a bit.
I've made Curried Chicken Salad for a creative sandwich idea in the past with delicious results. This time I swapped out the chicken for salmon and added chopped apples for fall.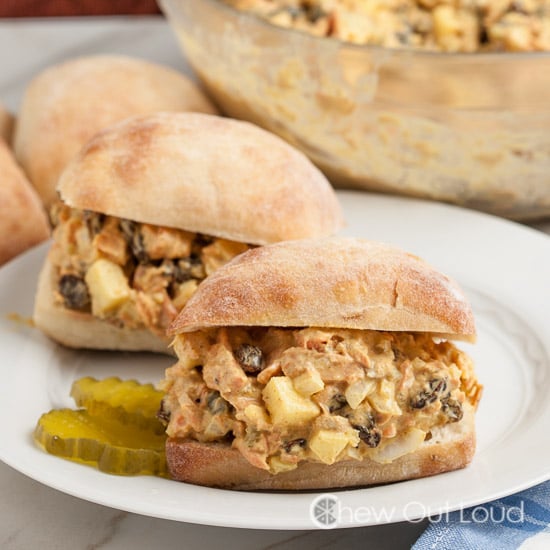 Big bonus: this Curried Salmon Salad easily feeds a crowd. I can make a batch and rest assured that nobody will go away hungry. The mild curry adds a wonderful flavor to the mixture of tender flaky salmon, sweet raisins, and crispy apples.
Try it with toasted ciabatta rolls, baguettes, croissants, or flatbread. Use it as a topping for crostini or crackers. Or even mix it up with healthy greens for a yummy chopped salad. Oh, the possibilities!
Just no grape soda.
Enjoy!
Print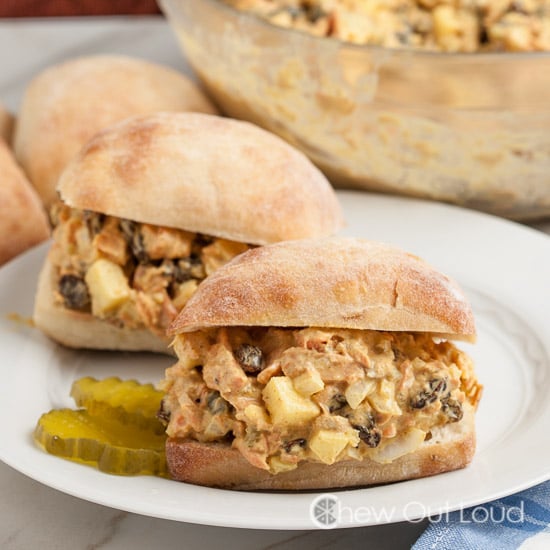 Curried Salmon Salad (Sandwiches)
This Curried Salmon Salad makes a wonderful chopped salad with your favorite mixed greens, or use it as a delicious sandwich filling. It's also fantastic as an appetizer, spread onto crackers or crostini. The possibilities are endless!
1.5

lbs cooked salmon, cut to bite size pieces (grilled or baked; don't overcook)

1/2 cup

plain, unsweetened whole Greek yogurt

1/2 cup

real mayonnaise

5 tsp

yellow curry powder

2 tsp

pure honey

1/2 tsp

ground ginger

1/2 tsp

kosher salt plus more to taste

1/2 tsp

fresh ground black pepper plus more to taste

1/2

medium red onion, finely copped

1

medium sweet and crisp apple, peeled and chopped

1 cup

raisins

1

large dill pickle, chopped

1/2 cup

salted roasted cashews, coarsely chopped
Instructions
In a bowl, whisk together the Greek yogurt, mayo, curry powder, honey, ginger, salt, and black pepper.
Add salmon, onions, apples, raisins, and pickles. Gently stir to combine well and season with additional salt and pepper if needed.
Cover and keep chilled. Let rest at room temp 30 min before serving. Right before serving, stir in chopped cashews.
Source: Chew Out Loud
Here are a few favorite fun sandwich ideas for parties or just for yourself!
1. BBQ Chopped Chicken Salad (Sandwiches) — because BBQ. Just yum.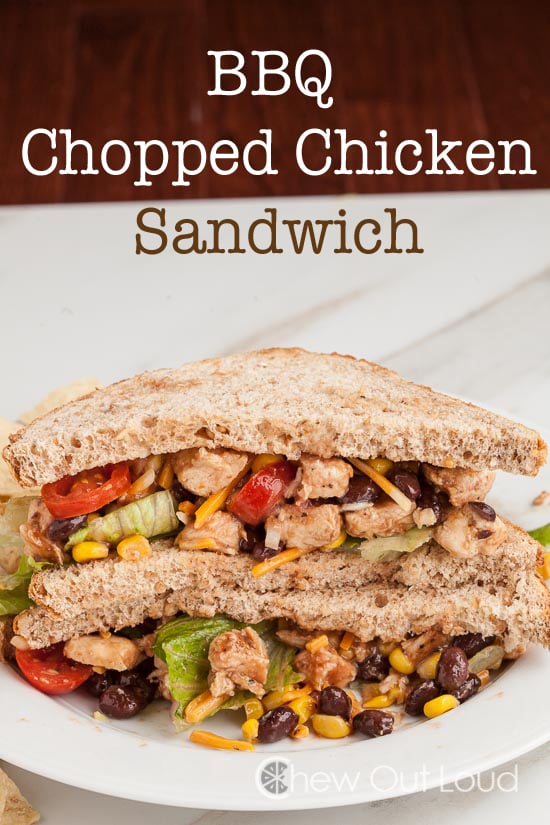 2. Lemony Cucumber Cream Cheese Sandwiches — these have become a Pinterest fave; they're fab for showers and finger food trays.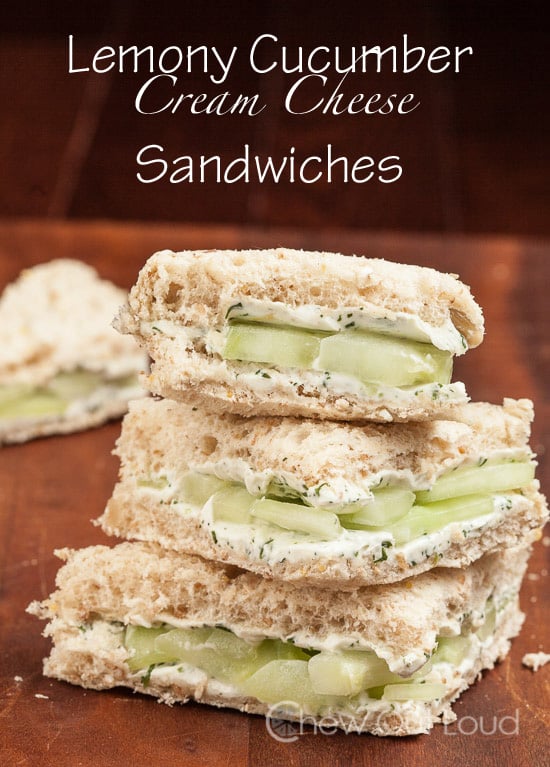 3. Hawaiian Grilled Cheese — it's your Hawaiian Pizza in Grilled Cheese form. So. Good.