Deep Dish Pizza – Chicago Style
Yes, you can absolutely make Chicago style deep dish pizza, right in your own home. It's hard to beat the chewy, crunchy crust and melty cheese beneath the luscious sauce.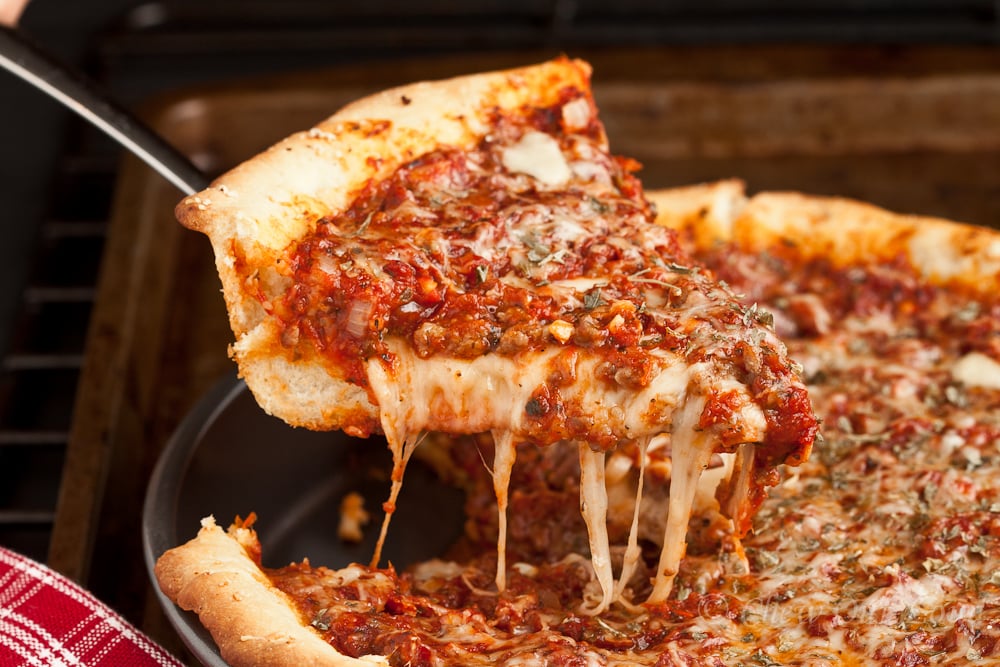 Make Your Own Chicago Deep Dish Pizza
I know we're in good company when I say our family is comprised of pizza lovers. People literally jump for joy on occasions when I declare that it's "pizza night." Thin crust, regular crust, stuffed crust… we love 'em all. From Pepperoni to a yummy BBQ Chicken Pizza, the pies don't last long here. But nothing – nothing – beats a truly great Deep Dish Pizza.
The last time we were in Chicago, we made a point of visiting well-known joints popular for their deep dish pizzas. Perhaps it was the huge crowds of people waiting and maxing out the kitchen… or maybe we needed to manage our expectations, but we were left a bit in wanting.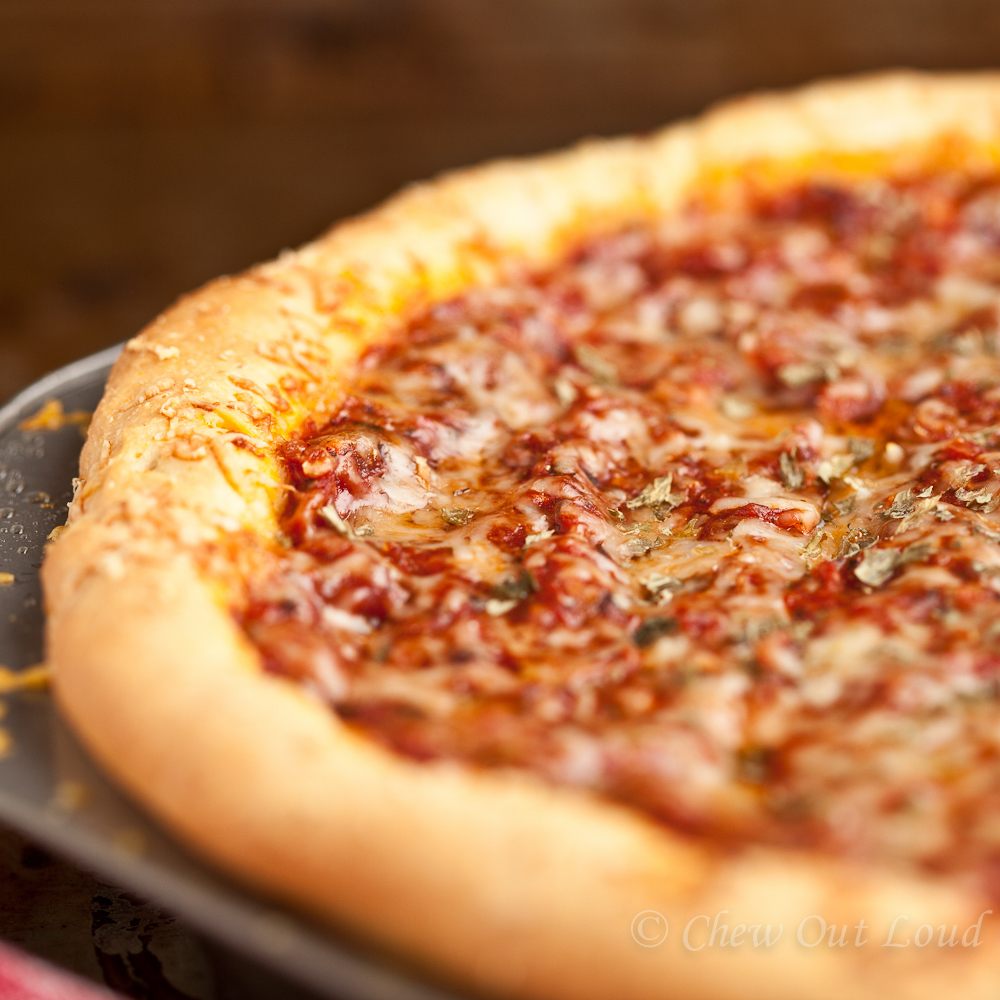 Deep Dish Pizza: Better from Your Own Oven
Of course, there have been moments we've experienced pizza heaven at certain little pizza joints, and those memories always made me wish I could make my own deep dish pizza at home so we could have it anytime the craving hit.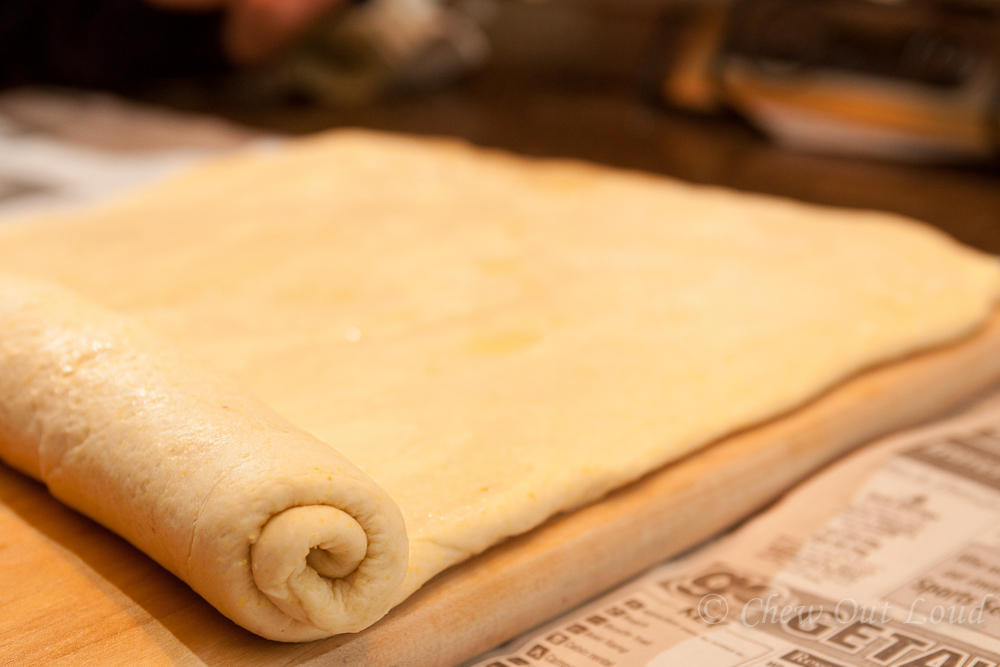 One day I noticed this deep dish pizza recipe resting in my humungous Cook's Illustrated cookbook. Nothing I've ever made in that beloved cookbook has ever turned out wrong, so I had a feeling this deep dish pizza would not disappoint. We have never looked back.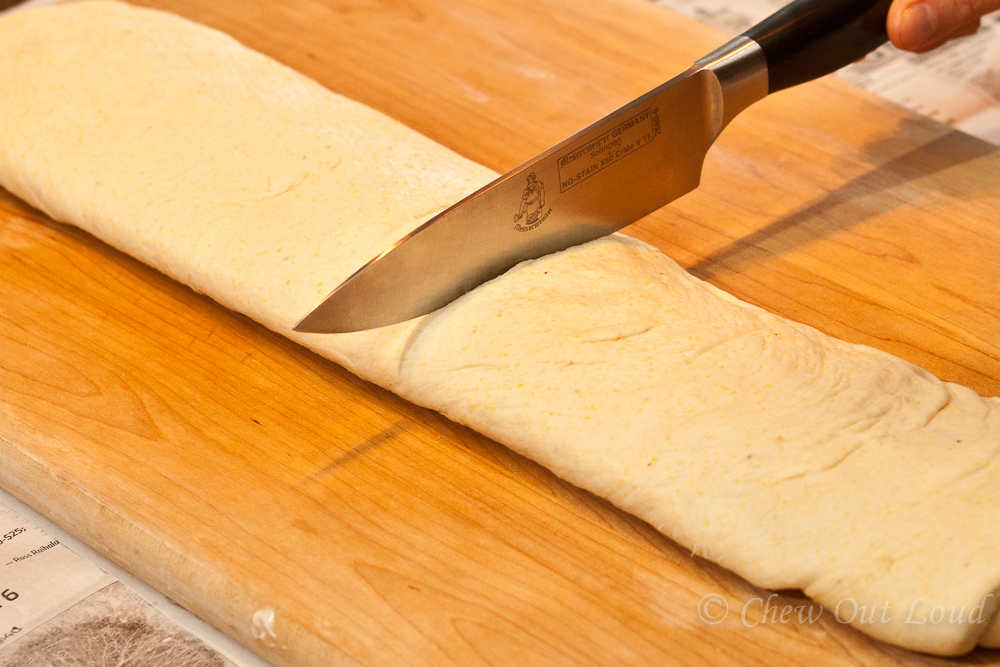 Dough That Bakes up wonderfully chewy and crunchy
This Chicago-style deep dish pizza turns out deeply flavorful and delish, so much so that the guys proclaimed it "way better at home." Deep dish victory! The crust is appropriately crusty and deep, chewy yet tender, and not greasy at all. The filling is a-ma-zing. Awesome. Mouthwatering. Other pies are literally jealous of this deep dish pizza.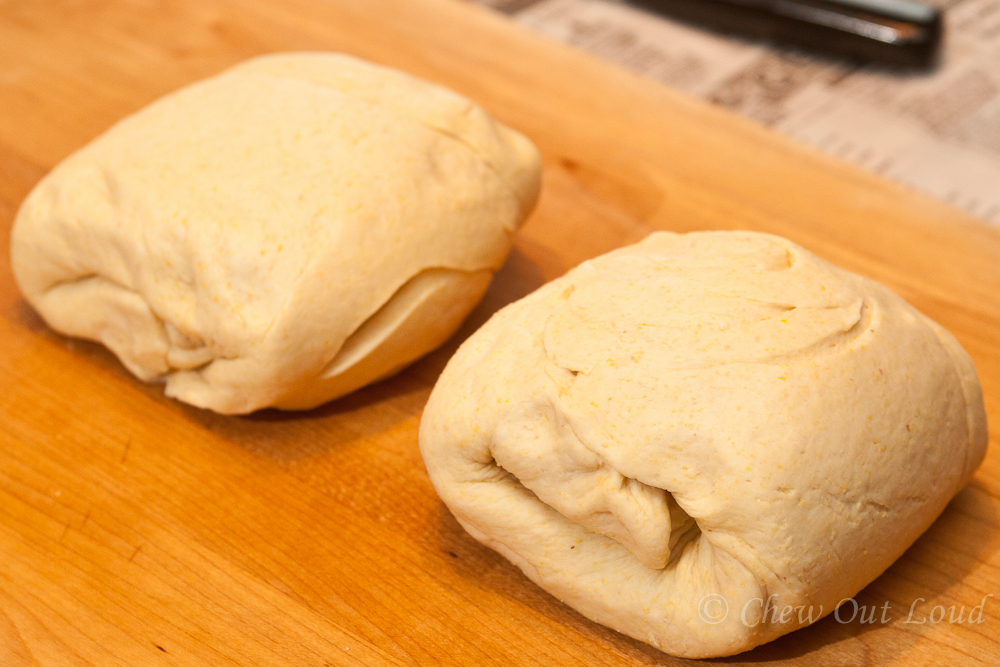 Follow the order for Placing the Toppings
If you decide to make this, definitely follow original order for placing of the toppings. The cheese goes first, then toppings, followed by sauce. The cheese on the bottom is what prevents the crust from getting soggy…genius! Wish I came up with that on my own. The cooked pizza will yield a beautiful deep dish with cheese that stays melty underneath all the toppings your familiy desires.
This recipe is for an awesome cheese/sausage combo, which is what we were craving the day I made this. Feel free to make it your own, with toppings of your choice. Just be sure to follow the order of placing toppings, cheese, and sauce.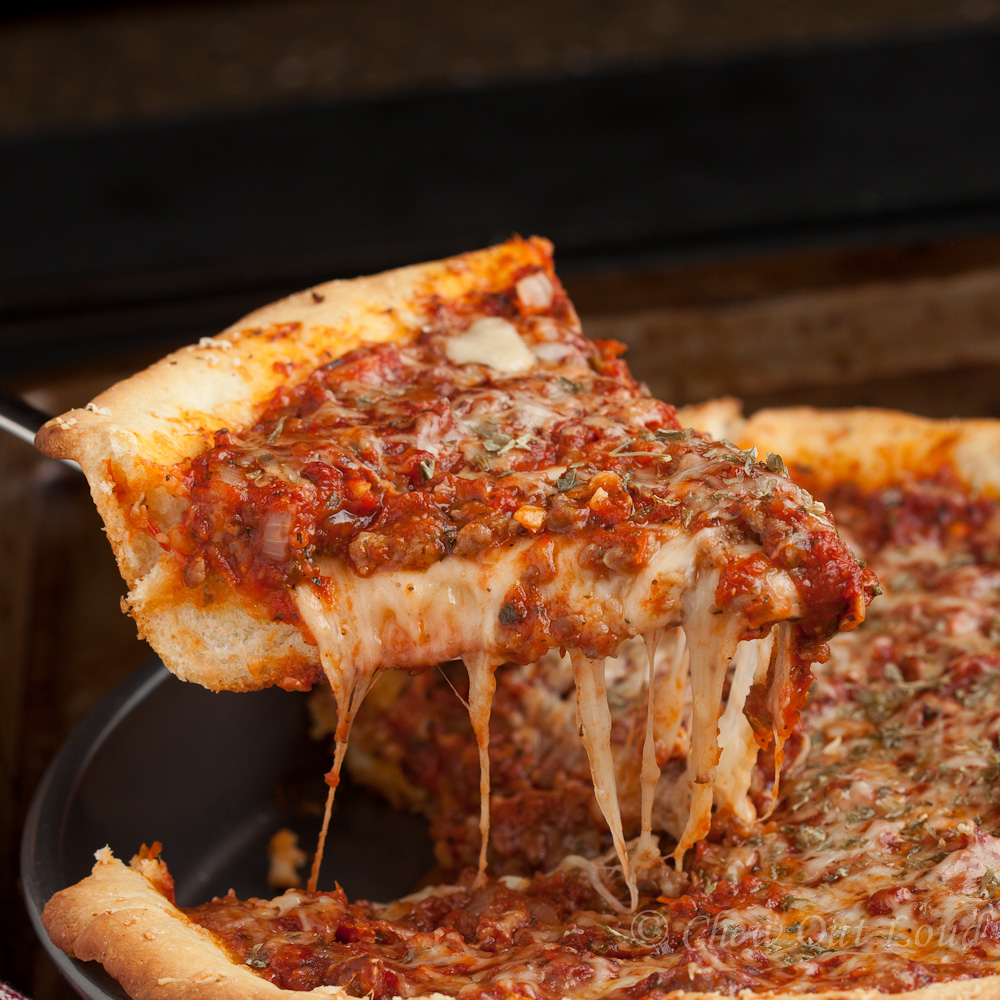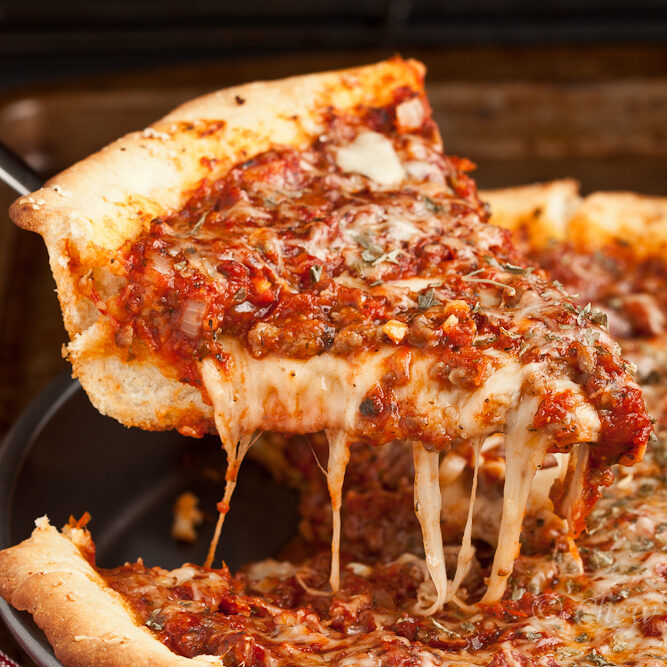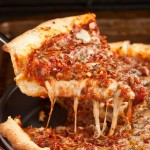 Deep Dish Pizza – Chicago Style
Yes, you can absolutely make Chicago style deep dish pizza, right in your own home. It's hard to beat the chewy, crunchy crust and melty cheese beneath the luscious sauce.
Ingredients
For the Dough:
3 ¼

cups

all purpose flour

½

cup

yellow cornmeal

2 ¼

tsp

instant

,

rapid rise yeast

2

tsp

white sugar

1 ½

tsp

table salt

1 ¼

cups

room temp water

3

TB

melted butter

4

TB

softened butter
For the Sauce:
3

TB

olive oil

1

small onion

,

minced

4

cloves

garlic

,

minced

1

can

,

28 oz crushed tomatoes with juices

½

tsp

white sugar

2

TB

dried basil

1

tsp

dried oregano

salt and pepper to taste
Toppings:
1

lb

4 cups freshly shredded mozzarella

1

lb

bulk Italian sausage

,

browned and crumbled

4

TB

freshly grated Parmesan cheese
Instructions
For the dough:

Using stand mixer and dough hook, mix flour, cornmeal, yeast, sugar, and salt on low until combined. Add water and 3 TB melted butter and mix 2 minutes, scraping down bowl as needed. Increase speed to medium and knead until dough is glossy and smooth, 4-5 minutes. Pliable dough should pull away from sides of bowl.

Coat large bowl with olive oil and place dough ball in bowl. Turn dough around in the bowl to ensure all sides of dough are protected by oil. Cover bowl tightly with plastic wrap and let rise at room temp until doubled in size, about 1 hour.

For the sauce:

Saute minced onion and garlic in 3 TB olive oil over medium heat until soft. Add rest of sauce ingredients, except for salt/pepper. Bring sauce to simmer and cook until reduced to 2 1/2 cups, about 25-30 min. Season with salt and pepper to taste, and set aside.

Heat oven to 425F with rack on lowest position. Turn dough out onto large surface. Roll into 15×12 inch rectangle. Spread 4 TB softened butter evenly over top of dough, leaving 1/2 in border along edges. At the short end, roll dough into a tight cylinder (see photo.)

With seam side down, flatten cylinder to 18×4 in. rectangle. Slice rectangle in half crosswise. Working with one half at a time, fold dough into thirds and pinch seams together into a dough ball. Return dough balls to oiled bowl, ensure all sides of the dough are protected with oil, and cover tightly with plastic wrap. Let rise in fridge until doubled, 40-50 min.

Coat two 9-inch round cake pans with 2 TB olive oil each. Transfer one dough ball to large surface and roll into disk, 1/4 in. thick. Transfer to cake pan and gently press into pan, working into corners and up sides. Repeat with other dough ball. (If dough resists stretching, let it sit for 5 min covered and try again.)

Divide the 4 cups mozzarella in half and sprinkle on top of each pizza dough. Follow by browned sausage (plus any other toppings desired.) Next, spread 1 1/4 cups tomato sauce per pizza. Last, sprinkle 2 TB Parmesan cheese per pizza. Bake until crust is golden brown about 20-25 min. Remove and let sit for 10 min. before serving.
Notes
Feel free to play with the toppings, but do be sure to follow instructions for order of topping in regards to cheese vs. sauce.
Prep time already includes time it takes for dough to rise.
If you enjoyed this recipe, please come back and give it a rating ♡
Nutrition
Calories:
598
kcal
|
Carbohydrates:
55.8
g
|
Protein:
22.7
g
|
Fat:
31.8
g
|
Saturated Fat:
15.3
g
|
Trans Fat:
0.4
g
|
Cholesterol:
74.3
mg
|
Sodium:
1103.8
mg
|
Fiber:
3.3
g
|
Sugar:
4.9
g
Did you make this?
Leave a comment below and tag @chewoutloud on Instagram