How to Make Pizza Dough (BBQ Chicken Pizza Recipe)
Pizza is one comfort food that always hits the spot. Here is an all time favorite – the BBQ Chicken Pizza, embellished with smoked bacon.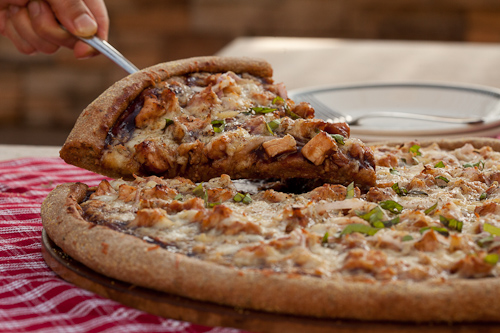 Make your own homemade pizza
I fashioned this recipe from memorable BBQ chicken pizzas I had at pizza joints back in the day. California Pizza Kitchen creates a yummy BBQ chicken pizza with cilantro. I use basil because I love it. You can do whatever suits your taste buds!
The fun thing about creating your own version is that you can sprinkle as much or as little of the ingredients you like. This BBQ Chicken Pizza gets a lot of its smoky flavor from the smoked Gouda (highly recommended for replicating CPK's pizza) and smoked bacon.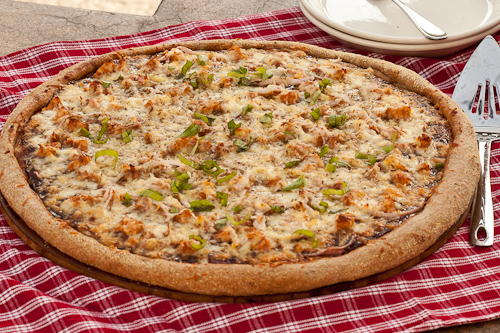 Pile on the BBQ Chicken and Bacon
We piled on the BBQ chicken, crisp bacon, savory cheese, and lathered on that tangy sauce. I also threw on some sliced red onions and fresh basil for color and flavor.
Seriously, I can't believe how quickly my kids devoured this pizza. They didn't bother to pick off the onions, like they usually do. Now, if I can only figure out how to transfer that to other dishes that include onions.
As always, toppings are flexible and fun, so do what your family loves.
Easy, Guaranteed rise
The tasty toppings rest on a gorgeous homemade crust, which is pretty easy to make. The crust is chewy and soft, with crisp exterior. I usually use a large pizza stone, so that helps with getting a better crust.
My kitchen is currently warm with the summer, which means much easier rising of the dough. In the winter, I let dough rise in the oven, with oven bulb light on for a tiny boost of warmth.
If needed, you can let your oven warm up on "warm" setting and turn it off, and then put dough in to rise. Just watch it carefully so it doesn't over rise. As long as you are careful not to let it over-rise, this oven method is pretty much fail proof for a quick, easy, and guaranteed rise. The actual baking time is only 15-20 minutes.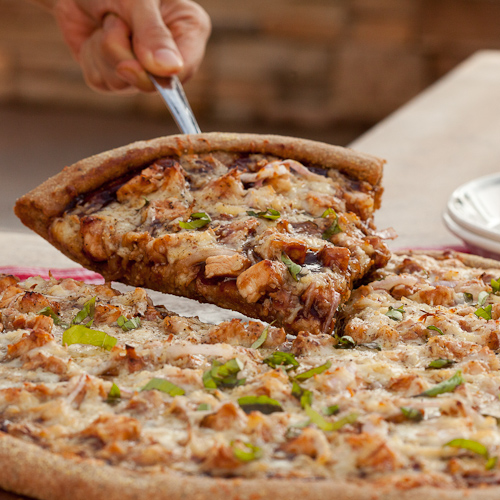 Options and Variations
Pizza is one of those family favorites that lends itself to all kinds of variations.
Feel free to try a different style of BBQ sauce, using something with more kick or less sweet, if that's what your family loves. We use mozzarella and gouda here to emulate California Pizza Kitchen's flavors, but if your kids aren't gouda fans or you can't find it, no worries. Go with just good ol' mozzarella or add in a bit more parmesan.
We give you the option of adding herbs into your dough, for the ultimate flavorful pizza dough. Use whatever herbs you like, or none at all. It's your pizza, your way. Have fun!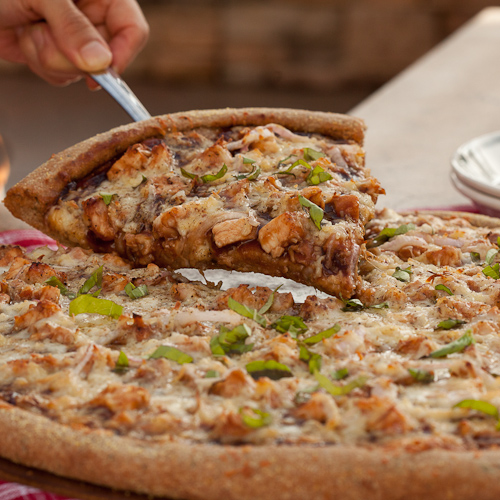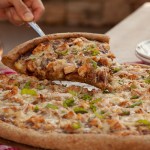 PIZZA: BBQ Chicken with Smoked Bacon
Pizza is one comfort food that always hits the spot. Here is an all time favorite – the BBQ Chicken Pizza, embellished with smoked bacon.
Ingredients
For the dough

2 ¼

tsp

active dry yeast

1

tsp

brown sugar

2

tsp

salt

2

TB

good olive oil

1 ½

cups

water to 110F

3

cups

all purpose flour

⅔

cups

extra flour

1-2

TB

cornmeal for dusting pizza stone

,

if desired

Optional herbs for herb-infused crust: 1 tsp oregano

,

1 tsp basil, 1 tsp garlic powder, 1 tsp onion powder
For the pizza topping:
6-7

chicken tenderloin fillets

1

cup

honey barbeque sauce

2

TB

honey

1

tsp

salt

1

cup

mozzarella

,

shredded

1

cup

smoked Gouda

,

shredded

½

red onion

,

thinly sliced

3

TB

chopped fresh basil

4

slices

smoked bacon

,

applewood is great, cooked and cut into pieces
Instructions
Make BBQ Sauce: Mix sweet honey BBQ sauce with 2 TB honey and 1 tsp salt. Set aside. This can be done way ahead of time and kept in fridge.

For the chicken: Thoroughly dry raw chicken tenderloin fillets with paper towels. Lay each piece flat on baking pan and generously sprinkle salt over the top of each piece. Pour 1/4 cup BBQ sauce mixture over chicken, and mix in well so all parts of chicken are completely coated. Rearrange fillets in single layer. Bake chicken at 350F for 15-20 min., or until chicken is just cooked but not overcooked (if your chicken pieces are thicker, you may need to bake longer.) Remove from heat and set aside to cool. When cool, dice chicken into bite size pieces.

For the dough: In large bowl, mix yeast, salt, brown sugar, and oil. Let sit for 10 minutes or until foams.

Mix in 3 cups of flour. Knead in more flour as needed until dough is no longer sticky. Add any desired herbs to dough. Place dough into well oiled bowl, turn dough in bowl until dough is covered with oil, and cover with a damp cloth. Let dough rise until doubles, about 1 hour in a warm room – true rising time depends on temperature of your room. After dough is doubled, punch it down, and form tight ball. Let dough relax for 1-2 minutes. Roll it out to large circle, flouring your board a bit if needed. Roll up edges so you have a pizza crust about 14 inches in diameter.

Preheat oven to 425F. Place pizza stone to preheat in oven if you are using one. If you have a pizza peel, you can assemble your pizza on that and slide onto hot pizza stone when ready. You can also assemble your pizza on room temp pizza stone; it just won't be as crisp on the bottom – it will help to sprinkle cornmeal over pizza stone and spray with oil before laying your dough on top of it. If you are baking on a pan, oil pan and let dough rise 20 min. before topping/baking.

To assemble pizza: Spread the rest of BBQ sauce mixture over the dough evenly. Place diced chicken and bacon over sauce. Layer red onion slices over chicken. Sprinkle on mozzarella and smoked Gouda. Top with freshly cracked black pepper. Bake pizza for 15-20 minutes. Remove from heat and sprinkle on chopped basil.
Did you make this?
Leave a comment below and tag @chewoutloud on Instagram