Spinach Tomato Quiche
This Spinach Tomato Quiche is always an instant hit! Filled with cheese, spinach, and tomatoes in a flaky crispy crust. The delicious filling is easily adaptable to suit your family's taste buds.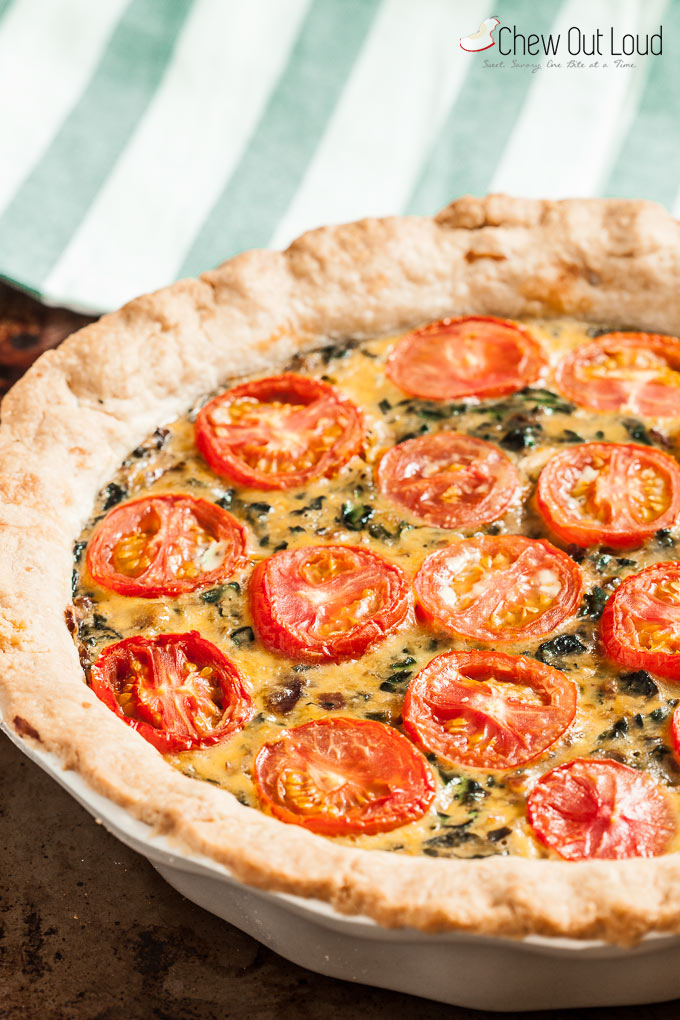 Someone very small just got the first cavity amongst his sibs. Who would've thought…the Littlest Little is the only one who's fallen prey to The Drill.
When Ms. Dentist gave us the news, she and the rest of us planted pretend smiles on our faces so our 6-year-old wouldn't freak. I'm sure he knew we were puttin' on an act.
I was a total smile faker, because it took 2 minutes for me get my lecture on. I mean, the boys all have their own fancy Oral B Pro Cross Action Spin Brushes, man. Plus fancy floss. And sand timers.
Yeah, I'm totally that mom. Which clearly does no good at all.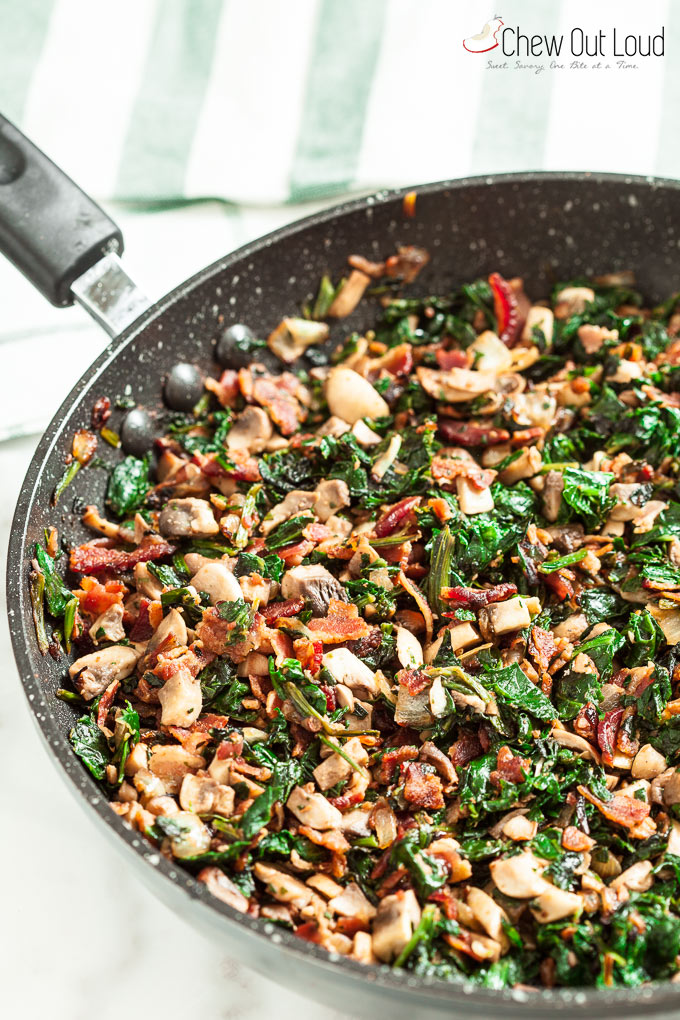 Whatevs. But just to be sure this never happens again (right)…I tried to sprinkle at least a tiny bit of terror into the boys about cavities. Like, numbing shots and The Drill. They weren't impressed. Nor were they moved to start using those sand timers on their own.
In fact, on Drill Day, I discovered I live under an 80's rock. Because Ms. Dentist said no shots. Nope, they don't do that anymore, it's so old school. Now they just do laughing gas. Feels like a walk in the clouds, she said.
Totally not scary at all. Slightly fun, in fact.
Plus, you get tokens to the prize machine afterwards.
Oh, and Mommy will take you out to lunch because you missed the 20-minute lunch period at school.
Huh.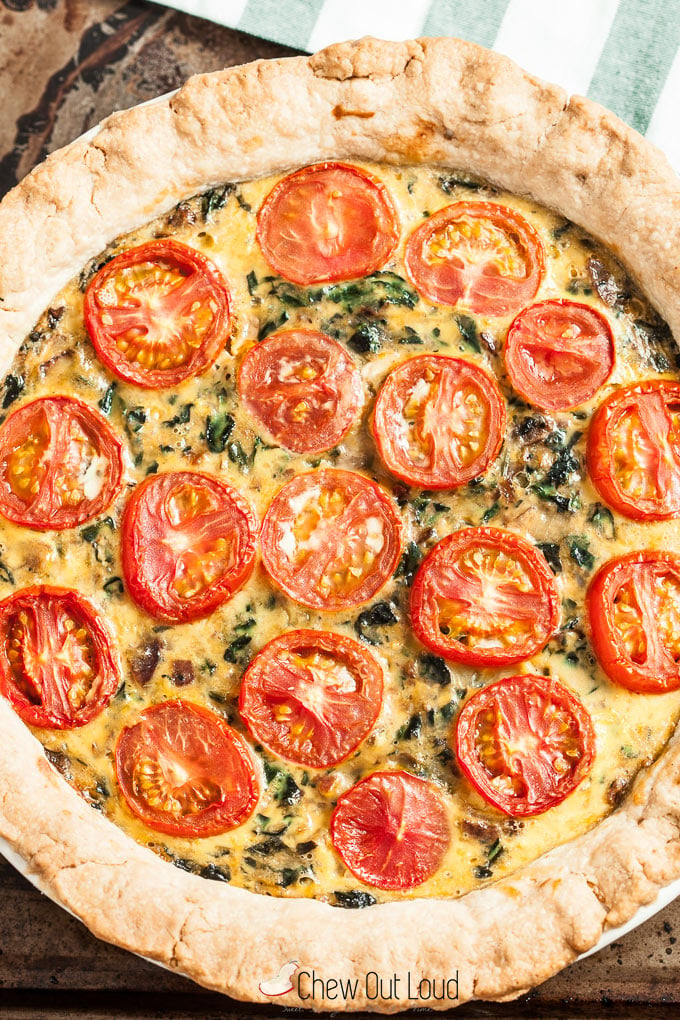 My anti-cavity scare tactics sooo didn't work. Now all the sibs know the truth. Cavities = silly gas, prizes, and lunch out.
But just to make sure this never happens again (right)…I sent my 1st grader right back to school after his Happy Meal. Sure, he tried to talk me down. He made quite a logical and reasonable appeal for me to let him skip art class.
But I have my that mom reputation to uphold, ya know.
Now. Shift gears with me. Let's discuss fillings of a different kind, shall we?
This Spinach Tomato Quiche is a delicious walk in the clouds.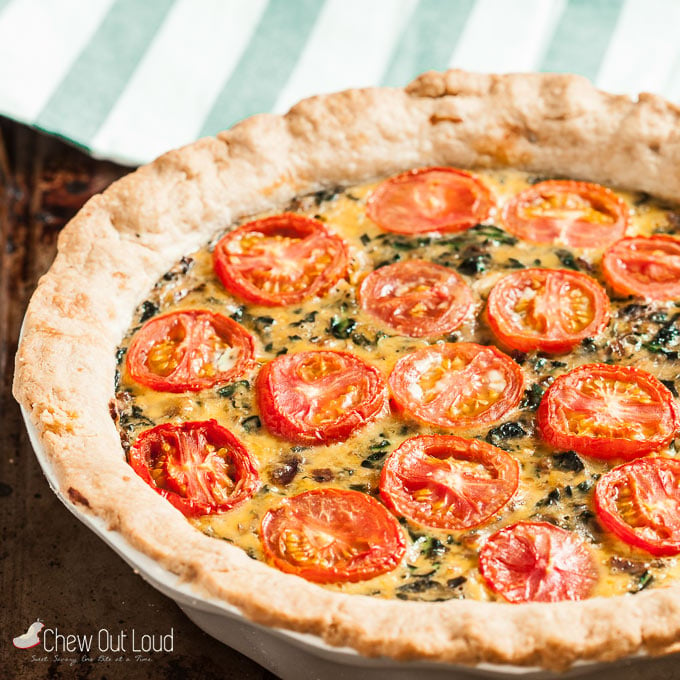 This luscious Spinach Tomato Quiche is loaded with sharp cheddar cheese, eggs, mushrooms, bacon, and spinach. Topped with ripe tomatoes and hugged by a flaky crust.
Make it meatless or add more meat. If mushrooms aren't your gig, go without. It's fabulous for breakfast, brunch, or brinner.
This quiche filling is totally customizable to your tastes and it turns out awesome every time. Real smiles guaranteed. 🙂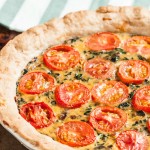 Spinach Tomato Quiche
This Spinach Tomato Quiche is always an instant hit! Filled with cheese, spinach, and tomatoes in a flaky crispy crust. The delicious filling is easily adaptable to suit your family's taste buds.
Ingredients
One 9-10 inch single layer

, deep dish crust (store bought or homemade)

10

slices

bacon

,

cooked and crumbled

2

TB

olive oil

1

medium onion

,

chopped

1

10 oz package frozen chopped spinach, thawed and squeeze-dried well

1

8 oz package fresh mushrooms, chopped

5

large eggs

,

lightly beaten

¼

cup

whole milk

2

cups

sharp cheddar cheese

½

tsp

kosher salt

¼

tsp

garlic powder

4

roma tomatoes

,

seeded and thinly sliced
Instructions
Heat oven to 350F, with rack on middle position. Lightly grease a 9-10 deep dish pie pan. Place a single layer prepared pie crust (store-bought from refrigerated section, or

homemade

) into the pan, pressing well into the bottom and sides of pan. Pinch edges together for a fluted design. [If desired, pre-bake the pie crust by poking holes throughout with a fork and bake 7 minutes, with fluted edges loosely covered with pieces of foil. Let sit at room temp while you continue making filling. I like to pre-bake the shell whenever possible.]

In a large skillet over medium high heat, combine the olive oil and onion, cooking until browned and translucent. Add squeeze-dried spinach and cook until there's no more excess moisture. Add crumbled bacon and mushrooms. Season with a dash of kosher salt and pepper.

In a large bowl, combine the eggs, milk, cheese, 1/2 tsp kosher salt, 1/4 tsp garlic powder, and 1/4 tsp black pepper. Whisk to combine well. Fold mixture together with the spinach mixture. Pour into prepared pie pan. Top with tomato slices (seed them to avoid juices pooling at the top.)

Bake 40-45 minutes or until center is just slightly loose and edges are set (cover loosely with foil if edges of crust brown too quickly.) Let cool 15 minutes, up to overnight. Best served slightly warm or at room temp.
Notes
Feel free to make it meatless by omitting bacon. Fillings are easily adaptable.
It's not absolutely necessary to pre-bake pie crust, but the bottom may be a bit softer if not pre-baked. It'll still be yummy, though!
Quiche can be made the night before, allowed to cool at room temp overnight, and served in the morning.
Note that this recipe is for a deep-dish pie. If you're using a regular size pie pan, you'll have enough leftover filling for approx. 10-11 crustless muffin size quiches.
Did you make this?
Leave a comment below and tag @chewoutloud on Instagram
Source: Chew Out Loud
Breakfast, Brunch, or Brinner: