Easy Breakfast Quiche
Whether it's cheese, spinach, bacon, or other delicious fillings, this easy breakfast quiche is highly customizable with the best flaky crust. It's sure to be an instant hit with the whole crowd.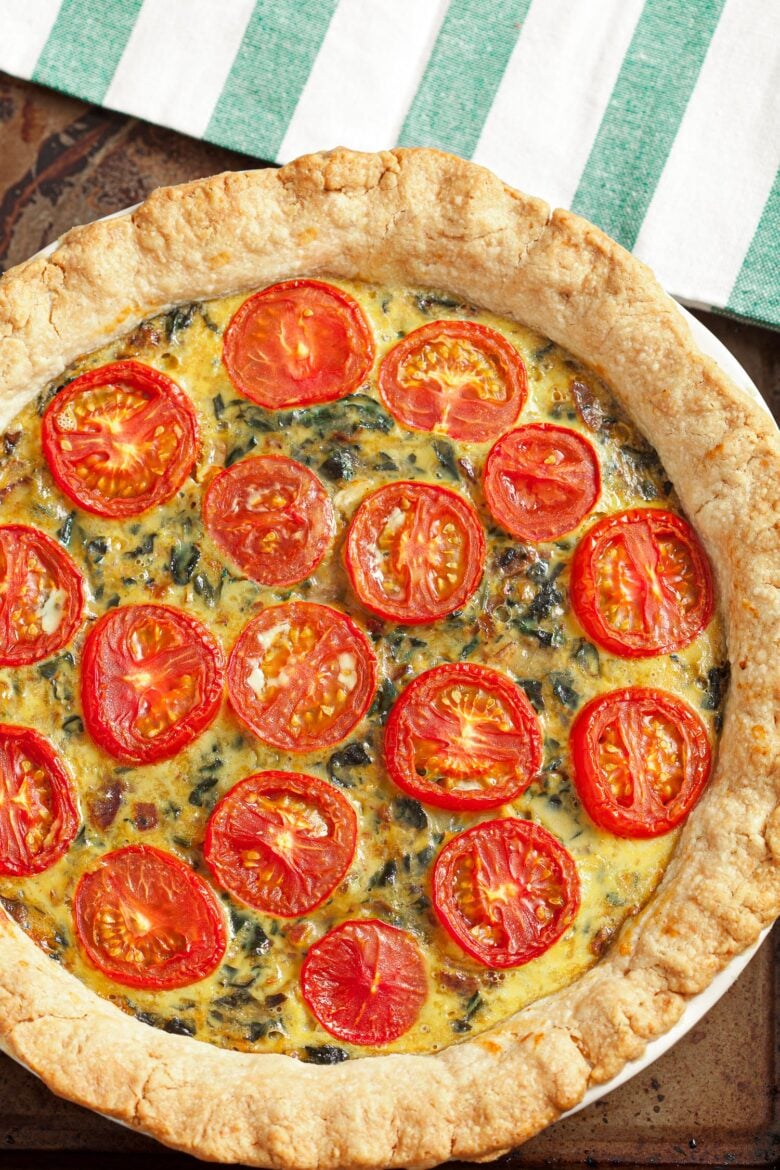 Video: See This Recipe in Action
What is Quiche?
Quiche is a savory egg dish that originated in France and is typically served as a main course or as part of a brunch spread. Classic versions include a pastry crust filled with eggs, vegetables, and meat. It's baked in the oven until set and golden brown on top. Quiche can be served hot or cold and is often accompanied by a side salad or other breakfast favorites.
We guarantee that with just a few bites, you'll understand the hype our breakfast quiche. The crust is deliciously flaky and golden brown while filled with almost endless possibilities. Make it meatless for a vegetarian option, or switch up the style of cheese and meat. Whichever route you choose, this quiche recipe is sure to be a huge hit for any breakfast, brunch, or even dinner.
Why this Recipe Stands Out
This recipe is highly customizable to fit your taste preferences making it the perfect meal that can grow and adjust based on the folks at your table.
This recipe is a great option to get a serving of healthy ingredients in one delicious meal. With so many filling options, this is the perfect quiche base for whatever you have in the fridge!
This recipe is easy to pull together, especially if you buy ahead a single-layer crust that's ready to roll.
Quiche is an impressive meal that's always a crowd-pleaser. Though we do love quiche to start out the day as a breakfast or brunch option, quiche is elegant enough to be served for any meal of the day. We highly recommend trying quiche for dinner.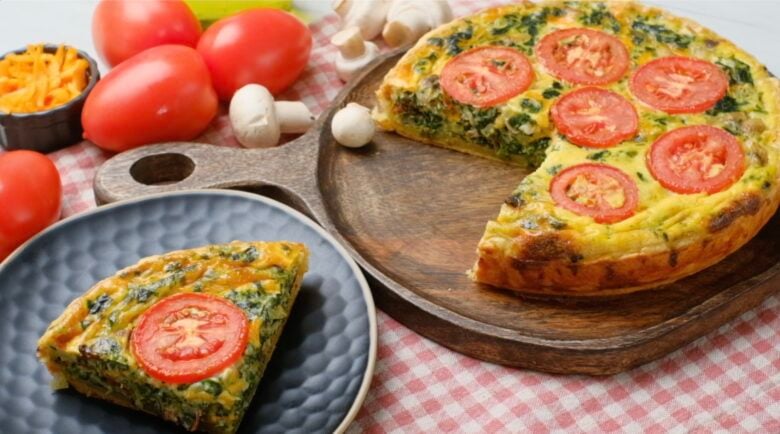 Key Ingredients
Here are a few key ingredients for the perfect breakfast quiche, but see below for even more ingredient substitution/variation ideas:
Deep dish crust – You'll need a 9-10 inch, single layer deep dish pie crust. Feel free to buy a crust pre-made from the store or try your hand at a homemade crust.
Bacon – Delicious, sizzling bacon cooked to a perfect crisp and then crumbled for the perfect flavor additive.
Olive oil – Used to help pull flavor out of the onions as they carmelize and cook down.
Onion – Works in tandem with olive oil to start as the base of the quiche filling.
Chopped spinach – Feel free to buy frozen chopped spinach. Just be sure to thaw and really squeeze it dry before using.
Mushrooms – Nothing beats fresh mushrooms to add an earthy flavor to your quiche. Use your favorite variety of mushrooms.
Eggs – It wouldn't be a quiche recipe without the key egg ingredient that makes up a bulk of the classic filling.
Whole milk – Whole milk makes the eggs even extra fluffy; you can use lactose-free whole milk as well.
Sharp cheddar cheese – Technically, any cheddar cheese will do, but we definitely recommend sharp cheddar cheese to add that delightful tangy cheddar flavor.
Tomatoes – Be sure to seed before using and then thinly slice; if they're not seeded, tomatoes will give off too much liquid.
Seasonings – Salt, garlic powder, and pepper round out the flavor profile of this recipe.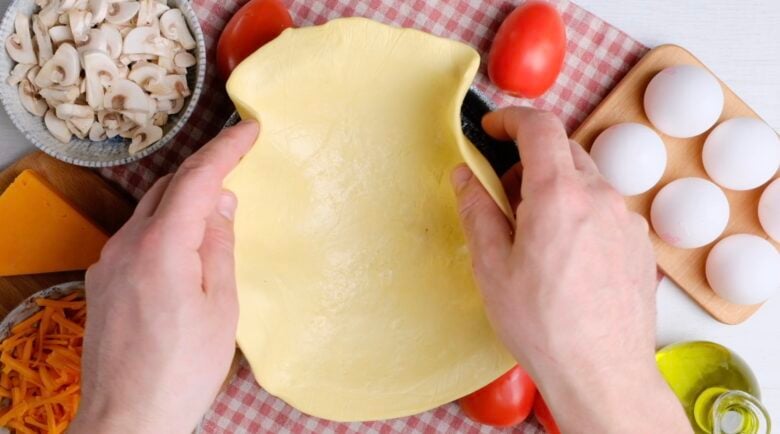 Substitutions and Variations
This recipe is ready for you to put your own spin on it. Our favorite version includes mushrooms, spinach, and bacon, but the variations and substitutions are almost endless. Take a look at a few ideas to switch this perfect quiche recipe up:
Vegetables – Broccoli, bell peppers, peas, kale, cherry tomatoes, asparagus, or potatoes
Protein – Ham, sausage, corned beef, salami, or crab meet
Cheese – Swiss, provolone, gouda, mozzarella, goat cheese, brie, feta, or parmesan
What to Serve with Quiche
Quiche makes a great meal on its own, but it also pairs well with a variety of other sides and dishes. Here are a few of our favorites to serve with quiche:
Commonly Asked Questions
What is a quiche?
Quiche is a French tart that contains egg, milk, and fillings within a baked flaky crust. They're typically filled with a protein source, cheese, and a vegetable, although there are numerous filling combinations to choose from.
Can you use uncooked vegetables in quiche?
The egg mixture filling will cook faster than any raw vegetable included in the filling mixture, so it's important to pre-cook the vegetables before baking the quiche. Vegetables can be roasted, sautéed, or fried, but they should be cooked beforehand. Cooking vegetables first also allows extra moisture to evaporate, so there isn't excess water content in the quiche.
Is quiche healthy?
The answer to this question relies heavily on the ingredients in the filling, however, in general, the answer is yes – quiche is a healthy choice! It's packed with protein from the cheese, meat, and eggs along with servings of vegetables which makes it a well-rounded meal that contains different nutrients and vitamins.
What happens if I don't pre-bake the crust?
Long answer short, if you don't pre-bake the crust, your quiche might turn from delectably flaky to a bit soggy. Pre-baking the crust before filling with the egg mixture ensures that the crust cooks all the way through and you don't end up with undercooked crust or overcooked filling. That said, if you use store-bought crust, follow the package instructions for use.
More to Bake and Eat
Did you make this?
Please give us a rating and comment below. We love hearing from you!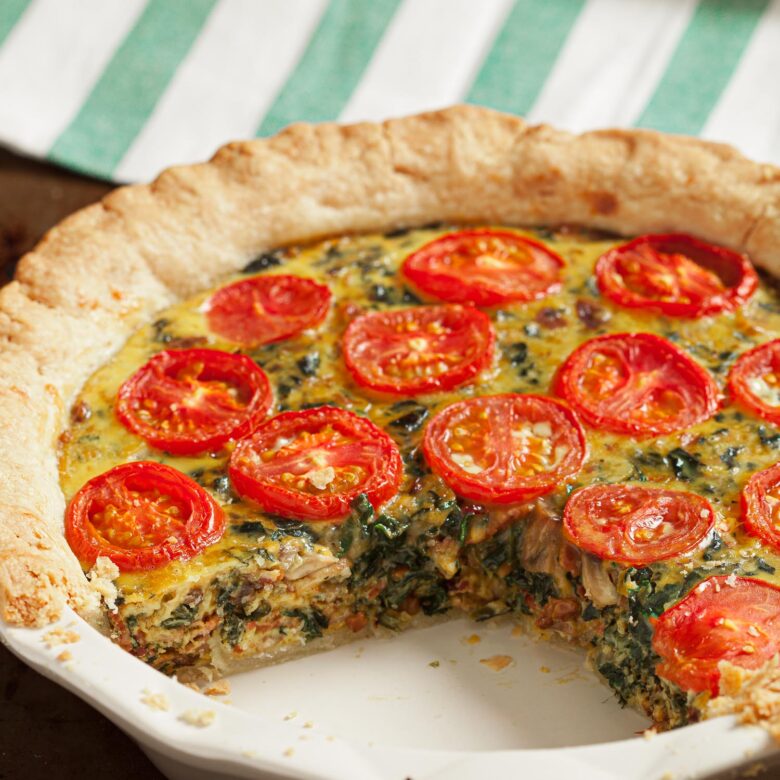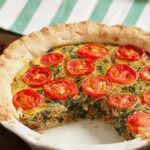 Breakfast Quiche
Whether it's cheese, spinach, bacon, or other delicious fillings, this perfect quiche is highly customizable with the best flaky crust. It's sure to be an instant hit with the whole crowd.
Ingredients
1

9-10 inch

pie crust

, deep dish, store bought or homemade

10

slices

bacon

,

cooked and crumbled

2

TB

olive oil

1

medium

onion

,

chopped

10

oz

spinach

,

frozen package, thawed, and squeeze-dried well

8

oz

mushrooms

,

fresh, chopped

5

large

eggs

,

lightly beaten

¼

cup

whole milk

2

cups

sharp cheddar cheese

½

tsp

kosher salt

¼

tsp

garlic powder

4

roma tomatoes

,

seeded and thinly sliced
Instructions
Heat oven to 350F, with rack on middle position. Lightly grease a 9-10 deep dish pie pan. Place a single layer prepared pie crust (store-bought or homemade) into the pan, pressing well into the bottom and sides of pan. Pinch edges together for a fluted design.

For a crisper crust, pre-bake homemade pie crust by poking holes throughout with a fork and bake 7 minutes, with fluted edges loosely covered with pieces of foil. Let sit at room temp while you continue making filling.

In a large skillet over medium high heat, combine the olive oil and onion, cooking until browned and translucent. Add squeeze-dried spinach and cook until there's no more excess moisture. Add crumbled bacon and mushrooms. Season with a dash of kosher salt and pepper.

In a large bowl, combine the eggs, milk, cheese, 1/2 tsp kosher salt, 1/4 tsp garlic powder, and 1/4 tsp black pepper. Whisk to combine well. Fold mixture together with the spinach mixture. Pour into prepared pie pan. Top with tomato slices – seed them to avoid juices pooling at the top.

Bake 40-45 minutes or until center is just slightly loose and edges are set – cover loosely with foil if edges of crust brown too quickly. Let cool 15 minutes, up to overnight. Best served slightly warm or at room temp.
Notes
Feel free to make it meatless by omitting the bacon.
It's not absolutely necessary to pre-bake pie crust, but we definitely recommend it otherwise the bottom may be a bit softer. Otherwise, feel free to use store-bought pie crust if you'd like.
Quiche can be made the night before, allowed to cool at room temp overnight, and served in the morning.
Note that this recipe is for a deep-dish pie. If you're using a regular size pie pan, you'll have enough leftover filling for about 10 crustless muffin size quiches.
If you enjoyed this recipe, please come back and give it a rating ❤️
Nutrition (per serving)
Serving:
1
g
|
Calories:
335
kcal
|
Carbohydrates:
7
g
|
Protein:
17
g
|
Fat:
27
g
|
Saturated Fat:
11
g
|
Polyunsaturated Fat:
3
g
|
Monounsaturated Fat:
10
g
|
Trans Fat:
0.05
g
|
Cholesterol:
164
mg
|
Sodium:
594
mg
|
Potassium:
514
mg
|
Fiber:
2
g
|
Sugar:
3
g
|
Vitamin A:
4056
IU
|
Vitamin C:
16
mg
|
Calcium:
271
mg
|
Iron:
2
mg