Easy Caramel Popcorn Recipe
Skip the store-bought version, and make this easy caramel popcorn recipe right from the comfort of your own home. Crunchy and sweet, it's perfect for movie night snacking, holiday gifts, and more.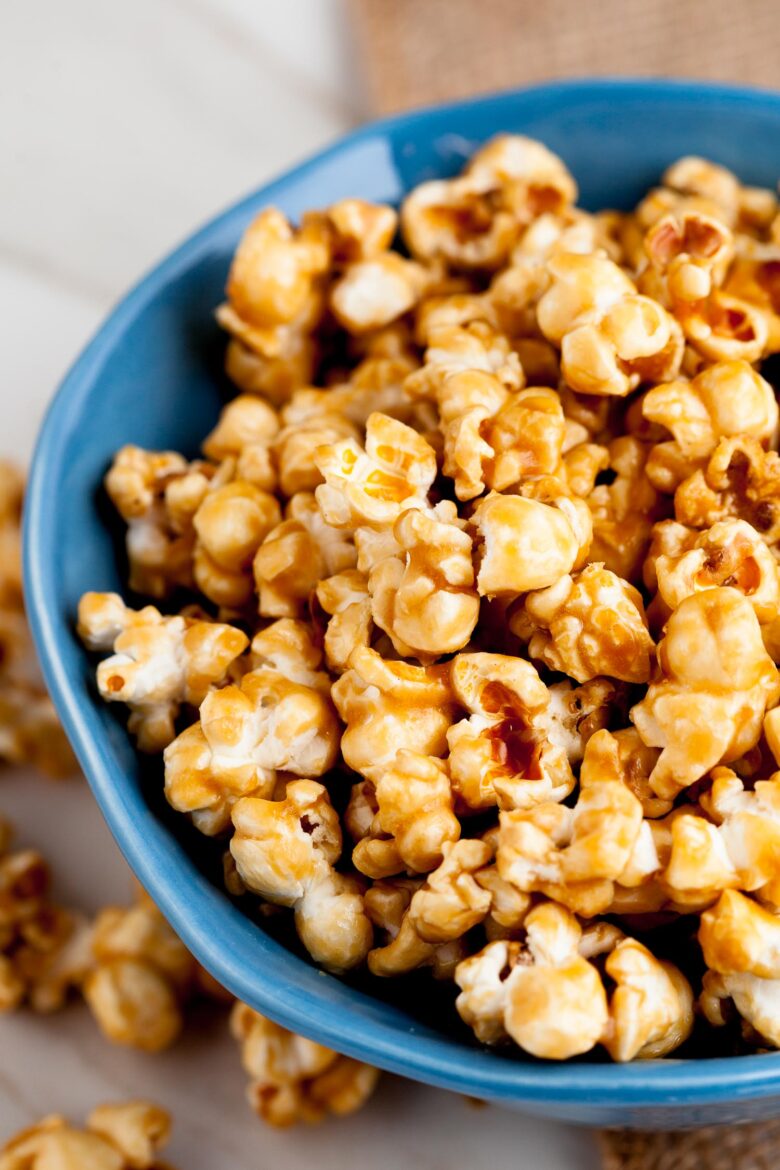 Why You'll Love this Caramel Popcorn
If you've never had the delightful experience of munching on caramel popcorn, otherwise known as caramel corn, you're missing out. Made with a caramel candy coating, it takes regular popcorn to a whole new level. It's too delicious to even attempt to resist, but why buy it from the store when you can make it right at home? This easy caramel popcorn recipe is:
Made with just 8 simple ingredients.
Easy enough to make with the kids.
The ultimate combination of salty and sweet to satisfy all your cravings.
A perfect homemade gift for the holiday season.
Customizable with all your favorite add-ins and toppings.
Great to make ahead of time for those late nights when hunger strikes.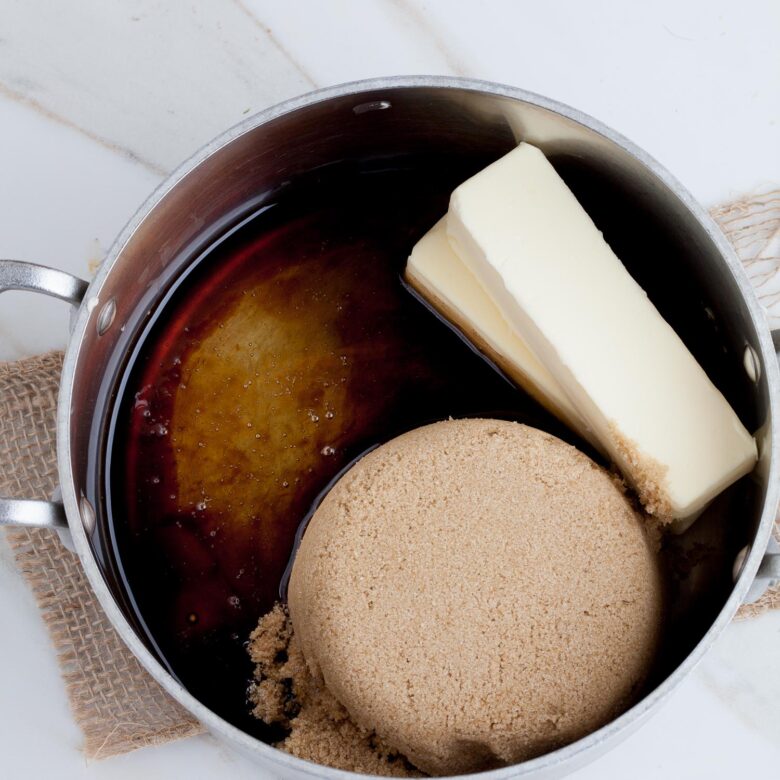 Ingredients You'll Need for Caramel Popcorn
There are several different variations of caramel popcorn. For example, some include sugar while others use molasses. For our version, we stuck with pantry staples you likely already have on hand. Here they are:
Oil: we use vegetable oil, but feel free to experiment with other types; try coconut oil, avocado oil, or even butter.
Good quality unpopped corn kernels. We recommend white kernels as they have a more neutral flavor than their nutty-tasting yellow counterparts.
To create the decadent caramel coating, we'll use a combination of light and dark corn syrup along with a pinch of brown sugar, a bit of butter, and baking soda.
Table salt and pure vanilla extract complete the recipe, contributing to the sweet and savory flavor we know and love.
Why Add Baking Soda to Homemade Caramel Popcorn?
The addition of baking soda is crucial to creating soft, munchable caramel popcorn. When the caramel coating is formed, the baking soda reacts with the acid in the brown sugar and corn syrup, creating tiny air bubbles in the sauce. As a result, once the caramel cools, it has a much softer texture that is easy to chew.
How to Make Caramel Popcorn at Home
Use a large, heavy pot, and make sure it has a tight-fitting lid. We always use our trusty All-Clad pot as it heats evenly and is a breeze to clean.
Splurge on high-quality corn kernels; the fresher the better. Trust us, we've tried this recipe with just about every variation possible, and name-brand white corn kernels are always best.
To avoid burning your popcorn, pick up and shake the pot vigorously every few seconds.
Don't stop stirring. You'll want to keep a watchful eye on your caramel sauce as it heats and be sure not to walk away. Stirring consistently is the best way to prevent it from becoming clumpy and solidifying.
Arrange the popped corn kernels in a single layer on a baking sheet, working in batches if you must. The last thing you want is a soggy snack all because it didn't have room to bake!
Work quickly to coat as much of the popcorn as you can, using a silicon spatula to prevent the caramel from sticking to anything but the popcorn.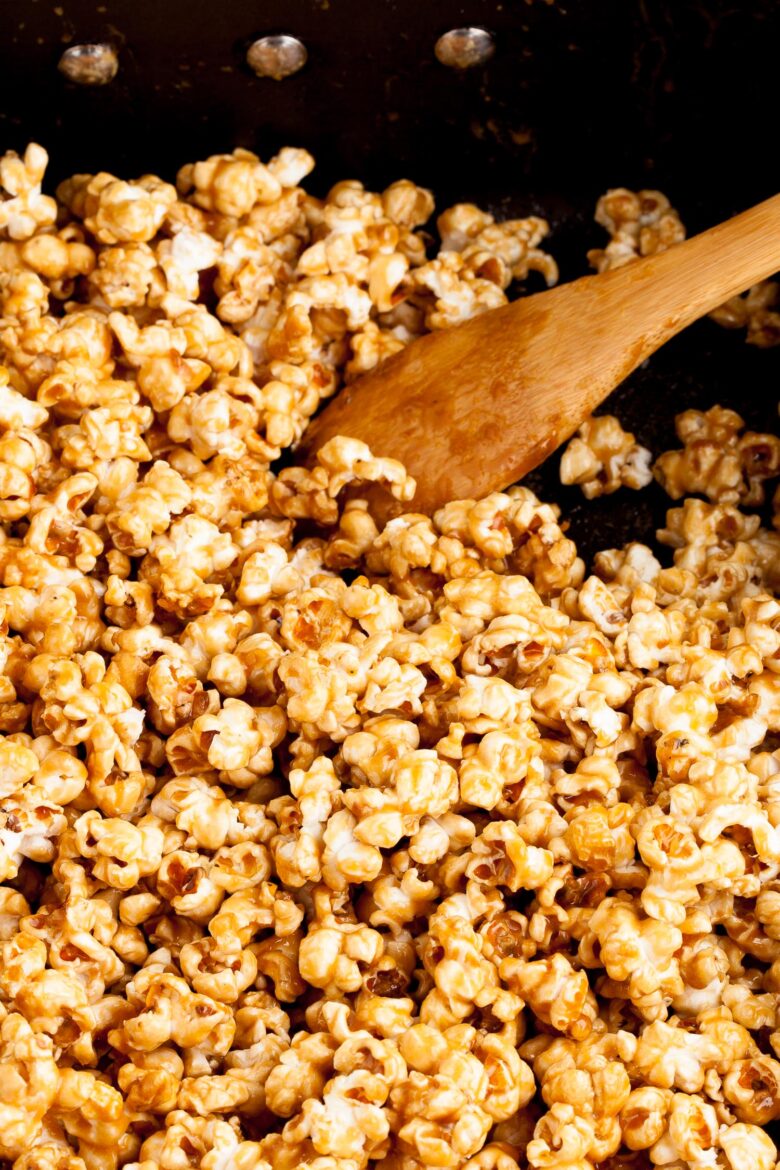 Caramel Popcorn commonly asked questions
Is caramel popcorn healthy?
Though there may be healthier snacks around, caramel popcorn does provide a good source of complex carbs and fiber to help keep you full.
Is caramel corn the same as kettle corn?
Although similar, they are not the same. While caramel corn is popped on its own and later combined with caramel sauce, the ingredients for kettle corn are all popped together in one big pot. See the difference, and try kettle corn for yourself here!
Why does my caramel popcorn recipe get grainy?
The most common reason why your caramel popcorn might taste grainy or gritty is due to the clumping of the sugar in the caramel sauce. To prevent this, be sure to add baking soda!
How should I store this recipe?
To keep your homemade caramel popcorn fresh, it's best to store it in an airtight container or Ziploc bag at room temperature for 2-3 weeks.
---
More to Cook and Eat
---
---
Did you make this?
Please give us a rating and comment below. We love hearing from you!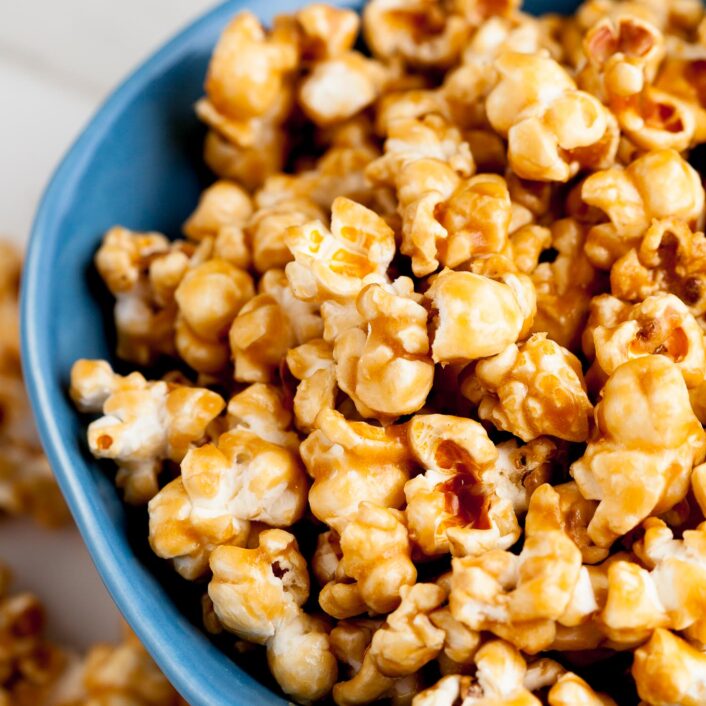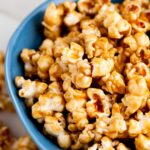 Easy Caramel Popcorn Recipe
Skip the store-bought version, and make this easy caramel popcorn recipe right from the comfort of your own home. Sticky and sweet, it's perfect for movie night snacking, holiday gifts, and more.
Instructions
Prepare: Preheat oven to 250F, with rack on lower position.

Pop Corn Kernels: In a very large heavy pot, add 5 TB oil and 3 corn kernels. Heat on medium-high with lid on and start to listen. Once the first kernel pops, carefully add the 1 cup corn kernels. Shake pan to coat kernels with oil. Place lid slightly ajar to allow steam to escape during popping. Shake pot occasionally during popping. Once the popping slows to 2-3 seconds in between, immediately remove from heat and transfer popped corn into a large roasting pan.

Warm: Place roaster in oven to keep popcorn warm.

Create Caramel: In a heavy saucepan, add brown sugar, corn syrup, salt, and butter. Bring to boil over medium heat, stirring. Boil 5 minutes, stirring/scraping constantly. Remove from heat and gently add the baking soda and vanilla. Mixture will turn foamy as you stir. Stir until mixture is thickened.

Coat and Bake: Pour mixture over warm popcorn and stir to coat as much as you can, with popcorn in an even layer. Bake 1 hour, stirring every 15 minutes to coat.

Cool: Transfer caramel corn to a lined baking sheet to cool. Separate the pieces as much as you can and let cool completely. Serve upon cooling or keep in airtight container.
Notes
If you're making double the amount, do it in separate batches. I've found that if the roaster is too full with popcorn, it won't crisp up as nicely.
If you enjoyed this recipe, please come back and give it a rating 🙂
Nutrition (per serving)
Calories:
331
kcal
|
Carbohydrates:
37.7
g
|
Protein:
0.6
g
|
Fat:
21.2
g
|
Saturated Fat:
14.4
g
|
Trans Fat:
0.6
g
|
Cholesterol:
40.7
mg
|
Sodium:
385.5
mg
|
Fiber:
0.2
g
|
Sugar:
36
g