3-Ingredient Chocolate Clusters (Crockpot)
These 3-Ingredient Chocolate Nut Clusters are so easy, they almost happen by themselves. Just toss everything into your slow cooker. Perfect for gift-giving or snack- attacking.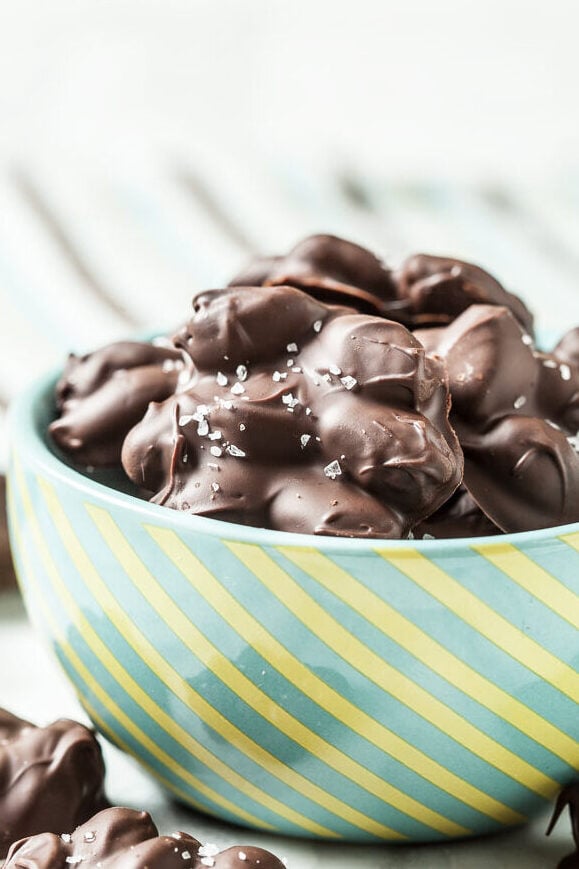 Easy Chocolate Almond Clusters
Some of us [me] would love a really good chocolate fix right about now, preferably with as little elbow grease involved and yet not sacrifice quality and flavor. That may sound like a tall order, but it's totally achievable.
Really great chocolate + crunch + excellent flavor is yours right now. These 3-Ingredient Chocolate Almond Clusters are ultra satisfying and shockingly easy. They're about 200% better than any store-bought chocolate nuts; once you try these, there will be no turning back.
Homemade chocolate almond clusters make for tasty gift-giving, especially if you have a chocolate lover in your life who appreciates a bit of healthy in the mix.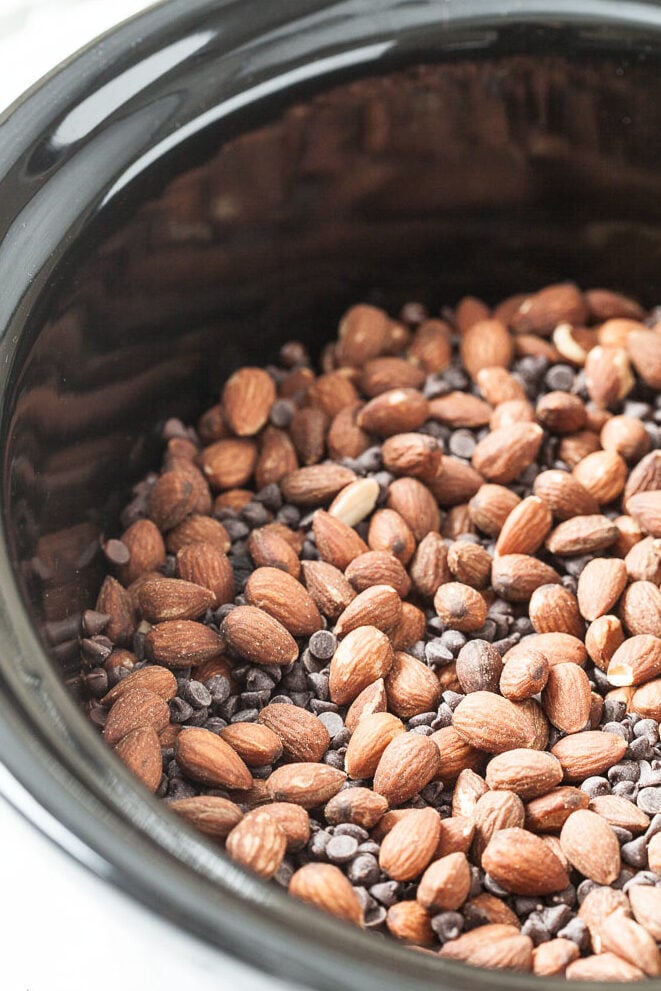 Basic Technique for homemade chocolate almonds
Here are the basic techniques for your BEST homemade chocolate almonds, perfect for gift-giving, party snacking, or just healthyish munching at home.
Because there are literally 3 items involved in this recipe, gather the best dark (or semi-sweet) chocolate. You can either chop you own favorite dark chocolate bar or use good quality morsels. Mini morsels are a nice option, as they melt quickly.

Use salted/roasted almonds…no raw or bland nuts for these, please. Better yet, place your almonds in a 350F oven for 15 minutes, for a freshly toasted aroma that can't be beat. Your toasted almonds will impart amazing nutty aromas and extra crunch.

Let the slow cooker do its job for about an hour. No peeking. Then stir to fully melt the chocolate, coating almonds with plenty of richly melted chocolate [yum.]

Drop chocolate almonds by clusters onto large sheet of wax paper; no need to worry about perfection here. Some clusters can be larger or smaller; just be sure they're all coated.

Sprinkle with flaky sea salt for both flavor and vanity's sake. Coarse kosher salt can work. Avoid heavy handedness here; just a pinch will do.

Do allow time for the clusters to cool completely. Placing them in the fridge will speed up the process. Once fully set, keep them in airtight container at moderate room temp or in fridge for many weeks. They can also be frozen for much longer.
This recipe makes a nice, large batch. You can gift them in labeled mason jars and pretty bags, share them at parties, or just eat them whenever you want a satisfying-yet-healthier snack.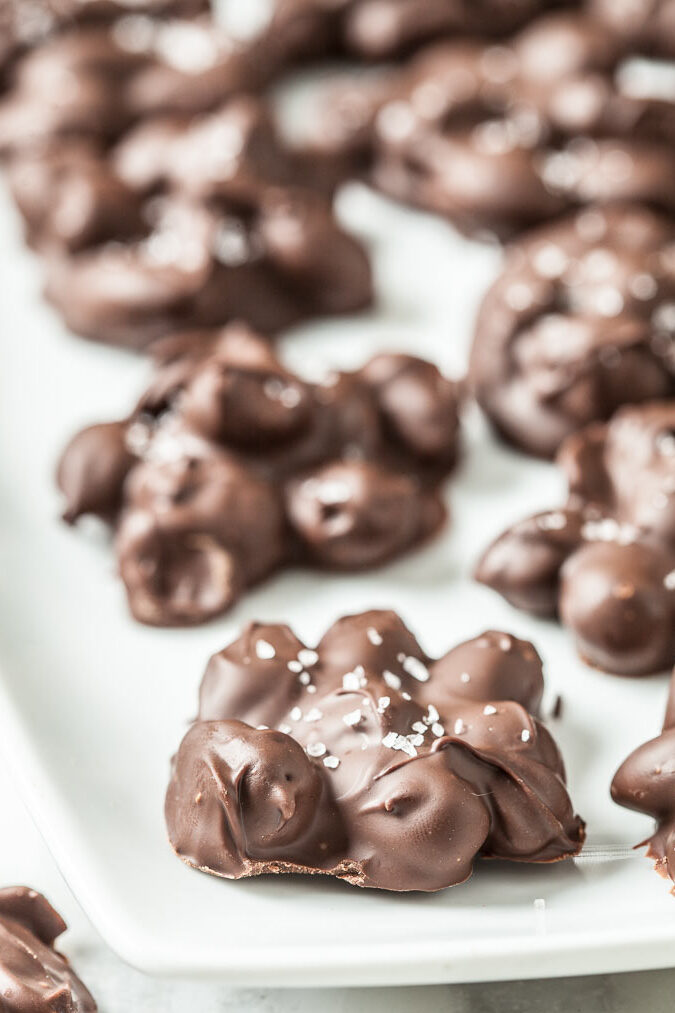 Try these 3-Ingredient Shortbread Cookies, Too:
Did you make this?
Please give us a rating and comment below. We love hearing from you!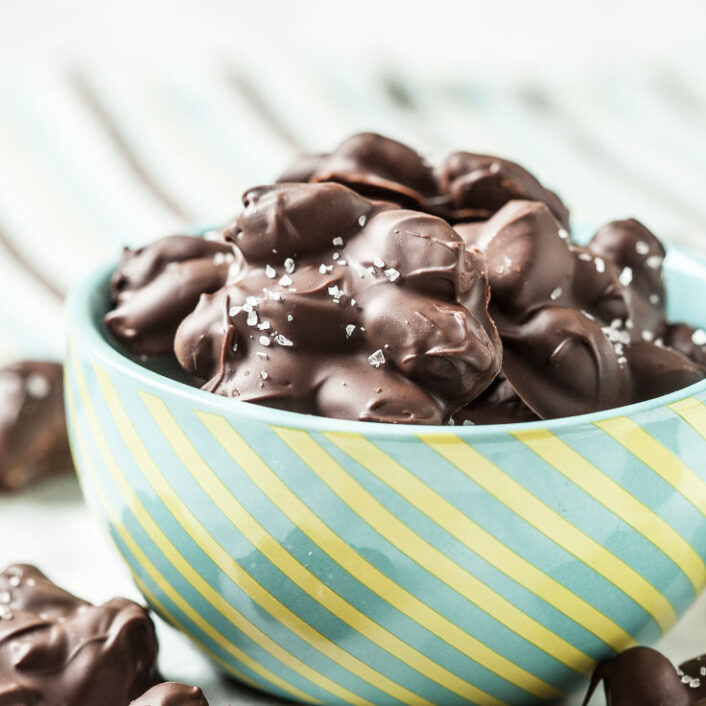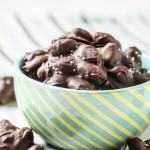 3-Ingredient Crockpot Chocolate Almond Clusters
These 3-Ingredient Crockpot Chocolate Almond Clusters are incredibly easy and perfect for gift-giving, party sharing, or just keeping for those mid-day snack attacks.
Ingredients
36

oz

lightly salted roasted almonds

24

oz

high quality dark chocolate chips

,

I use Ghrirardelli 60% cacao. Use semi-sweet if if you prefer it slightly sweeter

flaky sea salt for light dusting on top
Instructions
Recommended: freshly re-roast the almonds for extra flavor: Place almonds in an even layer on ungreased baking sheet and bake at 350F on middle rack for 10-15 minutes or until aromatic and toasted. This step is optional, but it brings out the best flavor in the almonds.

Place almonds and chocolate chips in Crockpot on low for 1 hour, without opening lid. Stir well until chocolate is completely smooth and melted.

Drop mixture by spoonfuls onto a large sheet of wax paper or parchment. Lightly sprinkle a bit of flaky sea salt on top of each cluster. Let cool completely before serving. Chill in fridge for quicker setting. Clusters keep well in airtight container at room temp.
Notes
Can be frozen in airtight container for a month or longer.
Yield amount is approximate, depending on how small/large clusters are.
If you enjoyed this recipe, please come back and give it a rating ♡
Nutrition (per serving)
Calories:
233
kcal
|
Carbohydrates:
16.4
g
|
Protein:
6.6
g
|
Fat:
17.6
g
|
Saturated Fat:
4
g
|
Sodium:
39.3
mg
|
Fiber:
4.4
g
|
Sugar:
10.8
g
---
Chocolate & Chocolate:
Chocolate Dump-it Cake with Chocolate Cream Cheese Frosting: BIG chocolate flavor with simple pantry ingredients. Superior moistness and amazingly delicious frosting makes this a favorite all year round.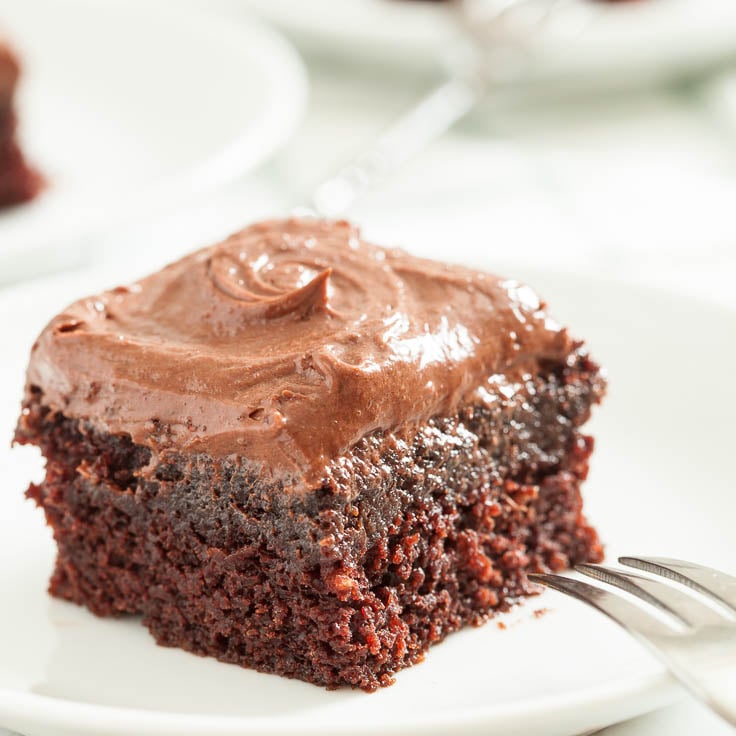 2. Molten Chocolate Pudding Cake: it's like a chocolate soufflé with melty hot chocolate sauce in the middle. You cannot go wrong with this; top with vanilla ice cream for the ultimate treat.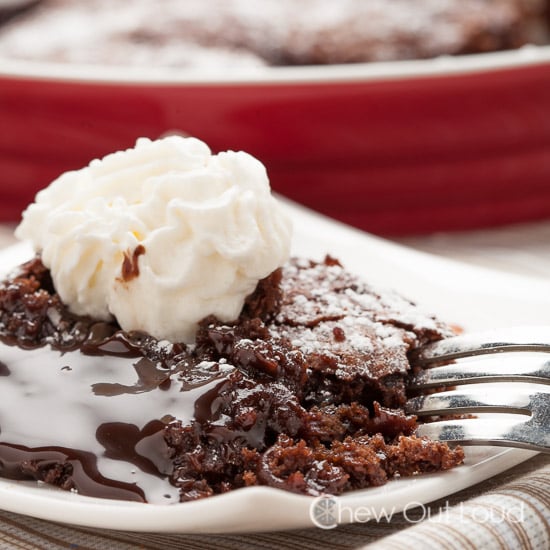 3. Thick 'n Chewy Chocolate Chip Cookies: These are one of the BEST chocolate chip cookies you'll make and eat. They're bakery style, thick, chewy, and slightly crisp at edges.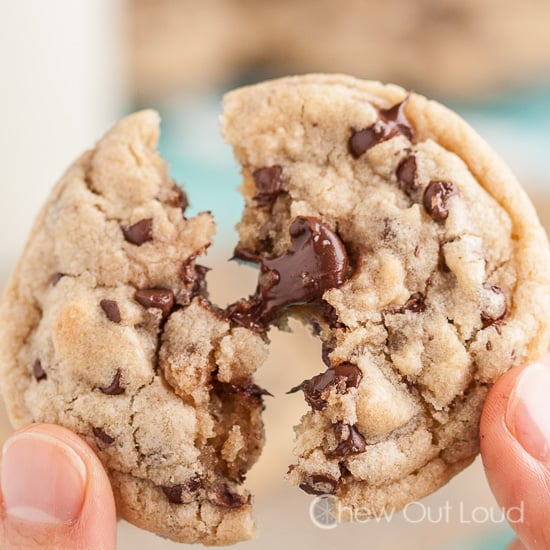 4. Amazing Triple Chocolate Mousse Cake: this one's made for all the occasions throughout the year. Birthdays, holidays….this fluffy yet decadent mousse cake will bring out the oooh's and aaah's to your celebration. It tastes even better than it looks.