Flourless Chocolate Cake (Gluten Free)
This Flourless Chocolate Cake is silky, rich, and smooth. Serve with fresh berries and whipped cream for an unforgettable chocolate dessert.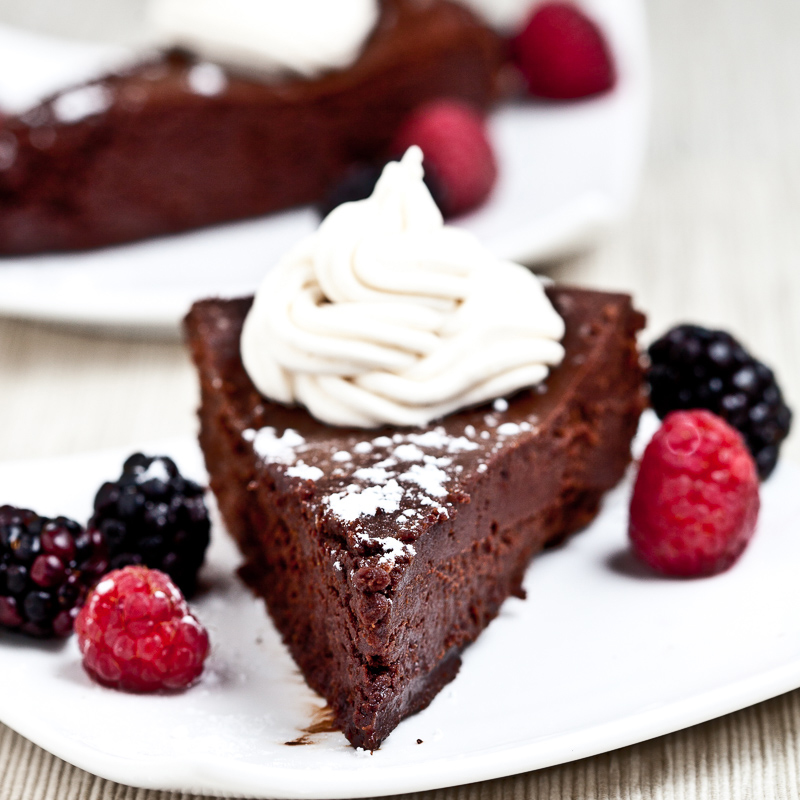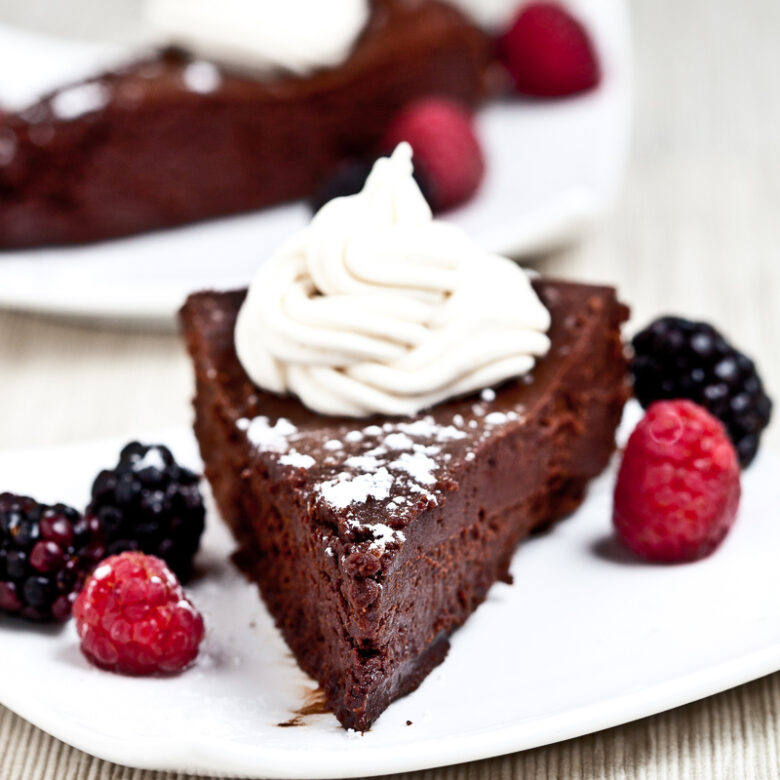 Flourless Chocolate Cake
When a very serious chocolate craving comes knocking, there is really no other option than this flourless chocolate cake. Only one decadent dessert is designed with an intense chocolate-lover in mind, and this is it.
Flourless Chocolate Cake is also referred to as gluten-free chocolate cake or flourless chocolate torte. Whatever moniker you fancy, there is absolutely no denying the magical qualities of this Flourless Chocolate Cake.
What sets this flourless chocolate cake apart
This cake is characterized by all the lovely qualities below:
It boasts a silky richness and smooth melt-in-your-mouth texture.
There are only 5 ingredients. Only five.
It can be made up to several days in advance.
It's amazing with stabilized whipped cream, which can also be made in advance.
This cake can feed a small crowd, so it's perfect for gatherings.
It freezes beautifully.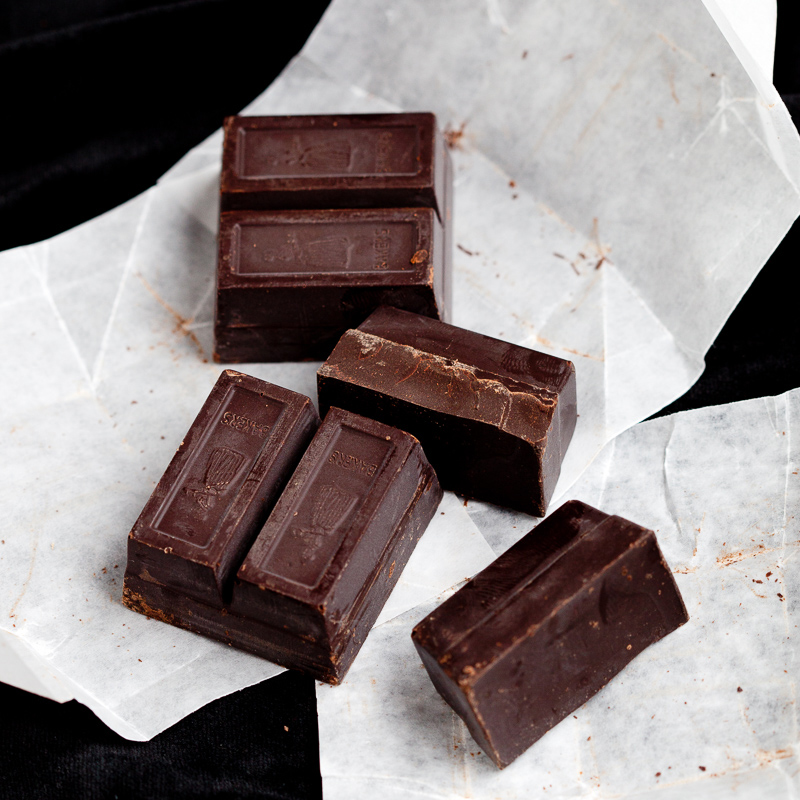 Key Ingredients for your gluten-free cake
It may sound different, but don't skip the strong coffee (or strong decaf.) The finished cake won't taste like coffee at all, but rather the coffee provides a hefty boost to the chocolate flavor.
Use the best quality bittersweet chocolate you can find. Bittersweet chocolate is recommended to offset the richness and sweetness, and it imparts an intense chocolate flavor. The better quality your chocolate, the better your cake will be.
We use salted butter simply due to convenience and flavor; it allows us to omit adding any additional salt. However, if you prefer to use unsalted butter and add your own pinches of salt, feel free to do so.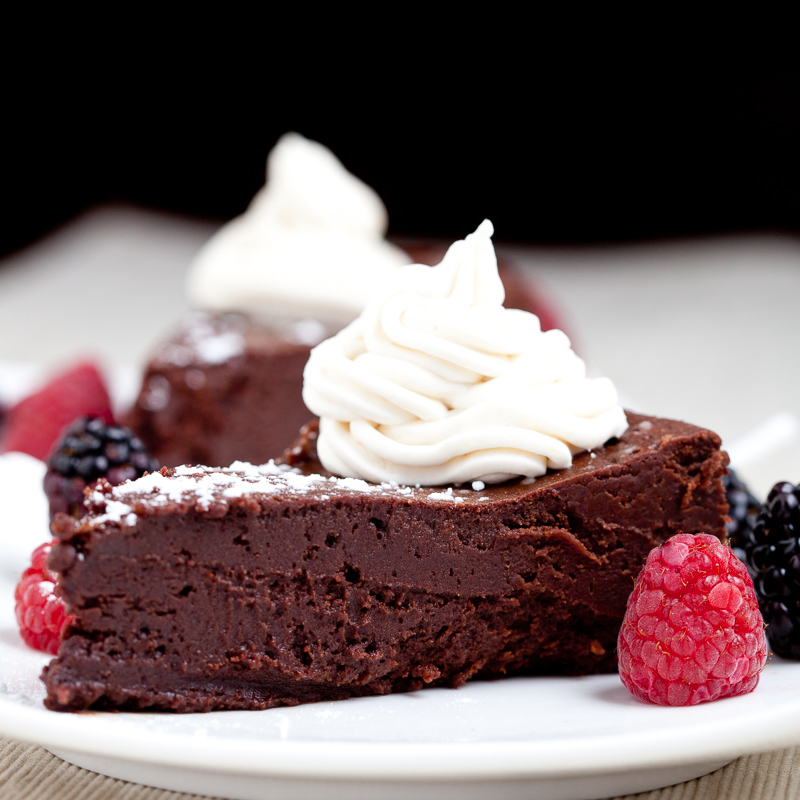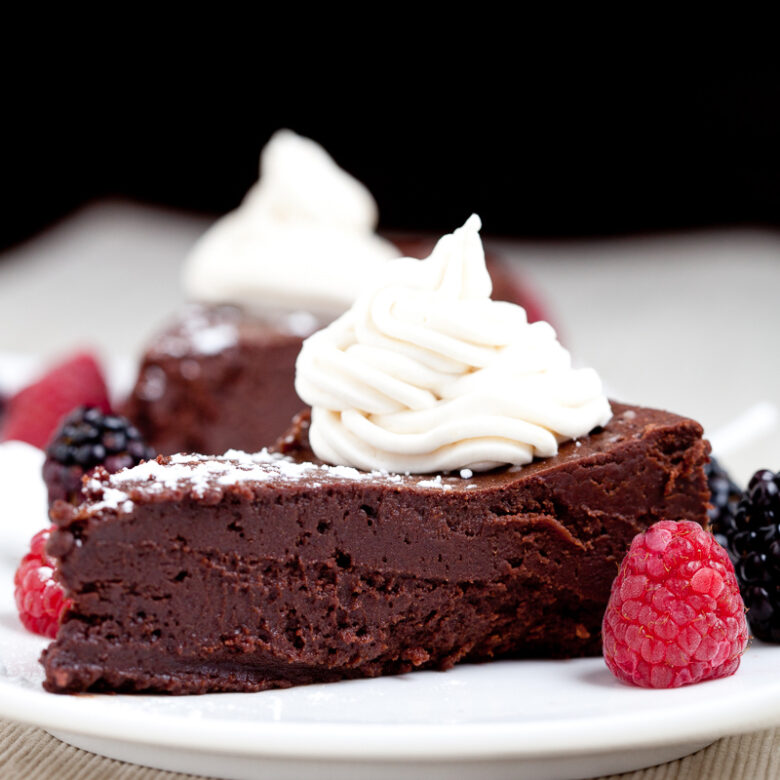 Flourless Chocolate Cake
Commonly Asked Questions
What does flourless chocolate cake taste like?
Unlike regular cakes made of flour, flourless chocolate cake is not fluffy nor light. It tastes like a rich chocolate truffle. It's silky, rich, and smooth.
Why is there coffee in the ingredients?
Extra strong coffee (or decaf) helps to draw out the depth of flavor in the chocolate. There is no coffee flavor in the finished cake.
Can I make flourless chocolate cake ahead of time?
Yes, that is one of the beauties of this cake; you can make it up to several days ahead. Cover and keep chilled until ready to serve.
Can I freeze flourless chocolate cake?
This cake freezes beautifully. Slice thinly, keep covered in an airtight container, and freeze for several weeks.
more to bake and eat
---
Did you make this?
Please give us a rating and comment below. We love hearing from you!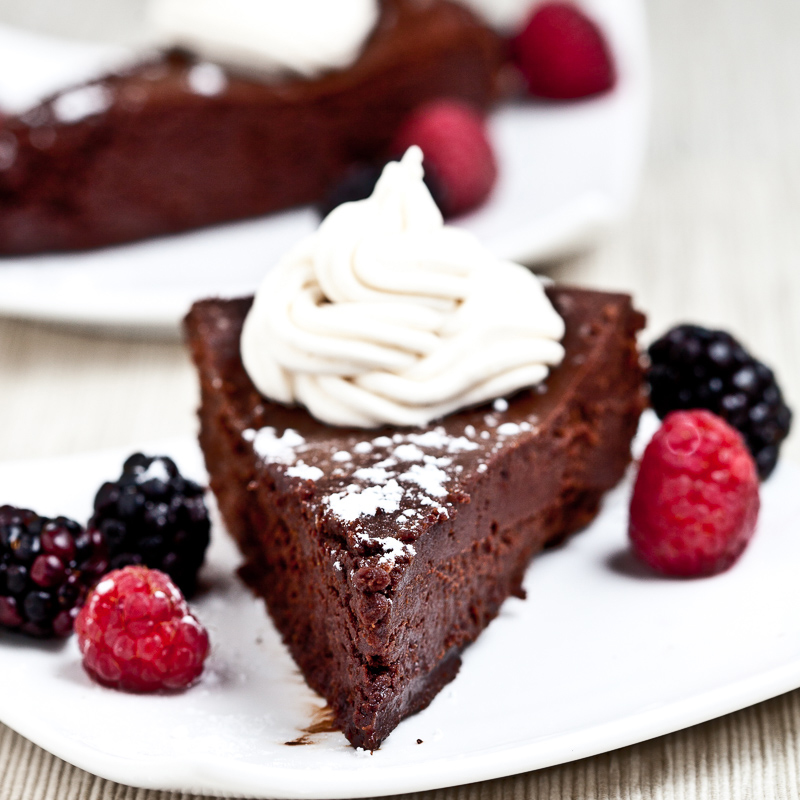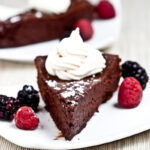 Flourless Chocolate Cake (Gluten Free)
This sublime dessert is silky, rich, and smooth. Serve with fresh berries and whipped cream for an unforgettable dessert.
Ingredients
½

cup

prepared strong coffee,

decaf is fine

¾

cup

granulated sugar

18

ounces

good quality bittersweet chocolate

1

cup

salted butter,

cut into small pieces

6

large eggs

kettle of boiling water
Instructions
Preheat Oven: Preheat oven to 300F, with rack on lower middle position. Pour boiling water into a large baking pan, and place pan in oven on lowest rack.

Prepare Pan: Line a 8 1/2 inch springform pan with parchment on bottom. Grease and flour (any gluten-free flour would work) the parchment and sides of springform pan. Wrap the exterior of pan with heavy duty foil.

Heat and Stir: In a small saucepan, combine the prepared coffee and sugar. Stir over medium heat until sugar is completely dissolved. Set aside.

Melt Chocolate: In a heavy pan on lowest heat, stir the bittersweet chocolate chunks until just small bits of chocolate remain unmelted. Turn heat off, remove pan from heat, and continue stirring to finish the melting until chocolate is completely smooth.

Combine: Transfer melted chocolate into bowl of stand mixer. Slowly beat the butter into the chocolate, 1 piece at a time. Gently beat in the hot coffee/sugar mixture.

Add Eggs: Beat in the eggs, one at a time, just until fully combined. Scrape the bowl and ensure that all batter is fully smooth and incorporated.

Bake: Pour batter into prepared springform pan. Bake for 45 minutes on lower middle rack. The center should be wet-looking, with edges looking done and puffy. The cake will set as it cools, so don't worry about the jiggly center.

Cool and Serve: Let cake cool to room temp in springform pan, and then cover/chill overnight in fridge. To unmold, run a thin plastic knife carefully between cake and pan all around the edges. Unlock springform, and it should release cake easily. Keep chilled until ready to serve. Slice chilled cake and serve with berries and whipped cream, if desired.
Notes
Be sure to allow cake to chill in fridge overnight, to allow it to set firmly. Must serve it chilled, especially if room is warm. Leftover cake freezes nicely. Wrap up airtight and freeze for several weeks.
Kahlua Whipped Cream is absolutely delish for this flourless chocolate cake, and highly recommended. Otherwise, we advise using Stabilized Whipped Cream, to avoid the typical runny/melty tendency of whipped cream.
If you enjoyed this recipe, please come back and give it a rating ♡
Nutrition (per serving)
Calories:
371
kcal
|
Carbohydrates:
34.3
g
|
Protein:
5.4
g
|
Fat:
25.6
g
|
Saturated Fat:
15.5
g
|
Trans Fat:
0.5
g
|
Cholesterol:
114.6
mg
|
Sodium:
134.8
mg
|
Fiber:
2.6
g
|
Sugar:
31.6
g