At one of our fun and fabulous Gourmet Club dinners recently, we were slated to bring dessert.  Sometimes, it takes me days to figure out just the recipe I'm yearning to contribute.  But when a serious – very serious – chocolate craving comes knocking, there is really no other option.  Only one decadent dessert is designed with an intense chocolate demand in mind.  This Flourless Chocolate Cake.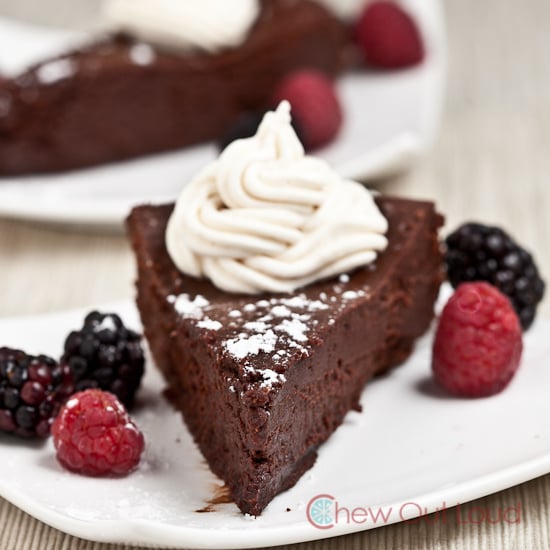 Flourless Chocolate Cake is also referred to as gluten-free chocolate cake or flourless chocolate torte.  Whatever moniker you fancy, there is absolutely no denying the magical qualities of this Flourless Chocolate Cake.  This cake is characterized by an unrestrained richness, chocolatey denseness, and a satiny smooth melt-in-your-mouth texture.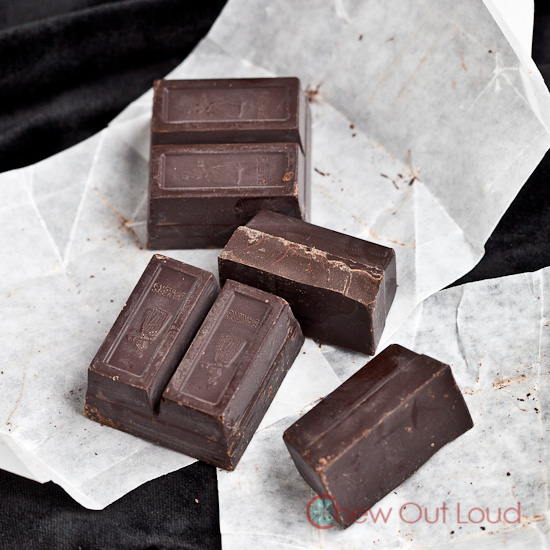 I never realized how easy it is to whip up a flourless chocolate cake at home until I started making this a few years ago.  Since this magnificent chocolate dessert is so rich and is easily shared by a big group of friends, I grab every opportunity I can to make this cake to share.  A little of this dessert goes a long way.  Unless you give this flourless chocolate cake the privilege of being the meal itself.  I may have indulged in a heftier slice of this cake for lunch, I don't know.
The next time you're making dessert for family or friends, reach for this flourless chocolate cake.  Serve it up with fresh berries and freshly whipped cream for the ultimate scrumptious dessert.  I love this easy Kahlua Whipped Cream for the perfect accompaniment to this particular cake.  All chocoholics will get their fix, and your gluten-free friends will be thrilled.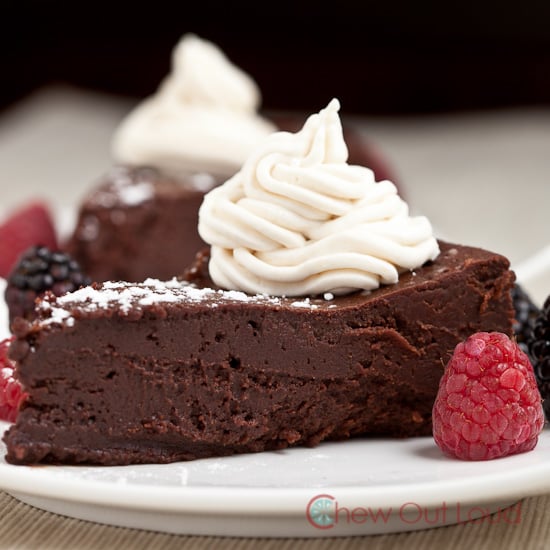 Should you be so lucky as to have leftovers of this prized flourless chocolate cake, you'll be happy to know it freezes exceptionally well.  Just slice up the leftovers, wrap well, and freeze.  Intense chocolate cravings, be satisfied.
Enjoy!
Print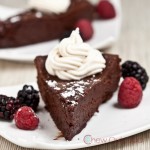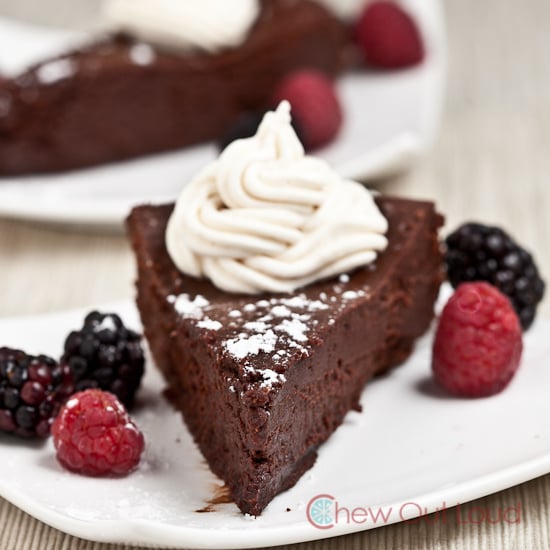 Flourless Chocolate Cake (Gluten Free)
---
Description
This sublime dessert is rich, dense, and smooth. Serve with fresh berries and whipped cream for an unforgettable mouthful.
---
1/2 cup

prepared strong coffee (decaf is fine)

3/4 cup

granulated sugar

18 ounces

good quality bittersweet chocolate

1 cup

salted butter, cut into small pieces

6

large eggs
kettle of boiling water
---
Instructions
Preheat oven to 300F, with rack on lower middle position. Pour boiling water into a large baking pan, and place pan in oven on lowest rack.
Line a 8 1/2 inch springform pan with parchment on bottom. Grease and flour (any gluten-free flour would work) the parchment and sides of springform pan. Wrap the exterior of pan with heavy duty foil.
In a small saucepan, combine the prepared coffee and sugar. Stir over medium heat until sugar is comletely dissolved. Set aside.
In a heavy pan (I use my All-Clad), on lowest heat, stir the bittersweet chocolate chunks until just small bits of chocolate remain unmelted. Turn heat off, remove pan from heat, and continue stirring to finish the melting until chocolate is completely smooth.
Transfer melted chocolate into bowl of stand mixer. Slowly beat the butter into the chocolate, 1 piece at a time. Gently beat in the hot coffee/sugar mixture.
Beat in the eggs, one at a time, just until fully combined. Scrape the bowl and ensure that all batter is fully smooth and incorporated.
Pour batter into prepared springform pan. Bake for 45 minutes on lower middle rack. The center should be wet-looking, with edges looking done and puffy. The cake will set as it cools, so don't worry about the jiggly center.
Let cake cool to room temp in springform pan, and then cover/chill overnight in fridge. To unmold, run a thin plastic knife carefully between cake and pan all around the edges. Unlock springform, and it should release cake easily. Keep chilled until ready to serve. Slice chilled cake and serve with berries and whipped cream, if desired.
Notes
Be sure to allow cake to chill in fridge overnight, to allow it to set firmly. Must serve it chilled, especially if room is warm. Leftover cake freezes nicely. Wrap up airtight and freeze for several weeks.
Source:  Chew Out Loud, adapted from Maggie at allrecipes.com
**Recipe for Kahlua Whipped Cream is absolutely delish for this flourless chocolate cake, and highly recommended.  At least, do a Stabilized Whipped Cream, to avoid the typical runny/melty tendency of whipped cream.