Peanut Butter Kiss Cookies (Gluten-Free)
All peanut butter chocolate lovers have to try these peanut butter kiss cookies (peanut butter blossoms.) They are wonderfully satisfying and happen to be gluten-free.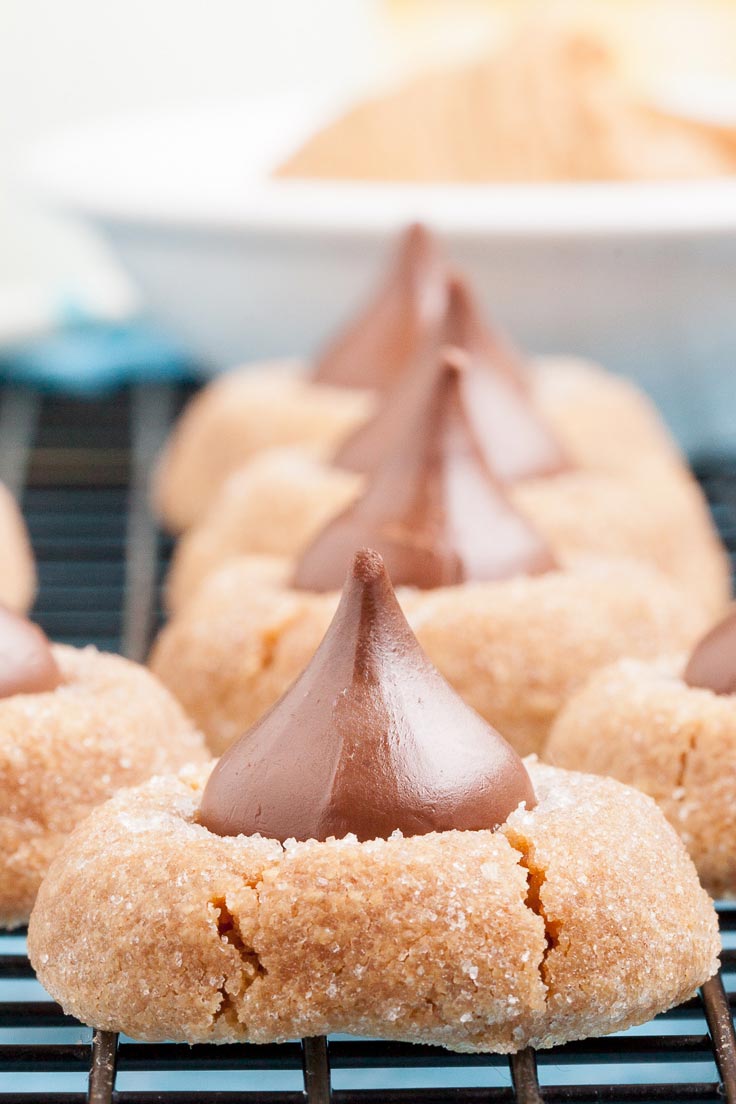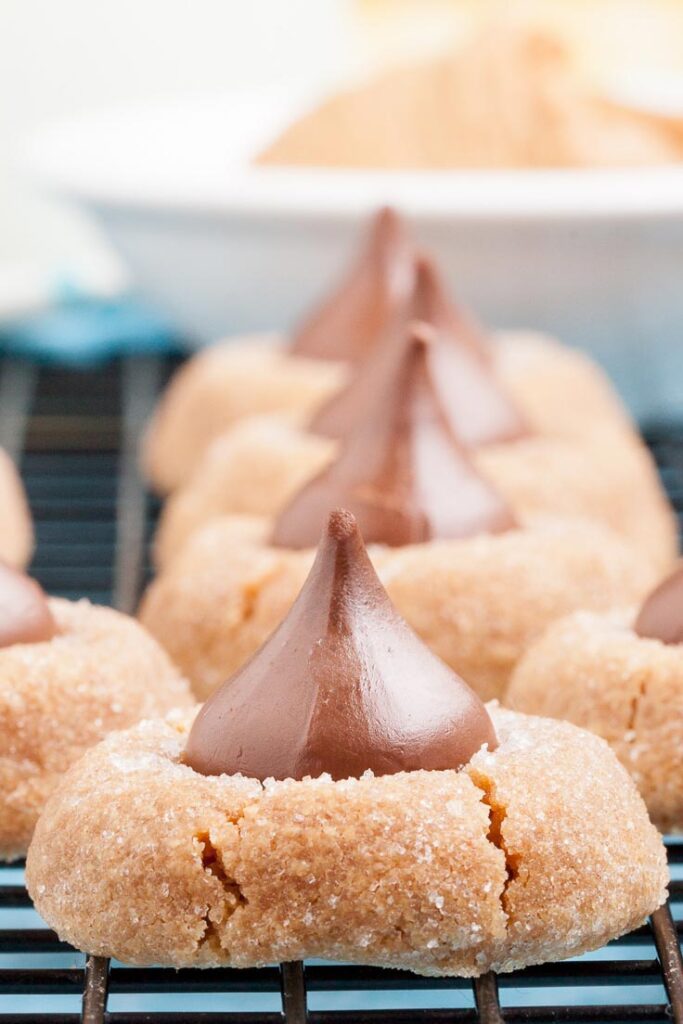 Peanut butter kiss cookies (peanut butter blossoms) are a delicious classic
These last few years, we've gone nutty over peanut butter. Our pantry is sure to be well stocked with PB galore. I could operate a peanut butter stand. We've got all-natural PB, creamy PB, chunky PB, extra-chunky PB, and honey PB. What'll you have?
Not to mention, peanut butter makes amazing gluten-free cookies. It's great to be able to bake up chewy cookies that are gluten-free for my friends who would otherwise be denied their share. I've made these always-a-hit Flourless Chewy Peanut Butter Chocolate Cookies, which gets devoured down to the last crumb. And these Flourless Peanut Butter Oatmeal Cookies, which I unabashedly serve as breakfast cookies.
When I wanted cookies highly worthy of popping your mouth at social gatherings, out came these Peanut Butter Kiss Cookies, often referred to as Peanut Butter Blossoms…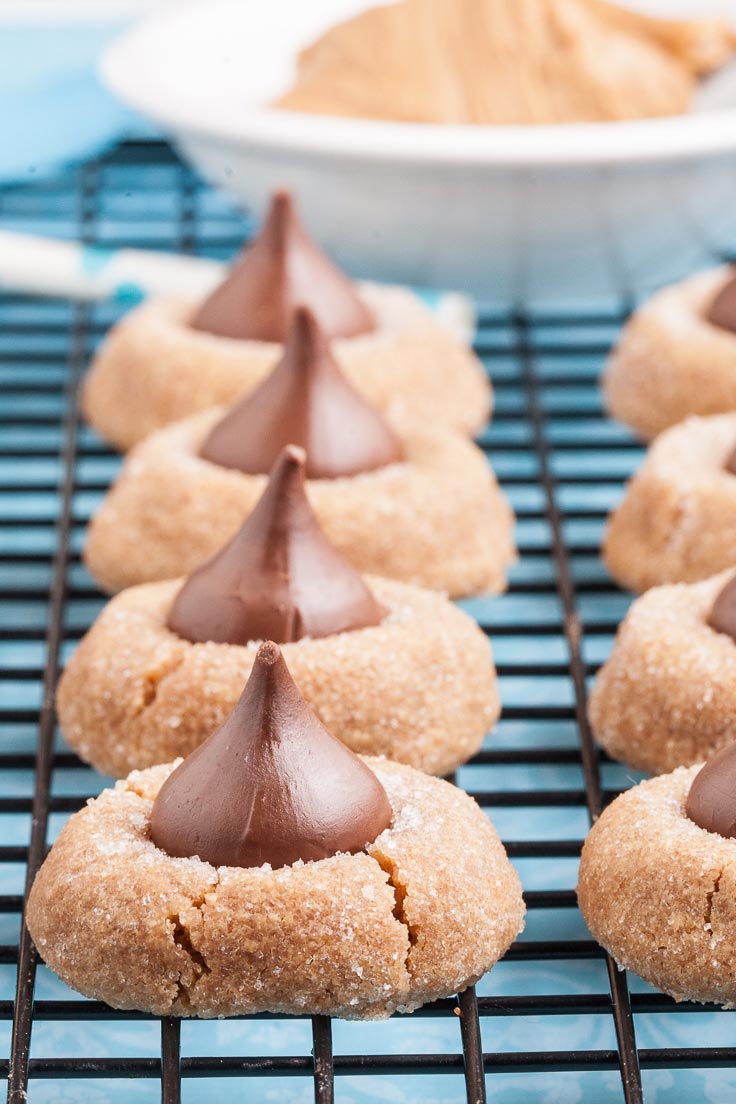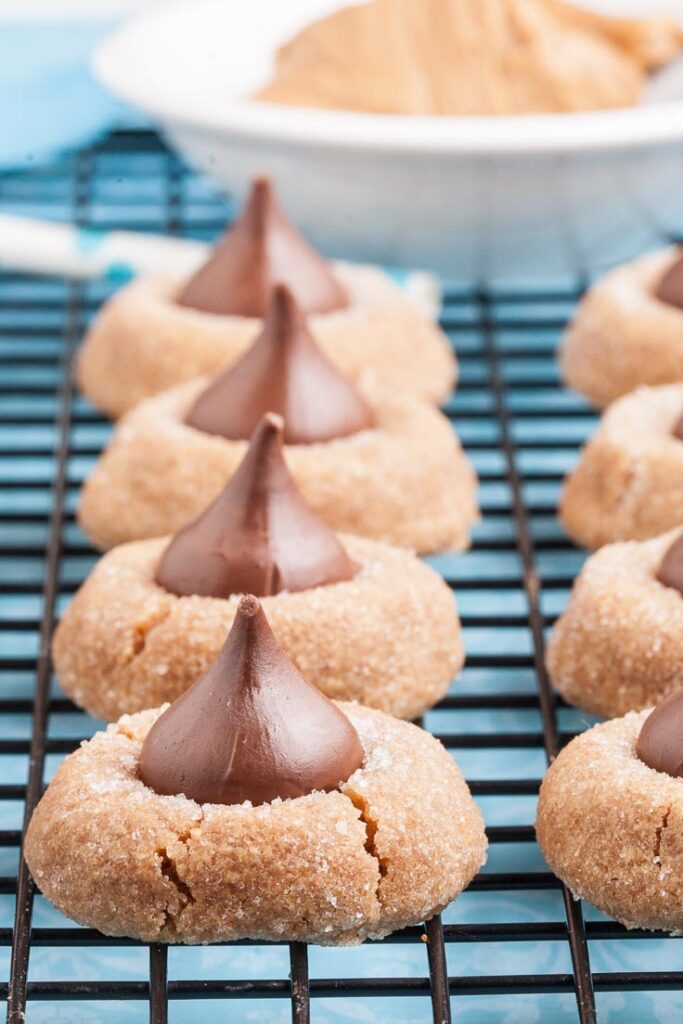 Peanut Butter Blossoms need Only 7 ingredients
These cute little cookies are totally, highly, and fully addictive. They can be made bigger or smaller, but smaller ones are super cute. Kids and grown-ups snatch these up on any cookie tray. In fact, they're often the first ones to go. They simply appear pop-in-your-mouth delectable. And they are.
These are especially handy if you happen to buy Hershey's Kisses and other such chocolates on sale when shopping for milk at Target. I know things. While you're at it, you'll need the following list of ingredients (most of which you likely already have in your pantry.)
creamy peanut butter – the best kind to use here is just plain regular creamy PB. To ensure the texture comes out right, skip the kind that needs to be stirred.
granulated sugar
fresh light brown sugar (it's important to make sure your brown sugar is fresh and hasn't lost any of its moisture from sitting in the pantry too long.)
large egg
table salt
pure vanilla extract
Hershey's Kisses
With these flourless peanut butter kiss cookies, we happily get our chocolate fix, chewy cookie fix, and a happy dose of protein. Healthy-ish?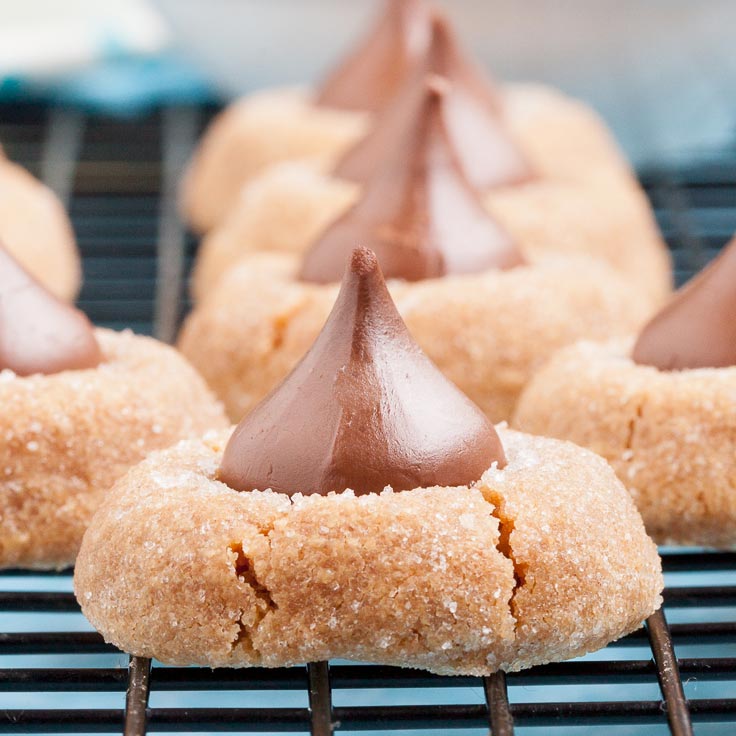 Peanut butter kiss cookies freeze beautifully
Oh, and of course my favorite part about these cookies — the dough freezes beautifully. You can always count on my freezer having some kind of cookie dough ready to bake. Cookie emergencies pop up often around here. I love being able to serve up freshly baked cookies within a moment's notice.
Here's to creating chocolatey, protein packed, and sweet moments.
You may want a batch of these as well:
Did you make this?
Please give us a rating and comment below. We love hearing from you!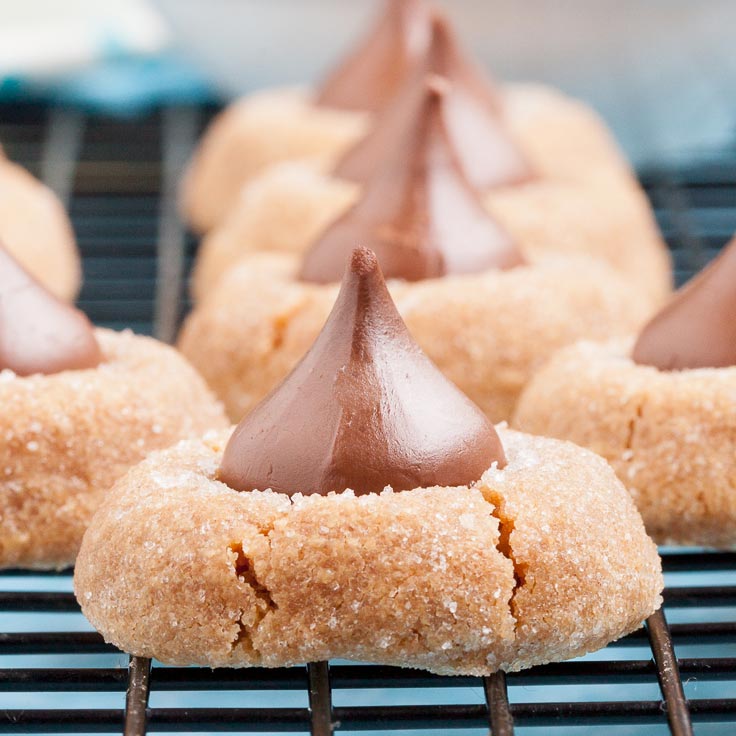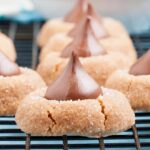 Flourless Peanut Butter Kiss Cookies (GF)
These Flourless Peanut Butter Kiss Cookies are super easy to make! They're fun, cute, and taste fantastic. Chewy, soft, and popular at every gathering you bring them to.
Instructions
In a bowl, combine all ingredients except for the Kisses. Stir to combine well. Press dough together into a ball, wrap tightly, and chill in fridge 30 minutes to 1 hour.

Preheat oven to 350F, with rack on lower middle. Line baking sheet with parchment paper.

Shape dough into 1-inch balls. Roll each ball in granulated sugar to coat. Place on parchment-lined cookie sheet. Lightly depress each dough ball (they won't spread much in the oven.)

Bake 7 minutes or until lightly golden but still very soft. Do not overbake. Once removed from oven, gently press a Kiss into the center of each warm cookie. Cool about a minute on cookie sheet, and then transfer to wire rack to finish cooling.

*Keep cookies in airtight container at room temp to preserve softness.
Notes
Recipe can easily be doubled or tripled. Baked cookies can be frozen in airtight container for 1-2 weeks.
Nutrition (per serving)
Calories:
202
kcal
|
Carbohydrates:
22.2
g
|
Protein:
5.3
g
|
Fat:
11.4
g
|
Saturated Fat:
2.4
g
|
Cholesterol:
15.5
mg
|
Sodium:
148.6
mg
|
Fiber:
1.1
g
|
Sugar:
19.5
g
Here are those now-famous Flourless Peanut Butter Chocolate Cookies; amazing chewyiness and flavor.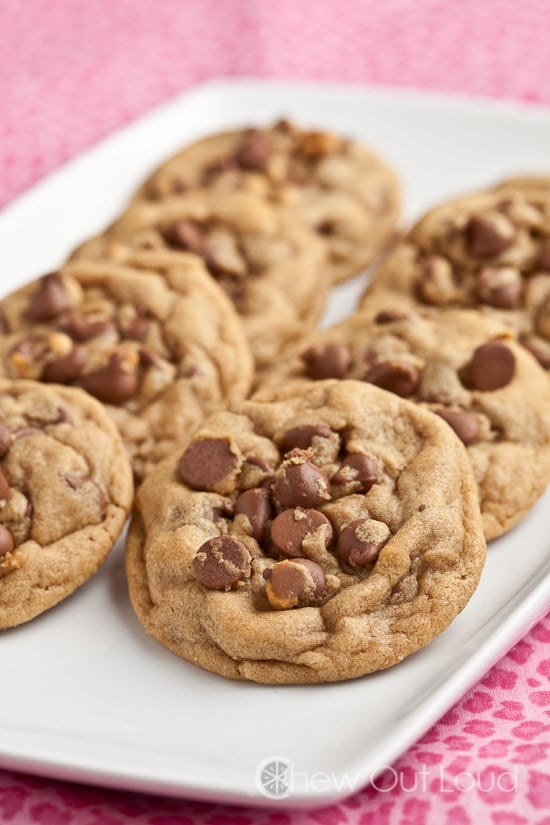 These are the breakfast-worthy Peanut Butter Oatmeal Cookies that happen to be flour-free as well.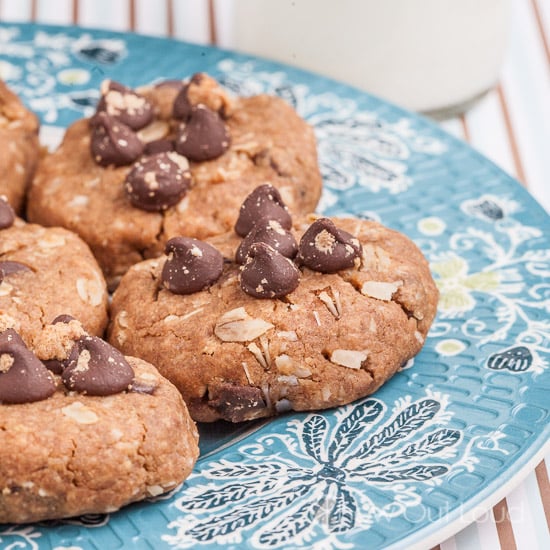 And yeah, when you are really looking to impress some gluten-free guests, look no further than this phenomenal Flourless Chocolate Cake. I could eat this every day.