Stabilized Whipped Cream
This stabilized whipped cream recipe is super easy, light, airy, and fluffy. It can be made days ahead of time won't become runny or watery. Now you can serve whipped cream on all your desserts with confidence.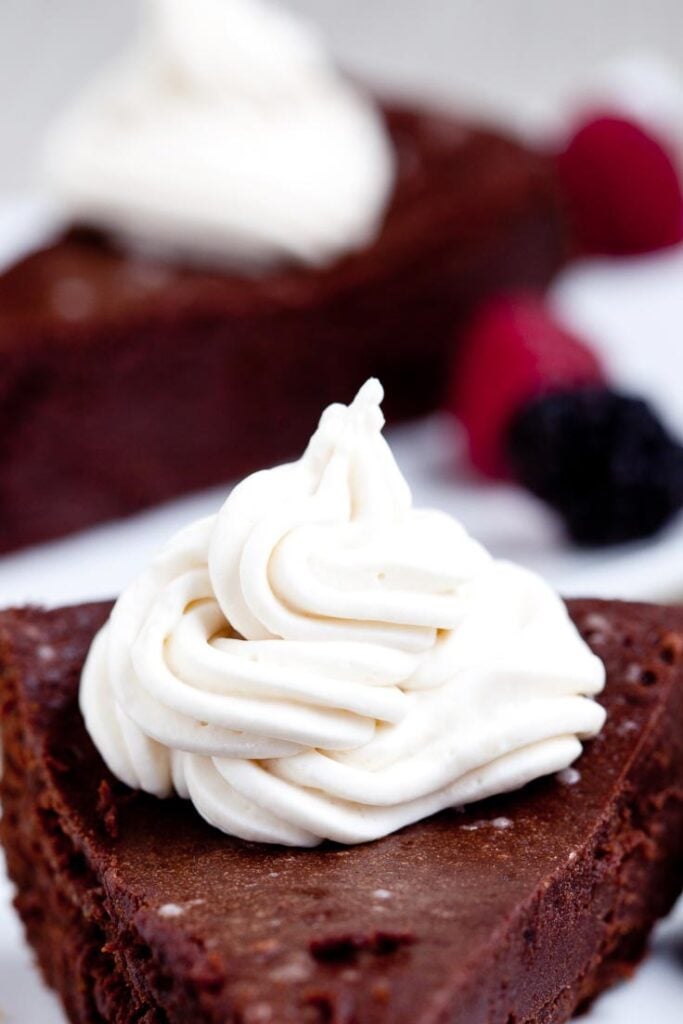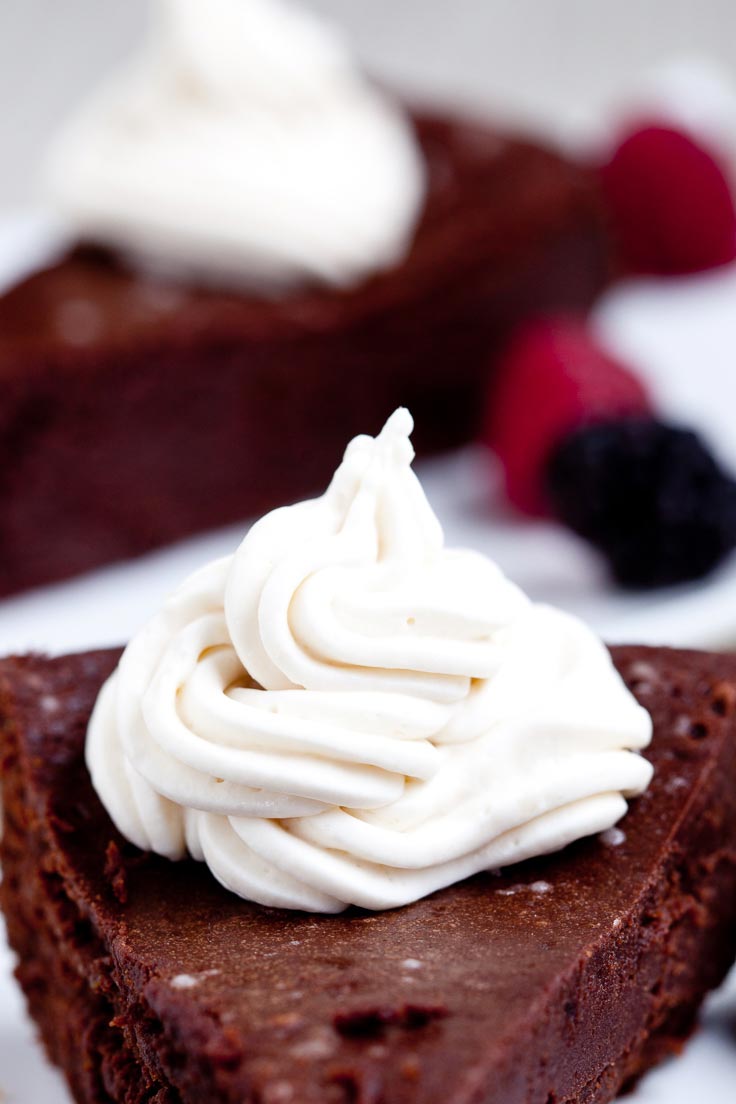 How to make Stabilized Whipped Cream
Whipped cream is arguably the best dessert accompaniment ever. Stabilized whipped cream is awesome stuff, and it couldn't be easier to make or more adaptable to use.
If you make your own whipped cream, you know there is absolutely no equal in store-bought tubs or cans. No packaged whipped cream holds a candle to the real deal.
Since it only takes a few ingredients and a few minutes to whip together, there's no reason not to whip out that whisk. I always "stabilize" my whipped cream, which creates whipped cream that is more resilient and won't get runny as it sits.
Stabilized whipped cream holds together beautifully and keeps its shape for days. I love using stabilized whipped cream in lieu of heavy frostings whenever possible. It's incredible on top of decadent flourless chocolate cake and a must-have over white chocolate raspberry cheesecake.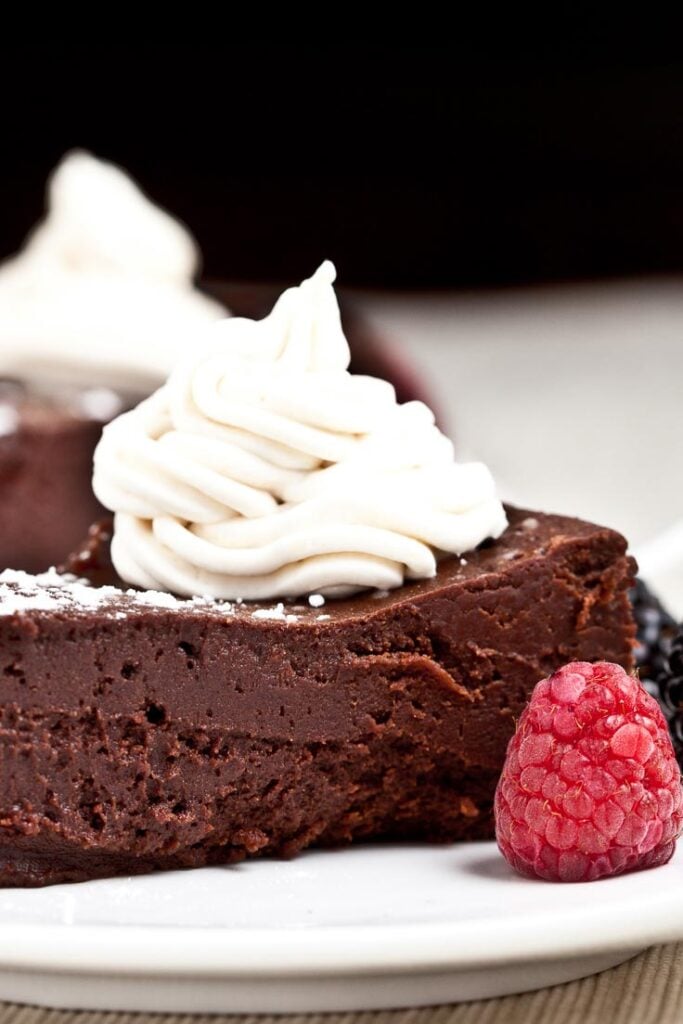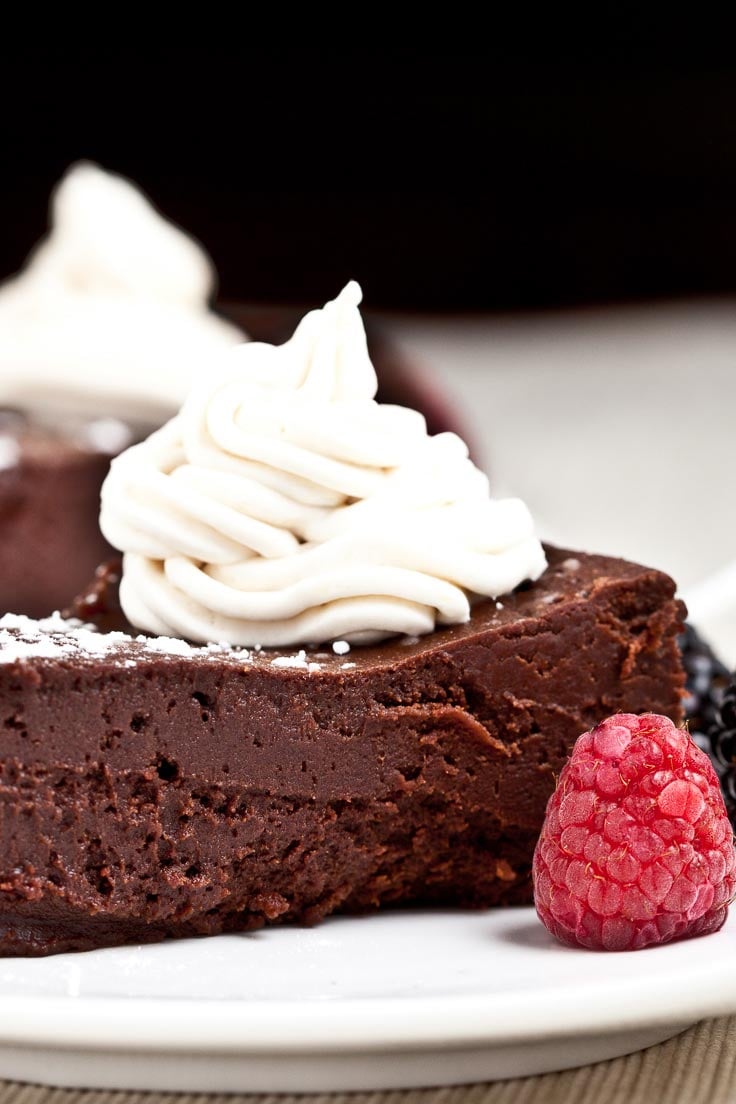 Stabilized whipped cream can be made days ahead of time
When you're in the mood for a light, fluffy frosting, use stabilized whipped cream to frost cakes or pipe long-lasting swirls onto almost any dessert.
You'll love the fact that you can make stabilized whipped cream ahead of time, keep it in the fridge without worries of it getting runny, and use it when you're ready to go. I often make a batch of this whipped cream recipe and keep it in an airtight container in fridge until I'm ready to use it.
Even better, you can go ahead and frost or pipe this super easy whipped cream recipe onto your cakes, cupcakes, cheesecakes, etc. and safely keep it in the fridge until ready to serve. When I make my white chocolate raspberry cheesecake, I always fully decorate it with this whipped cream and keep it in the fridge for 1-2 days before serving.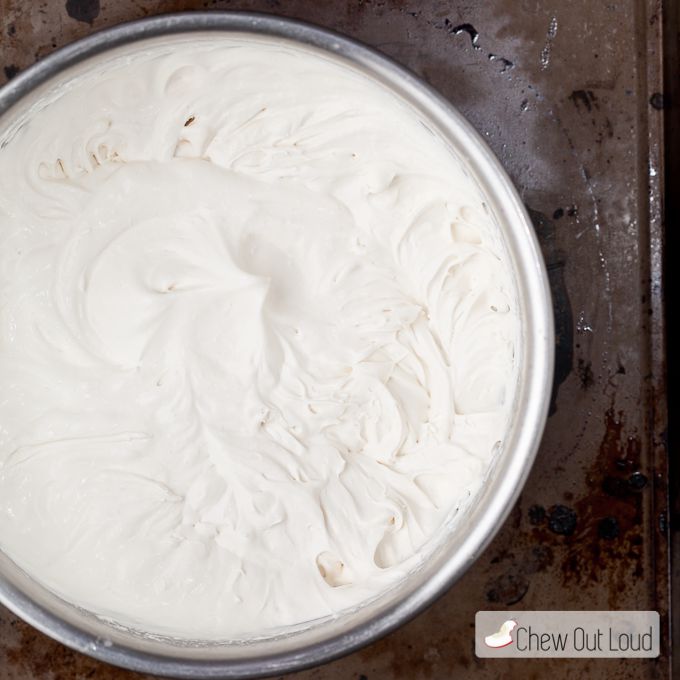 Can you freeze stabilized whipped cream?
You'll love the answer: yes! As long as you make the whipped cream recipe as written with heavy cream, it will freeze nicely.
You can either make a batch and store in airtight container to use later, or you can freeze the entire dessert with stabilized whipped cream already piped on.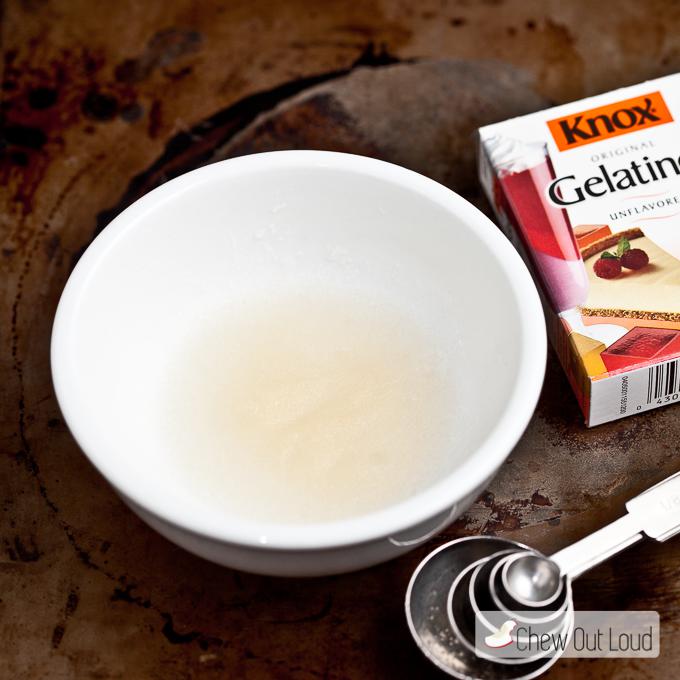 Tips to thickening whipped cream (stabilizing)
Use electric hand mixer to whip together the heavy cream, powdered sugar, and vanilla (or other flavored extract) until those pretty soft peaks show up. You can tell soft peaks (image above) have formed by gently lifting the whisk up – gentle peaks should form on the surface of the whipped cream as the whisk is lifted.
An electric hand mixer is recommended, as it allows you to have total control while you work.
A warm mixture of plain gelatin (I use Knox) and water is key to thickening and stabilizing your whipped cream.
Steadily pour in a warm mixture gelatin and water straight into the whisking action, continuing to whip all the way to stiff peaks. When your whipped cream is at stiff peaks, it will seem "firmer" and more sturdy (image below.)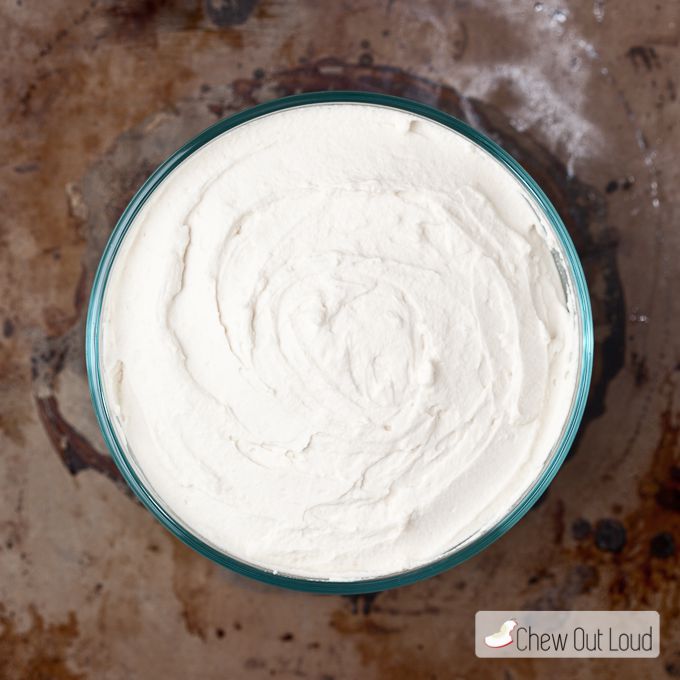 Stabilized Whipped Cream is light, airy, and yet holds its shape
Viola! The whipped cream takes on a sturdier texture, while remaining light and airy when you taste it.
I've done various flavors, with Kahlua whipped cream being a fan favorite. I used Kahlua whipped cream for this unbelievable Double Chocolate Cake, which was seriously over-the-top-of-the-entire-moon. Deeelicious.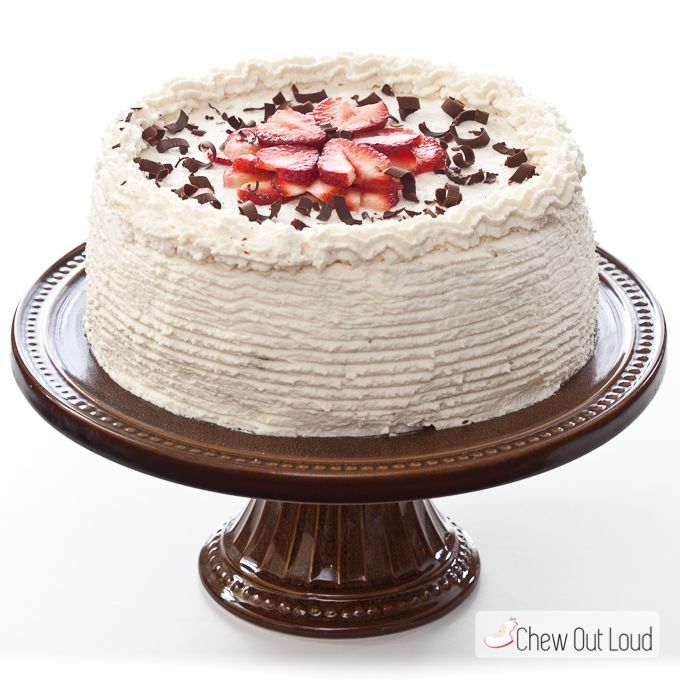 Make out-of-this-world caramel sauce to use on all your desserts: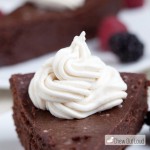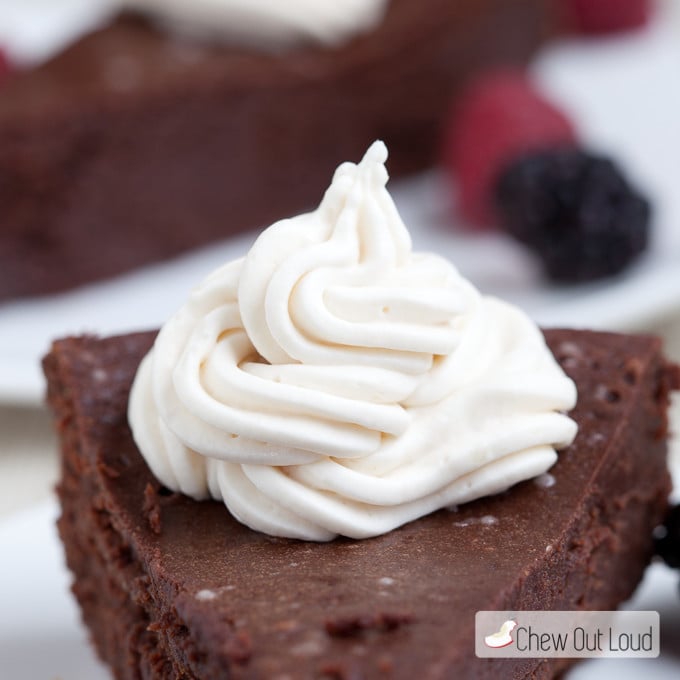 Stabilized Whipped Cream
This whipped cream is sturdier than normal, and will not get runny or melt with time. Stabilized whipped cream keeps well in fridge for days!
Ingredients
2

cups

heavy whipping cream

,

very cold

4

TB

powdered sugar

2

TB

vanilla extract,

or Kahlua or other flavored extract

2

tsp

unflavored gelatin powder

,

Knox

2

TB

water
Instructions
Pour cold heavy whipping cream, powdered sugar, and vanilla extract in a large metal bowl. Place bowl and whisks of electric mixer in fridge for 5-10 minutes to make everything cold.

Meanwhile, combine gelatin powder and 2 TB water in a small glass bowl. Once water has been fully soaked up by the gelatin, microwave the mixture for 15-20 seconds. It should become a thick, hot liquid. Stir well and let sit at room temp.

Remove the bowl from fridge. Beat on medium-high until soft peaks just start to form. Set whipped cream aside and check the gelatin mixture. (If it has re-coagulated, microwave a few seconds at a time until it turns liquid again.) If it's hot, stir until it cools down to lukewarm. It should be a slightly warm liquid, but not hot. Resume beating whipped cream, while steadily pouring liquid gelatin right where the whisks are beating, to ensure it is being fully incorporated.

Beat whipped cream to stiff peaks. Try to stop beating right at stiff peaks, but if you accidentally over-beat it a little bit, don't worry. It will still frost and pipe fine.
Nutrition
Calories:
92
kcal
|
Carbohydrates:
16.2
g
|
Protein:
0.6
g
|
Fat:
2.9
g
|
Saturated Fat:
1.8
g
|
Trans Fat:
0.1
g
|
Cholesterol:
9
mg
|
Sodium:
3.5
mg
|
Sugar:
15.9
g
Did you make this?
Leave a comment below and tag @chewoutloud on Instagram