Chewy Coconut Macaroons Recipe (Gluten-Free)
By Amy Dong
Published Apr. 7, 2020
Updated Dec. 3, 2023
This 5-Ingredient Coconut Macaroons Recipe yields cookies that are crisp on the outside and chewy in the center. They're sure to be an instant hit with all the coconut lovers in your life.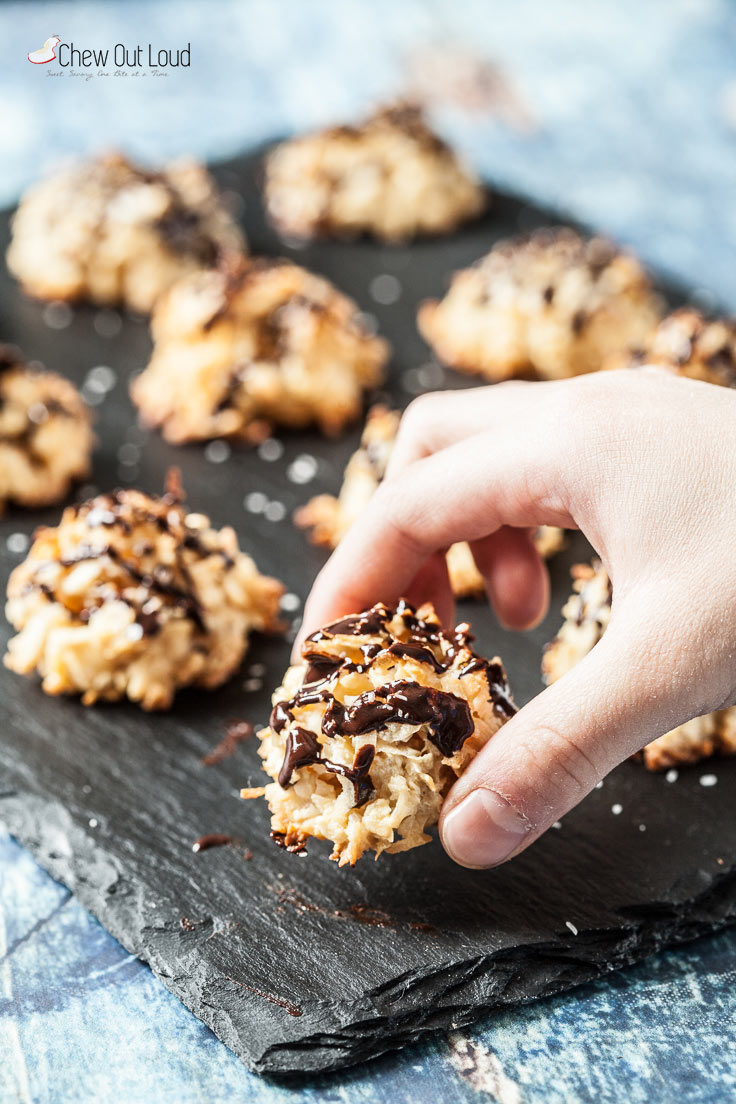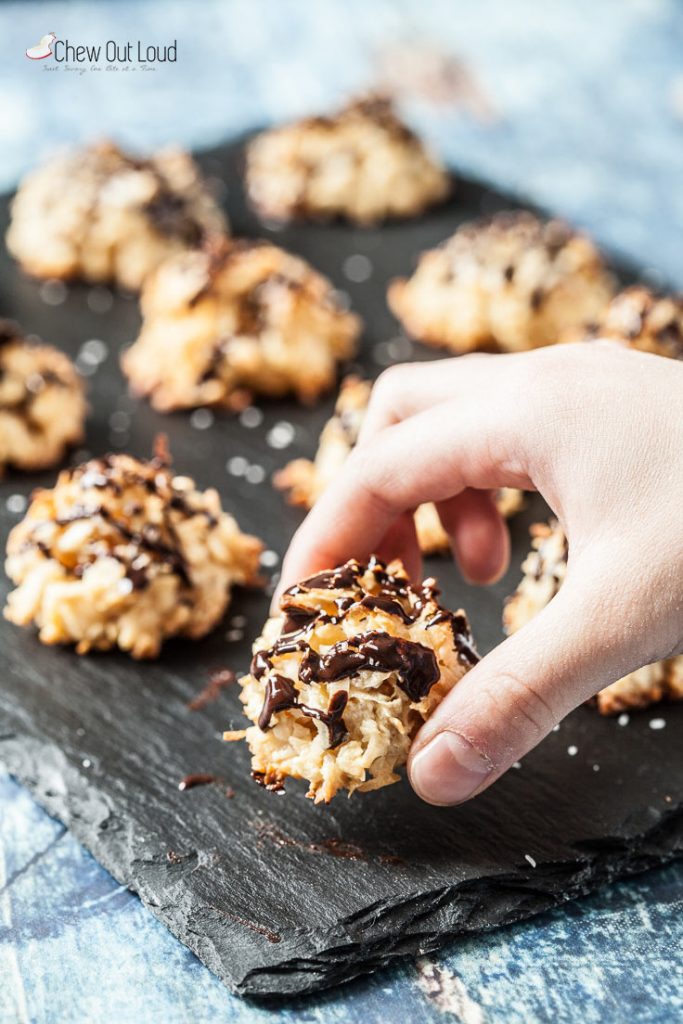 5-Ingredient Coconut Macaroons
If there's a time for coconut, it's now. Spring and Easter, budding leaves and Passover… this is the season coconut enjoys a surge in popularity.
If you don't already have shredded coconut in your pantry, you can find it at most grocery stores. Since it's considered a non-perishable item, you can have shredded coconut delivered or shipped to your door.
Our coconut macaroon recipe yields bite-sized treats that are crispy on the outside and chewy on the inside.
You'll only need 5 ingredients and less than 30 minutes to make these irresistible coconut macaroons. Bonus: they're the perfect cookies for gluten-free eaters.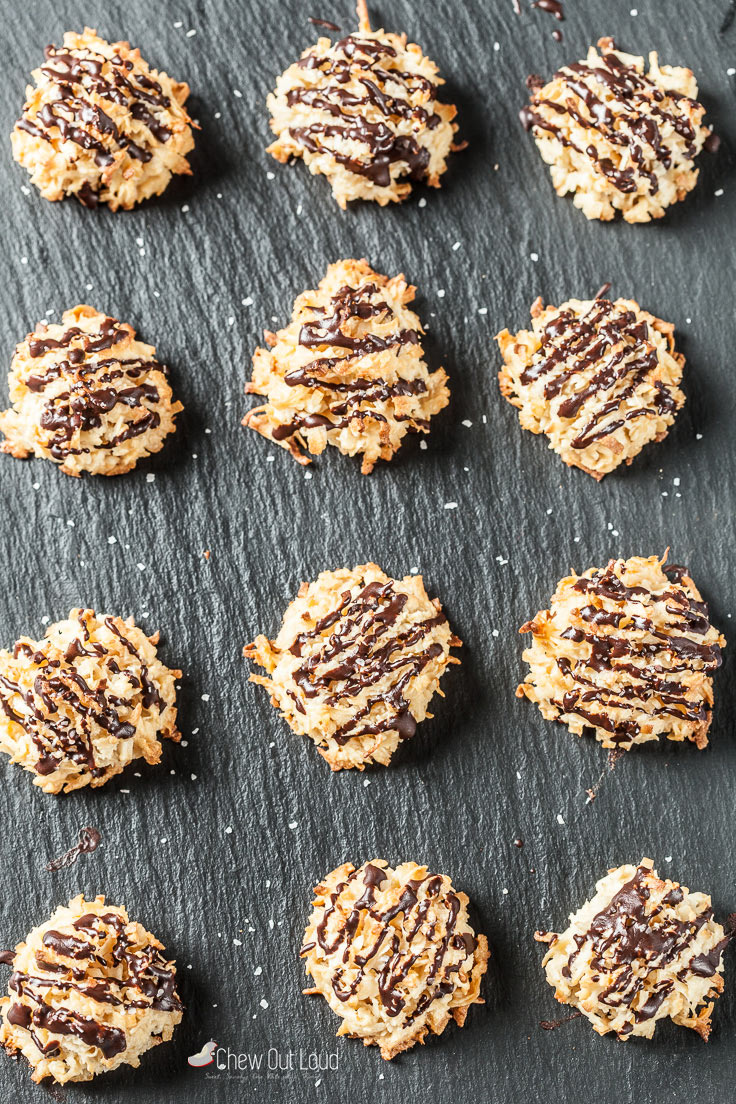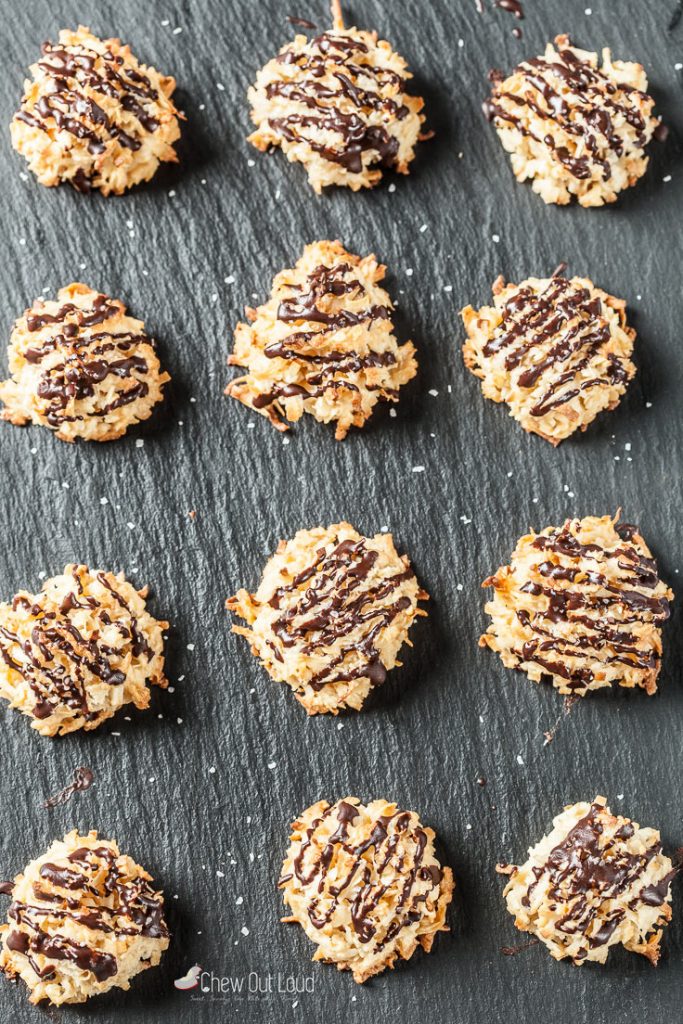 How to Make Crispy Yet Chewy Coconut Macaroons
There are quite a few variations of coconut macaroons out there; some use white sugar. Some use a combination of white and brown sugars.
We found the best results using sweetened condensed milk, which is essentially sugar and milk. It yields such a wonderfully chewy texture and caramel-like flavor to the cookies.
Only 5 ingredients are necessary for making awesome coconut macaroons: sweetened condensed milk, vanilla extract, egg whites, salt, and all the coconut. No flours are needed at all, which make coconut macaroons an ultimate gluten-free treat.
The drizzle of dark chocolate is optional in this coconut macaroons recipe, though for some of us, there really isn't any other way. These cookies are irresistible with a generous dose of good quality chocolate and a sprinkle of kosher salt. Again – optional, but highly recommended.
Go drive your people coconuts 🥥 😊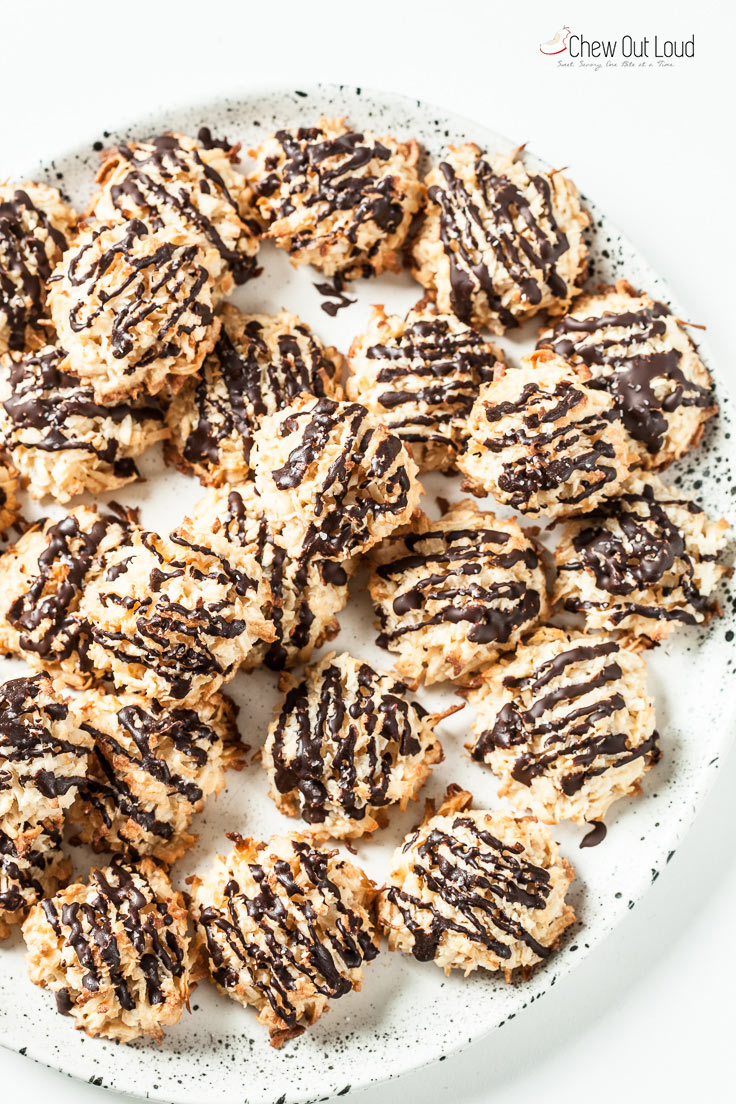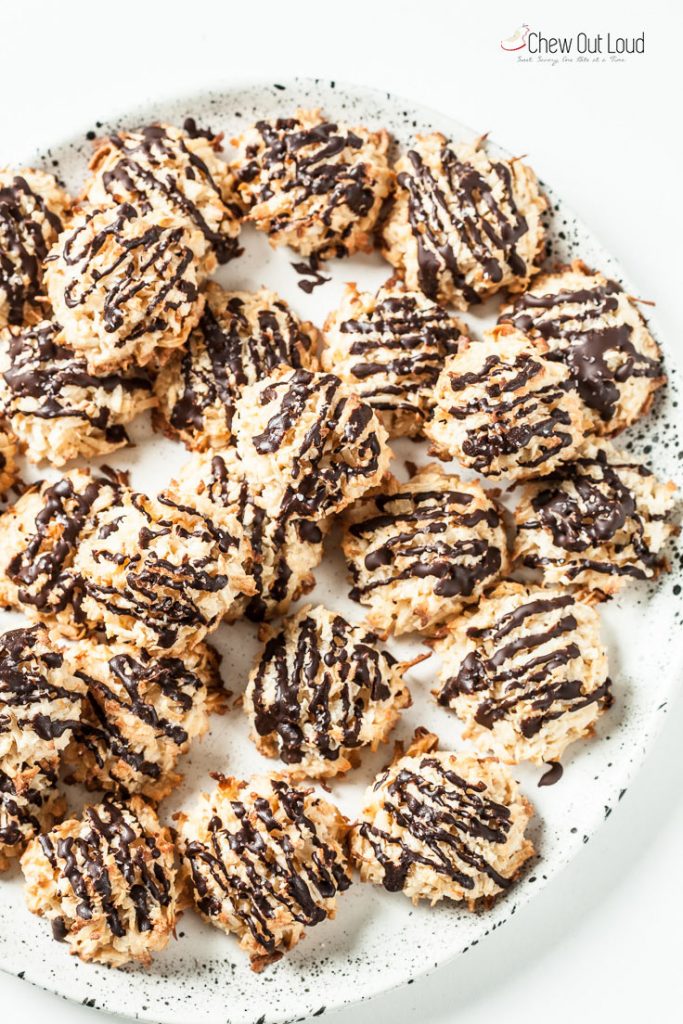 Try Toasted Coconut Fluffy Pancakes:
Did you make this?
Please give us a rating and comment below. We love hearing from you!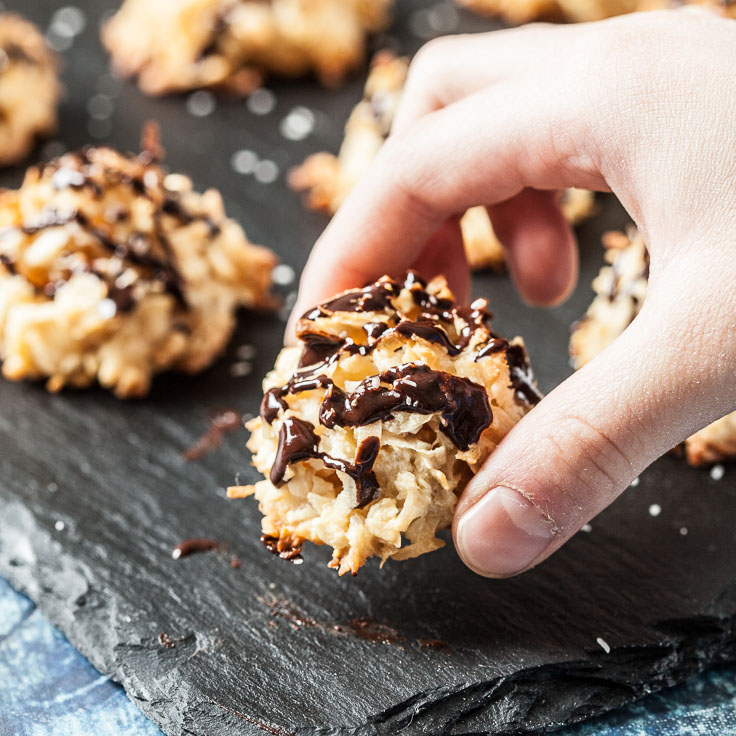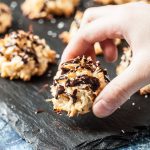 Chewy Coconut Macaroons Recipe (Gluten-Free)
This Chewy Coconut Macaroons Recipe is deliciously easy and perfect for spring. These coconut macaroons are sure to be an instant hit with all the coconut lovers in your life. They're gluten-free and need only 5 ingredients.
Instructions
Preheat oven to 325F with rack on lower middle position. Line baking sheets with silicone liners or parchment paper. Set aside.

In a large bowl, stir together the coconut flakes, sweetened condensed milk, and vanilla extract. in a medium bowl, add the egg whites and salt. Using an electric mixer, beat on medium-high speed until stiff peaks form (when you gently lift your beaters up, the egg white mixture should form straight, pointy stiff peaks.) Transfer egg mixture into the large bowl with coconut mixture; use rubber spatula to fold together until well combined. Don't over-mix.

Form heaping 1-tablespoon size rounds of coconut mixture onto lined baking sheet (spaced 2 inches apart). Bake 12-18 minutes or until tops are golden brown, depending on your oven; be sure to watch carefully with your first batch to test the correct bake time for future batches. Let cookies cool fully on baking sheets before transferring to serving plate.

If desired, once cookies are fully cooled, drizzle melted dark chocolate over cookies on serving plate and sprinkle lightly/evenly with kosher salt. Cookies keep well in airtight container at moderate room temp.
Notes
Store any leftover sweetened condensed milk in a glass or plastic airtight container in fridge, and use to make your own easy Thai coffee (or simply add a spoonful to any tea/coffee for an instant treat.)
If you prefer your cookies less sweet, try using unsweetened shredded coconut.
Try adding 1/2 cup of roasted sliced or chopped almonds or dried cherries to the mix prior to baking.
For a wonderful almond aroma, substitute half of the vanilla extract with almond extract.
Try drizzling with salted caramel or melted white chocolate in place of the dark chocolate (or do all 3 for a fun variety of macaroons!)
For a colorful celebration, toss some happy sprinkles onto the drizzled melted chocolate.
If you enjoyed this recipe, please come back and give it a rating ♡
Nutrition (per serving)
Calories:
80
kcal
|
Carbohydrates:
8.8
g
|
Protein:
1.2
g
|
Fat:
4.7
g
|
Saturated Fat:
3.9
g
|
Cholesterol:
12.5
mg
|
Sodium:
105.5
mg
|
Fiber:
0.5
g
|
Sugar:
8.3
g
More Cookies
Chewy Coconut Chocolate Chip Cookies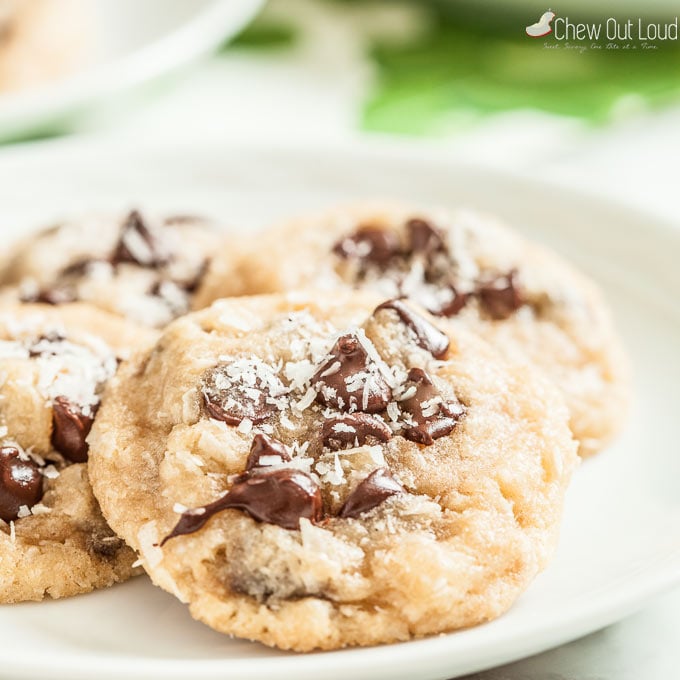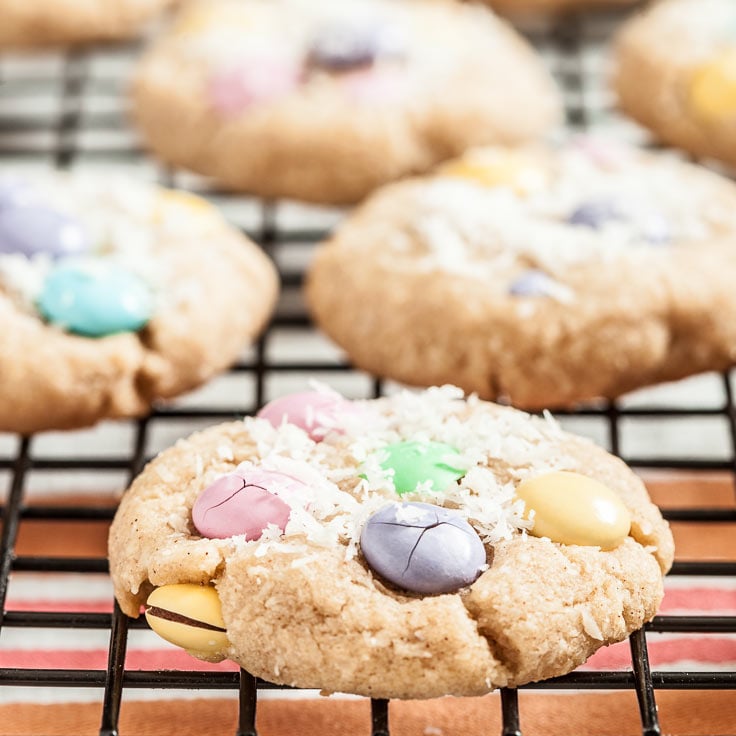 Coconut Oatmeal Cookie Balls (No-Bake)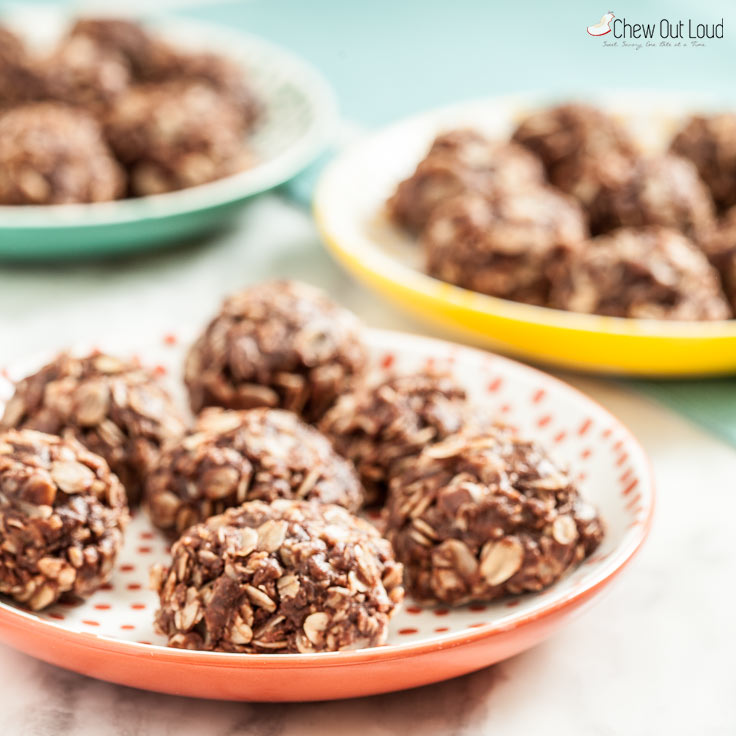 Coconut Macaroon Nutella Nest Cookies