Sweet and Sour Meatballs
These sweet and sour glazed meatballs are tender, flavorful, and oh-so-easy. Dress them up for a Hawaiian Luau style appetizer, or keep them simple for a weeknight dinner. Delicious served over fluffy white rice.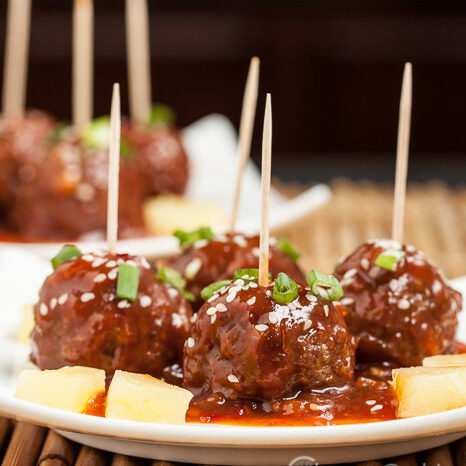 Sweet and Sour Meatballs
It matters not that many years have passed since our cross country move away from family. Big family dinners are etched in precious stone, and I remember them well.
In fact, little has changed. Our big family meals are still bursting with loudness and good eats. The food is like no other. A mouthwatering array of both Asian and American dishes that everyone brings to the tables (plural), until there's no more table left to be seen.
These sweet and sour meatballs remind me of food that's simple yet celebratory, perfect for party appetizers yet devoured for dinner any busy night of the week.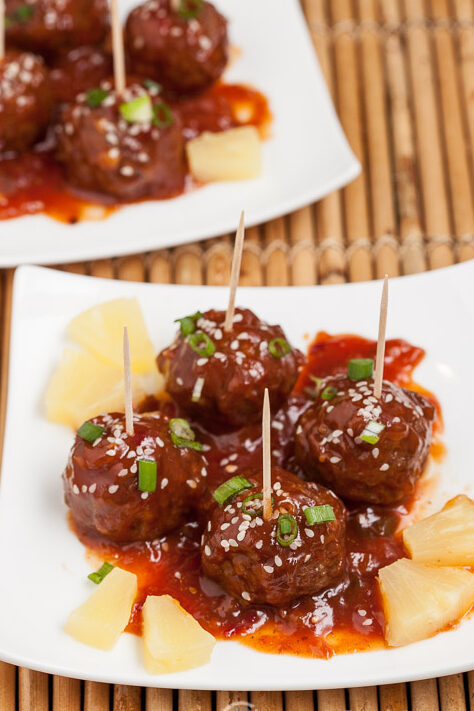 Scrumptious appetizer for parties
One of my aunts is famous for bringing delectable appetizers that taste as delicious as they look. These sweet and sour meatballs, thickly glazed and tender, remind me of such fabulous finger food.
These tender, juicy meatballs are every bit as tasty as they look. They are the perfect balance of savory, sweet, and tangy. Each bite delivers the succulent flavors of a Hawaiian Luau in a convenient cocktail meatball.
And, they are super easy to make. In fact, feel free to freeze baked meatballs for easy future meals.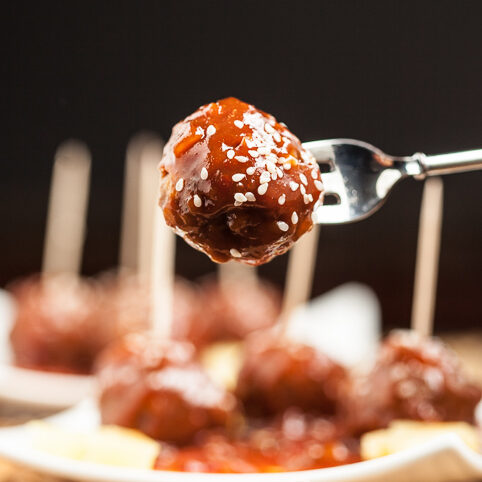 Meatballs for Weeknight dinner
This is the appetizer that people will crowd around and eat more than their fair share of. Easy, delicious, and adored by adults and kids of all ages. I'm thinking these are also going to be a hit at someone's next Game Day bash, too.
On the flip side, our family loves these sweet and sour meatballs over a bed of fluffy rice for dinner any busy night of the week.
Did you make this?
Please give us a rating and comment below. We love hearing from you!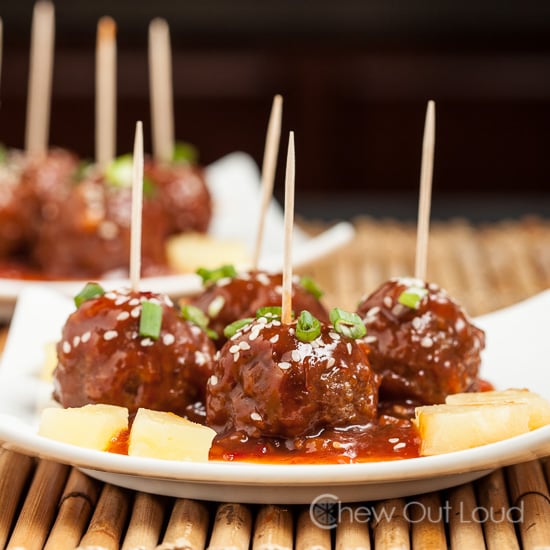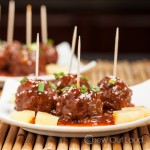 Sweet and Sour Meatballs (Crock-pot)
These meatballs are the perfect blend of savory, sweet, and tangy. You'll experience tender, juicy, succulent meatballs – great for party appetizers or an easy meal.
Ingredients
Garnish Options: toasted sesame seeds or diced pineapples.
Instructions
Make Sweet and Sour Sauce: In a saucepan off heat, combine all Sweet and Sour Sauce ingredients; whisk to ensure there is no trace of white cornstarch left, as even a tiny bit of undissolved cornstarch will cause clumps. Turn heat on to medium and continue to whisk until tomato paste is smooth and sauce is thickened.

Set oven to 350F with rack on middle position. In a large bowl, mix together ground beef, bread crumbs, eggs, kosher salt, black pepper, pineapple juice, and onion powder. Form into 40 meatballs; place on large baking sheets. Bake 20 minutes, or just until meatballs are cooked through.

For Slow Cooker: add sweet and sour sauce and meatballs to the slow cooker, gently fold to coat with sauce. Cook on low setting for about 30 minutes or just long enough to warm up sauce (if sauce simmers for long, it will thicken too much.) Taste and add more kosher salt and black pepper, if needed. Switch to warm setting and serve saucy meatballs straight from slow cooker.For Stovetop: Add meatballs and sauce to a pot and let meatballs bring to a simmer; remove from heat. Season with salt and pepper, if desired. Transfer to serving dish and garnish as desired.
Notes
*Seasoned, frozen meatballs may be baked according to package instructions, and then mixed with sauce, per recipe (although homemade ones will yield best flavor)
*Baked meatballs can be frozen for future use.
*Sweet and Sour Sauce can be made several days in advance. Keep in airtight container in fridge until ready to use.
*You can freeze these homemade meatballs after baking, for easy future use.
Nutrition (per serving)
Serving:
1
meatball
|
Calories:
50
kcal
|
Carbohydrates:
2
g
|
Protein:
5
g
|
Fat:
2
g
|
Saturated Fat:
1
g
|
Polyunsaturated Fat:
0.1
g
|
Monounsaturated Fat:
1
g
|
Trans Fat:
0.1
g
|
Cholesterol:
23
mg
|
Sodium:
19
mg
|
Potassium:
88
mg
|
Fiber:
0.03
g
|
Sugar:
2
g
|
Vitamin A:
17
IU
|
Vitamin C:
2
mg
|
Calcium:
6
mg
|
Iron:
1
mg
Recap. Have you Tried these?
Once you try these Honey Sriracha Chicken Wings, no other chicken wing will measure up: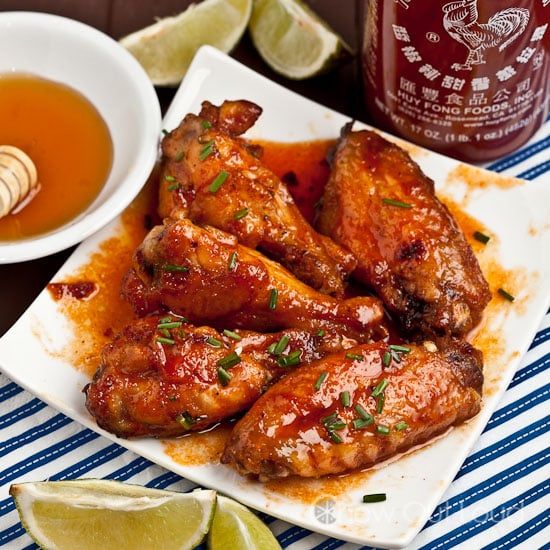 And this luscious Brie en Croute? Sublime (and impressively easy!) party appetizer: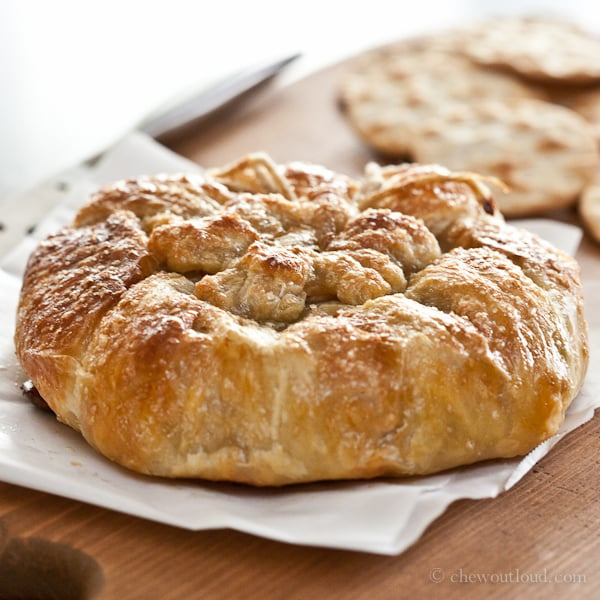 Don't leave out the Buffalo Chicken Dip. And Sriracha. I mean Sriracha Buffalo Chicken Dip.