Easy Asian Glazed Meatballs
By Amy Dong
Published Feb. 19, 2015
Updated Aug. 17, 2022
These Easy Asian Glazed Meatballs are just the ticket when you want a fast, family-friendly meal in a jiffy on any busy weeknight. Serve over your favorite bowl of rice.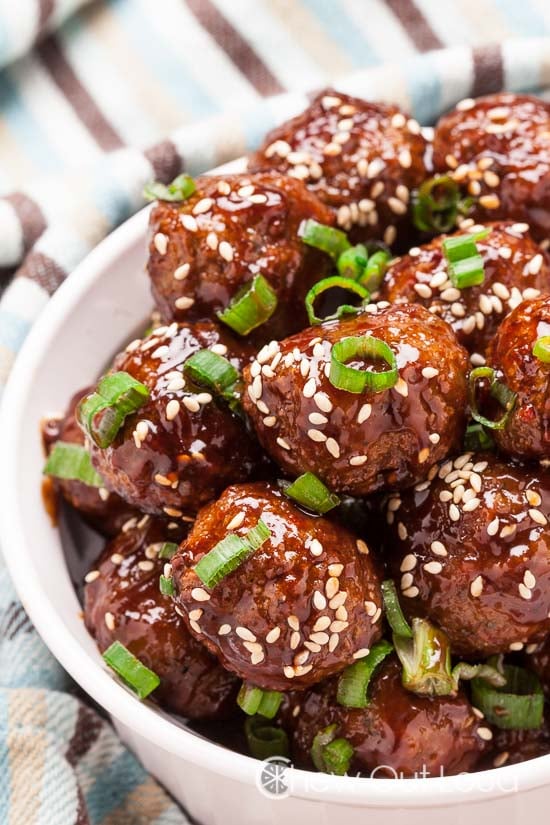 Happy Chinese New Year, All! Gong Hey Fat Choy!
Huh. That phrase doesn't look so great on paper. I'm not even Cantonese and truthfully, I've no clue what that phrase sounds like in real life. I see that written everywhere right now. I just copied it.
The alternative in Mandarin is Shing Nien Kwai Luh. That phonetical translation is all my own, you absolutely won't find it anywhere else.
I haven't the faintest idea how to write Chinese characters, to my parents' utter chagrin. I spent way more time rapping Valley Girl than Chinese.
It worked wonders for me in high school. Passing secret notes during Spanish class using phonetical Chinese. Then passing secret notes during chem using Spanish. A little bit of genius, I know it.
I'm so not with it. Which is why it took a text from my friend to tell me it's the year of the sheep this morning. Baaa…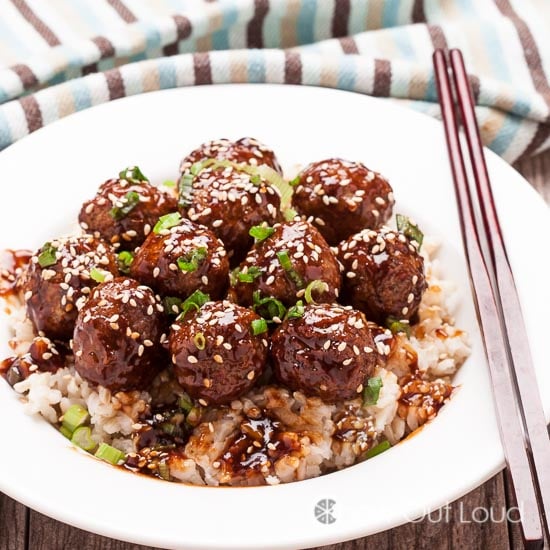 There's no sheep in these meatballs, I promise.
In fact, there are only a handful of ingredients in these crazy easy Asian Glazed Meatballs.
Because we don't do much for Chinese New Year, I won't be whipping up homemade hand-shaped dumplings/potstickers or doing pan fried scallion cakes on a busy Thursday night.
Instead, I give us meatballs. 30-minute meatballs at that.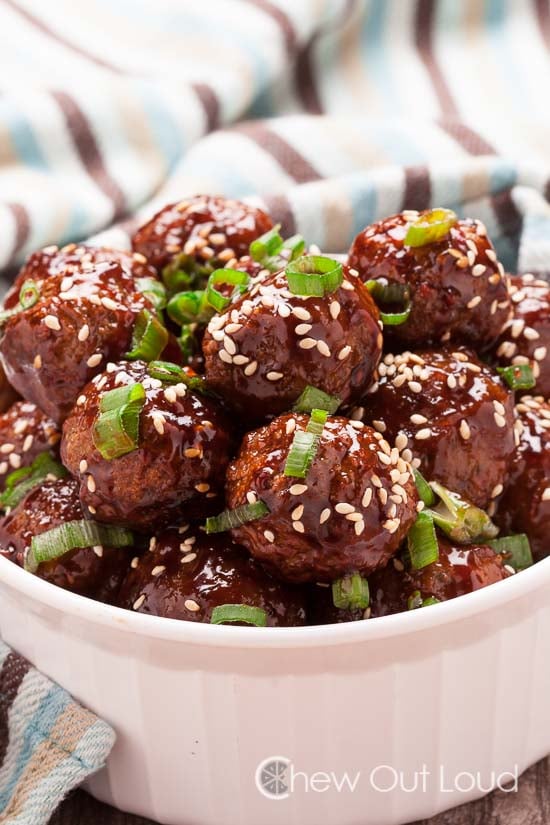 By the way, there are supposed to be special meanings tied to foods you eat on Chinese New Year. Like eating noodles for longevity. I googled that. Kinda fun, actually.
I have zero clue whether meatballs mean anything. Besides happy taste buds.
And a table full of peeps who will quickly devour dinner tonight, if you make this.
When we're tired of the same old meatballs, this Asian twist livens up the table.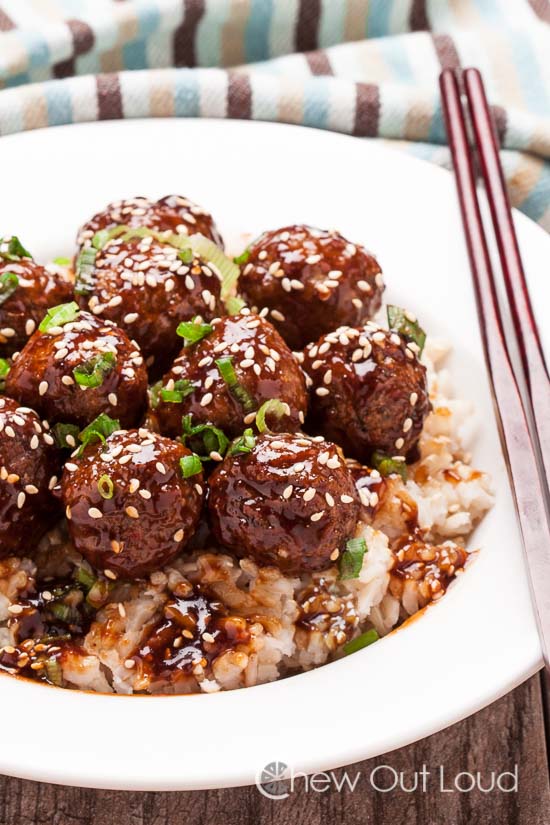 These Easy Asian Glazed Meatballs will make your taste buds dance.
All you need is about 30 minutes, rice, and a side of veggies.
These meatballs are saucy, savory, and delicious over rice. They're not designed to be eaten on their own, as the saucy Asian glaze is full-flavored and destined for rice.
Enjoy!
Did you make this?
Please give us a rating and comment below. We love hearing from you!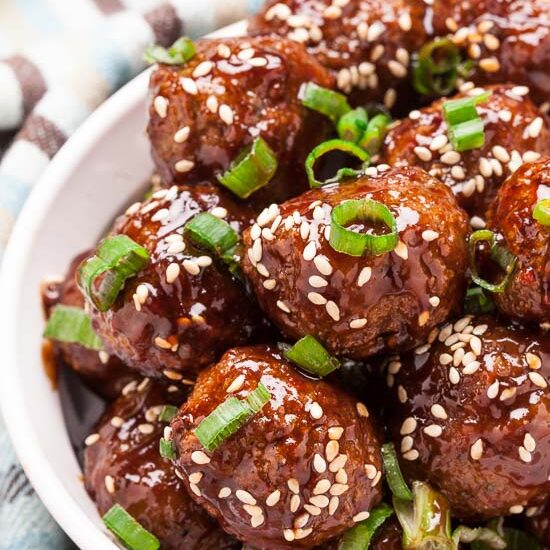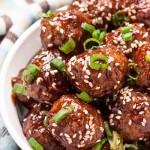 Easy Asian Glazed Meatballs
These Easy Asian Glazed Meatballs take only 30 minutes from start to finish. They're a great way to twist up the same old meatballs. This preparation is meant to be served over a steaming bed of rice.
Ingredients
40

frozen meatballs

¼

cup

hoisin sauce

½

tsp

Sriracha sauce

1

TB

Asian rice vinegar

2

tsp

packed brown sugar

½

tsp

garlic powder

¼

tsp

ginger powder

Optional: Sliced green onions

,

toasted sesame seeds for garnish

Steamed rice for serving
Instructions
Bake frozen meatballs according to package instructions. Keep warm.

In a saucepan, combine the rest of the ingredients up to ginger powder. Whisk over medium heat until heated through and combined. Pour sauce over cooked meatballs, coating well. If desired, add sliced green onions and toasted sesame seeds for garnish.

Serve warm over freshly steamed rice. Store leftovers in airtight container in fridge. Reheats well.
Nutrition (per serving)
Calories:
42
kcal
|
Carbohydrates:
1
g
|
Protein:
2
g
|
Fat:
3
g
|
Saturated Fat:
1
g
|
Polyunsaturated Fat:
0.3
g
|
Monounsaturated Fat:
1
g
|
Cholesterol:
10
mg
|
Sodium:
37
mg
|
Potassium:
43
mg
|
Fiber:
0.1
g
|
Sugar:
1
g
|
Vitamin A:
1
IU
|
Vitamin C:
0.1
mg
|
Calcium:
3
mg
|
Iron:
0.1
mg
Source: Chew Out Loud
Here are a few of my favorite easy Asian recipes:
Hawaiian Luau Meatballs. These are awesome as an appetizer or over rice for dinner. Always a crowd pleaser.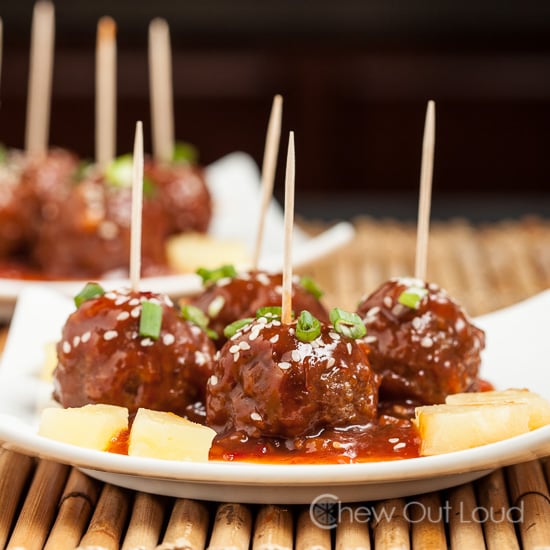 Asian Sticky Rice. This is oh-soooo-good. My family inhales this like there's no tomorrow. Oh, and I didn't know sticking-up chopsticks meant anything until I knew. Just focus on the rice.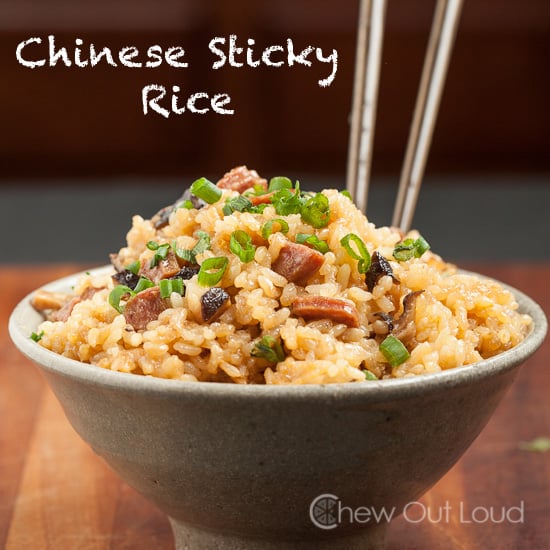 Lo Mein. Easy homestyle goodness that is ultimately comforting and slurp worthy.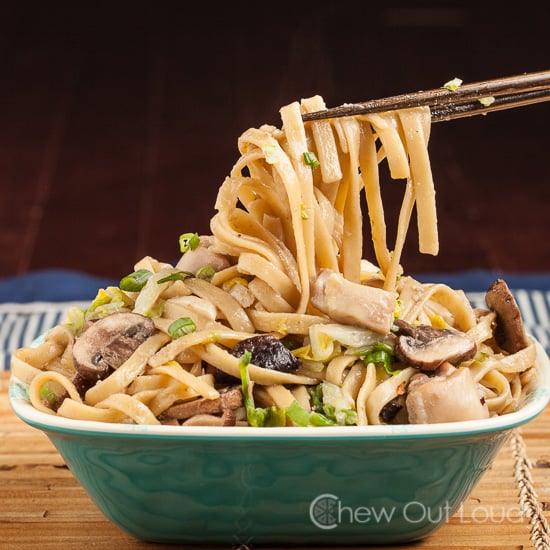 Garlic Soy Braised Chicken. This is straight from my dad's kitchen. It's homestyle all the way and 120% deeelish.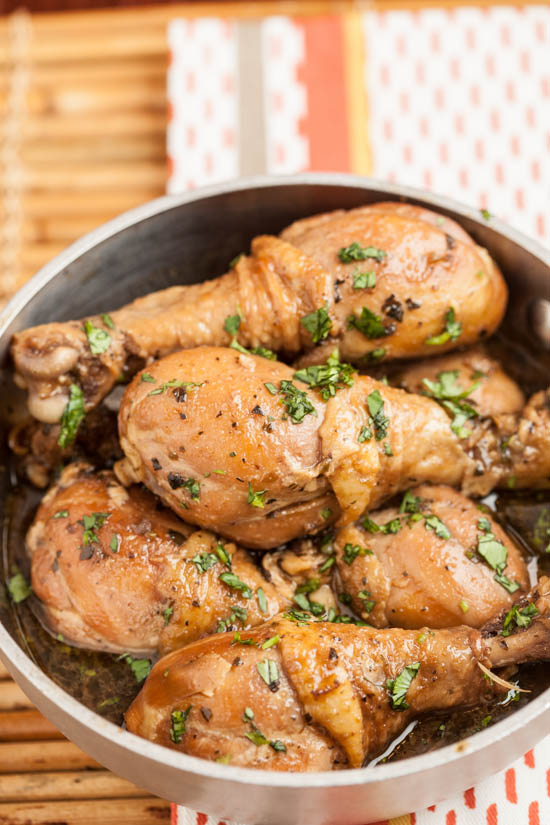 We are SO glad you're here. Let's be friends on Facebook. That's where we're share our newest recipes and bring you helpful tips to make your kitchen life easier. Plus, we'll announce all our GIVEAWAYS there! (Our current one is this $100 Visa Gift Card.)