Every year, the festive holiday season makes it easier to make peace with the fact that the days are getting much shorter and nippier.  Despite being a cold weather wimp, I still love the holiday season.  From the pretty lights popping up on neighbors' homes and in stores, to the beckoning aroma of warm spices everywhere…this time of year is truly beautiful.
This Thanksgiving and Christmas also marks the first year our youngest child, now age 3, comprehends the meaning behind the holidays and participates wholly in the festivities.  He can join his older siblings in counting his own blessings this Thanksgiving, no prompts needed.  In fact, he may try to present a lengthy monologue at the dinner table.  In which case, some prompting will be needed.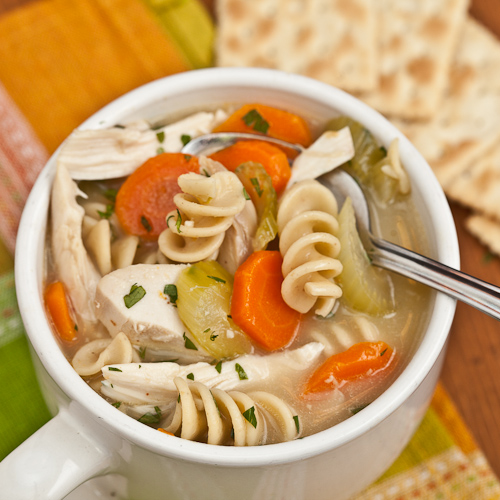 With Thanksgiving nearly upon us, Hubby has a very big bird resting in a savory brine at this very moment.  The kids are excited for the hourly countdown to their favorite kind of turkey feast with all the trimmings (and for their 4-day weekend off school.)    I am thankful to have the opportunity to make a delicious mess in the kitchen with my favorite people in the whole world.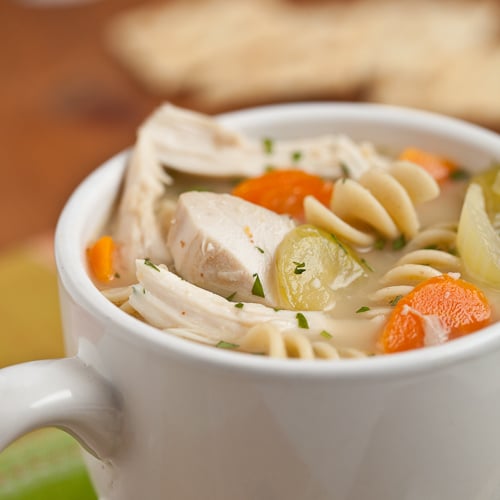 One of our favorite things to do with leftover turkey (or chicken) and its great carcass is to save it!  Keep that turkey carcass after your holiday meal, even if you aren't planning to do anything with it for a few days.  You can wrap it up and freeze it until you're ready to use it.  Then, on a chilly, stay-home kind of day, take those poultry bones out and make the best broth ever.  Ever.
All the flavor from the carcass and turkey/chicken meat get super concentrated into the broth with a long, slow simmer.  It does take time to get that deeply flavorful broth.  Once the broth has reduced enough, your patience will be rewarded with the tastiest broth you've had.   From there, it's all game.  😉  Add your favorite veggies, favorite noodles, and throw in the leftover turkey or chicken meat.
This is one of those healthy meals my kids devour faster than french fries.  They gobble this up with such comical speed that I have videotaped their noodle-soup-eating-frenzy for future viewing.
Enjoy this most comforting of comfort foods.  Happy Thanksgiving!  🙂
————————————————————————————————-
RECIPE
(This recipe is one of approximates, so the amounts given are flexible.  Just don't skimp on simmer time.)
INGREDIENTS
For the broth:
1 TB olive oil
2 carrots, peeled and coined
4 stalks celery, washed and sliced thin
2 onions, roughly chopped
4 garlic cloves, minced
2 bay leaves
1 tsp whole black peppercorns
1 roasted turkey/chicken carcass, with leftover meat attached
For the noodle soup:
leftover cooked turkey or chicken meat, shredded
1 lb carrots, peeled and coined
5-6 stalks celery, washed and sliced thin
1 onion, chopped
4 garlic cloves, minced
noodles of your choice
fine salt and fresh ground pepper, to taste
DIRECTIONS
For the Broth:  Put olive oil, onions, carrots, celery, and garlic in a very large stock pot. Saute on medium high until vegetables are soft.  Add turkey/chicken carcass, bay leaves, and peppercorns.  Add enough water to just cover entire carcass.  (Broth will be reduced down to half.  If you are using a chicken and want more broth, just add more water to begin with, knowing you'll end up with half that amount.)
Bring stock pot to boil.  Turn heat to low, and simmer uncovered until liquid is reduced to half its original amount (approx. 2-3 hours, or however long it takes to reduce to half)  Once liquid is reduced to half, set aside carcass and skim oil or impurities off top of broth.  Strain the broth into the pot you want to use for the noodle soup.
For the Noodle Soup: Season strained broth with salt and pepper to taste.  Add carrots, celery, onions, and garlic.  Bring to boil. Cook until veggies are very tender.  Meanwhile, cook noodles in well-salted water in separate pot.  Drain noodles (do not rinse), and add to broth.  Add all leftover shredded meat, including meat collected from the carcass.
If needed, season with more salt/pepper to taste.  Enjoy!
Source:  Chew Out Loud
* Note:  This recipe is written for utilizing leftover roasted chicken or turkey.  If you want to make chicken noodle soup with an uncooked chicken, just make the broth with the whole chicken instead of the carcass only.  Remove giblets first.  When the chicken meat is cooked through, remove the chicken and separate the meat from the carcass.  Return the carcass to the broth and finish simmering.  Shred the meat and continue with recipe.