This Thai inspired Coconut Curry Chicken Noodle Soup is a marvelously delicious way to warm up on a chilly evening. It's a mouthwatering dinner the whole family will enjoy. Healthy, tasty, and simple.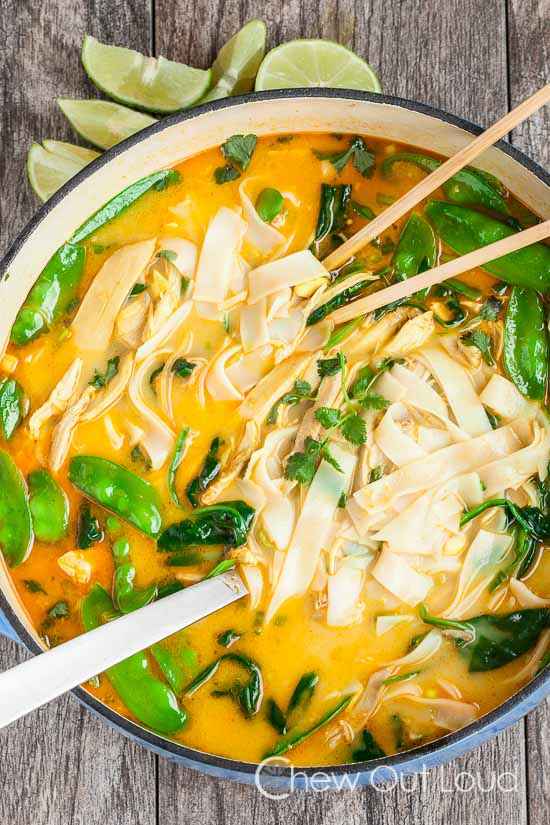 This morning was one of those rare mornings when I actually got up early and spent a good amount of quiet time before hitting the ground running.
Usually, I growl silently at my alarm clock, snooze it to the very last nanosecond before the day takes over.
So it was awesome to actually sit down with my morning decaf (yep) and quietly read and journal.
Journaling has been so hit and miss for my adult life. I have one for myself which I sometimes scribble in. Then I have one for each of The Littles where I attempt to write more legibly and thoughtfully. Sadly, it's been embarrassingly too long since my last journal entry for the boys. Like, they've each grown a head taller since the last note.
But hey, today's a new day. And I love jotting down the precious things about each Little. Things that make me laugh, smile, and things I don't ever want to forget.
The dailies of life have a habit of getting in our way, and I just want to record and take snapshots of allthethings. Thoughts, words, actions… the sweet mundanes that become fond memories.
But I don't walk around with a videocam on my forehead all day, and busy is my middle name in this season of life. So I don't record allthethings.
If chronicling recipes counts even a little bit…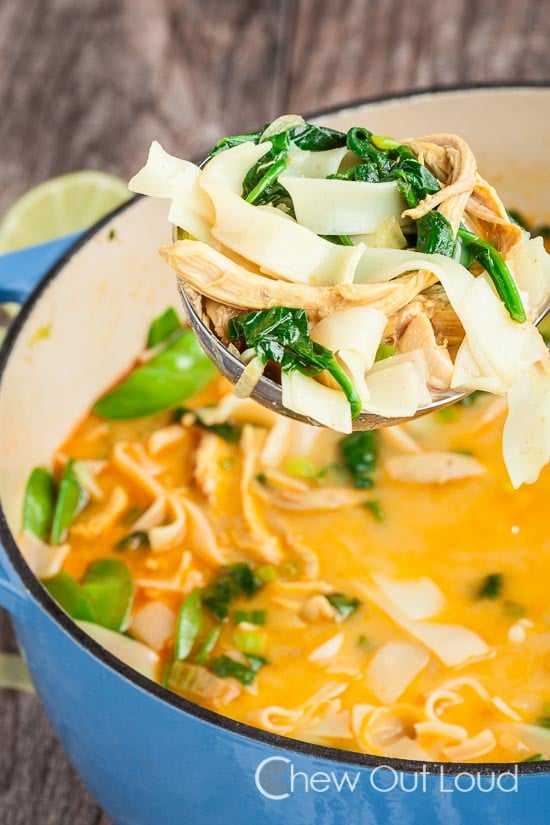 …if baking and cooking and feeding said Littles on a daily basis count for something?
I don't record every funny sentence that comes out of their mouths, but I'll document all the good eats that went in.
That's gotta be worth a little something, said the food bloggin' mama.
Now, off the nostalgic and onto food.  It's what you came here for, so here we go…
Coconut Curry Chicken Noodle Soup. Chewy, toothsome, thick rice noodles. We're off to a ravishing start.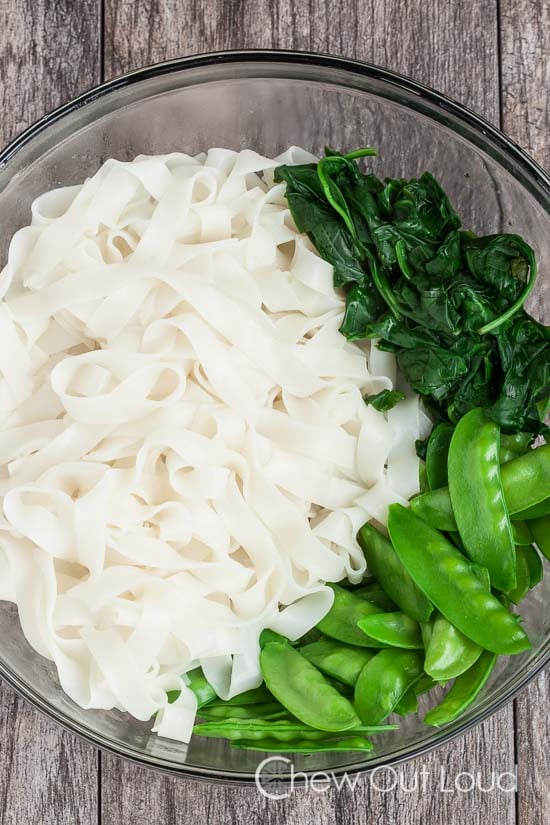 I grew up on all sorts of noodles, and rice noodles were one of my childhood faves. It has a beautifully chewy bite and works wonders in flavorful broths.
And about this broth. It's superbly flavorful, infused with the goodness of coconut milk and fragrant curry. This broth is light, savory, and slurp-worthy.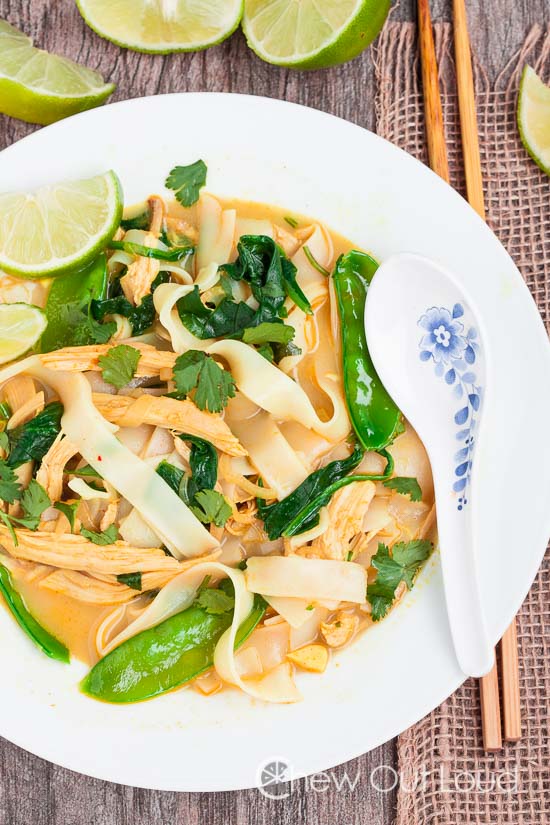 We add in our gorgeous greens: fresh spinach leaves, snow peas, green onions, and cilantro.
For the chicken, you could either cook up chicken breasts and shred them, or simply use rotisserie chicken from the store. That's my preference, as it's healthy and tastes great.
Add some aromatic spices and splashes of fresh lime and you're eating happy.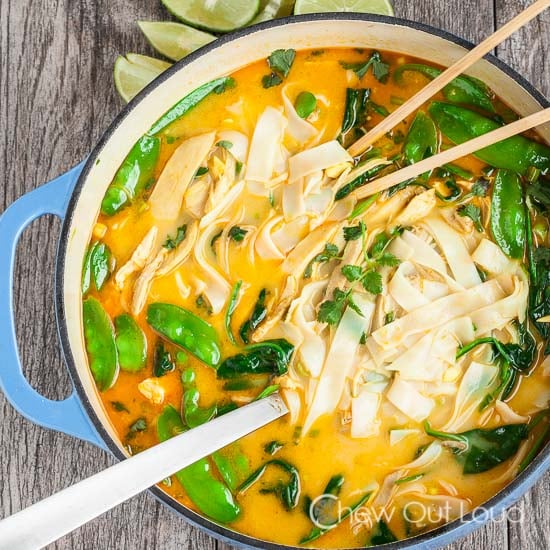 The whole family enjoys this Coconut Curry Chicken Noodle Soup. The Littles have a particular fondness for the sleek wide noodles.
This meal comes together quickly once you've gathered all the ingredients.
Healthy, nutritious, and chock full of flavor…we hope this will become a family favorite for you, as it has for us.
Enjoy!
Print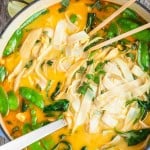 Coconut Curry Chicken Noodle Soup
Author:

Yield:

6

1

x

Category:

dinner
---
Description
This Coconut Curry Chicken Noodle Soup is hearty and healthy. It's light, full of great ingredients, and most importantly – delicious! Once you've gathered all your ingredients, this soup comes together easily and quickly.
---
Scale
Ingredients
2

TB olive oil

half of a

large onion, thinly sliced

2 tsp

red curry paste (Asian aisle of major grocery stores)

1 1/2 tsp

yellow curry powder

1/2 tsp

ground tumeric

1/2 tsp

ground coriander

2

cloves garlic, minced

6 cups

regular chicken broth

1

can (13.5) coconut milk (Asian aisle of major grocery stores)

1

lb cooked chicken breast, shredded (I use rotisserie for ease)

1/2 cup

green onions, chopped

2

TB granulated sugar

2

TB Asian fish sauce (Asian aisle of major grocery stores)
table salt and freshly ground black pepper, to taste

1/2

lb snow peas, ends trimmed

3 cups

fresh spinach leaves

1

(5 3/4 oz) package dry wide rice noodles (pad thai noodles will work)
Chopped fresh cilantro for topping
lime wedges for serving
---
Instructions
In a large heavy pot, heat olive oil over medium heat. Add onion, red curry paste, yellow curry powder, tumeric, coriander, and garlic. Saute for 1 minute, stirring constantly. Add chicken broth and bring to a boil. Add coconut milk, reduce to a simmer for 5 minutes. Add chicken, green onions, sugar, and fish sauce, and simmer 2 minutes. Add salt and pepper to taste. Cover and keep warm.
Fill a large saucepan with water; sprinkle generously with table salt. Bring to a boil. Add peas and cook for 30 seconds. Add spinach and cook just until wilted. Remove vegetables with a slotted spoon and transfer to a large bowl. Add rice noodles to the pan of water and cook according to package instructions until noodles are chewy yet tender. Drain noodles and mix well with veggies in bowl.
Divide noodle/veg mixture into serving bowls (about 6.) Pour chicken soup mixture over the noodles in each bowl. Garnish with cilantro and lime wedges. Serve immediately. (Leftover noodles and soup may be stored in separate airtight containers, and reheated the next day. Noodles may need a sprinkle of water to loosen before reheating.)
---
Source: Chew Out Loud, inspired by Cooking Light 
1. Easy Morrocan Chicken Soup. This soup is a fantastic way to twist up the usual chicken soup! Infused with savory flavors and comes together quickly. Healthy and scrumptious for any weeknight meal.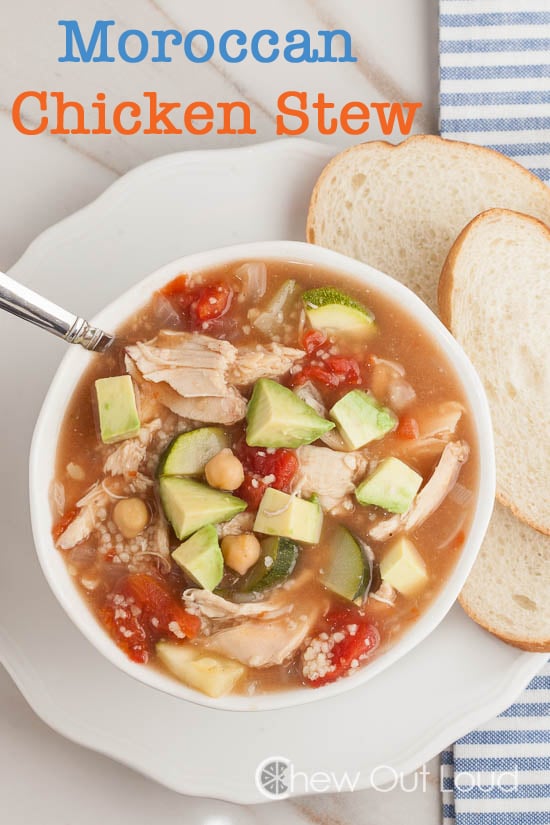 2. Hearty, Healthy Chicken Noodle Soup. I do realize everyone has their chicken noodle soup rendition, but this one is by far the BEST homemade chicken noodle soup we've ever had the privilege of slurping up. No corner cutting here. Perfect for chilly nights or for fending off the flu.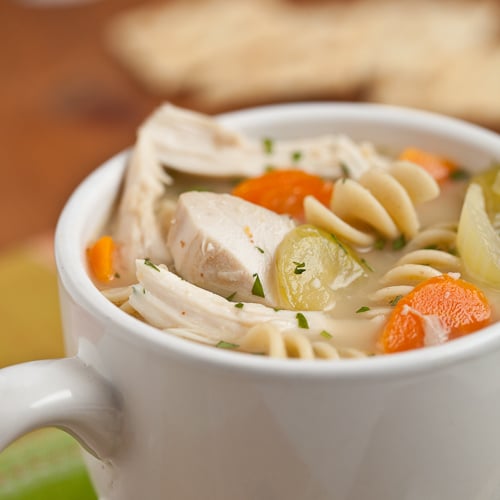 3. One Pot Asian Pasta. This easy One-Pot meal is inspired by my daddy, who made quick noodle soups like this on a nearly daily basis. It's healthy, tasty, and wonderful for busy weeknights.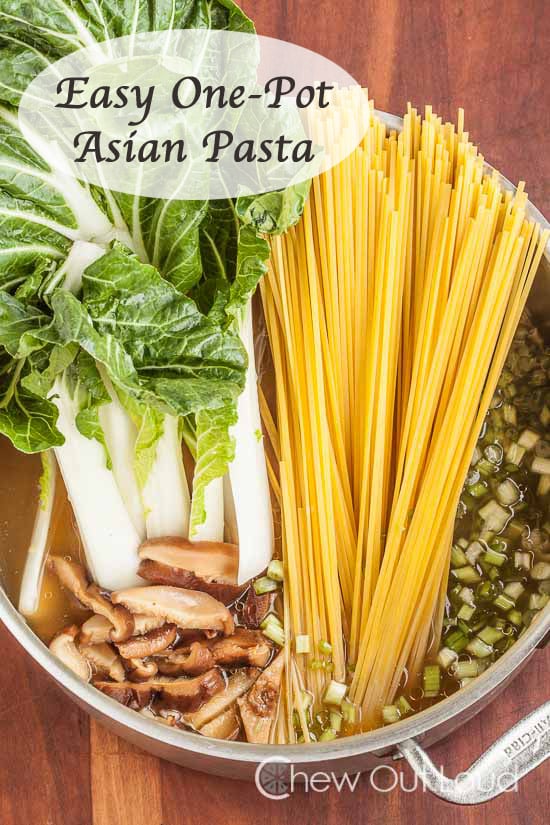 We'd love to have you follow us on Pinterest, where we pin the best finds!
Follow us on Facebook and Twitter for the newest recipes and giveaway prizes (enter our current $50 Target giveaway!!)
Hang with us on Instagram for behind-the-scenes shots of the food we make and lots of inspiration.