Homemade Almond Roca
Make a batch of Homemade Almond Roca for parties, cookie trays, or gift-giving. These toffee candies are absolutely scrumptious, impressive, and easy to make.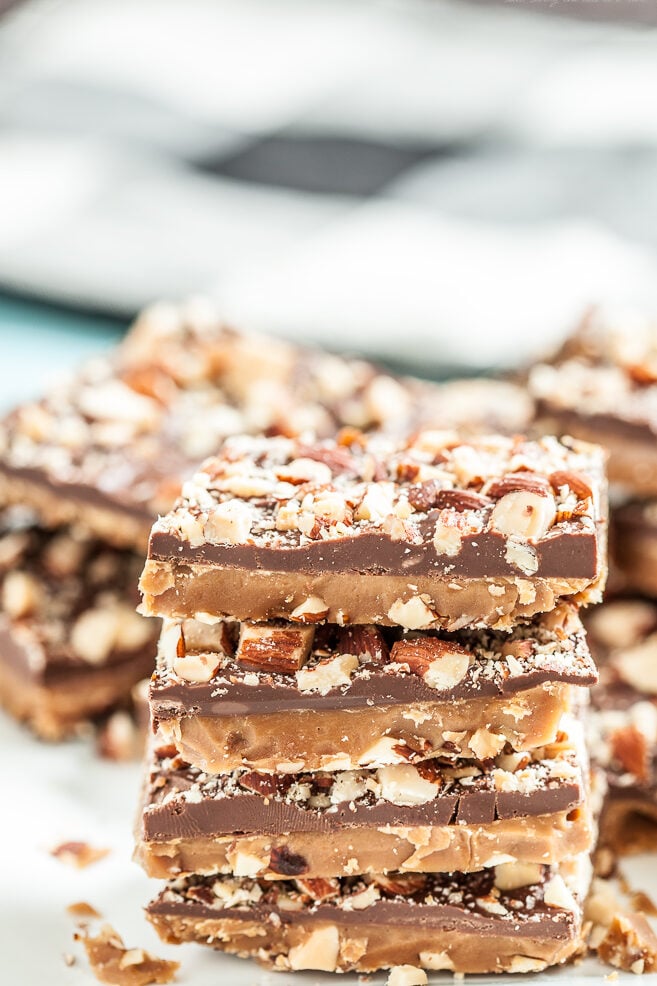 Homemade Almond Roca is a holiday classic
As a kid, I often savored gold-foil-wrapped Almond Roca candies by the fistful. We loved finding those happy pink canisters in our kitchen any time of year. To this day, it's anybody's guess whether all those chocolate covered toffee candies were given to us by Mom's friends or if she secretly stashed our pantry with them herself.
Either way, that pretty much started a long term friendship with the chocolatey, crunchy, highly addictive Almond Roca. 💓

Almond Roca Candies are Perfect for Gifting
Few goodies are more impressive or appreciated than a container of homemade Almond Roca gifted to your favorite people.
These homemade Almond Roca are easy and every bit as amazingly delicious as the ones you buy off the shelf. The varied shapes and sizes of your homemade toffee candies makes it super fun for munching during the holidays.
Homemade almond roca: 6 ingredients
Light brown sugar – pack it in tight
Salted butter – you'll need 2 cups (or 4 sticks.) While you're doling out the butter, remind yourself it's a special occasion
Roasted and salted almonds, coarsely chopped – if you can put them in the oven for a quick fresh roast (take care not to burn, of course) then you'll be massively rewarded with a wonderful nutty aroma
Milk chocolate chips – you can technically use semi-sweet or dark chocolate, but milk chocolate simply tastes best in these crunchy/chewy toffee candies
Vegetable oil or canola oil can be used
Special equipment: Candy thermometer – now's the time to invest in one, if you don't have one already. Use it to make this unbelievable 4-Ingredient salted caramel as well.

Almond roca chocolates are perfect for parties, gifts, and keep well
Wrap 'em up, tie some ribbons, and generously share the love. Bonus: you can absolutely make them ahead of time, wrap them up, and they stay deliciously 'n delightfully crunchy for several weeks at moderate room temp. They also freeze well for those holiday-treat-emergencies. They're perfect for sharing any time of year.
More to make and eat:
Did you make this?
Please give us a rating and comment below. We love hearing from you!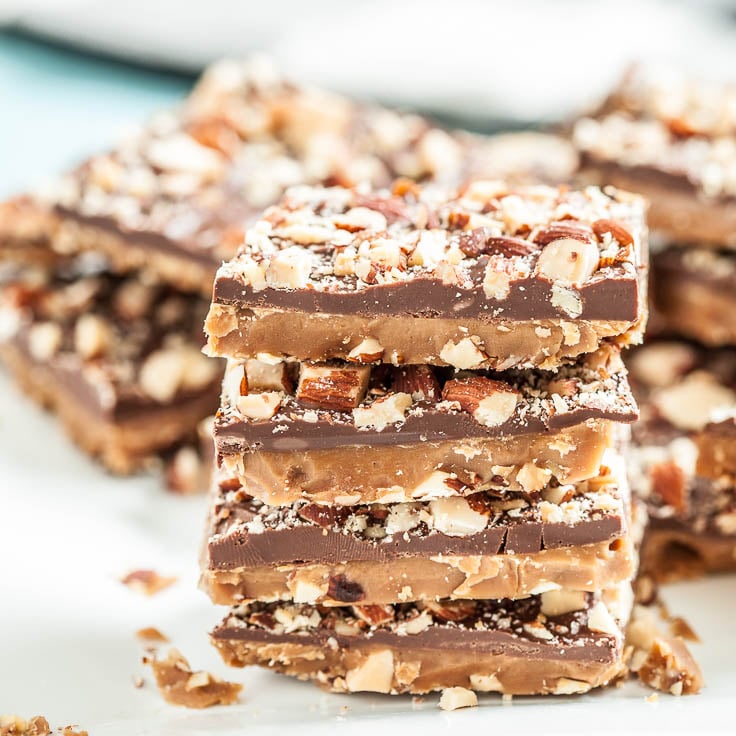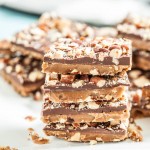 Homemade Almond Roca
Homemade Almond Roca toffee chocolates are absolutely scrumptious. They're crunchy, chocolatey, and taste just like the original pink canister ones you've loved since childhood. Perfect for gift-giving or holiday party trays.
Instructions
Stir: In a heavy saucepan over medium heat, add brown sugar and salted butter. Stir often for 3-4 minutes, or until mixture is bubbly and thick and candy thermometer registers 280ºF.

Combine and Pour: Immediately remove from heat once thermometer hits 290F.

Add 3/4 cup almonds to the mixture and stir to combine well. Pour evenly into a rimmed 18×13 baking sheet, using the back of a wooden spoon to smooth evenly into the pan. Work quickly here, as mixture thickens and sets quickly.

Melt and Layer: While toffee cools, set a heavy pot over low heat. Add chocolate and oil, stirring until just barley melted through. Use a rubber spatula to transfer melted chocolate evenly on top of toffee layer, taking care to smooth the surface. Sprinkle remaining chopped almonds evenly over the warm chocolate layer.

Chill and Cut: Chill in fridge for a couple of hours to cool completely. Once fully set, carefully cut the toffee into pieces with a sharp knife. Homemade Almond Roca keep well in airtight container for a couple of weeks at room temp.
Notes
Homemade Almond Roca can be kept airtight at moderate room temp for several weeks, as they keep very well. They can also be frozen for a longer period of time and defrosted at room temp for holiday (any day) treat emergencies 🙂
If you enjoyed this recipe, please come back and give it a rating ♡
Nutrition (per serving)
Calories:
196
kcal
|
Carbohydrates:
16
g
|
Protein:
1.9
g
|
Fat:
14.5
g
|
Saturated Fat:
7.7
g
|
Trans Fat:
0.4
g
|
Cholesterol:
26.3
mg
|
Sodium:
82.5
mg
|
Fiber:
1
g
|
Sugar:
14.3
g