Skillet Chocolate Chip Cookie
Welcome to the ultimate skillet chocolate chip cookie. This easy skillet cookie boasts crispy edges and a chewy center, thanks to your cast iron pan.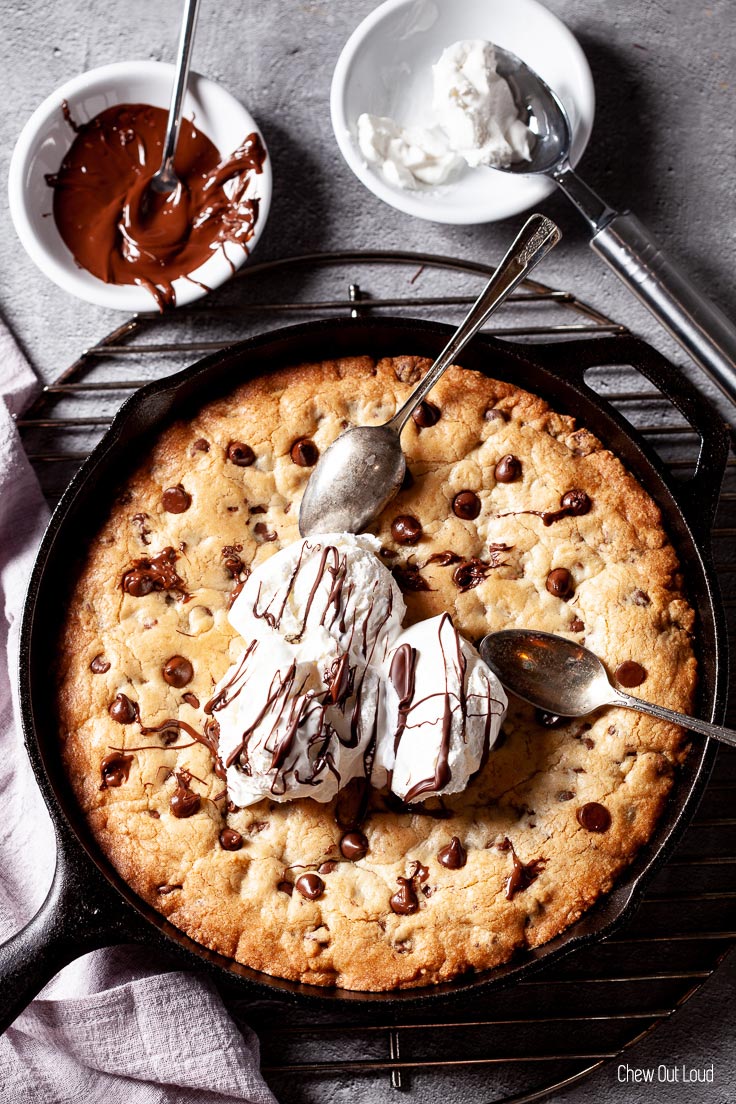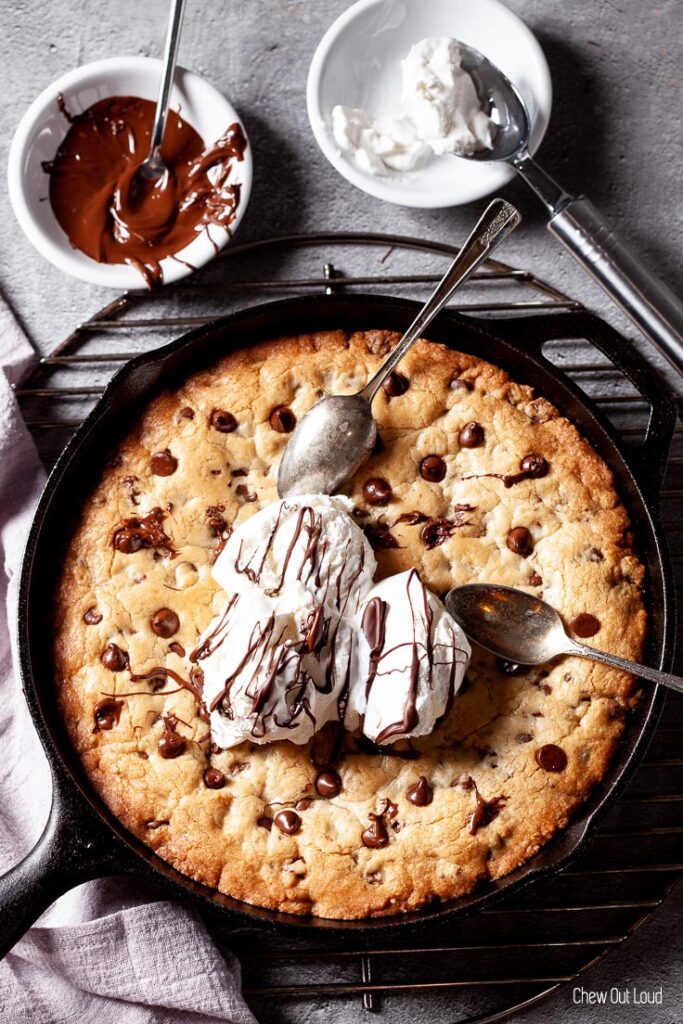 Skillet Chocolate Chip Cookie
We're a team of cookie fiends around here. We gawk at all the cookies, bake them, and eat them at every opportunity. Sometimes we share.
Our go-to cookies are these Perfect Chocolate Chip Cookies, which are unparalleled due to browned butter. When kids want to bake, we rely on our favorite Forever Chewy Chocolate Chip Cookies. And for gatherings, these party-perfect One-Bowl Cookie Bars are a no brainer.
For the [many] situations that call on a giant cookie that can easily be dressed up or down: say hello to this skillet chocolate chip cookie. It's crispy around the edges and delightfully chewy in the center. All courtesy of your humble cast iron pan.
Serve your skillet cookie in neat slices adorned with stabilized whipped cream, or just grab a spoon and dig in with your loved ones. There's really no wrong way to do this.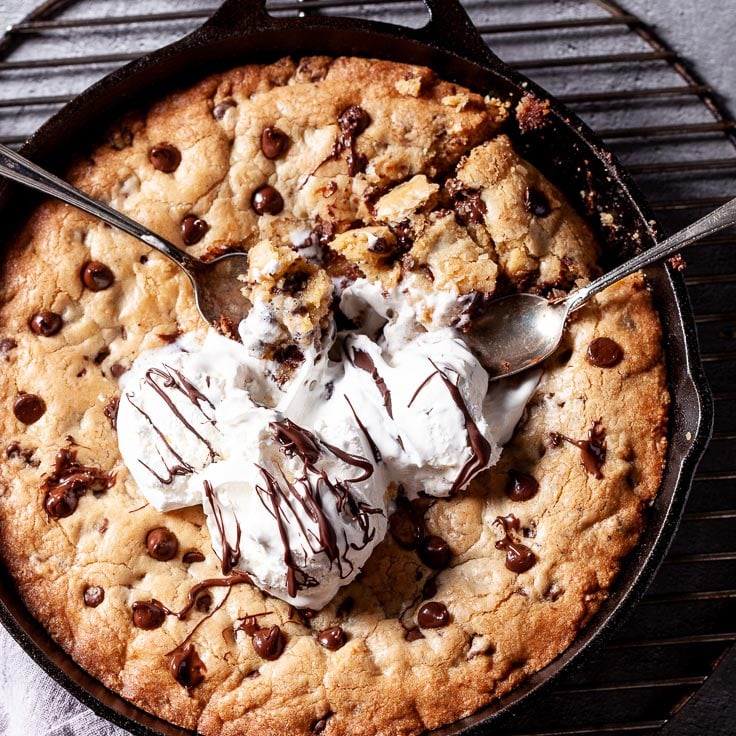 The Cast Iron Skillet Is Your Bake Friend
You may be familiar with the cast iron skillet's prowess at making Pan Grilled Pork Chops taste like they came from a restaurant. The same cast iron pan is just as adept at baking as it is at cooking.
The cast iron skillet is an incredibly versatile baking vessel; it's the tool that creates irresistibly crisp edges for our Sweet Honey Cornbread. Cast iron also helps our Skillet Chocolate Chip Cookie gain a golden crisp crust, while maintaining a chewy soft center.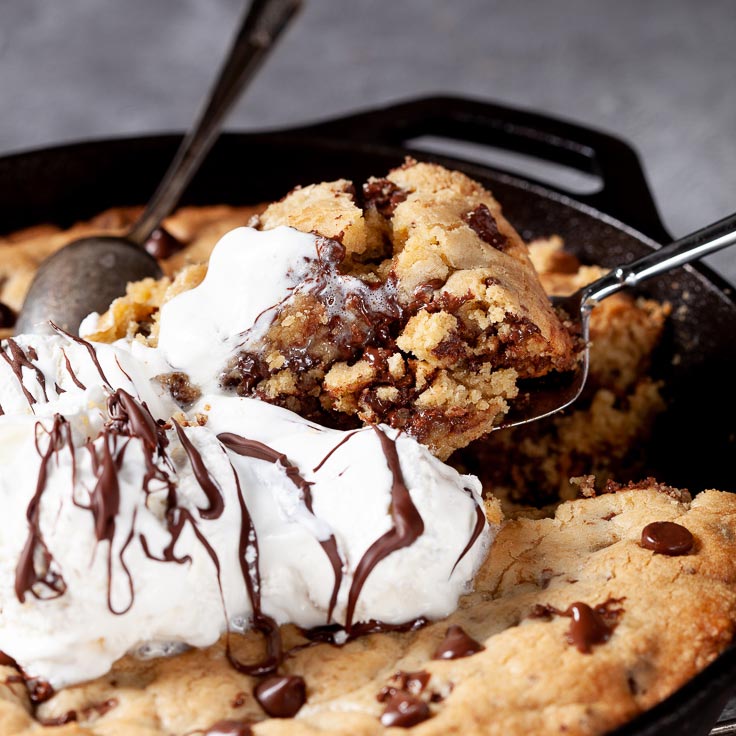 Benefits of Baking with Cast Iron
It holds heat much better than other types of bakeware and once preheated, it heats evenly so all the edges are equally browned.
It actually improves in performance with more use; as you continue to use your cast iron pan and care for it, it develops a natural nonstick surface (patina) and allows you to release food easily without sticking. You get the benefits of a nonstick surface — all naturally.
It's the most sturdy kitchen tool you may ever own. A hardy cast iron skillet more than pays for itself, as it can last a lifetime and beyond.
A gentle wash and dry after every use is all it takes to care for your cast iron. Some pans, such as Lodge cast irons (it's what we use) come pre-seasoned, so there's no need to worry about pre-seasoning your pan.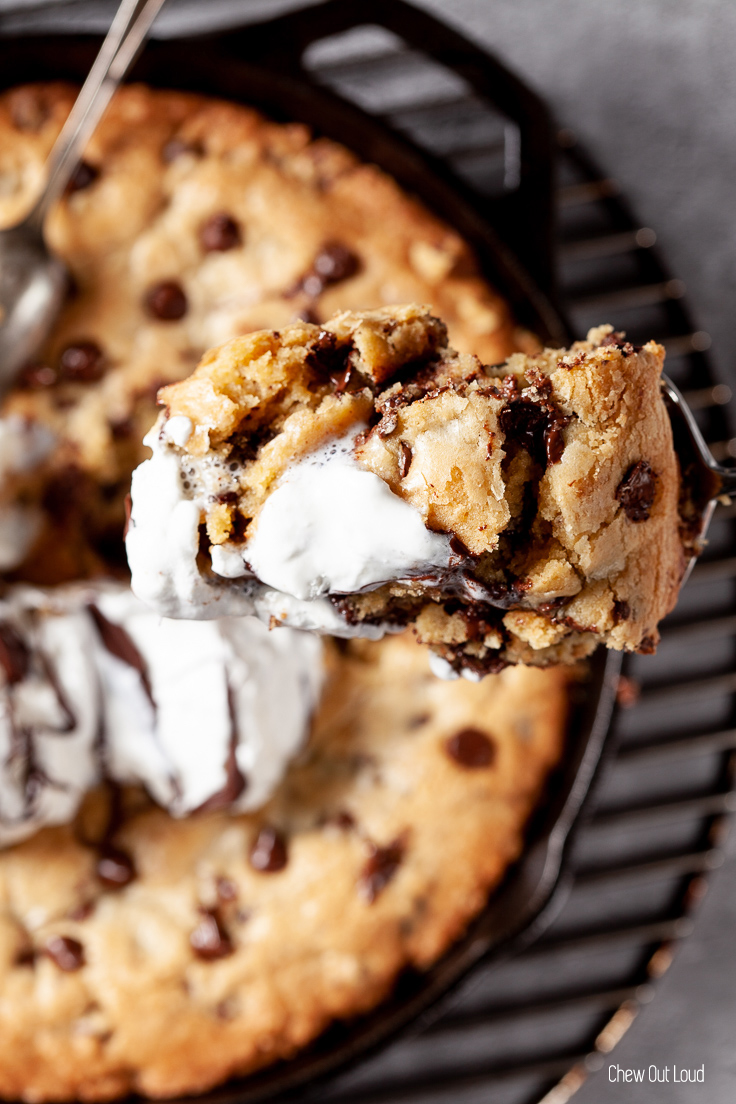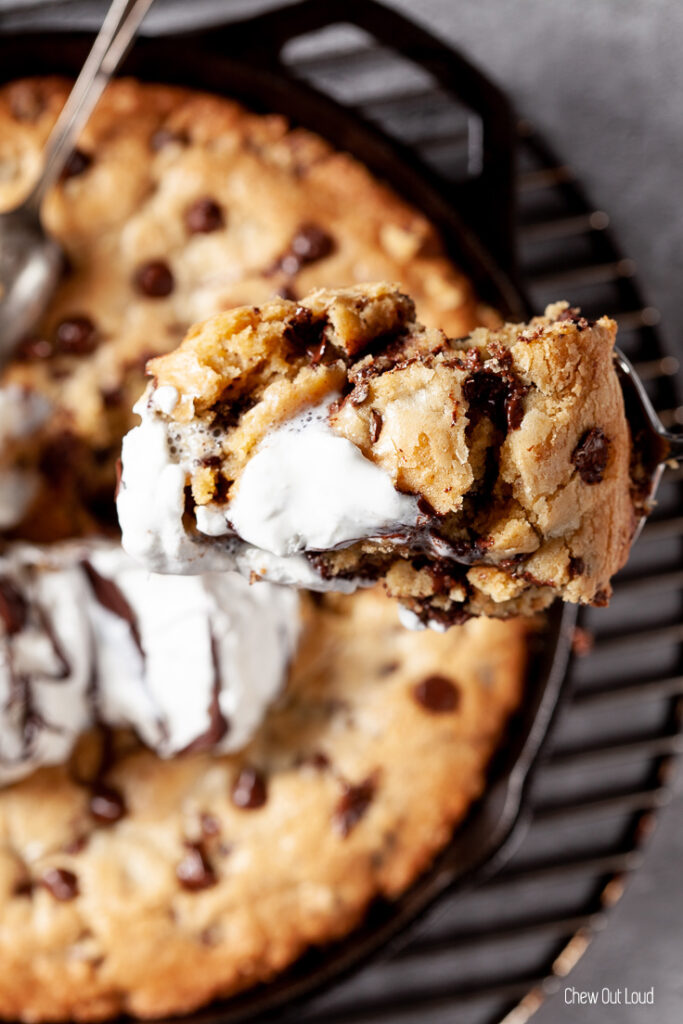 Variations for Your Skillet Cookie
If you love an extra crispy crust on the bottom and edges of your cookie, place cast iron skillet in the preheating oven as you make the dough. Carefully remove hot skillet when ready to transfer the dough, and proceed with recipe as written.
For neat slices, wait until baked cookie is set and cooled to room temperature before slicing (if you don't care about clean-looking slices, go ahead and dig in while it's warm.)
To dress up your skillet cookie for a birthday or to resemble a cookie cake, pipe your favorite frosting around the edges of cooled cookie. Add sprinkles.
Feel free to use white chocolate chips, roughly chopped peanut butter cups, M&M's, or pretzel pieces to your cookie dough.
For the ultimate decadent treat, serve a warm slice of baked cookie with vanilla ice cream on top, drizzled with hot chocolate fudge sauce or warm caramel sauce.
Try Our 3-Ingredient Shortbread Cookies, Too:
Did you make this?
Please give us a rating and comment below. We love hearing from you!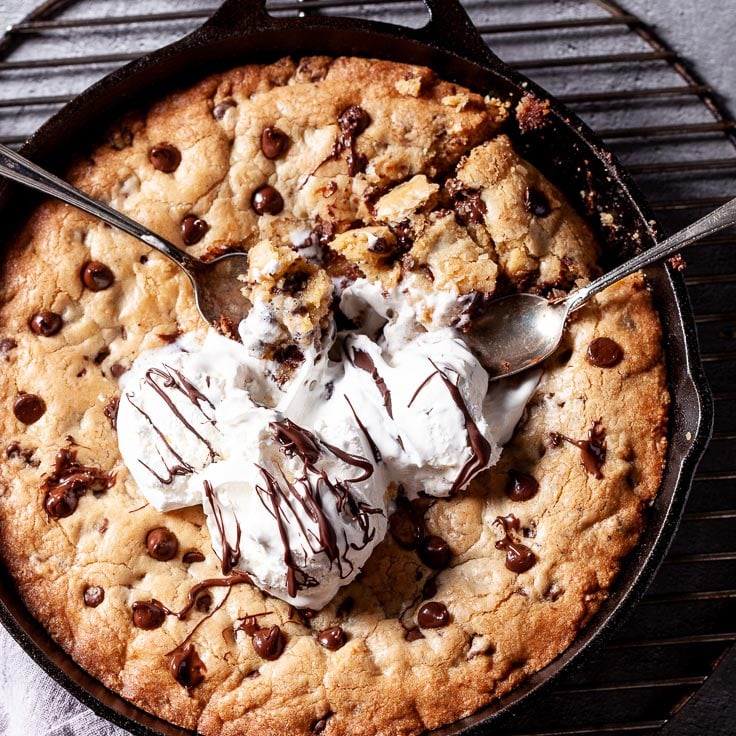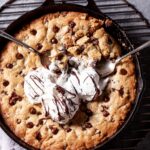 Skillet Chocolate Chip Cookie
Welcome to the ultimate skillet chocolate chip cookie. This easy skillet cookie boasts crispy edges and a chewy center, thanks to your cast iron pan.
Instructions
Preheat the oven to 350°F, with rack on lower middle position. Spray a 12-inch cast iron skillet with spray oil of your choice.

In a mixing bowl, whisk together the flour, baking powder, and salt; set aside. In a stand mixer fitted with paddle attachment, mix butter with both sugars on medium-high speed, scraping sides of bowl and the paddle a couple of times. Add eggs and vanilla extract; mixing on medium speed another minute,

Gradually add flour mixture and mix on low speed just until cookie dough forms. Scrape down sides of bowl and paddle. Stir in the chocolate chips by hand.

Use rubber spatula to fully scrape dough into cast iron skillet, evening out the edges. Bake about 30 minutes or until edges are browned and top looks puffy.

Let cookie cool pan 15 minutes before slicing into it. If decorating with stabilized whipped cream or any other frosting/sprinkles, allow cookie cool completely first,
Notes
If you slice into cookie while it's warm, slices may not come out as neatly as it would when cookie has set and cooled to room temp.
For extra crispy bottom/edges, preheat your cast iron skillet in oven while you make the dough. Transfer dough into hot skillet and bake as instructed. Take care not to burn yourself on the hot handle!
If using a 10-inch cast iron skillet, you may need to increase bake time by a bit. Cookie will come out a bit thicker than 12-inch pan would.
To freeze leftovers, cut into desired slices and place in airtight container for up to several weeks.
Feel free to see original article for variations and options. If you enjoyed this recipe, please come back and give it a rating ♡
Nutrition (per serving)
Calories:
487
kcal
|
Carbohydrates:
61.5
g
|
Protein:
5
g
|
Fat:
26.9
g
|
Saturated Fat:
16.5
g
|
Cholesterol:
71.7
mg
|
Sodium:
67.7
mg
|
Fiber:
3
g
|
Sugar:
50
g