How to Boil and Peel Eggs Easily
By Amy Dong
Published Mar. 17, 2021
Updated Aug. 17, 2022
No more trial and error in order to get perfectly boiled eggs, just the way you like them. Learn this fail proof method for peeling eggs easily and quickly.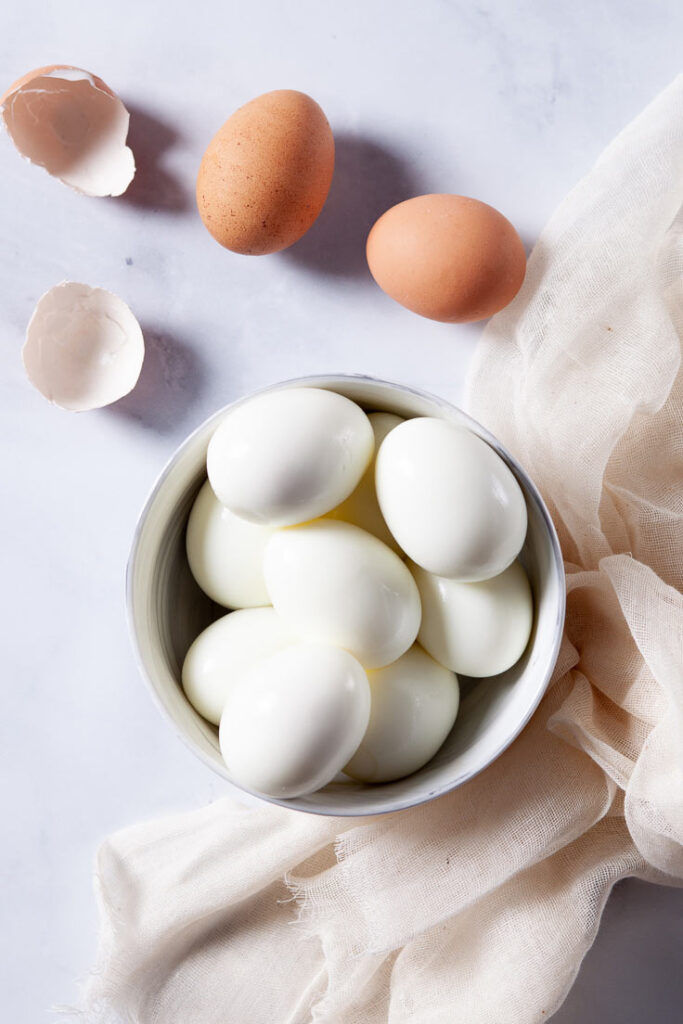 How to Boil and Peel Eggs easily
If only I had discovered the secrets to fail-proof boiled eggs and fuss-free peeling, I would have been adding sliced eggs to my salads (and ramen) much earlier. Alas, I've had my share of egg casualties when it comes to boiling and peeling those stubborn things. I mean, who has not battled boiled eggs with shells that refuse to release, creating an all-out egg peeling war?
We declare peace with all boiled eggs today. No more overcooked the yolks until they're tinged with green. Goodbye to broken, mangled surfaces caused by peeling scuffles.
Once you learn how to easily boil eggs to perfection and peel them like a boss, dishes like this Potato and Egg Salad with Honey Mustard Vinaigrette will become a total breeze.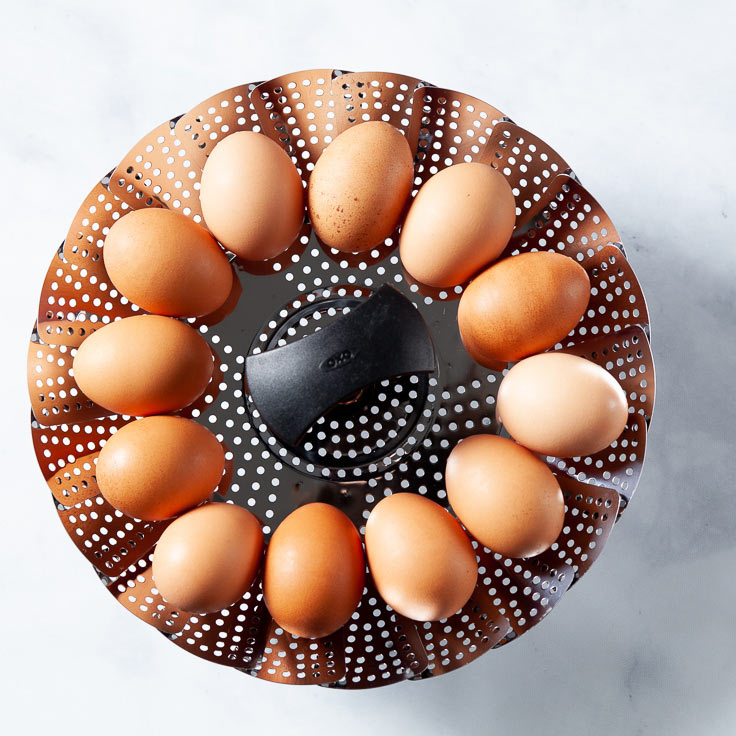 Start hot, not cold
You may have heard anecdotes about starting eggs off in a pot of cold water, or turning the heat off prior to adding eggs. Been there, done that, and still ended up with eggs that refused to play nice when it came to peeling.
After much trial and error and consulting with the experts, here's what works consistently:
Start eggs in hot water. This allows proteins to seize and tighten, which prevents that notorious stick-to-the-shell situation we all want to avoid.
The water will be boiling, but the eggs won't be. That's because they'll be sitting pretty in a steamer set right above that boiling water.
Set your timer for 13 minutes for firm egg whites and yolks with ideal hard-boiled texture.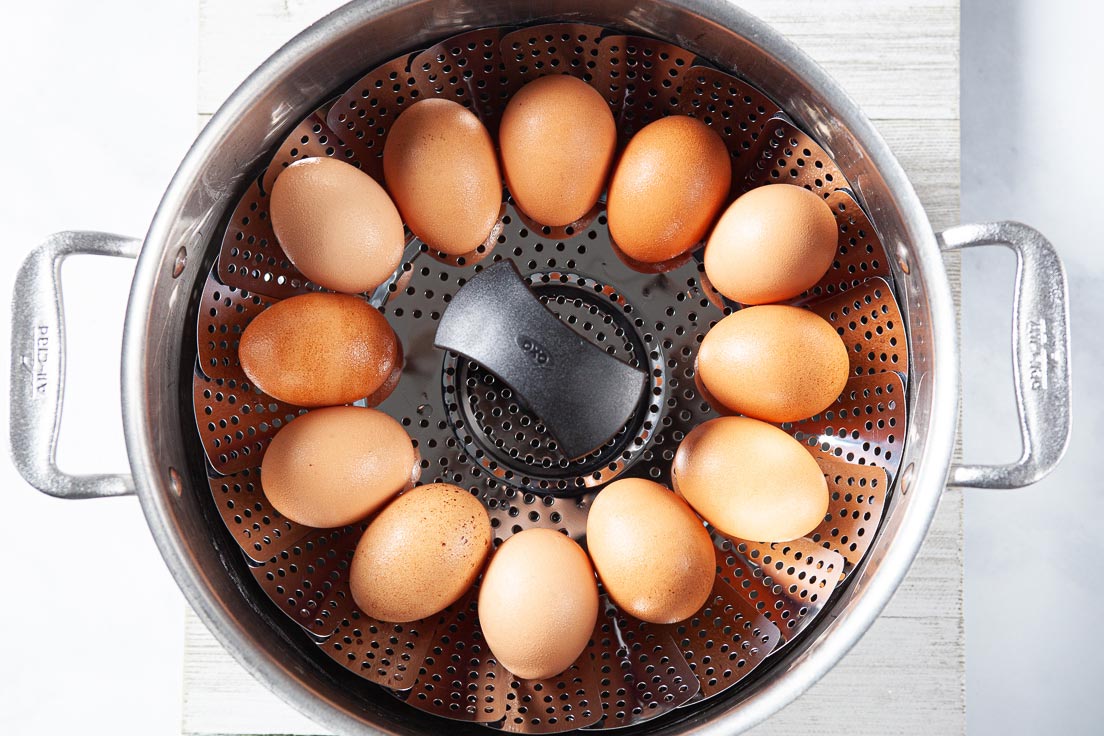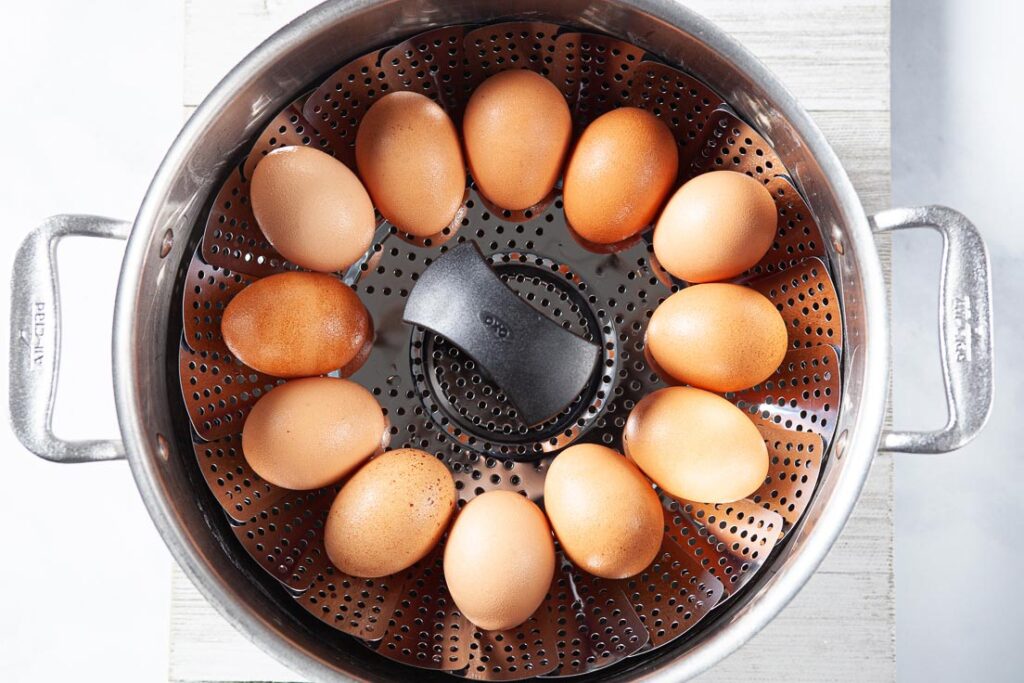 Okay, But Why Steam?
It's actually kind of genius if you think about it: since the eggs aren't actually being placed into the boiling water, they won't lower the water temperature. So, whether you're adding 2 or 12 eggs into the pot, they'll all cook evenly every single time.
If you don't already have a steamer, this one is the absolute favorite. It expands to fit most pot sizes, and folds down for easy storage.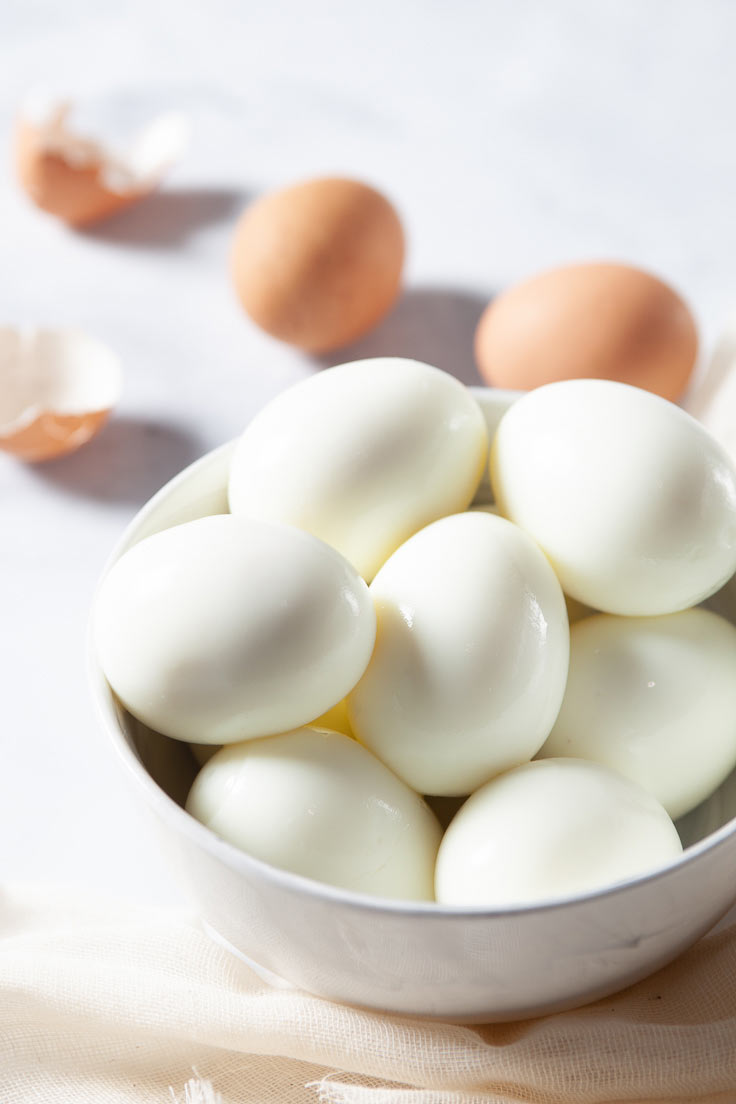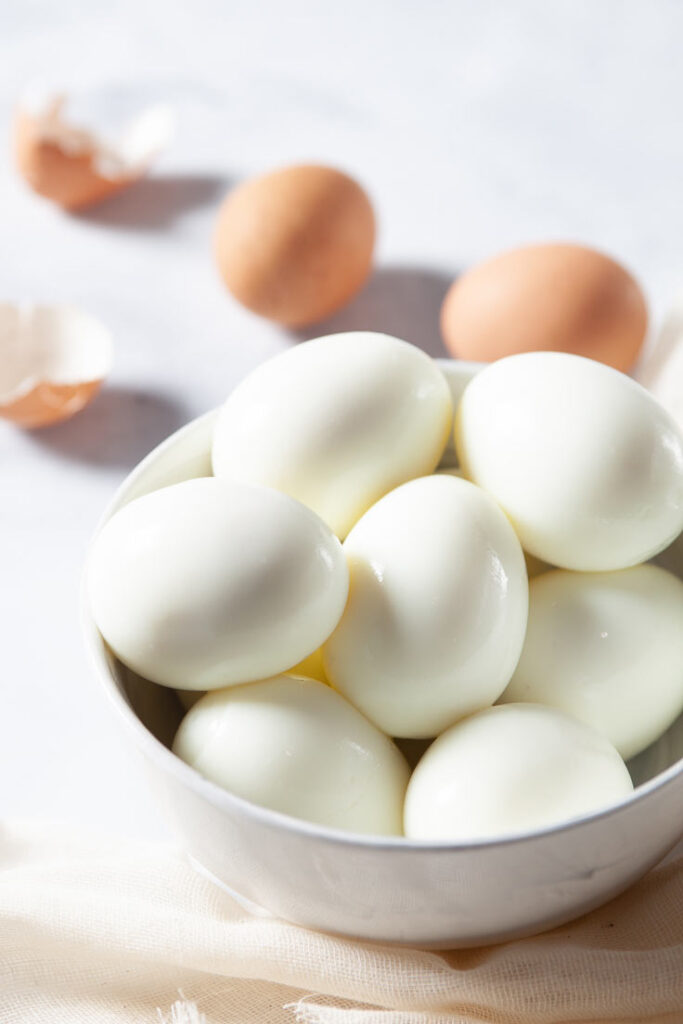 Easy, quick egg peeling
When your eggs are almost done cooking, grab a couple of containers with tight lids. Fill them with enough ice + water to submerge eggs (remember to leave room for the eggs.)
When eggs are done cooking, immediately place them into the prepared ice baths. This stops eggs from cooking further and helps with easy peeling.
Set your timer for 15 minutes. It's okay if you need to go overtime a bit.
Pour half the water from container, seal tightly with lid, and shake the eggs vigorously until shells are really well cracked all over.
The more fully cracked eggs are, the easier they'll be to peel. Gently peel eggs in water bath or under running water.
It's true that older eggs are better peelers than fresher ones. If you have older eggs in your fridge, here's your chance to use them up.
The time it takes to shake the eggs up in containers is way less time than it would take to crack each egg separately and pluck at the shells in typical fashion.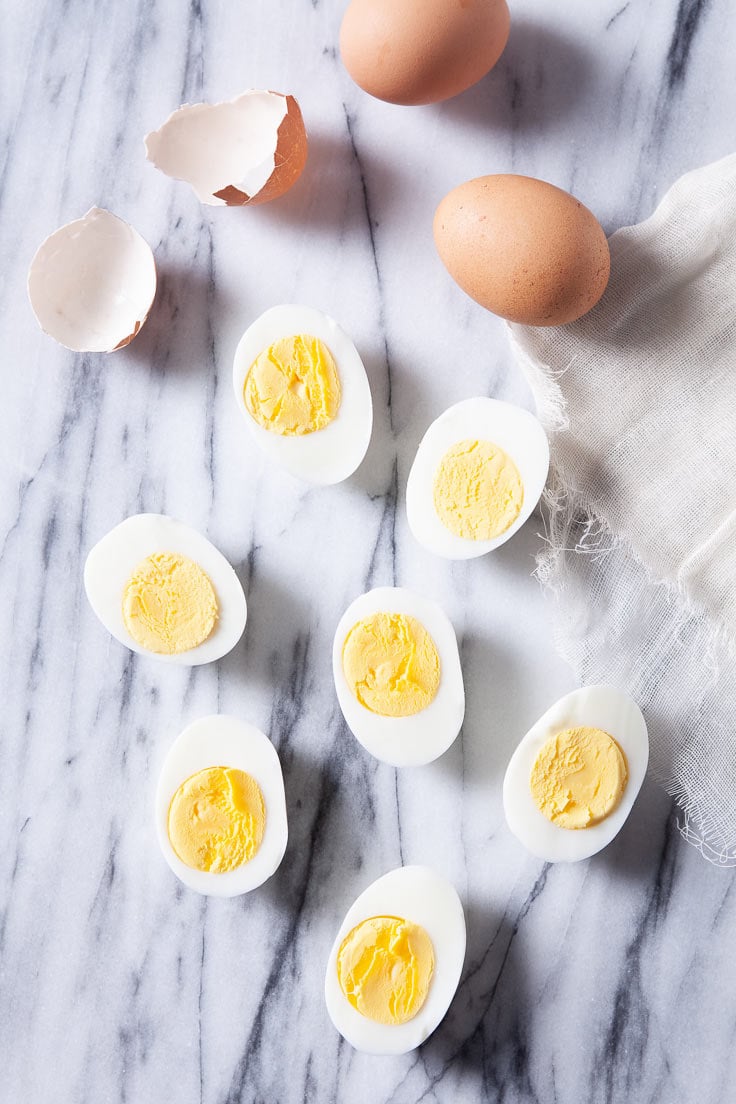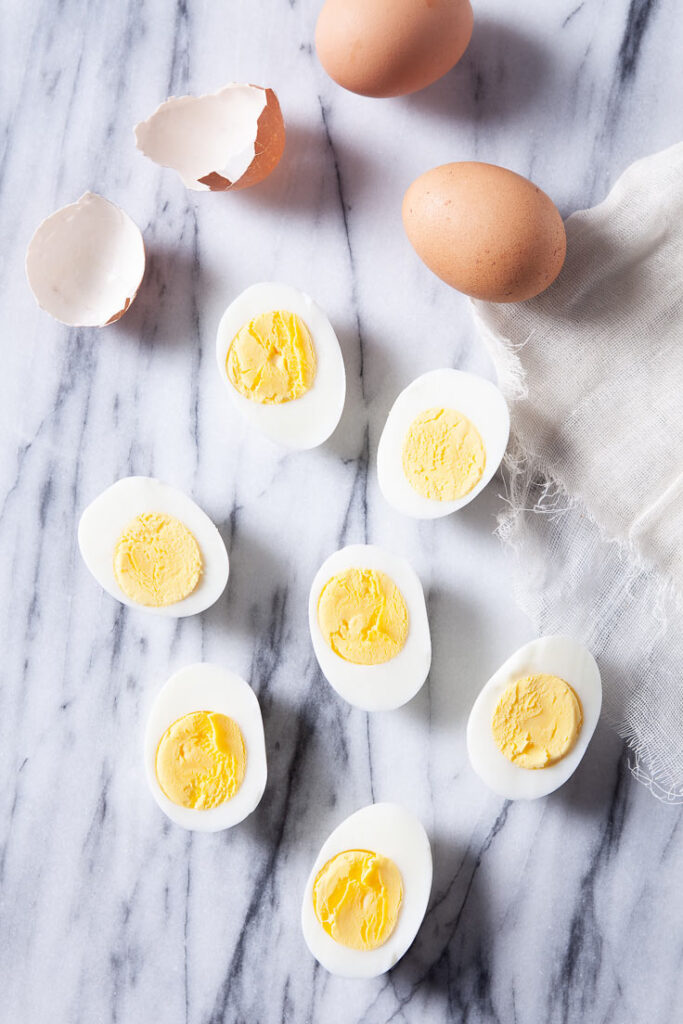 Storing your boiled eggs
Peeled eggs should be handled with super clean hands and stored in a closed container in fridge, to be used within a couple of days. They're ideal for Deviled Eggs, adding to rice bowls, ramen, or salads like this Easy Chopped Greek Salad.
If you don't plan on eating your hard boiled eggs within 2-3 days:
For longer storage, it's best to boiled eggs unpeeled.
Follow the same steaming/ice bath instructions.
After their ice bath, place whole eggs with shell intact in the fridge for up to 5 days.
When ready to use, crack the eggs really well for easy peeling.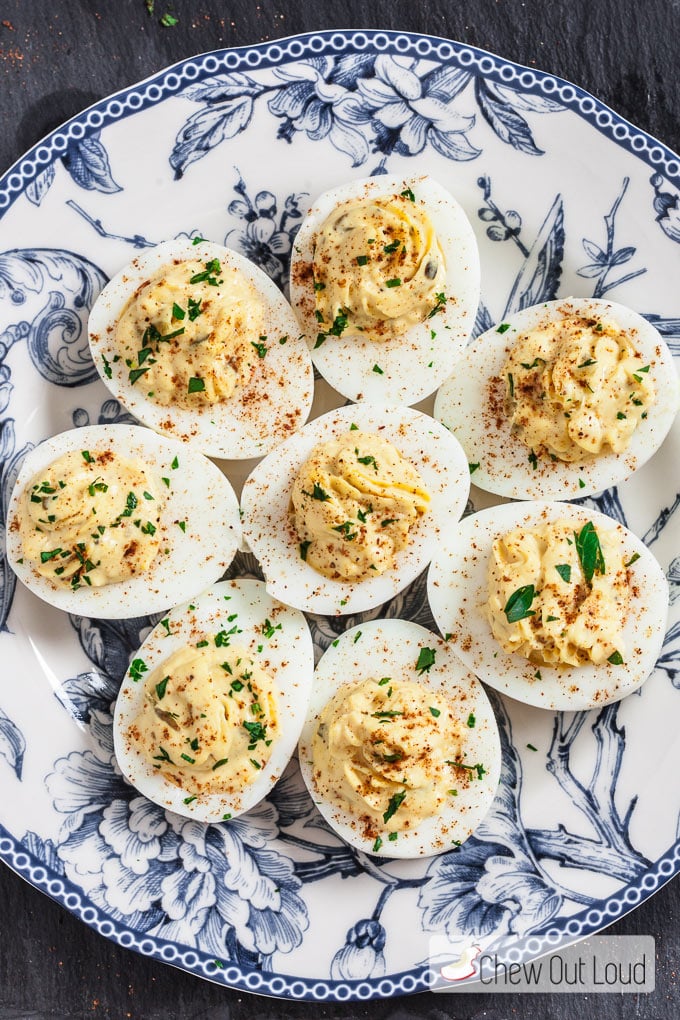 Use boiled eggs in these delicious recipes:
---
---
---
Did you make this?
Please give us a rating and comment below. We love hearing from you!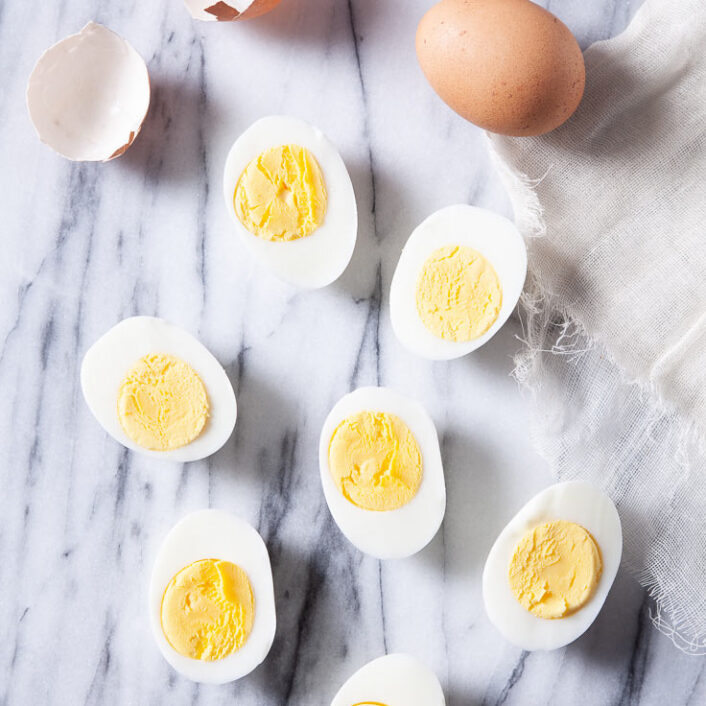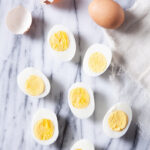 Perfect Boiled Eggs | Easy Peeling
Learn how to make hard boiled eggs and peel them easily, without frustration.
Ingredients
12

large eggs

,

at least a week old

water and ice

Equipment: large pot and steamer basket
Instructions
Fill large pot with 1 to 1 1/2 inches of water. Bring to a boil. Insert steamer basket and gently place eggs into steamer (you can also place eggs in steamer first, but be careful when lowering steamer into pot.)

With water at a medium boil, cover tightly with lid. Set timer for 13 minutes. During last couple of minutes, fill a couple of containers (with tight lids) with enough ice and water to submerge eggs. Be sure to enough leave room for the eggs.

Once 13 minutes cook time is up, use slotted spoon to transfer eggs into ice bath. After 15 minutes, pour half the water out of the container. Cover tightly with lid and shake vigorously until all eggs are very well cracked all over. The more well cracked they are, the easier they'll peel.

Gently peel eggs in water bath or under running water. Use peeled eggs within 2-3 days.
Notes
Boiled eggs are perfect for Best Deviled Eggs recipe.
If you need to store boiled eggs longer than a few days, follow instructions through ice bath, but do not shake and peel. Take eggs out of ice bath and store unpeeled in the fridge for up to 5 days.
For soft boiled eggs with runny yolk, steam for 5 1/2 minutes. For semi-cooked yolks, steam for 9 minutes.
If you enjoyed this recipe or any of our other recipes, please come back and give it a rating ♡
Nutrition (per serving)
Calories:
72
kcal
|
Carbohydrates:
0.4
g
|
Protein:
6.3
g
|
Fat:
4.8
g
|
Saturated Fat:
1.6
g
|
Cholesterol:
186
mg
|
Sodium:
71
mg
|
Sugar:
0.2
g