Easy Poached Eggs
By Amy Dong
Published Mar. 30, 2021
Updated Aug. 17, 2022
Use this easy method to make perfectly poached eggs in just 3 minutes. For all those eats that would be so much better with an egg on top.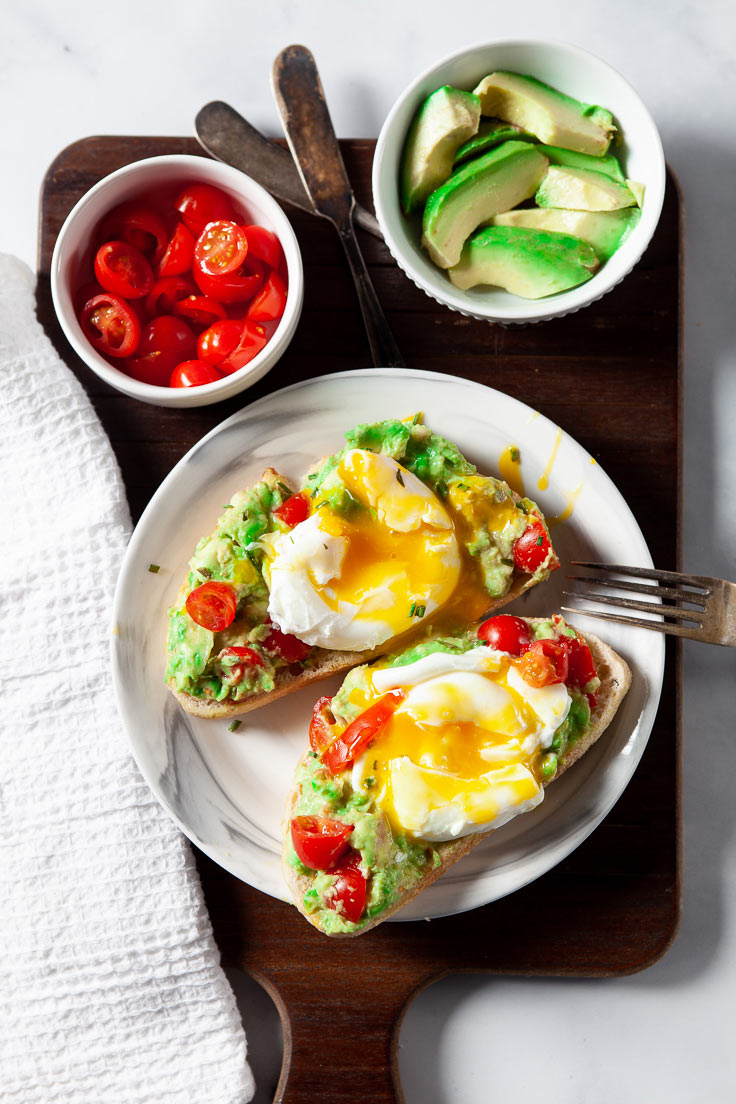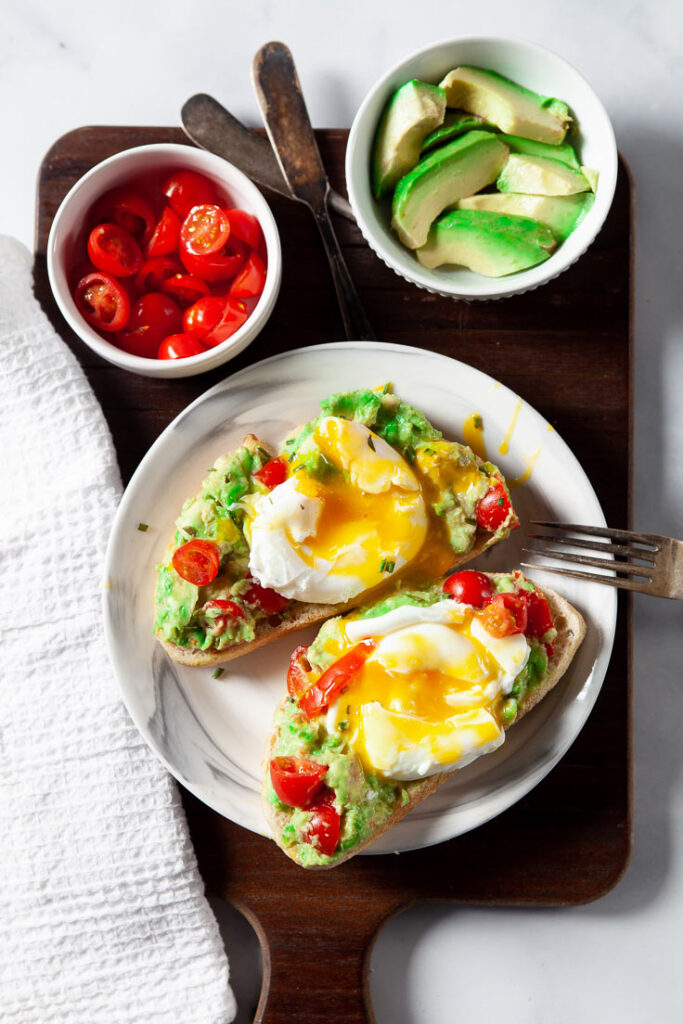 Easy Poached Eggs
This one is for all the times you think to yourself or proclaim out loud to whoever happens to be nearby…this would be so much better with an egg. For all those moments, give a hearty welcome to easy poached eggs.
There's nothing mysterious or difficult about poached eggs at all. All you truly need are super fresh eggs, a strainer, and a pot. That and 3 minutes on the timer.
Here's how to make poached eggs to place on top of your beautiful avocado toast and all the other food you've ever imagined would be so much better with an egg…
poached eggs: technique vs. recipe
A quick Google search reveals a plethora of mysterious methods and unicorn tactics to the perfect poached egg. The poached egg knacks go from using muffin tins to creating a swirly vortex of boiling water to drop egg in.
After listening to a chef from America's Test Kitchen discuss poached eggs on a podcast and testing several methods ourselves, the verdict is clear: it's much more about simple technique, rather than a recipe. Once you use this easy method for poached eggs, you'll quickly get the hang of it and it'll soon become [almost] as easy as pouring a bowl of cereal.
Super Fresh Eggs
Start with the freshest eggs you can find, which means it's totally okay to be picky when standing in front of the egg cartons at the grocery store. If you're lucky enough to have a local market or hen-owning neighbor with fresh eggs, take advantage of it.
Unlike the perfect boiled eggs, you'll need super fresh eggs for poaching. The reason? The older eggs get, the more watery and runny their egg whites become. Fresh eggs have thicker whites. Thus, your egg whites are less likely to twirl away in the water.
Yes on vinegar; maybe on salt
Stories of vinegar skills are true. Vinegar lowers pH of the water, which causes egg whites to set at a lower temperature. This means your eggs will cook more evenly at a lower temperature, which is awesome. Just 1 tablespoon works, without altering flavor of eggs.
As for whether or not to add a bit of salt to the hot water, that's entirely up to you. We add a teaspoon of table salt purely for flavor.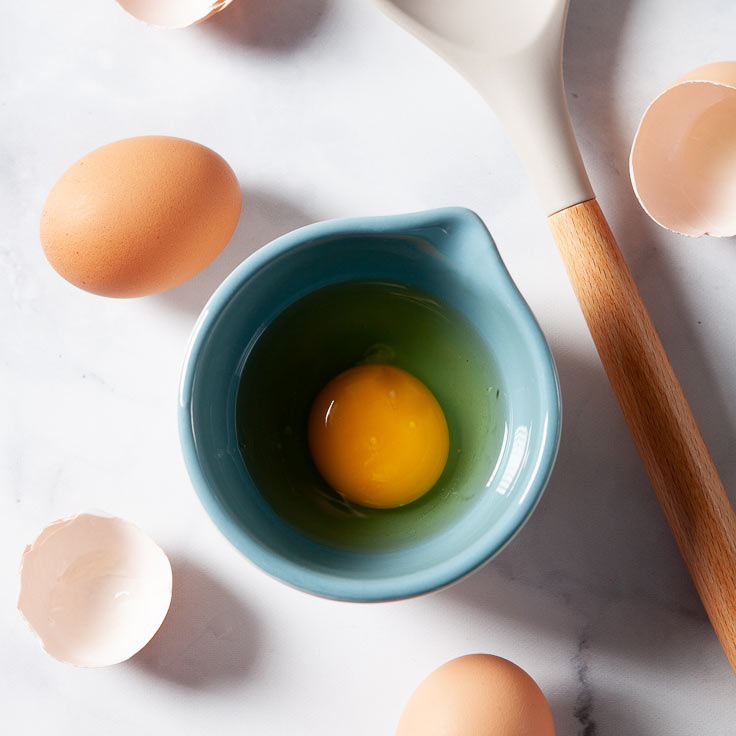 Grab a Fine Mesh Strainer
If you don't already have a fine mesh strainer for rinsing all the quinoa, now is the time to pick one up. Your fine mesh strainer comes in handy for straining the loose, watery portions of eggs whites.
Crack each egg into a fine mesh strainer, filtering out the runny whites, and retaining the thicker portions of egg whites only. Good bye, random wisps of egg whites.
Steep, don't boil
When eggs are steeping in calm hot water, they aren't subject to the rough movement of boiling water. Thus, no worries about tattering, splitting, or breaking. Plus, this results in the perfect poached eggs, with just-cooked whites and liquid gold yolks in the center.
Add vinegar and salt to 6 quarts of water into a deep pot, as deeper water is better than shallow for poaching.
Bring water to a rapid boil, and turn heat off. Very gently slip eggs into hot water, ensuring eggs remain separate and are not touching – keep track of eggs that went in first vs. last.
Cover with tight lid and let eggs steep for 3 minutes, no less and no more.
Use a slotted spoon to very gently remove eggs, starting with the egg that went in first.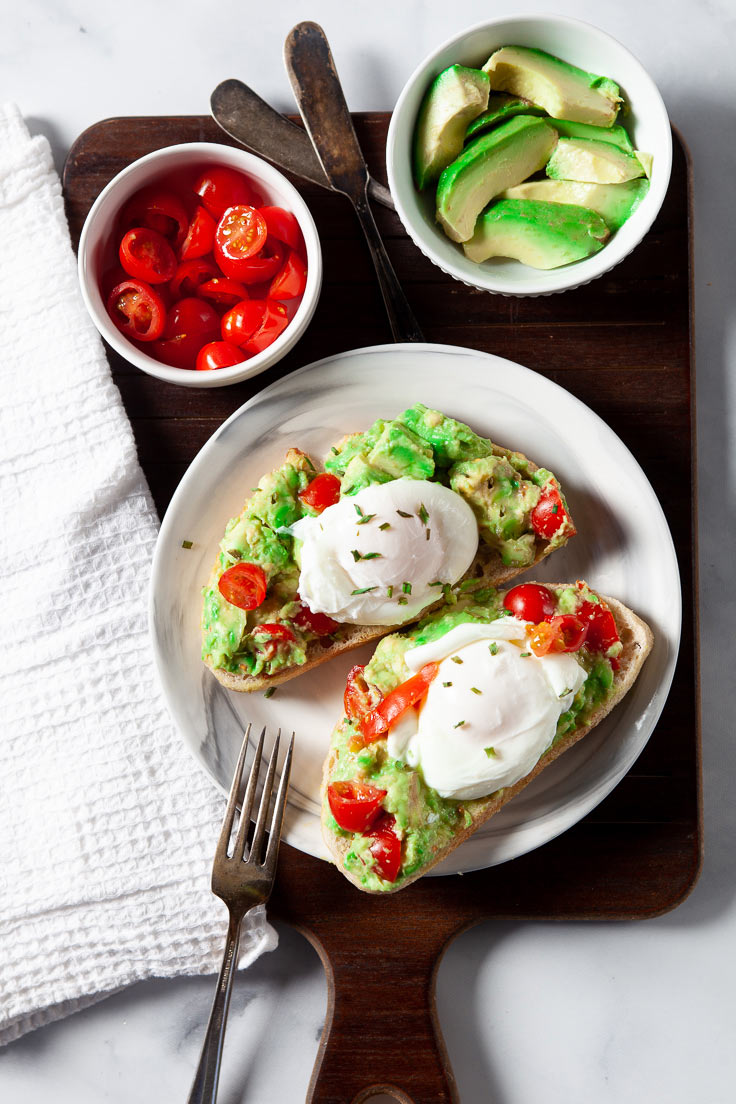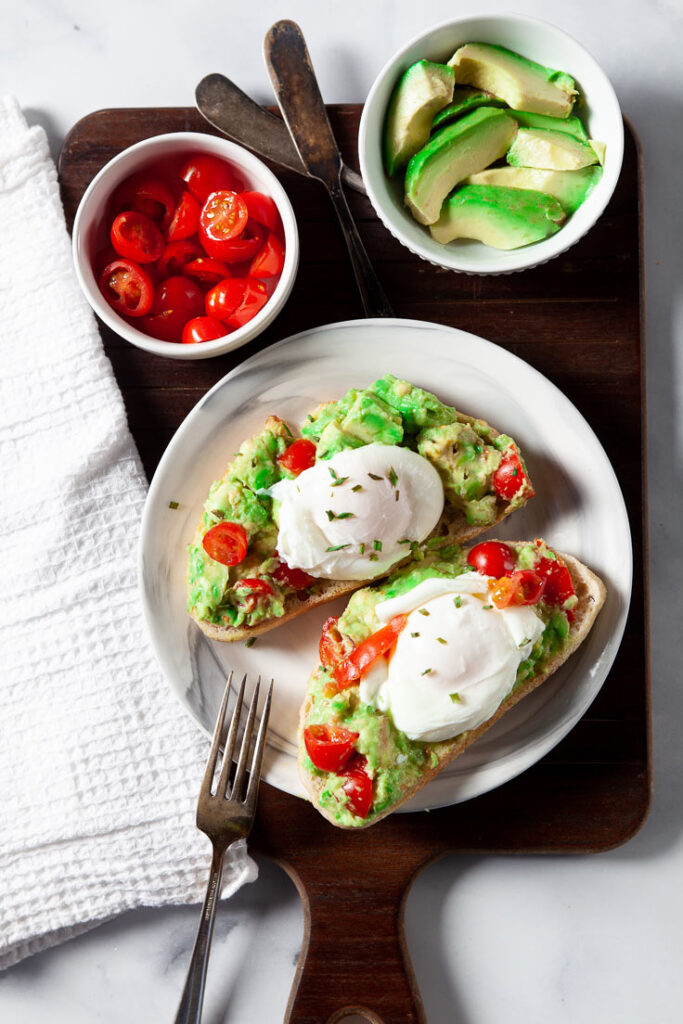 Ways to Serve Poached Eggs
Aside from all the beloved avocado toast, we suggest serving poached eggs over Eggs Benedict Casserole for those who crave the runny yolk. This delicious breakfast casserole is an easy take on classic eggs Benedict without the runny yolks, so sliding a poached egg on top of plates, per request, is pretty amazing.
Poached eggs are sublime over this Korean Beef Bowl and this Taiwanese Beef Noodle Bowl – both of which are ridiculously easy and gluten-free.
Can you make poached eggs ahead of time?
Good news for those who love to meal prep. You can absolutely make a batch of poached eggs ahead of time, to be enjoyed throughout the week.
Follow these tips:
After cooking, let eggs come to room temperature before covering and placing in fridge.
Freshly poached eggs keep well, covered and chilled, for up to 4 days.
When reheating, do so gently to avoid overcooking. Microwave one egg at a time, in 10-second intervals or just until warm.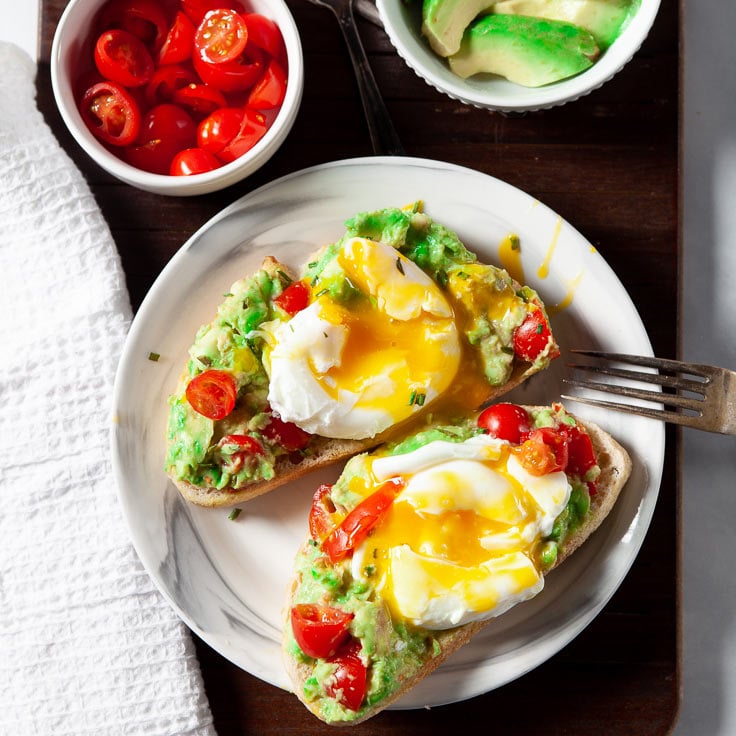 More eggs to eat:
---
Did you make this?
Please give us a rating and comment below. We love hearing from you!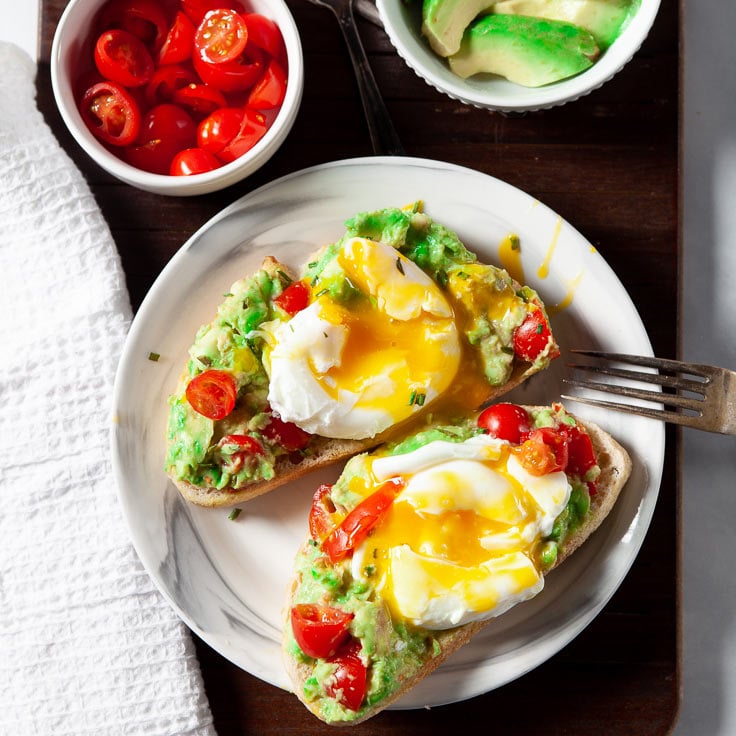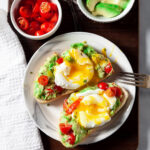 Easy Poached Eggs
Use this easy method to make perfectly poached eggs in just 3 minutes.
Ingredients
1

very fresh

,

large egg

1

tablespoon

white vinegar

1

teaspoon

table salt
Instructions
Fill a large, deep pot with about 6 quarts water. Bring to a rolling boil over high heat.

While water is waiting to boil, crack egg into a

fine mesh strainer

to filter out any watery egg white parts. Gently transfer egg to ramekin or small bowl.

Once water is boiling, stir in vinegar and salt. Turn heat off and very gently slide egg into the water. Immediately cover with tight-fitting lid. Steep eggs for 3 minutes. Remove gently with slotted spoon and serve.
Notes
Unlike with boiled eggs, poached eggs need very fresh eggs.
If making several poached eggs: drain them separately in fine mesh strainer, and place in individual ramekins/small bowls. Be sure they have wiggle room when placing in pot of water. Try to keep track of which eggs went in pot of water first, and remove those first when the 3 minutes is up.
For amazing avocado toast, make this 5-Minute Real Guacamole in place of plain avocado. Also try serving poached eggs on top of Eggs Benedict Casserole for eaters who like runny yolks.
Poached eggs can be covered and chilled for up to 4 days. Gently reheat one at a time in microwave, in 10-second increments to prevent overheating. For more poached egg tips, see original article.
If you enjoyed this recipe, please come back and give it a rating ♡
Nutrition (per serving)
Calories:
72
kcal
|
Carbohydrates:
0.4
g
|
Protein:
6.3
g
|
Fat:
4.8
g
|
Saturated Fat:
1.6
g
|
Cholesterol:
186
mg
|
Sodium:
71
mg
|
Sugar:
0.2
g
---