Potato Salad with Honey Mustard Vinaigrette
This Potato Salad with Honey Mustard Vinaigrette is an easy make-ahead recipe with big flavors. Made with a honey mustard base, it's much healthier than typical potato salads.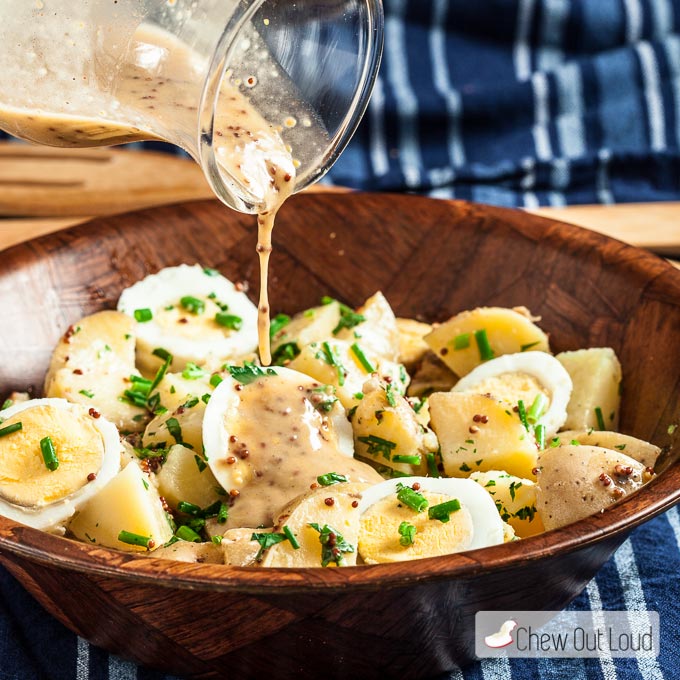 Potato Salad with Honey Mustard Vinaigrette
Whether you're already a potato salad fan or not, potato salad is about to climb the ladder and gain your favor. This simple potato salad with creamy honey mustard vinaigrette is decidedly set apart from all other potato salads, as it bears little resemblance to what you'd normally find at the deli counter.
The flavorful honey mustard vinaigrette dressing is a key factor: it's tangy, zippy, and just plain delicious. It's much healthier than the typical potato salad, without short changing your taste buds. Because we all know the taste buds rule.
This Potato Salad with Honey Mustard Vinaigrette is ridiculously easy and ideal for gatherings, picnics, or simply lunch. Your eaters will appreciate this fabulous twist on the old potato salad routine.
The best part: This potato salad can be made ahead of time, without affecting texture.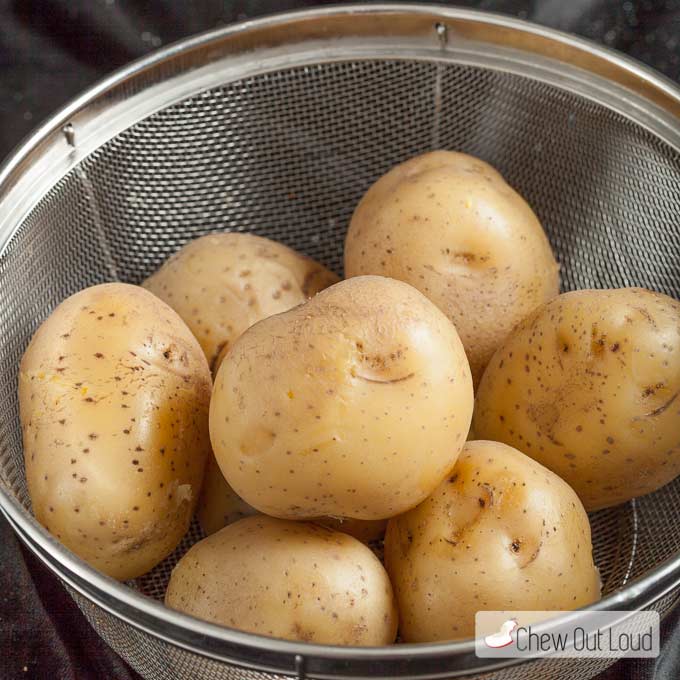 Which Potatoes are best for potato salad?
Classic creamy potato salads often use starchy russet potatoes, which can become somewhat mushy and tend to break apart very easily. Starchy potatoes are fluffy and soak up dressing more thoroughly than waxy potatoes do, but the trade off is their tendency to break down.
Our two favorite varieties of potatoes for making potato salad are red potatoes and Yukon gold potatoes. Both are less starchy than russet potatoes. Though red and gold potatoes aren't as fluffy and soak up less dressing, they are ideal for holding shape after cooking and resist becoming mushy.
Yukon gold potatoes, while not truly a waxy potato, contains less starch than russets and boasts a smooth yet tender bite. With its ability to handle being cooked and tossed in dressing without breaking down, Yukon golds are our choice for pairing with honey mustard vinaigrette. Go for the gold.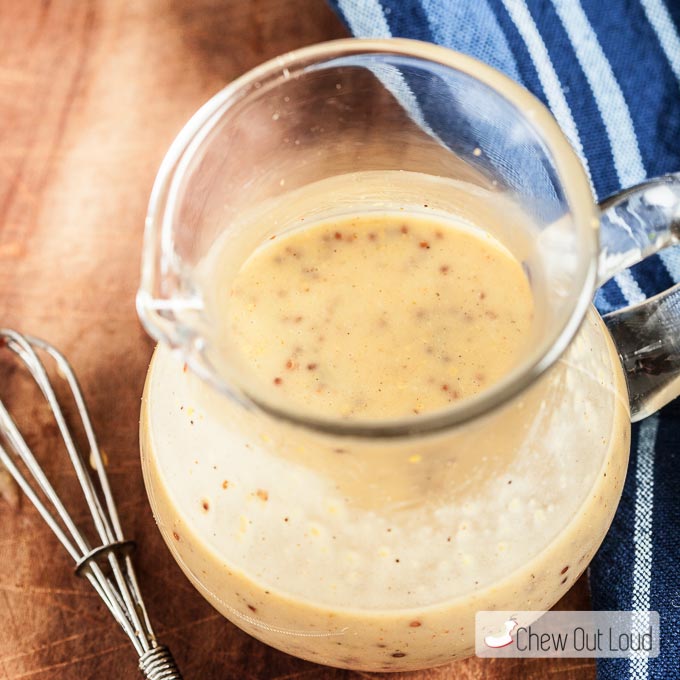 Your Strategy for Planning Ahead
One of the best things about this potato salad is that it can be made in advance. You can prepare the entire dish the day before, cover, and keep chilled until ready to serve. Use a rubber spatula to gently re-toss the potato salad just prior to serving.
The honey mustard vinaigrette can be mixed together even up to a week ahead of time, covered, and kept chilled until ready to use.
Tip: this dressing also fantastic to have on hand for green salads or to drizzle over grilled chicken.
What makes this potato salad healthy, compared to most?
This potato salad gloriously showcases fresh herbs while avoiding heavy use of mayo and other non desirable fats. Instead of heaping cups of mayo, this dressing relies on a honey mustard base to bring the creaminess. Olive oil is used, providing healthy fat in the dressing. Fresh herbs such as parsley and chives add to the tasty profile. The result is a lighter potato salad that doesn't sacrifice an ounce of flavor.
Is this potato salad gluten-free?
Indeed, this potato salad is gluten-free and can be enjoyed by those with gluten sensitivities. (Just be sure to check the ingredient list in your brand of mayonnaise.) This is why my gluten-friends love me.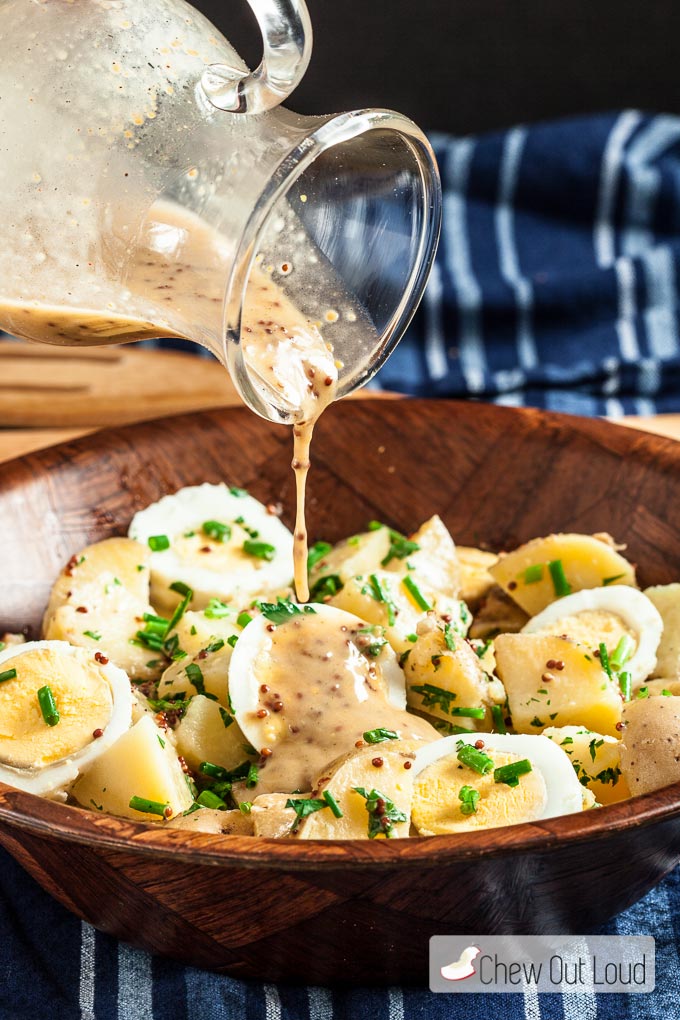 Other Potato dishes to try: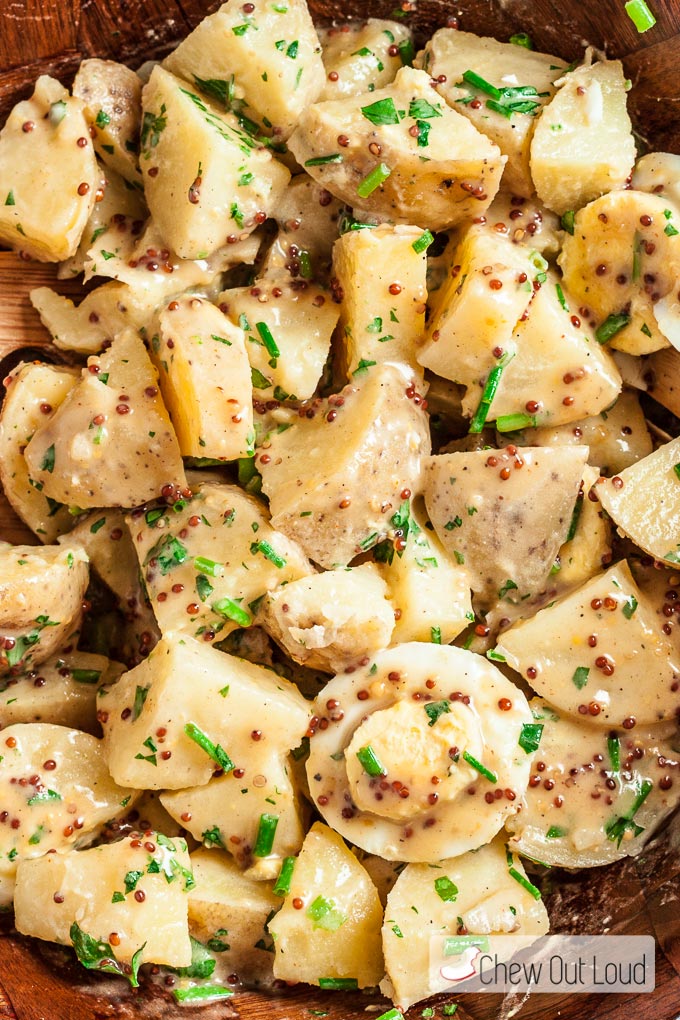 ---
Did you make this?
Please give us a rating and comment below. We love hearing from you!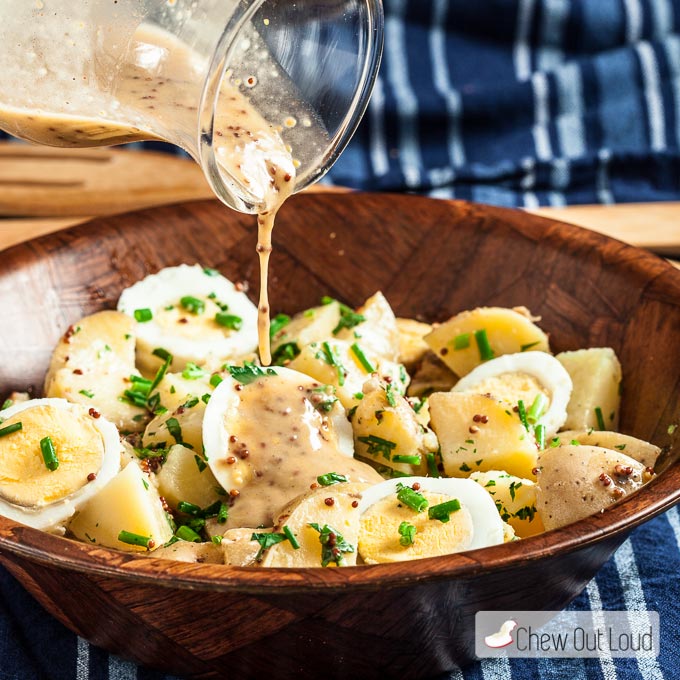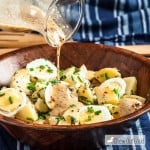 Potato Salad with Honey Mustard Vinaigrette
This Potato Salad with Honey Mustard Vinaigrette is made skinny, with just a touch of mayo. It doesn't compromise on flavor, with its tangy, zippy, and yummy honey mustard vinaigrette base.
Ingredients
2 ½

pounds

Yukon gold baby potatoes

4

large eggs

,

boiled, peeled, and sliced

¼

cup

freshly chopped flat leaf parsley

¼

cup

freshly chopped chives
For Honey Mustard Vinaigrette:
Instructions
Make Honey Mustard Vinaigrette: Combine all vinaigrette ingredients and whisk to combine well. Chill until ready to use. This can be done days ahead of time.

In a large heavy pot, bring salted water to a boil. Boil potatoes until fork-tender, approx. 10-20 min. depending on the size of your potatoes. Drain and immerse in cold water to stop cooking. Slice into quarters, skin on.

Gently toss together the potatoes, sliced eggs, prepared vinaigrette, parsley, and chives. Season with additional kosher salt and black pepper to taste. Serve chilled.
Nutrition (per serving)
Calories:
404
kcal
|
Carbohydrates:
70.7
g
|
Protein:
6.1
g
|
Fat:
13.4
g
|
Saturated Fat:
3.1
g
|
Cholesterol:
144.1
mg
|
Sodium:
104.5
mg
|
Fiber:
0.4
g
|
Sugar:
69.9
g
More Potatoes, Please:
1. Smashed Red Potatoes. I love these for three reasons. They're crazy easy. They're incredibly crispy and delicious. And I'm addicted to saying smashed.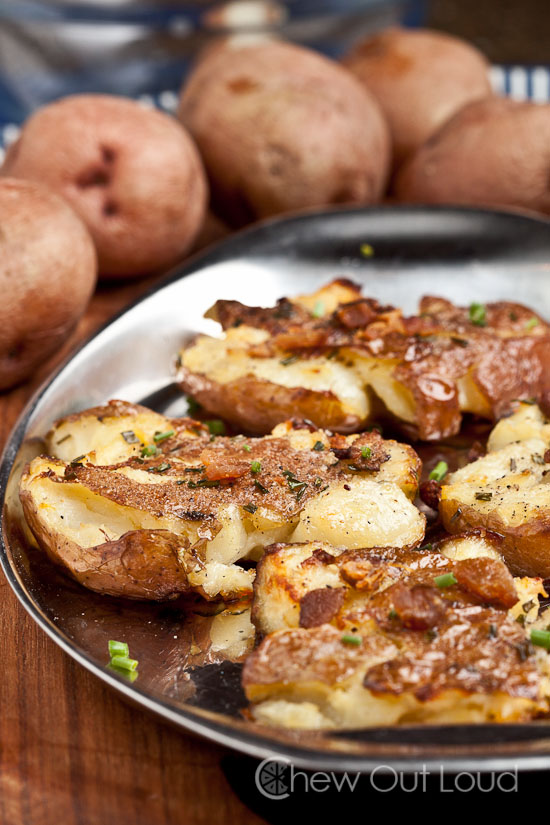 2. Parmesan Onion Potatoes. Crispy edges, tender centers, and totally flavorful.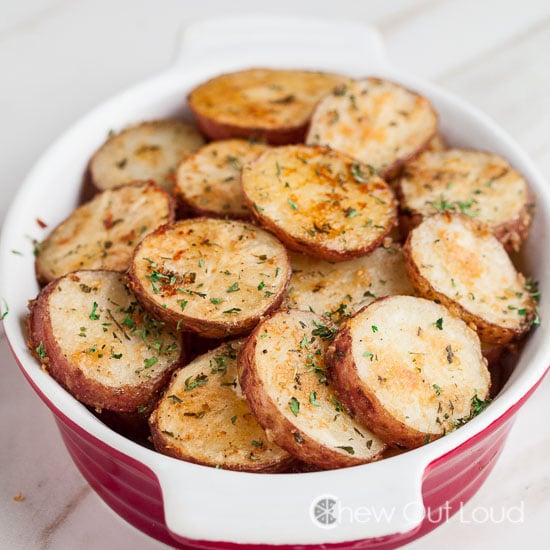 3. Garlic Butter Red Potatoes. Always a crowd pleasing side dish that goes with any meal, all year round.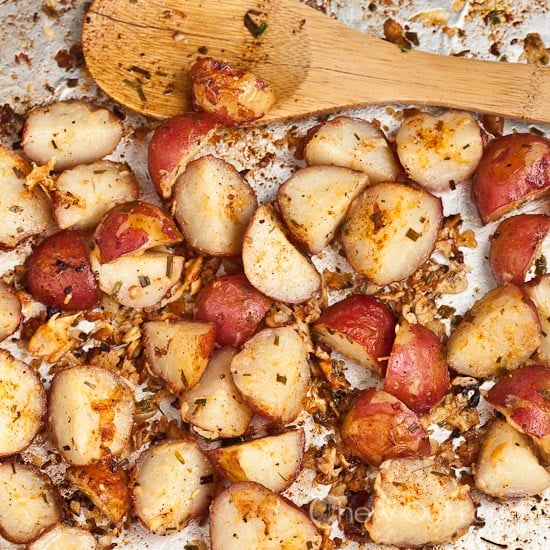 4. Red Potato Ranch Salad. Picnic sides just don't get any easier than this. Try it and love it.