Enjoy a Potato Salad with Honey Mustard Vinaigrette with your picnic spread. Made with a honey mustard base, it's much healthier than typical potato salads. Easy, healthy, and tasty.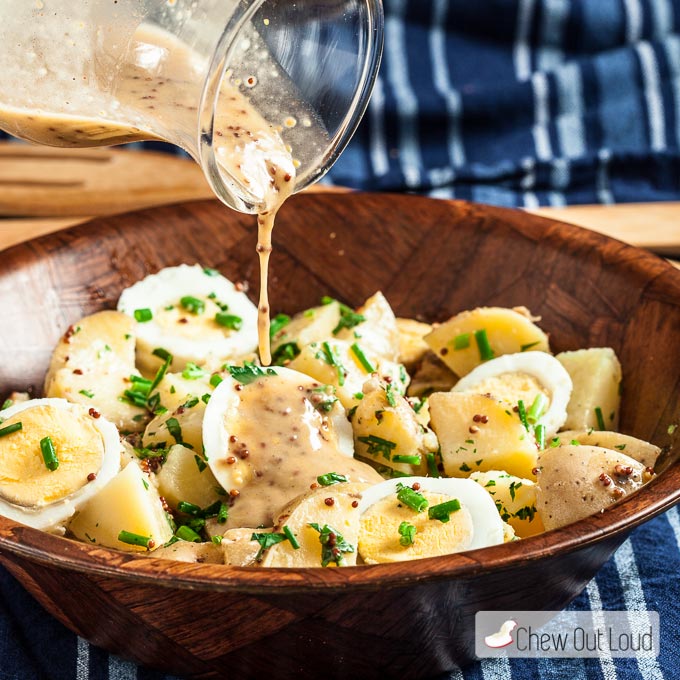 The Littles and I just got back from another enjoyable afternoon at the memory care facility. The boys look forward to it every time. I never expected the kids' piano lessons to allow them to serve others this way. That tedious scales and chords would eventually bring lively pieces to people who need the touch of music . This universal language just brightens everyone's hearts.
Even the Littlest Little, who plucks away at Twinkle Twinkle with fierce concentration, is able to share his love of music with a roomful of people who are 7 decades older than himself. Elderly patients who can't remember much else can still remember the tunes of their childhood, as they hum along to the boys' piano pieces. #heartmelt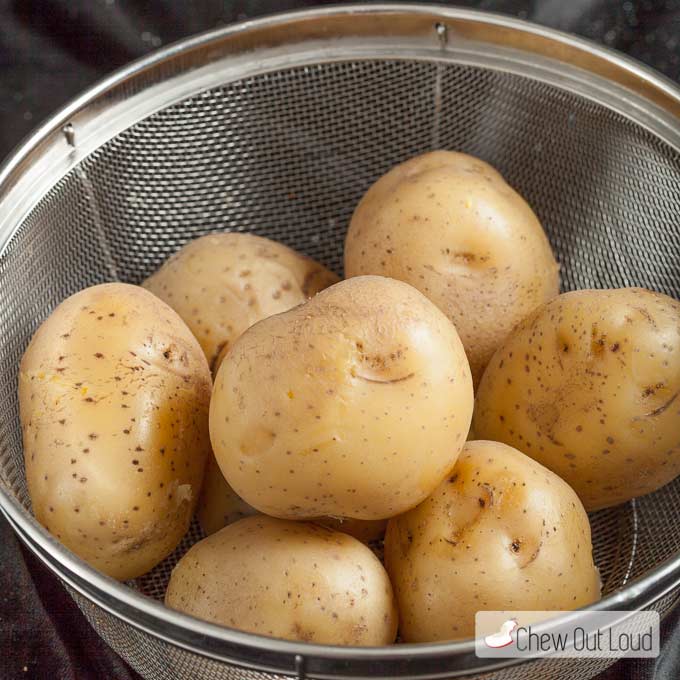 Since we're on summer break, we were able to spend more time than usual with the memory care residents. After The Littles each played the piano songs they chose, we stayed for a game of seated kickball. I wasn't sure how well my rambunctious boys would do with kicking balls gently while seated with a large group of very elderly ladies and gents. I might have been holding my breath the entire time.
Aside from one or two accidental airball instances, my usually wild boys surprised me with their tremendous care and gentleness. Exhale. And repeat.
Now, why don't they ever play that way with each other? Never mind, I didn't just ask that.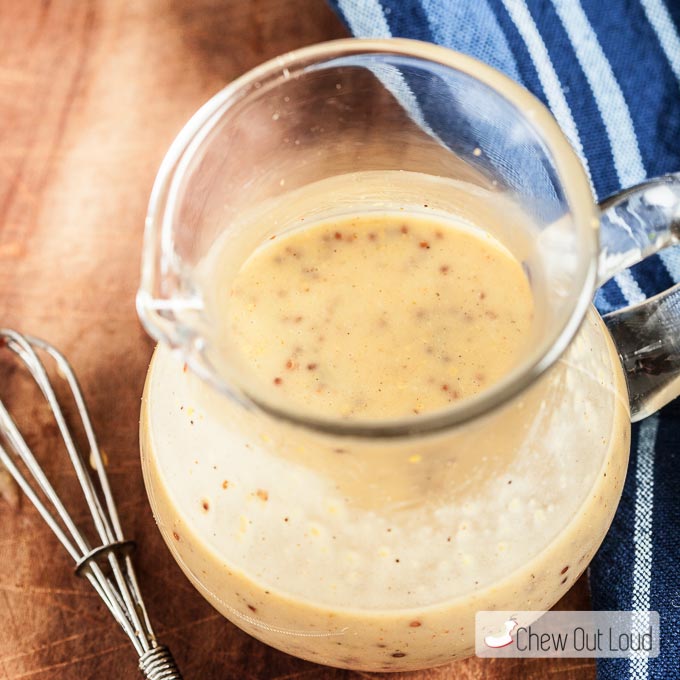 Afterwards, I deviated from our afternoon schedule a bit and took the boys out for frozen yogurt. They told me how much they liked being asked to play piano for the memory care residents – in between licks of chocolate yogurt, vanilla yogurt, and berries. I hope they'll always remember moments like today.
This is what I love about summer days. Yeah, we pack it pretty full with activities and sports…because three boys. But there's a general undercurrent of ease and we march to a slower drumbeat than usual.
They even have time to grow their own mini gardens in our backyard. That one was Hubby's brilliant idea. The Littles love running out back to check on the progress of their fruits and herbs.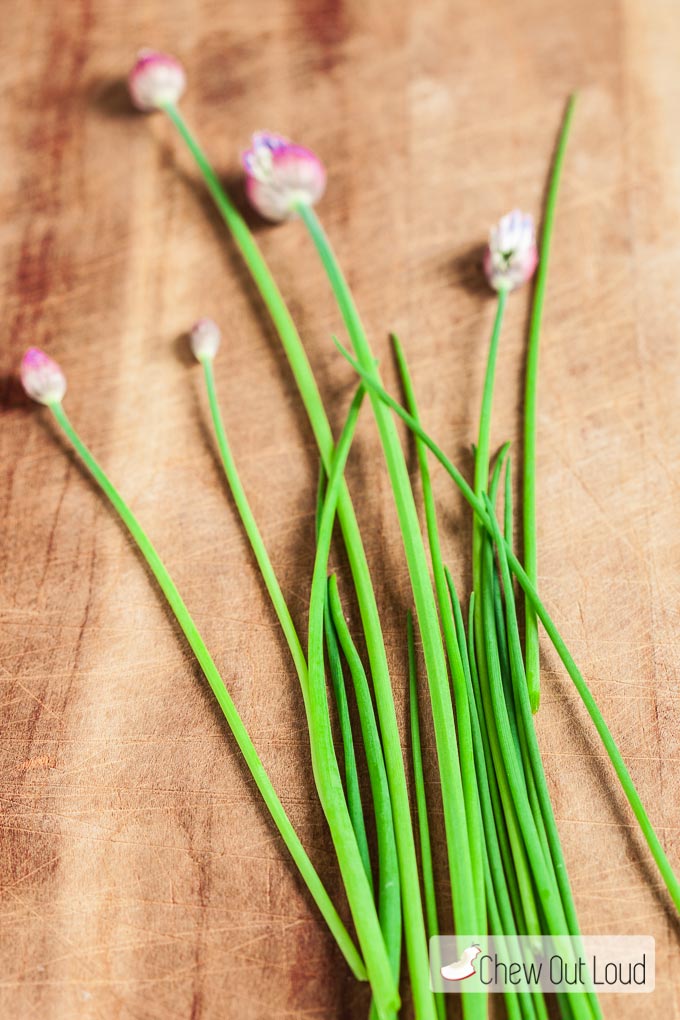 Speaking of herbs, my chives are growing like a weed this year. Hello, Chives.
Just in time for a feature in this scrump-dee-licious Potato Salad with Honey Mustard Vinaigrette. Just in time for summer.
Let's talk about this potato salad. It's tangy, zippy, skinny, and yummy. I especially like that this dish is packed with flavor and fresh herbs, but not heavy with mayo. Instead of a pound of mayo, it relies on a honey mustard base to bring the creaminess. The result is a lighter potato salad you can freely nosh on.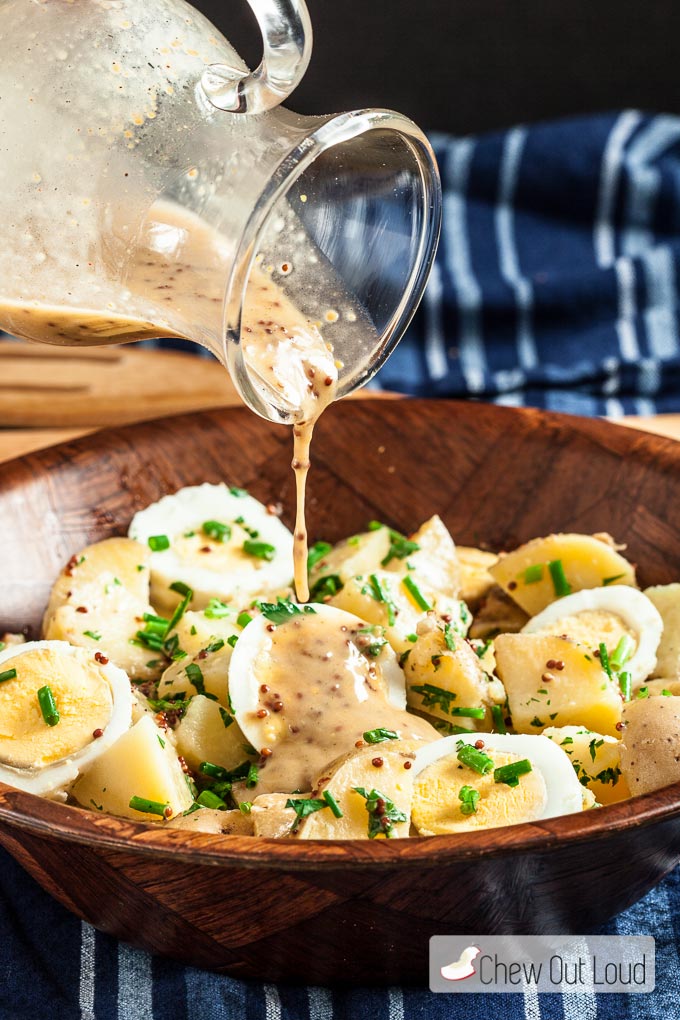 This Potato Salad with Honey Mustard Vinaigrette is ridiculously easy and feeds a crowd. Perfect for summer get togethers, picnics, BBQ's, and parties. It's a fabulous twist on the old potato salad routine.
My favorite part is that most of it can be prepped ahead of time and tossed together just before serving. Anything to make things easier is a monumental bonus.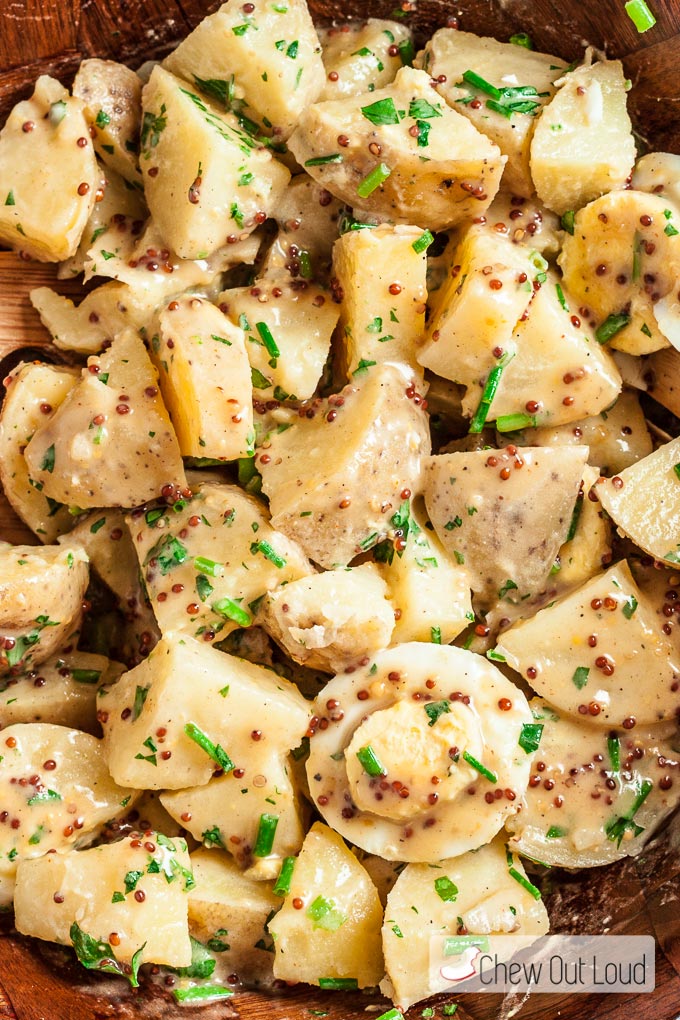 Here's to tangy, zippy, skinny, and yummy all wrapped into one tasty side dish. Enjoy.
Print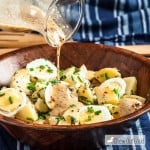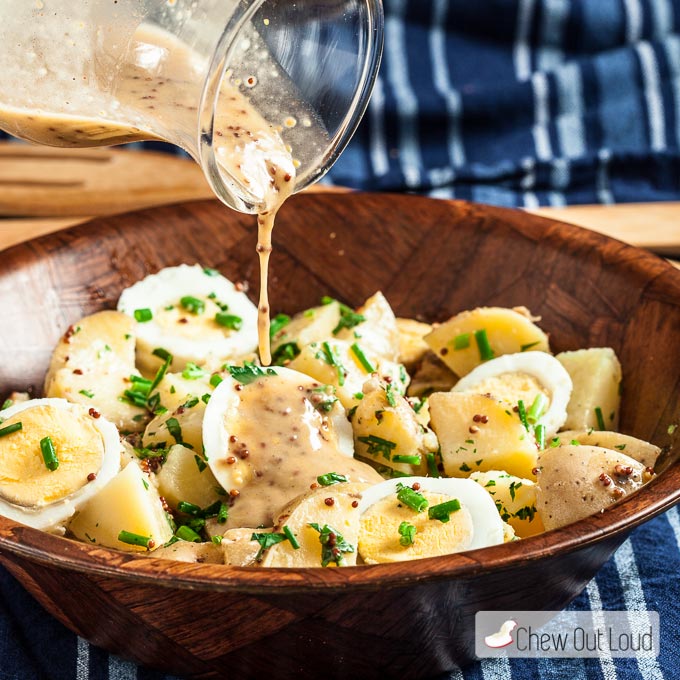 Potato Salad with Honey Mustard Vinaigrette
Author:

Yield:

8

1

x

Category:

side
---
Description
This Potato Salad with Honey Mustard Vinaigrette is made skinny, with just a touch of mayo. It doesn't compromise on flavor, with its tangy, zippy, and yummy honey mustard vinaigrette base.
---
Scale
Ingredients
2 1/2

lbs yukon gold baby potatoes

4

large eggs, boiled and sliced

1/4 cup

freshly chopped flat leaf parsley

1/4 cup

freshly chopped chives
For Honey Mustard Vinaigrette:

1/4 cup

extra virgin olive oil

3

TB apple cider vinegar

2

TB real, whole mayo

2

TB whole grain mustard (with seeds in it)

2

TB pure honey

3/4 tsp

kosher salt and freshly ground black pepper
---
Instructions
Make Honey Mustard Vinaigrette: Combine all vinaigrette ingredients and whisk to combine well. Chill until ready to use.
In a large heavy pot, bring salted water to a boil. Boil potatoes until fork-tender, approx. 10-20 min. depending on the size of your potatoes. Drain and immerse in cold water to stop cooking. Slice into quarters, skin on.
Gently toss together the potatoes, sliced eggs, prepared vinaigrette, parsley, and chives. Season with additional kosher salt and black pepper, if needed. Serve chilled.
---
Source: Chew Out Loud 
Here are some of our favorite potato sides:
1. Smashed Red Potatoes. I love these for three reasons. They're crazy easy. They're incredibly crispy and delicious. And I'm addicted to saying smashed.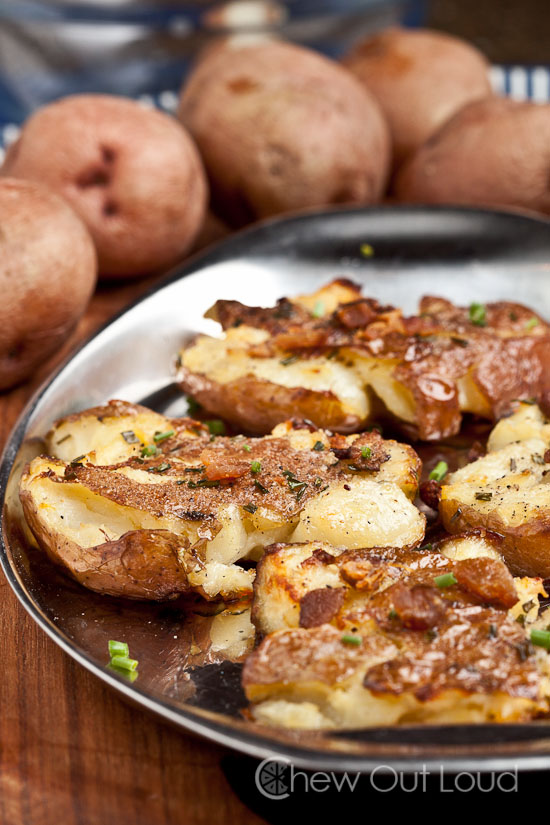 2. Parmesan Onion Potatoes. Crispy edges, tender centers, and totally flavorful.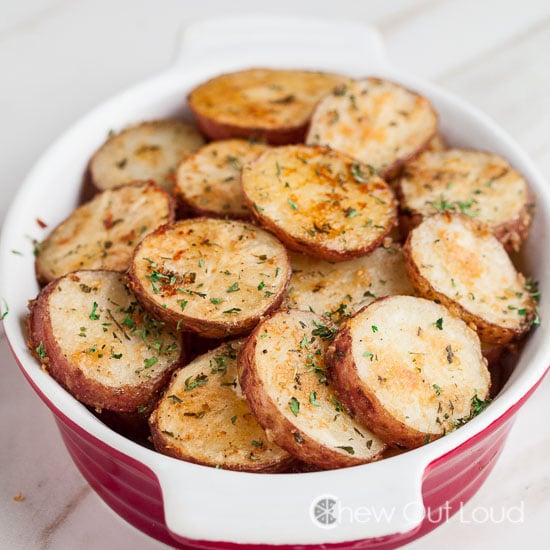 3. Garlic Butter Red Potatoes. Always a crowd pleasing side dish that goes with any meal, all year round.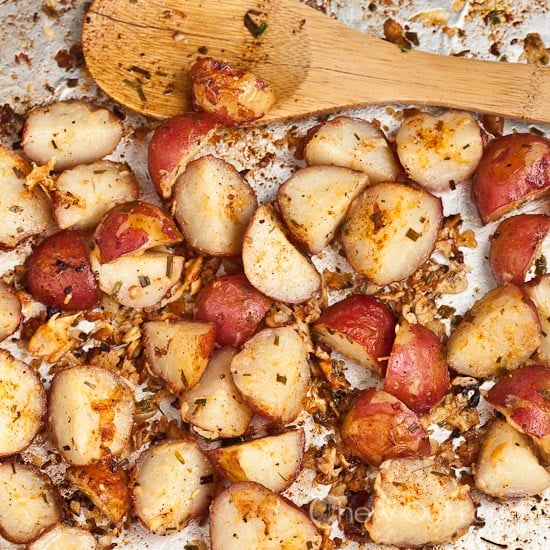 4. Red Potato Ranch Salad. Picnic sides just don't get any easier than this. Try it and love it.