Rogan Josh
By Amy Dong
Published Aug. 15, 2022
Updated Aug. 30, 2022
This aromatic Rogan Josh is robust with rich, comforting flavors. This savory, mildly spicy curry is a must-try. Perfect with naan bread or basmati rice.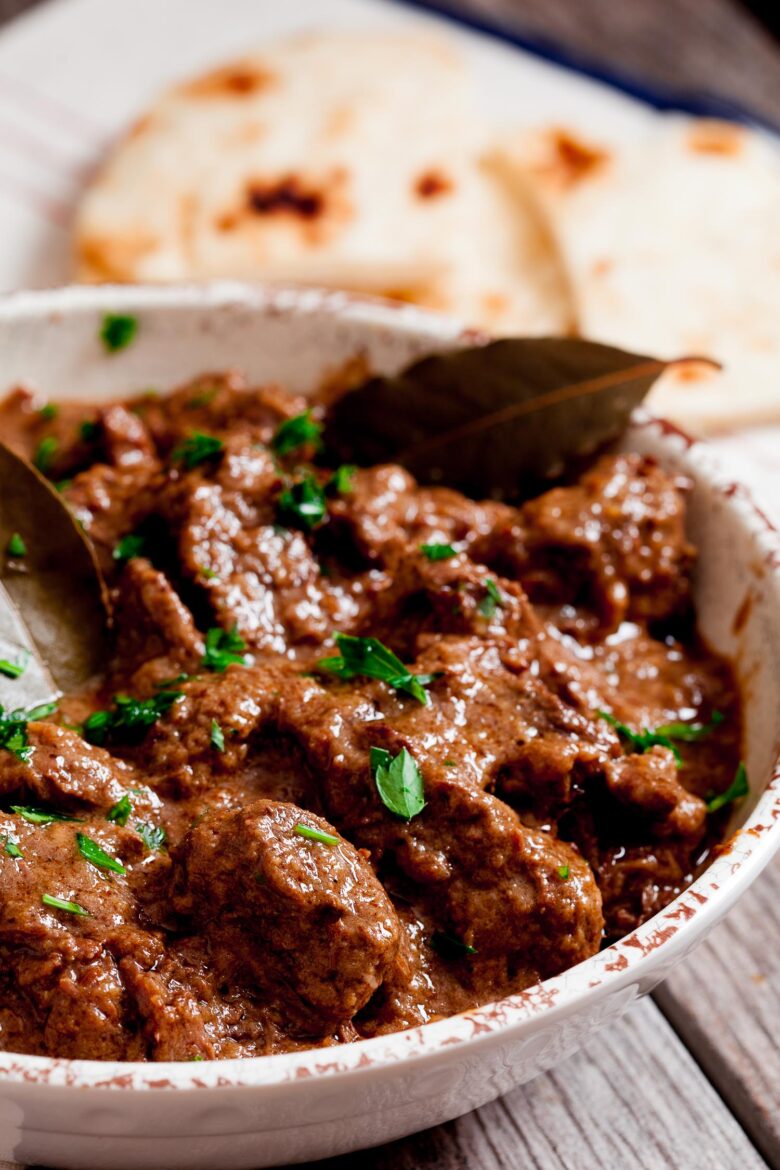 Rogan Josh: What is it?
Rogan Josh is a classic curry dish that's commonly found on menus in Indian restaurants and is a favorite around the world. Rogan, or roghan, refers to a red or brown curry with meat. It's essentially an aromatic meat curry, seasoned with fragrant spices like cardamom, ginger, and cinnamon. Today, every family and restaurant has their own version of this popular Indian curry, which attests to its amazing flexibility. We think you'll truly love this rogan josh recipe.
Watch us Make Rogan Josh
What You'll Love About Rogan Josh
The flavors of this rogan josh recipe are absolutely stunning, with a highly aromatic and warm curry that is destined for dipping naan bread into.
You can make rogan josh with goat, lamb, beef, or even chicken. The flavors of this scrumptious curry easily paves the way for any protein of your choice.
This Rogan josh recipe is rich and creamy, thanks to whole yogurt. No heavy cream needed.
Leftovers are fabulous the next day, but be warned: you probably won't have a bite left for tomorrow.
Rogan Josh is ideal for meal prep, as the flavors become even more robust when made ahead of time.
This is one of those dishes you can proudly serve at dinner parties.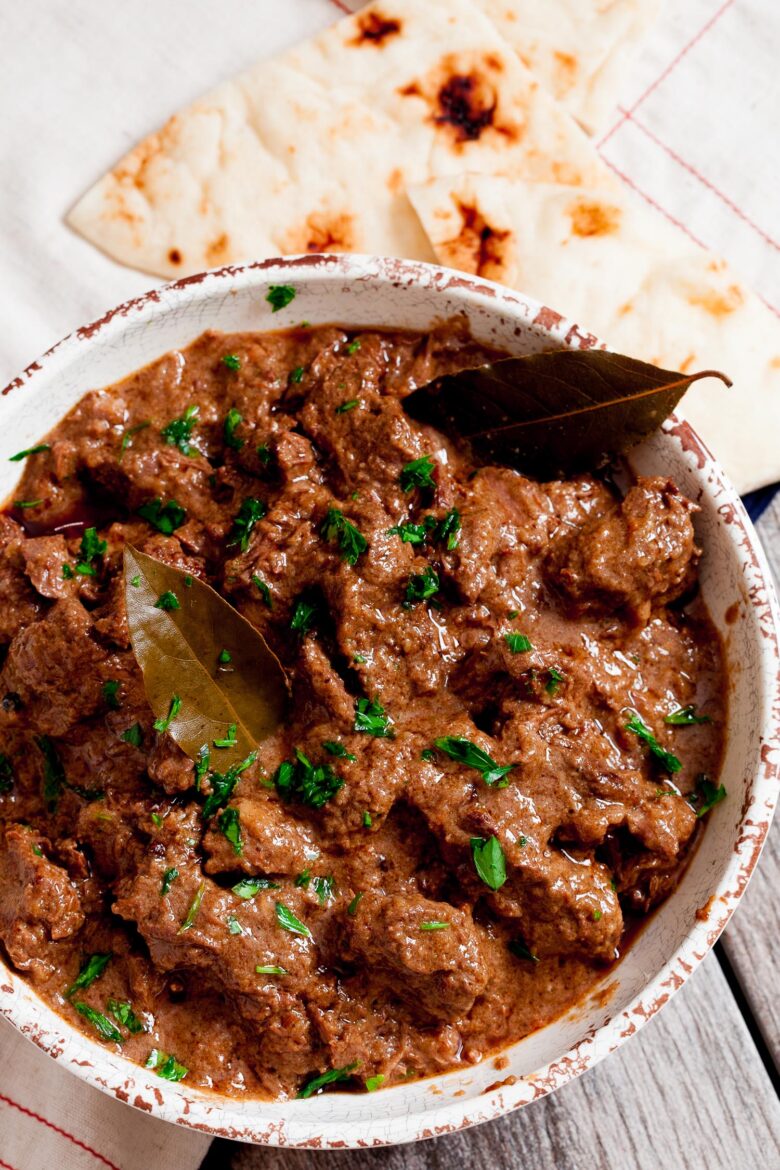 Tips for The Best Rogan Josh
An blender or immersion blender makes your job super easy when it comes to creating a paste out of ginger and garlic.
A Dutch oven is your friend with curries and stews like rogan josh, as they reliably heat food evenly throughout.
When browning meat (not just for rogan josh, but for any meat stew) always brown in batches; never overcrowd or try to rush it. Otherwise, you run the risk of steaming vs. browning.
If you'd like to thicken the curry, simply boil uncovered for 5 minutes or just until the curry has thickened to your liking.
What Rogan Josh Tastes Like
This rogan josh curry uses whole yogurt for richness and creaminess, which also provides a delicious balance of savory tang that is amazing served with basmati rice.
It's a wonderfully aromatic blend of savory, mildly spicy, smoky flavors. Smoked paprika provides an earthy aroma, while ginger and cayenne give the curry a mild kick. Infused with the warmth of cinnamon, cardamom, and garam masala, rogan josh is a richly flavorful dish that beckons hungry eaters straight to your kitchen.
Rogan Josh
Commonly Asked Questions

Is Rogan Josh healthy?
Some recipes for rogan josh include butter and heavy cream, but here we use whole plain yogurt for creaminess. With ingredients such as garlic, ginger, cumin, and garam masala, it's chock full of antioxidants. When you choose lean protein or fully trim the meat, rogan josh can be a deliciously healthy choice.
Can I make rogan josh in advance?
This rogan josh recipe is ideal for meal prep, as it can easily be fully prepared and cooked ahead of time. It keeps well in the fridge for several days.
What can I serve with rogan josh?
Rice is the side of choice when it comes to curry. We recommend a fluffy white variety such as basmati. Naan bread and creamy spinach are perfect side dishes to serve.
What is special about rogan josh?
Rogan josh is especially slow braised for extremely tender, juicy meat. It's a special dish that is classically made with goat meat; however, it's now commonly made with lamb, beef, or even chicken.
How spicy is rogan josh?
Every family and restaurant has their own preference for spice level; some are spicier than others. Our recipe here is mildly spicy, starting with just 1/2 tsp of cayenne. Ginger and black pepper lend an extra kick as well.
More to Eat
Did you make this?
Please give us a rating and comment below. We love hearing from you!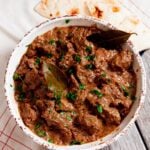 Rogan Josh Recipe
This aromatic Rogan Josh is robust with rich, comforting flavors. This savory, mildly spicy curry is a must-try. Perfect with naan bread or basmati rice.
Instructions
In a blender or immersion blender, add ginger, garlic, and 4 TB water. Blend until mixture is the consistency of paste. Transfer into a small dish and set aside.

In a large heavy pot or Dutch oven, heat oil over medium heat until hot. Working in batches, use metal tongs to brown meat cubes until all sides are nicely browned. Use tongs to place browned meat in separate dish and set aside.

In the same pot with the same oil, add cardamom pods, bay leaves, cloves, peppercorns, and cinnamon. Stir 30 seconds. Add onions, and stir 5 minutes. Add ginger paste mixture and stir 30 seconds. Add coriander, cumin, paprika, garam masala, cayenne, and 1 tsp salt. Stir 30 seconds.

Add back the browned meat cubes with accumulated juices. Stir to coat well. Add yogurt and stir until well incorporated, 2 minutes.

Add 2 cups water to the pot. Bring to a boil, stirring occasionally. Cover with tight-fitting lid and turn heat to a medium-low boil. Let cook for 3 hours or until meat is fork-tender (Stir well once, halfway through.)

If curry needs to be thickened, uncover and boil for 5 minutes to reduce liquid to desired consistency. Add salt and pepper to taste, if needed. Remove bay leaves, cinnamon sticks, and pods/cloves if desired.

Serve warm, with naan bread or basmati rice.
Notes
Rogan Josh has often traditionally been made with goat; lamb is common now, as well as beef. Feel free to experiment with your choice of protein.
This dish is even better when made a day ahead of time. Reheat when ready to serve.
If you enjoyed this recipe, please come back and give it a rating ♡
Nutrition (per serving)
Calories:
545
kcal
|
Carbohydrates:
15.8
g
|
Protein:
48.9
g
|
Fat:
31.5
g
|
Saturated Fat:
5.3
g
|
Trans Fat:
0.1
g
|
Cholesterol:
137.1
mg
|
Sodium:
551.2
mg
|
Fiber:
3.6
g
|
Sugar:
5.8
g