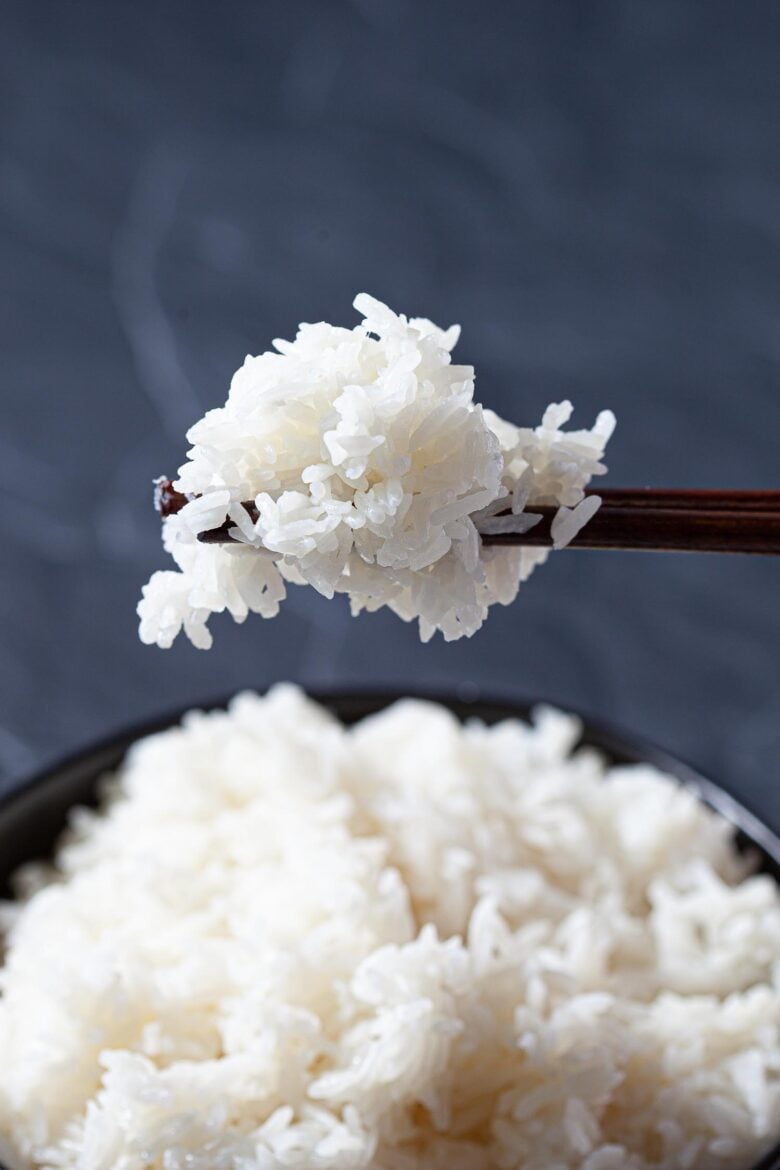 Instant Pot Jasmine Rice
If you're anything like me, your favorite part of going out for Asian food is the soft, steamy rice served with everything. Just thinking about it makes our mouths water, but achieving that perfect rice at home can be tricky if you don't know the proper tips and tricks. This recipe takes the guesswork out of making the perfect rice and makes getting a consistent outcome easy.
You really can make perfectly soft and fluffy rice at home without a rice cooker. This jasmine rice recipe uses an Instant Pot to create restaurant-quality outcome almost as simple as making instant rice. It only takes a few minutes to throw together this perfect side dish.
Jasmine rice boasts a pleasant aroma that will fill your kitchen as soon as you open the Instant Pot. We love serving it as a healthful side to almost any meal, but it's delicious enough to enjoy on it's own with Furikake sprinkled on top.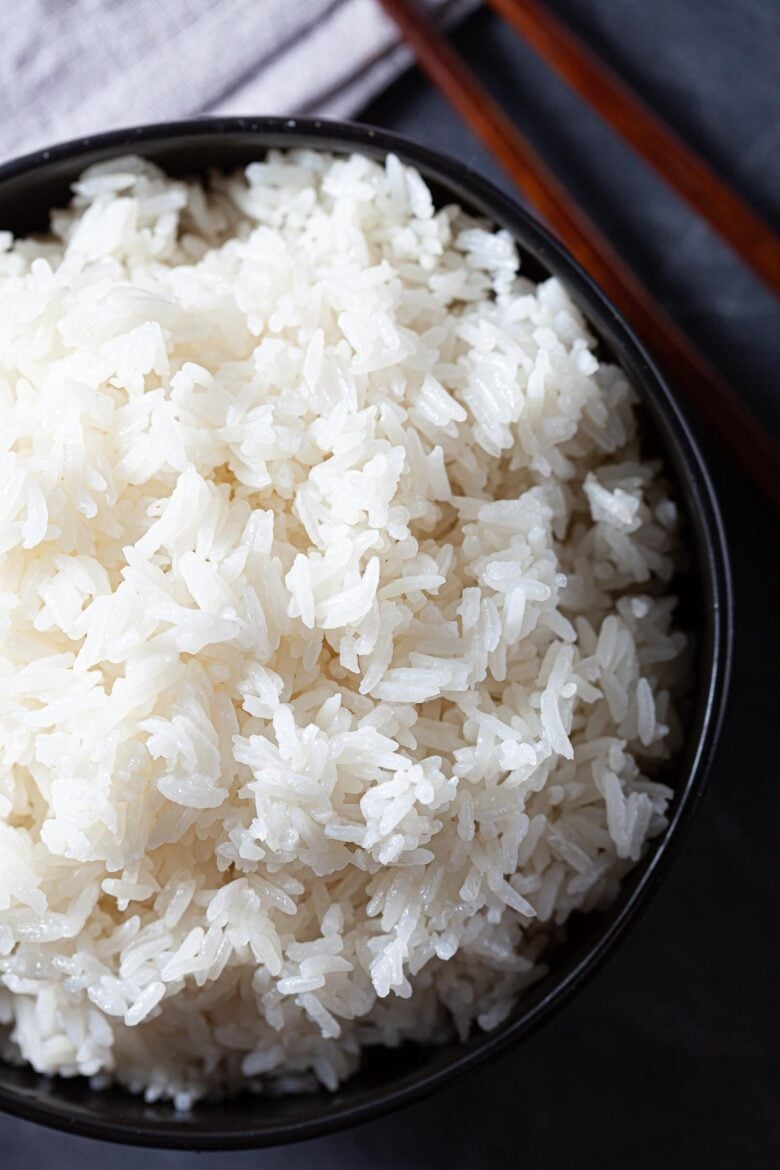 Why This Recipe Stands Out
It's super easy to make. With only five minutes of prep time, this is one of the quickest sides to add to any meal.
It tastes just like the soft, fluffy rice served at your favorite Asian restaurant. Using the Instant Pot helps achieve results similar to a rice cooker.
This recipe uses jasmine rice, which is a soft, long-grain rice with a more pleasant fragrance than most other varieties. Jasmine rice has that chewy, soft texture that we love.
This fragrant Jasmine rice keeps well stored in an airtight container in the fridge for up to five days making it perfect for meal prep or as the base for easy fried rice.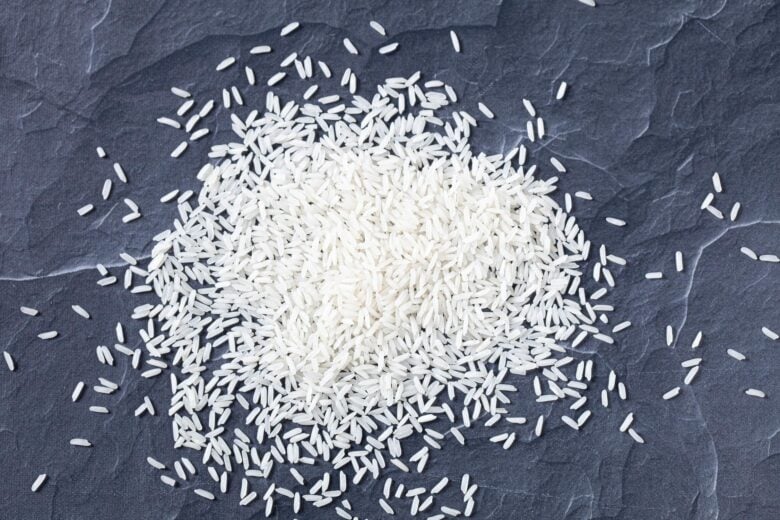 Why Use An Instant Pot
Instant Pots are a much quicker option for cooking rice than using a rice cooker or the stovetop because of the intense pressure they use to break down the food faster.
Although rice cookers make delicious rice, they aren't nearly as versatile as Instant Pots are. Purchasing an Instant Pot for rice will also give you the ability to quickly make stews, soups, potatoes, tender meat, and even yogurt.
It's so easy! You just throw your ingredients in, seal the lid, and wait for the pressure cooker to do the work.
Key Tips For Success
This recipe comes out perfect because of the simple methods we use to prepare the rice before cooking. There are a few tricks we like to use to make the perfect rice with a similar outcome every time.
Rinse Rice Thoroughly. Rinsing the rice is not just for cleaning it. This crucial step will help remove some of the starch from your rice which prevents it from getting mushy and losing the structure of the individual grains of rice.
Don't Skip The Salt. Just a 1/4 teaspoon of fine table salt will not only bring out the flavor of your rice, but also work together with rinsing your rice to prevent it from getting too soft and overcooked.
Pay Attention To The Ratios. Jasmine rice is naturally softer than many other varieties of rice. So, where most recipes will call for a 1:2 ratio of rice to water, this recipe uses a 1:1 ratio. This is what really creates that tender, soft rice that we love.
Ratio is different if not using the Instant Pot. Please note that you'll use a 1:1.5 ratio rice to water if cooking rice in a traditional rice cooker or on stovetop. This is because water does not evaporate in the pressure cooker, as it will with other cooking methods.
Use Cool Water. Make sure the water you are cooking your rice in starts off cool. Water that is too hot could result in overcooked rice.
Use White Jasmine Rice. As mentioned earlier, Jasmine rice cooks differently than many other varieties of rice. If you substitute another kind of rice, such as Basmati rice, the recipe will turn out different. Similarly, using brown rice would require a different cooking time changing the outcome of the recipe.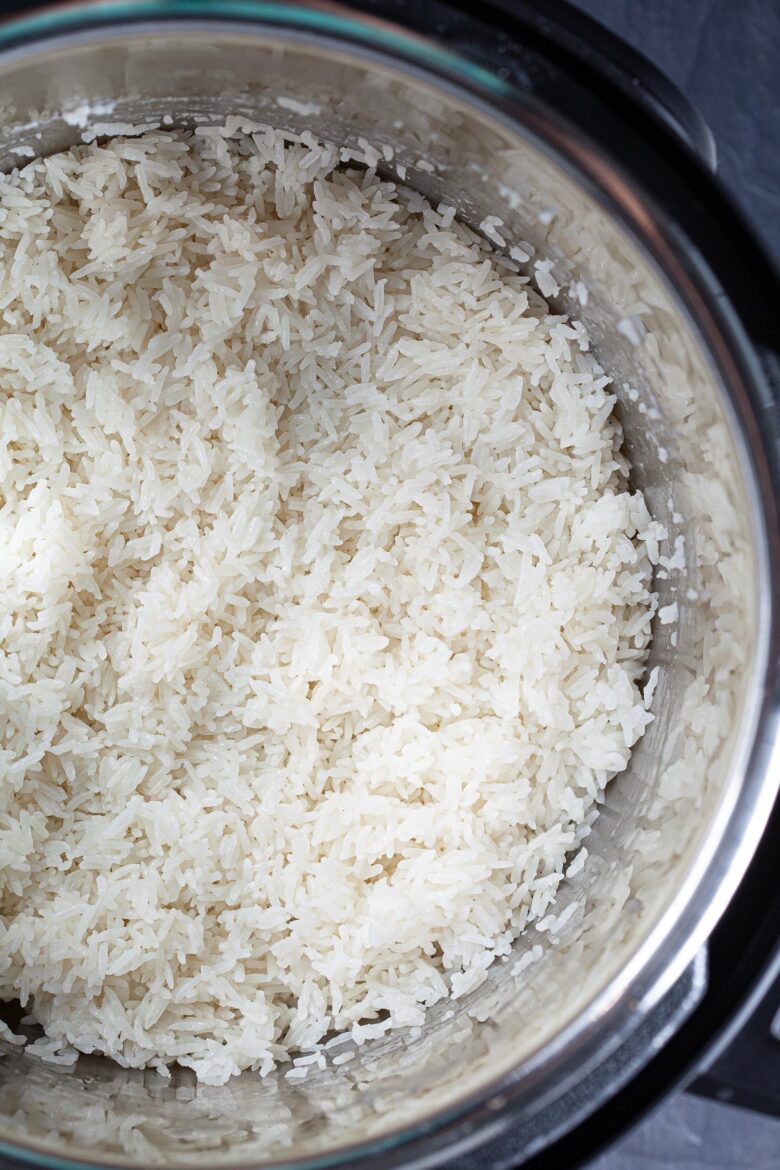 What To Serve With Jasmine Rice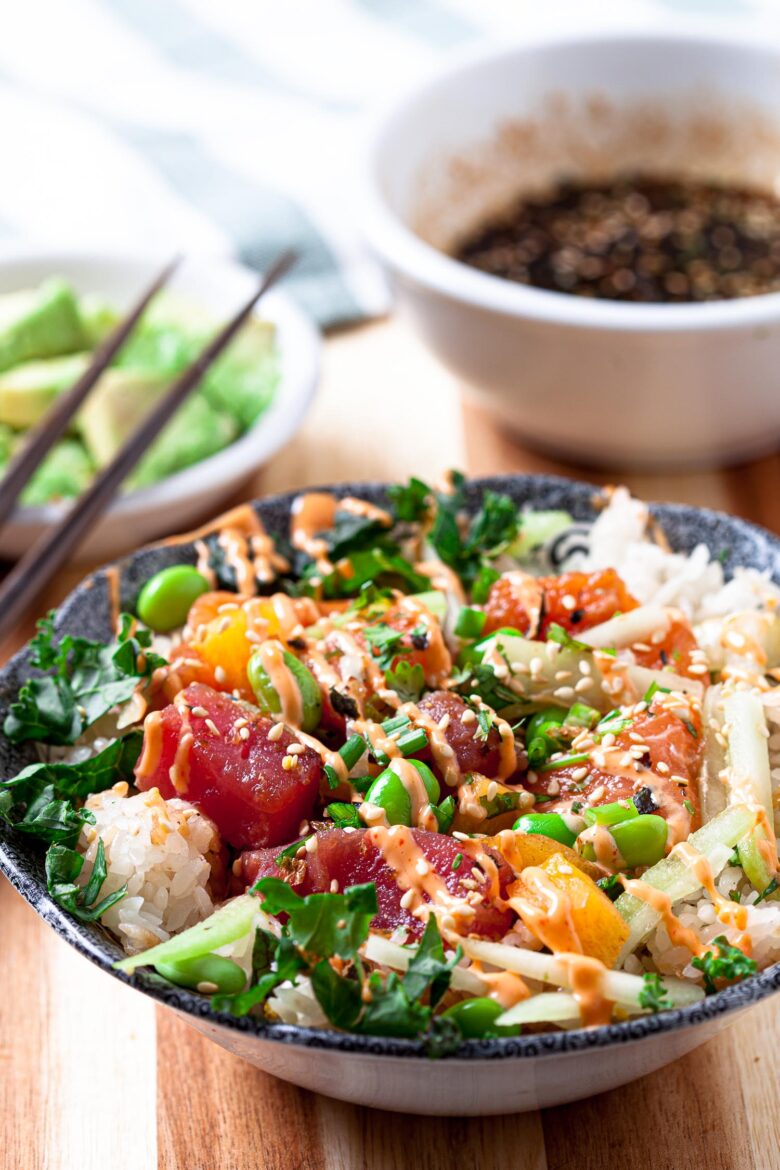 Commonly Asked Questions
What setting should my instant pot be on for this recipe?
Set your Instant Pot pressure to high and adjust the time to three minutes.
Can I double this recipe?
Yes! As long as the extra rice and water doesn't exceed the fill line on your instant pot, you can double this recipe. Just be sure that the ratio of water to rice stays the same. Note that the cooking time will be the same as well. The Instant Pot will adjust its pressure for the extra contents.
How do I store cooked jasmine rice?
Cooked jasmine rice will keep in an airtight container in the refrigerator for up to five days. Just make sure to cool your rice quickly to prevent bacteria growth. If you want to keep your rice longer, freeze it in an airtight container for up to three months.
Why is my rice coming out mushy?
You may not have rinsed and drained it enough. Otherwise, you may have used too much water. Instant Pots don't require as much water to cook rice as other methods, because no moisture evaporates when using a pressure cooker. So, make sure you stick with a 1:1 ratio with jasmine rice.
More To Make And Eat
Did you make this?
Please give us a rating and comment below. We love hearing from you!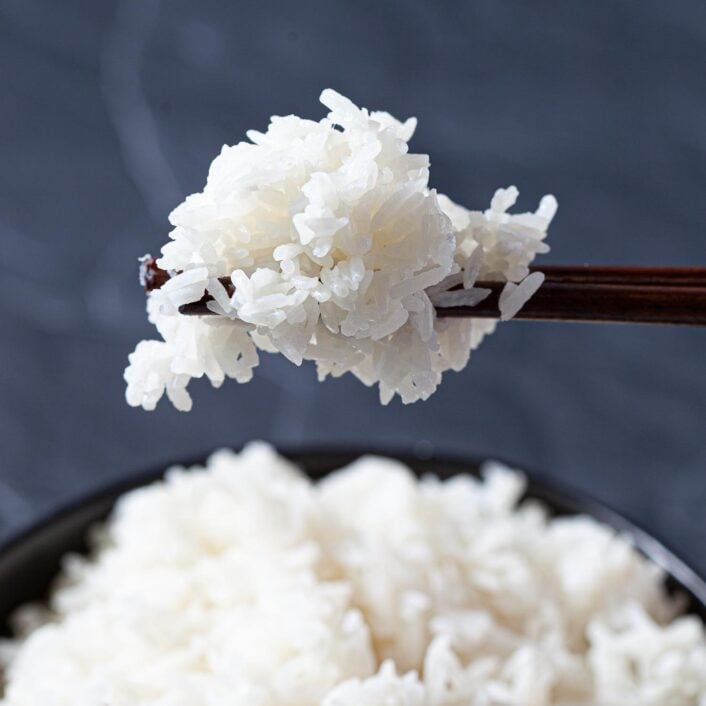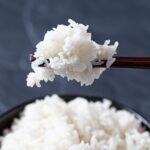 Instant Pot Jasmine Rice
Soft, sticky, and fragrant, this instant pot jasmine rice will make your mouth water. It's the perfect quick and easy addition to any Asian main dish, weeknight dinner, or meal prepped lunch.
Ingredients
1

cup

Jasmine rice,

uncooked

1

cup

water

,

cool

¼

tsp

fine table salt
Instructions
Carefully measure rice, as even slightly inaccurate measurements will affect the outcome.

Place rice in a fine mesh colander. Rinse rice under cold running water, while stirring the rice around – your goal is to wash away as much of the starchy water as possible, until water emerges mostly clear. Drain rice as thoroughly as possible, so there is no more water dripping from colander (if there is too much excess water, it will affect your water to rice ratio).

Add rice to the Instant Pot, along with 1 cup of freshwater and table salt. Close lid tightly, turn vent knob to sealed position, and pressure cook on high for 3 minutes. Allow pressure cooker to do a natural release for 10 minutes and then manually release.

Fluff rice and serve while hot. See notes for serving ideas.
Notes
If you do not wash the rice prior to cooking, the rice will be more "starchy" after cooking; you'll also need to add more water during cooking if rice is unwashed.
Store leftover rice in airtight containers and keep in fridge for up to 5 days.
Jasmine rice is delicious when paired with Asian stir fries like Orange Chicken Recipe (Extra Crispy!) and Kung Pao Chicken (Healthy!)
Leftover rice is perfect for Easy Fried Rice.
We often serve fluffy jasmine rice with a generous sprinkle of Furikake on top.
If you enjoyed this recipe, please come back and give it a rating ❤️
Nutrition (per serving)
Serving:
1
serving
|
Calories:
169
kcal
|
Carbohydrates:
37
g
|
Protein:
3
g
|
Fat:
0.3
g
|
Saturated Fat:
0.1
g
|
Polyunsaturated Fat:
0.1
g
|
Monounsaturated Fat:
0.1
g
|
Sodium:
5
mg
|
Potassium:
53
mg
|
Fiber:
1
g
|
Sugar:
0.1
g
|
Calcium:
15
mg
|
Iron:
0.4
mg