Instant Pot Beef Stroganoff Recipe
By Amy Dong
Published Apr. 5, 2018
Updated Nov. 20, 2023
This mind-blowing Instant Pot Beef Stroganoff Recipe is a jackpot hit! Beef Stroganoff has never been easier, faster, and tastier. This supremely tender comfort meal is yours in less than an hour.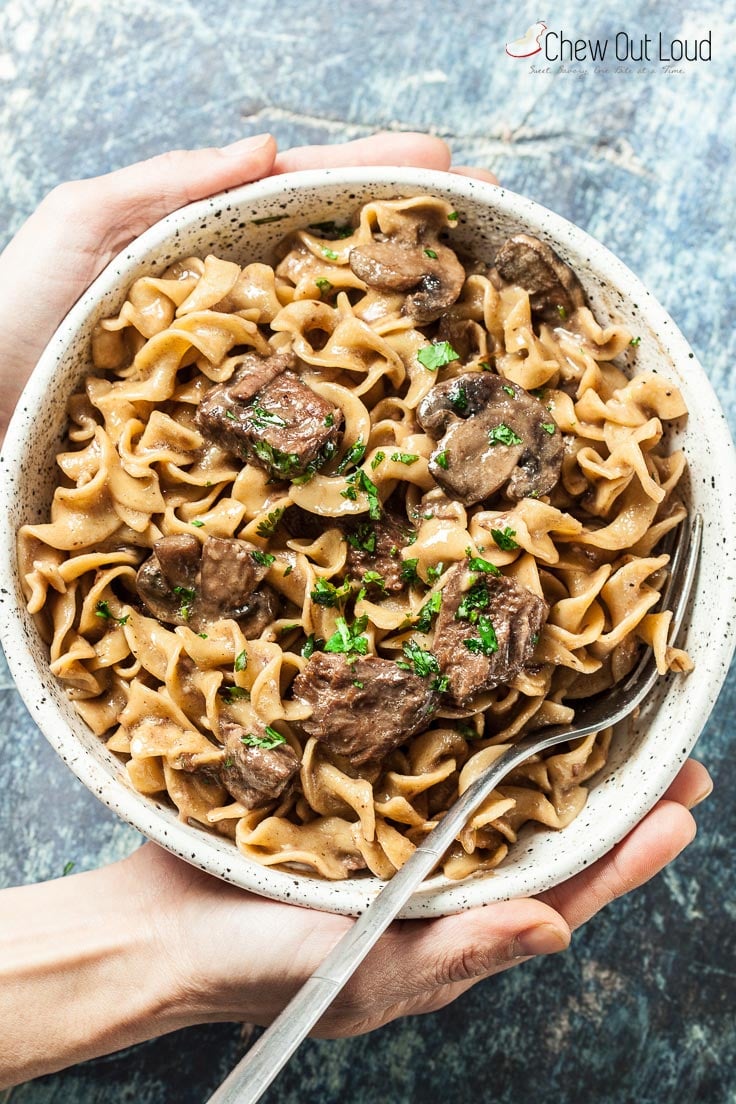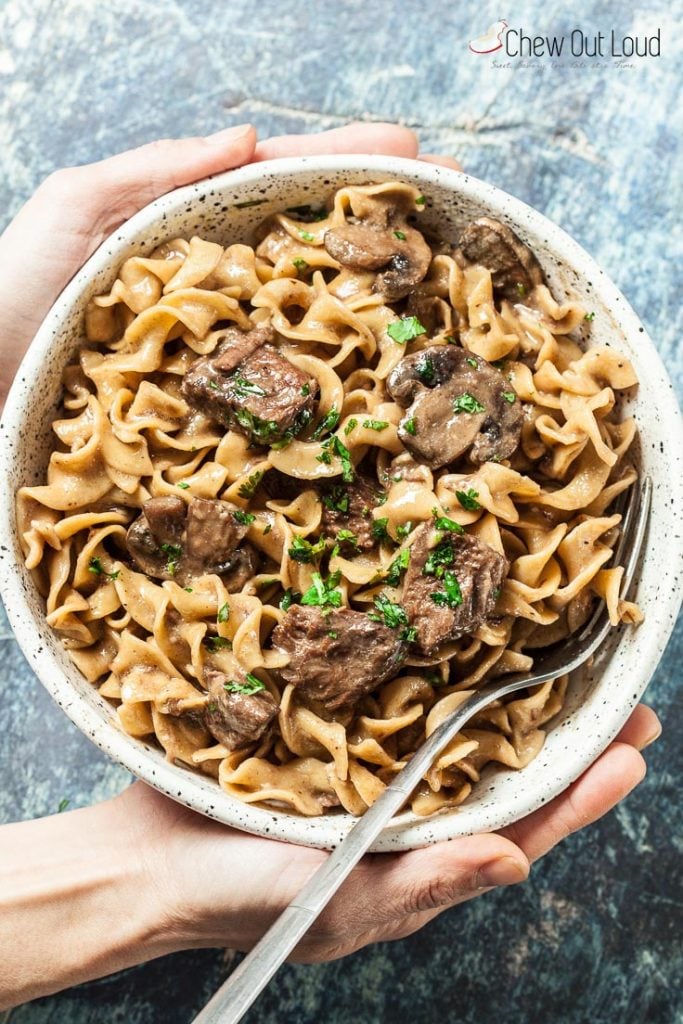 I have yet to talk to Dad about this, but I'm pretty certain he's feeling quite validated these days. Regarding the currently trendy realm of Instant Pots, my dad would say whatever took them so long?
Dad has been pressure cooking with his trusty old school [scary] pressure cooker for decades. For ages, he's beamed with pride over his famous tender beef shanks that reach perfection in under an hour. All made possible using that very old all-steel pressure contraption in his kitchen. I feared that hissing thing and refused to step within ten feet of it. I rolled my eyes when Dad bragged about it.
But alas, Dad was totally onto something way back then. Now, finally, the rest of us have caught on to the superpower capabilities of pressure cooking.
I personally caved and got my own 8-qt Instant Pot last Christmas because all the Facebook posts about it bumped me into FOMO mode.
[Side note: as I've gotten older, I'm not nearly as prone to this irrational Fear of Missing Out that's exacerbated by social media. I'm pretty joyful about going rogue with most things in life. But when we're talking about food… well, we all have hang-ups.]
So here we are. Like the multitudes before me, I've now fallen in like with my Instant Pot. And I'll finally begrudgingly agree with Dad that pressure cooking is some kind of wonderful.
Introducing our super-tender, jaw-dropping delicious Instant Pot Beef Stroganoff…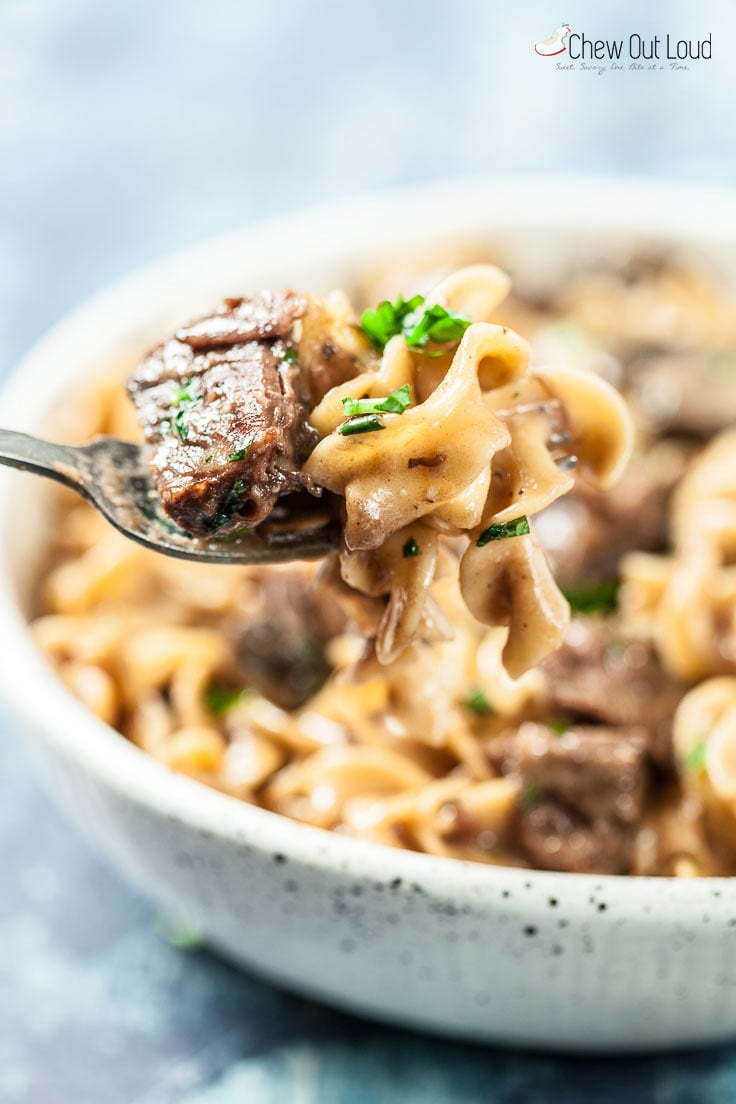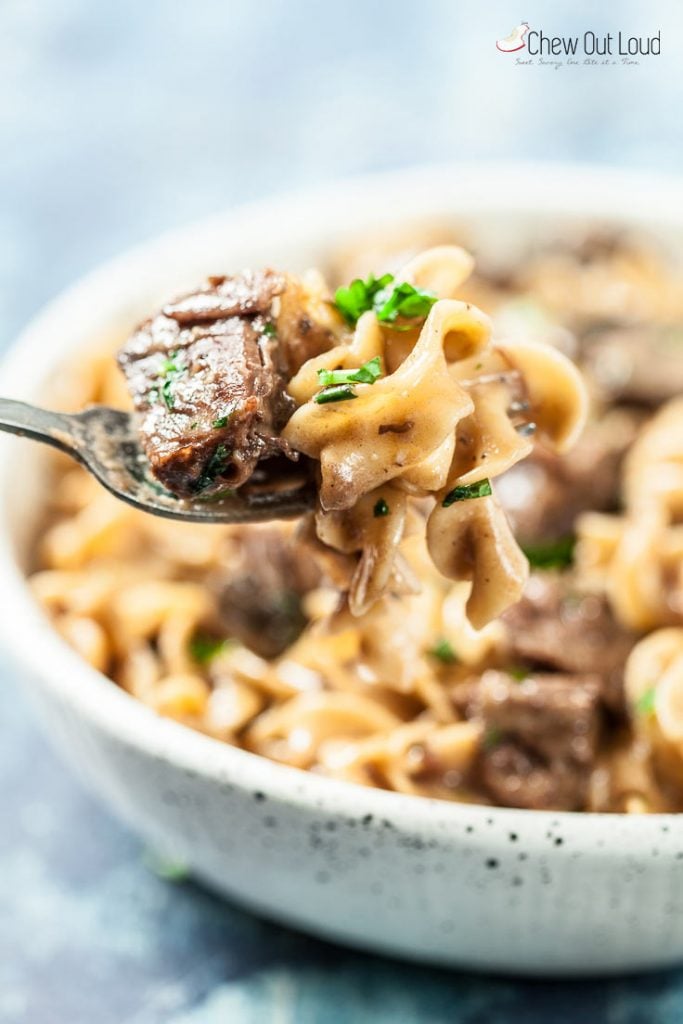 How to Make Beef Stroganoff in the Instant Pot:
I'm thrilled to report that this beef stroganoff recipe is by far the easiest one I've ever made. We usually inhale this slow cooker beef stroganoff recipe with delight. But this crazy quick Instant Pot Beef Stroganoff is now on regular dinner rotation.
You'll sauté the beef and aromatics directly in the pot. Then just toss in the seasonings and broth and let the pressure cooker work its magic for about 20 minutes, which will result in beef that's flavorful and tender.
Let the egg noodles and mushrooms join the party for 5 minutes, followed by a bit of natural pressure release time. Basically, you get an amazing all-in-one meal that needs only about 30 minutes inside the Instant Pot. For reals.
I like to use plain, whole Greek yogurt to cream up the stroganoff after cooking. You can go the sour cream route if you prefer.
Did I mention you'll only have 1 pot to clean up? Just one.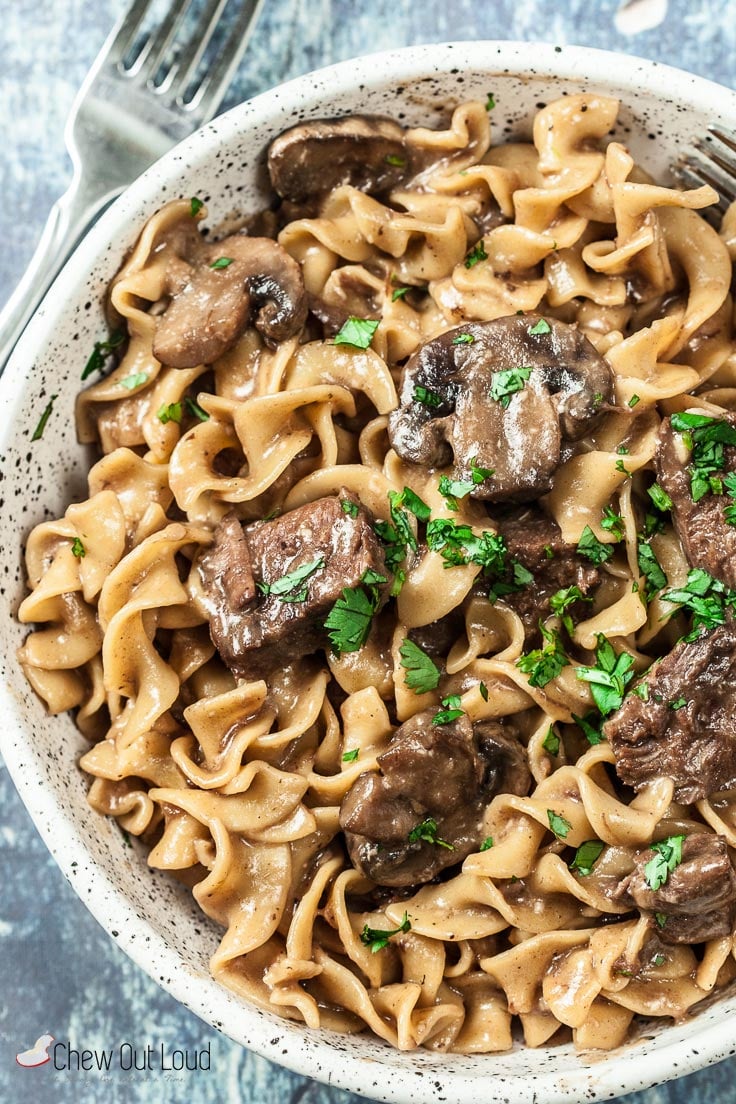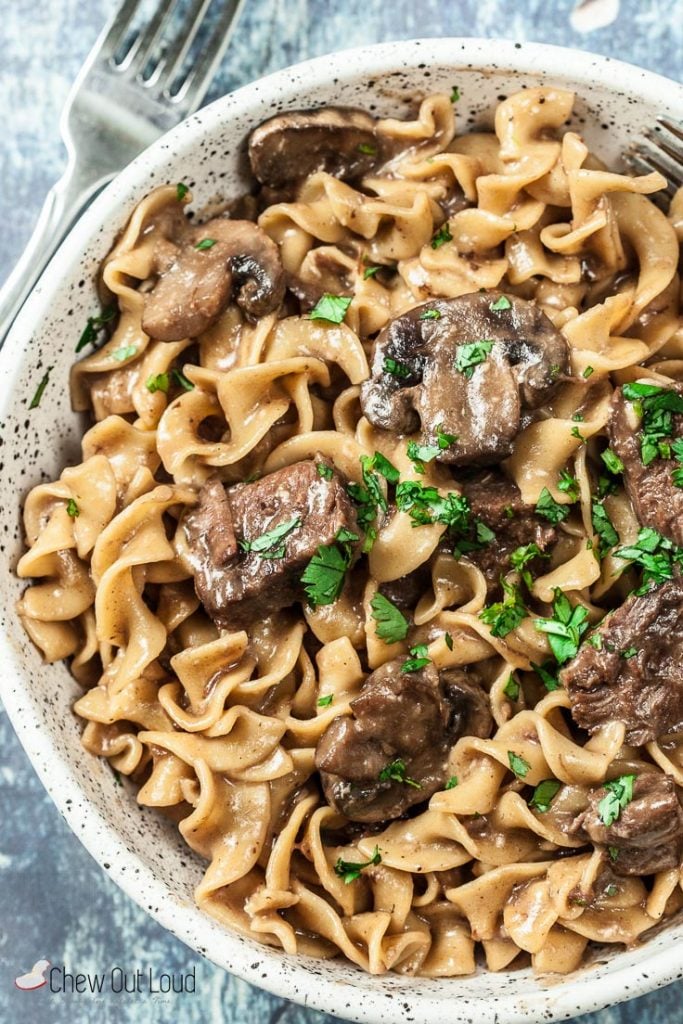 Serve your tender, mouthwatering beef stroganoff immediately because nobody will want to wait.
Leftovers are awesome, too. Go ahead. The pressure's on.
You may really like this recipe, too:
Did you make this?
Please give us a rating and comment below. We love hearing from you!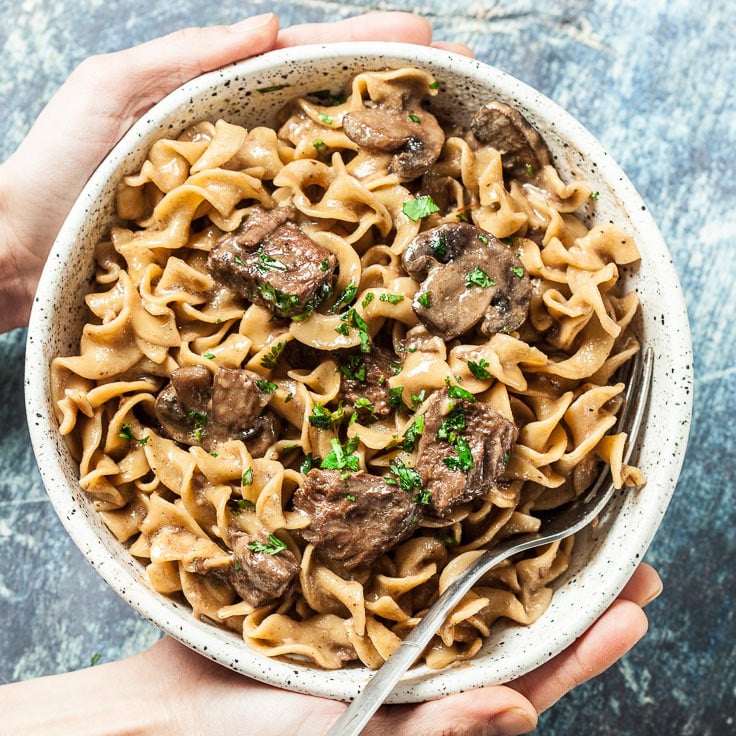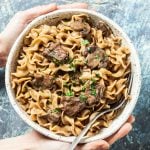 Instant Pot Beef Stroganoff Recipe
This mind-blowing Instant Pot Beef Stroganoff Recipe is a jackpot hit! Beef Stroganoff has never been easier, faster, and tastier. This Instant Pot comfort meal is about to change your dinner game.
Ingredients
2

TB

olive oil

1

onion

,

chopped

7

cloves

garlic

,

peeled and chopped

2 ½

lbs

beef chuck

,

trimmed and cut into 1-inch pieces

kosher salt and freshly ground black pepper

2

TB

Worcestershire sauce

2

TB

soy sauce

4

cups

regular strength beef broth

⅔

cup

water

3

TB

flour

16

oz

dry wide egg noodles

8

oz

sliced mushrooms

1

cup

whole plain Greek yogurt or sour cream
Instructions
Turn your Instant Pot onto sauté function. Heat olive oil until hot and immediately add onion and garlic. Add 1/2 tsp kosher salt and 1/4 tsp freshly ground black pepper. Stir 2-3 min.

Uses paper towels to pat dry excess moisture from beef pieces. Sprinkle 1 1/2 tsp kosher salt and 1/4 tsp freshly ground black pepper over the beef and add to the onion mixture inside Instant Pot. Brown beef on all sides, 2-3 min.

Pour in the Worcestershire, soy sauce, and beef broth. Pour in 2/3 cup water. Stir the flour into the liquid, dissolving it. Stir 1/2 tsp kosher salt and 1/4 tsp black pepper. Cover pot with lid and lock. Set Instant Pot to high pressure for 20 minutes*

If using 8qt pot, gently use quick release method to release pressure, according to Instant Pot instructions. If using 6qt pot, use natural release method for about 10 minutes and then very slowly/gently release remaining pressure with quick release.

Stir in the egg noodles to immerse into liquid. Add mushrooms. Lock on the lid and cook another 5 minutes on high pressure. Once 5 minutes is up, let Instant Pot automatically go into natural release mode for 5 minutes. Then, use quick release to finish pressure release.

Gently fold in yogurt or sour cream and serve immediately. Leftovers keep well in airtight container.
Notes
*It helps to set a separate timer, along with the Instant Pot's timer. Instant Pot beeps very lightly before automatically entering into natural release mode, so I set a separate timer for each step of recipe to ensure I don't miss anything.
*Either a 6qt or 8qt pot works for this recipe, though you'll have to check to make sure liquid level doesn't rise above the given line in pot. If your liquid level is too high, it may spurt out when you release pressure.
Nutrition (per serving)
Calories:
559
kcal
|
Carbohydrates:
48
g
|
Protein:
41
g
|
Fat:
23
g
|
Saturated Fat:
8
g
|
Polyunsaturated Fat:
3
g
|
Monounsaturated Fat:
12
g
|
Trans Fat:
1
g
|
Cholesterol:
147
mg
|
Sodium:
892
mg
|
Potassium:
876
mg
|
Fiber:
3
g
|
Sugar:
4
g
|
Vitamin A:
58
IU
|
Vitamin C:
3
mg
|
Calcium:
94
mg
|
Iron:
5
mg
one pot dinners:
One Pot Enchilada Rice Casserole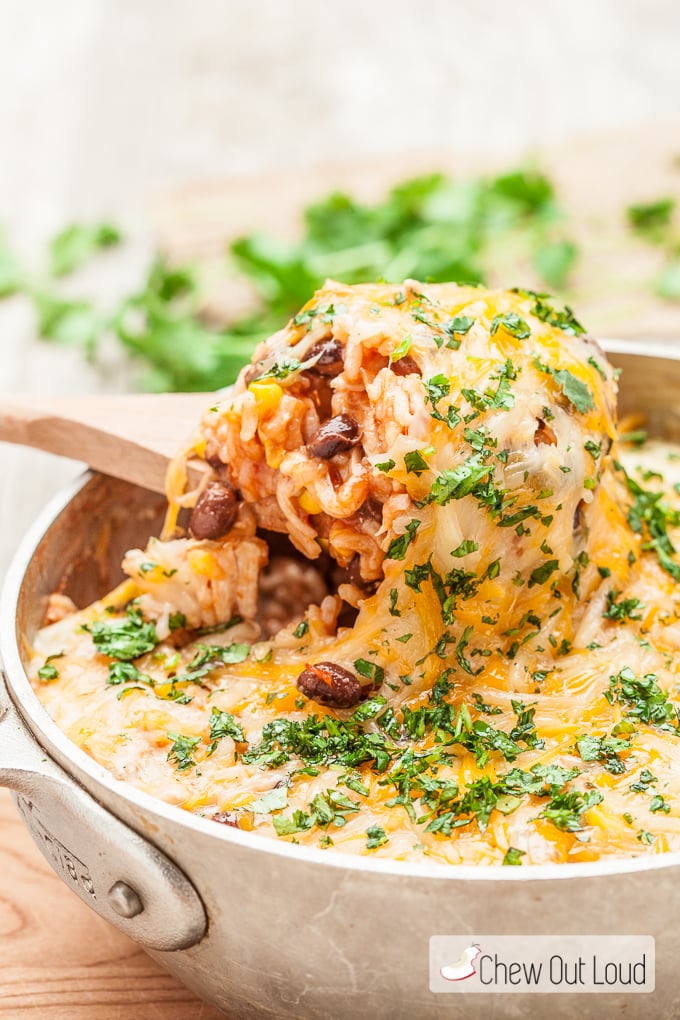 One Pot Lemon Orzo with Shrimp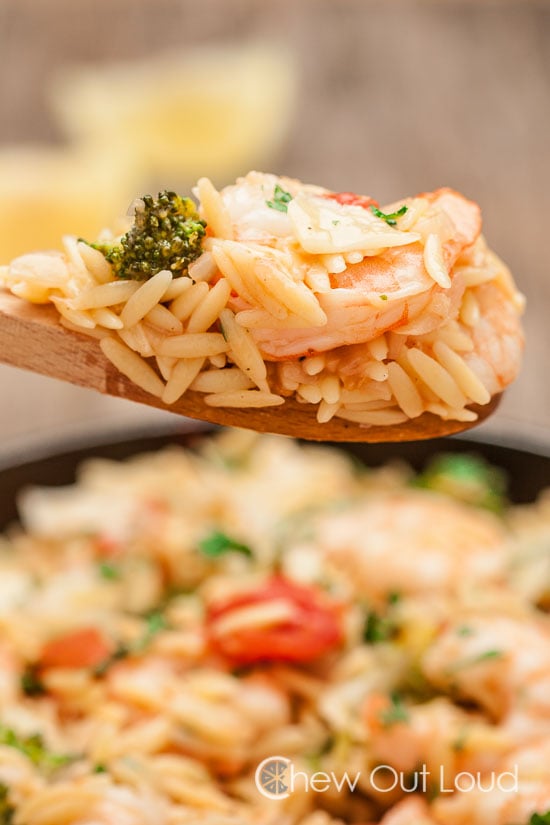 One Pot Gnocchi with Spinach and Chicken