We couldn't call this Beef Barbacoa a Chipotle copycat, because it's way better. Once you make this tender, delicious Instant Pot Beef Barbacoa at home, you'll see what we mean. Bonus: Leftovers are ridiculously yummy.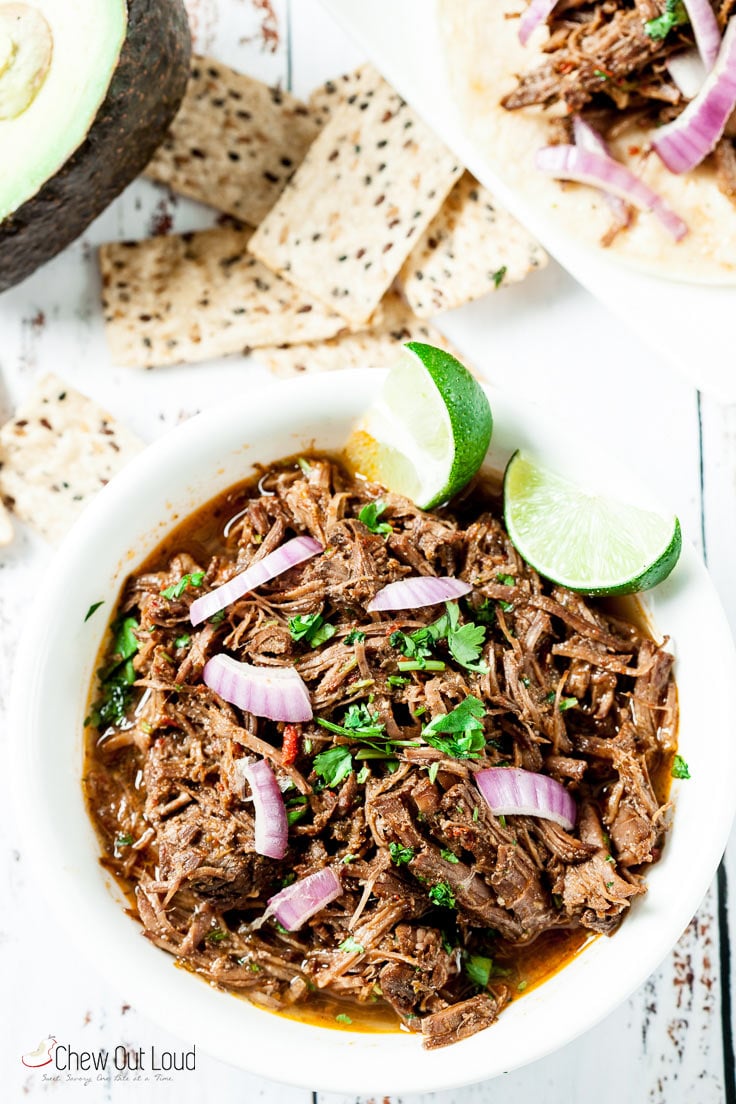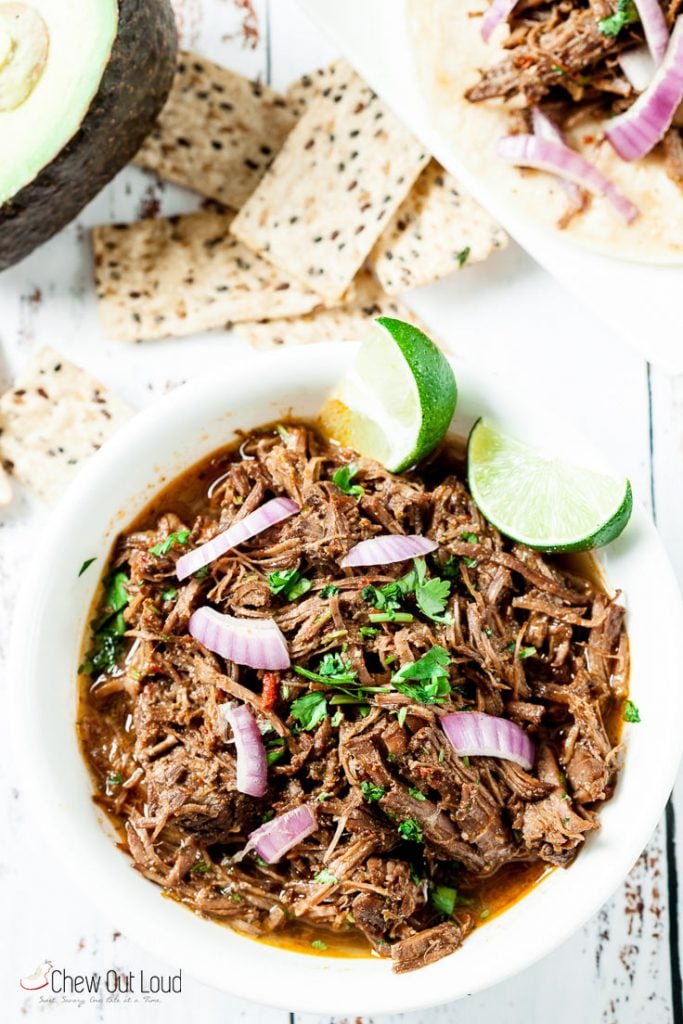 I've been waiting a long time to share this awesome-amazing-delicious Instant Pot Beef Barbacoa recipe with you all.  I love pretty much everything about this barbacoa recipe. You'd be hard pressed not to.
It's one of those recipes that will easily capture everyone's taste buds [and therefore their 💗.] And you'll probably be asked to make it again, like tomorrow.
It's one of those recipes where people automatically assume you ambitiously took on a major operation in the kitchen.  But the secret reality is that you simply tossed stuff into your pressure cooker and walked away. One hour later, the magic happened all by itself in that mysterious Instant Pot.
This beef barbacoa recipe is also superb for feeding crowds, for the weekly meal prep, and for keeping the grocery budget in check (chuck roasts are deliciously affordable.) Like I said, I love pretty much everything about this dish.
Watch Us Make Instant Pot Beef Barbacoa:
The video 👆🏼 said it all.  Or showed it all.  I could totally end it here, but I'll say just a teensy bit more about this most-awesome beef barbacoa.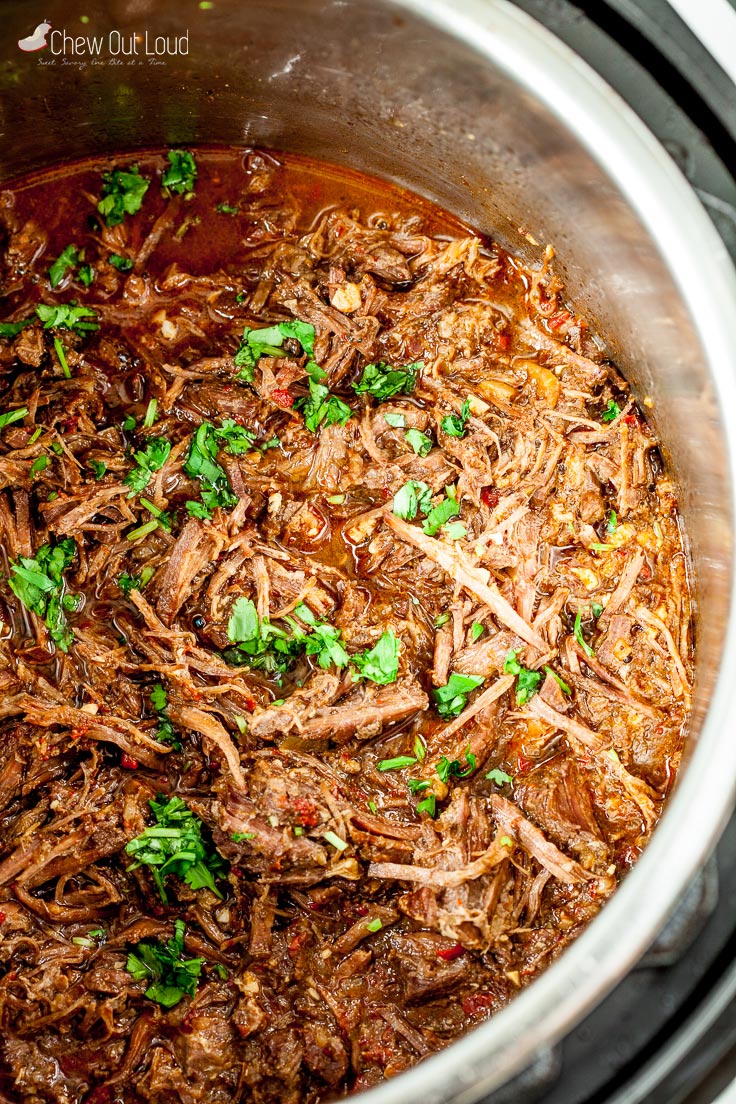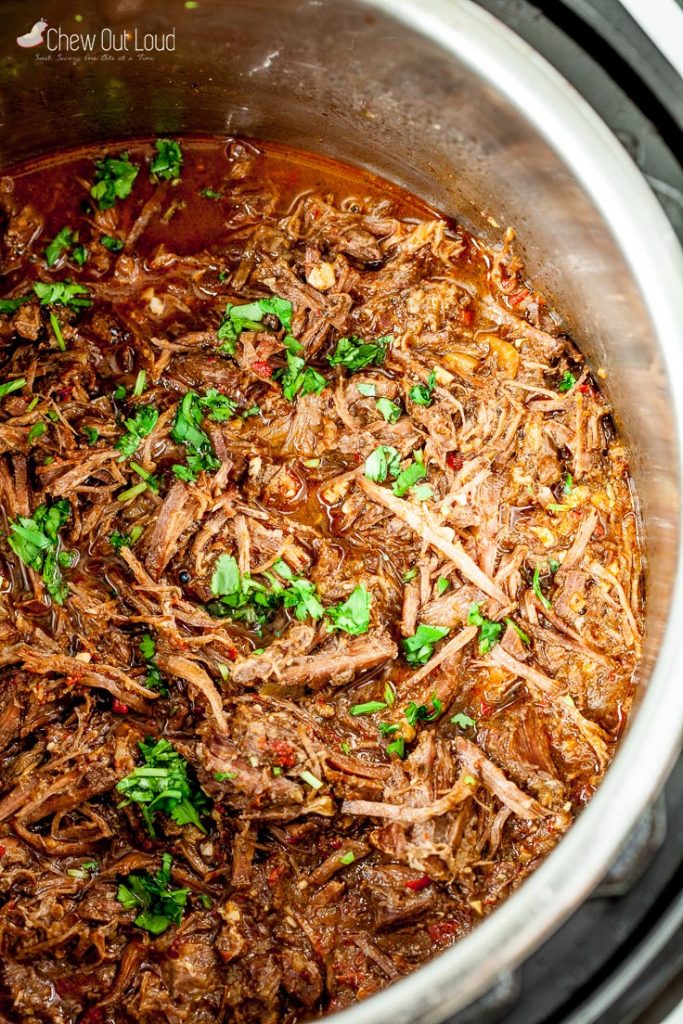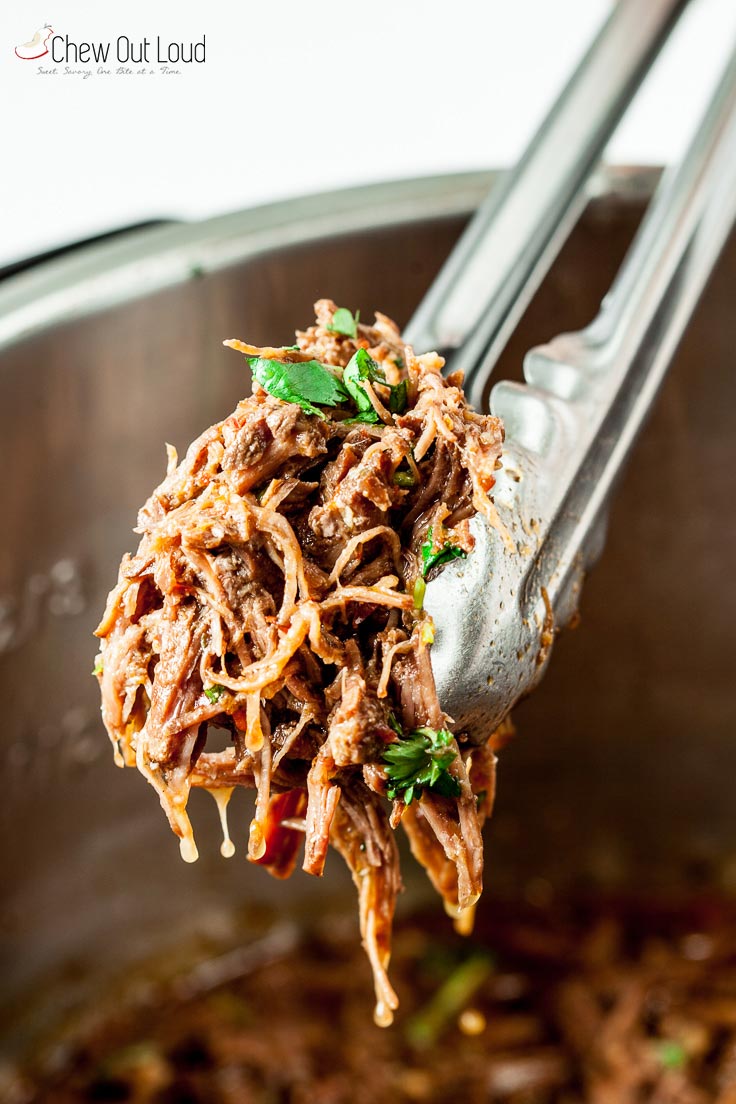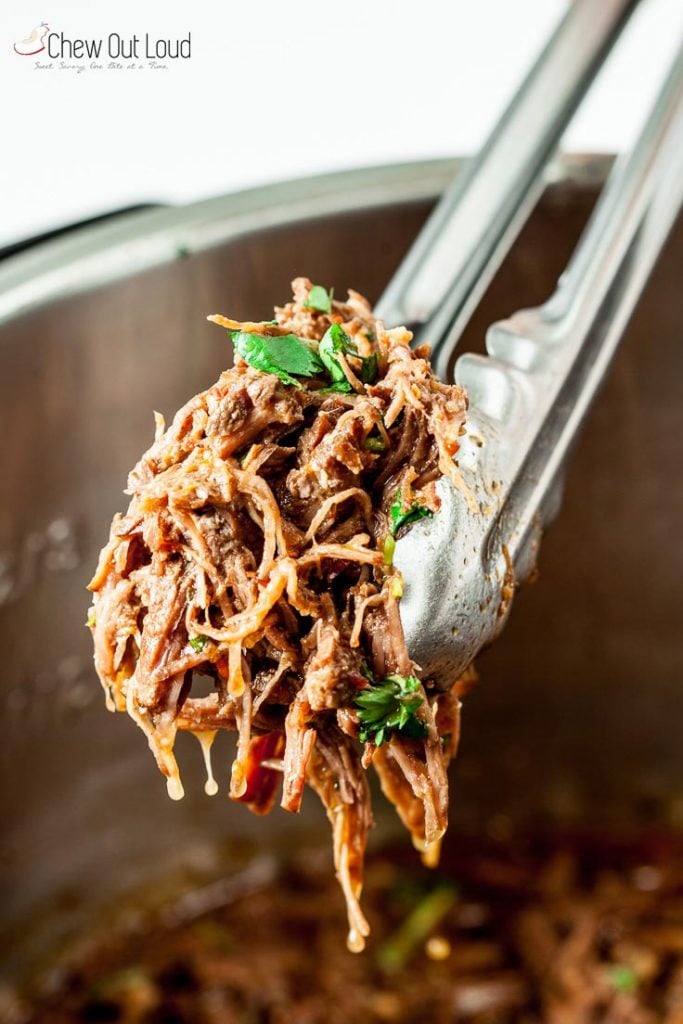 Tips for Making the Best Instant Pot Beef Barbacoa
Here are a few helpful tips I've learned on my beef barbacoa journey:
Make the sauce the day before, or even 2 days before. Seriously, it will make your day when you go to toss stuff into your Instant Pot. So, so easy.
The chipotle peppers and adobo sauce? They come in 1 can. Just 1 single can that looks like this one. The brand doesn't matter. Just know that once again, it is super easy.
Some beef barbacoa recipes ask you to use a blender or food processor to blend up the sauce ingredients. You do not have to do that. At all. The sauce is superbly fabulous without blending a single thing. You can tell I'm all about making things easy [but totally delicious.]
Yes, you can use your slow cooker for this beef barbacoa recipe, but it will take more like 8 hours. With your Instant Pot, it's 1 hour tops.
This recipe is wonderfully flexible — use beef barbacoa over rice bowls, noodle bowls, corn or flour tortillas, or scoop it up with chips. The possibilities are endless, and leftovers are a very happy thing.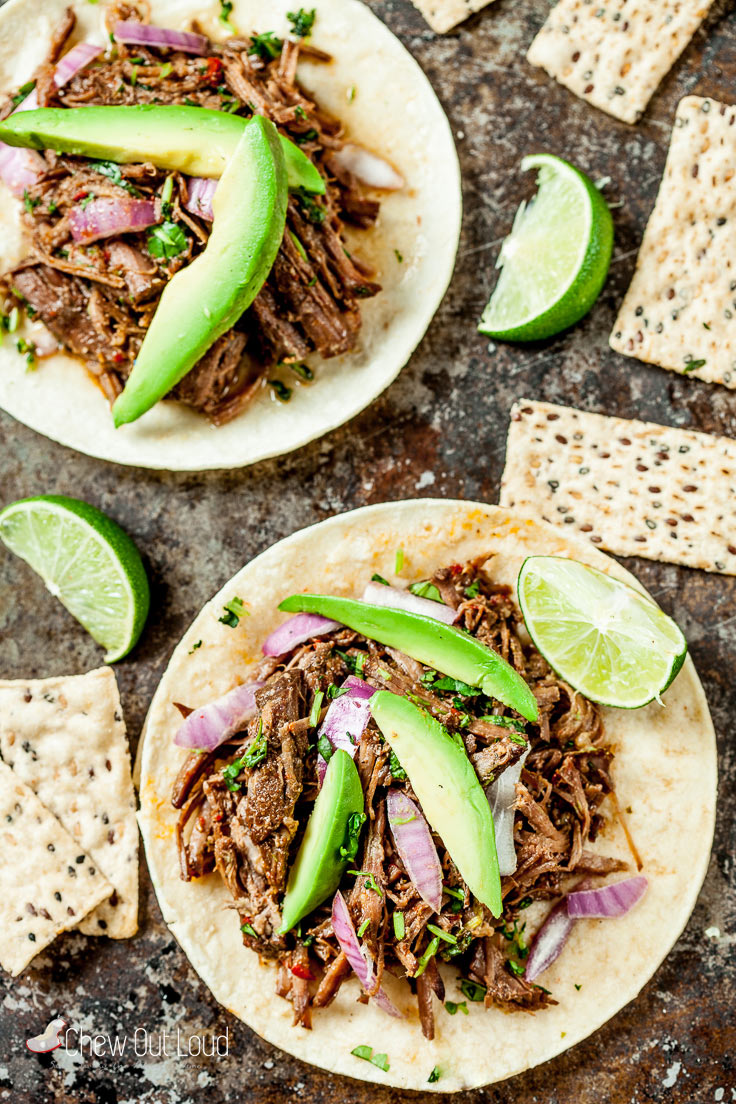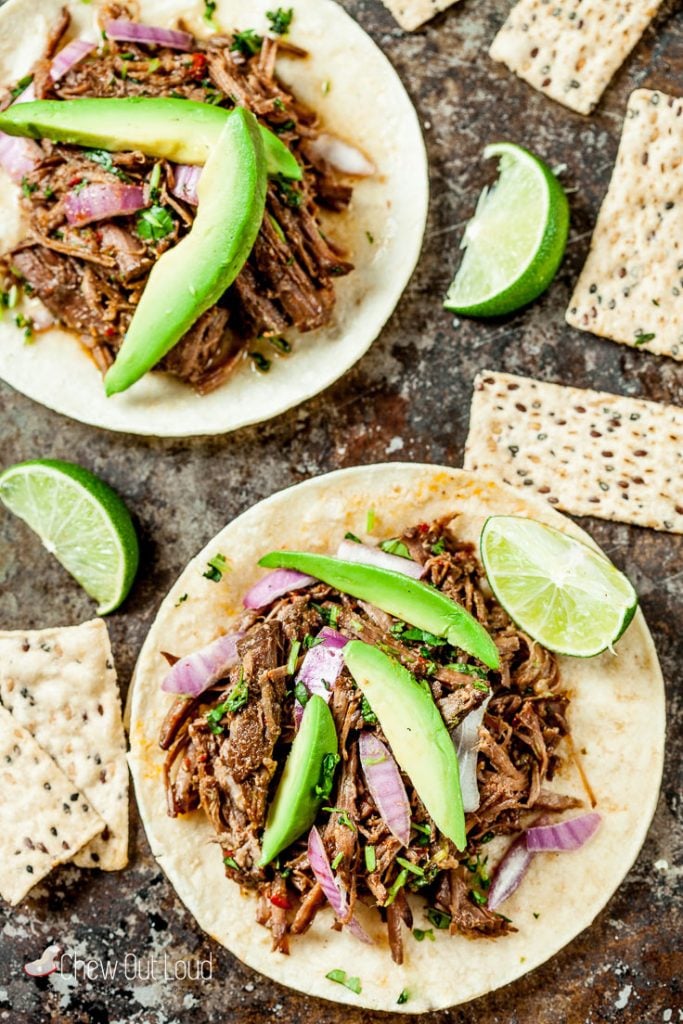 What to serve with Beef Barbacoa
We already talked about some options like rice bowls, noodle bowls, tortillas, barbacoa salad, or simply scooping up it up with chips.
To make meal planning even easier, here are some of some actual recipes that are already written, for serving alongside of your barbacoa:
Don't forget to scroll to bottom for pictures of similar recipes, because pictures are everything and we all like pictures.
Enjoy 😋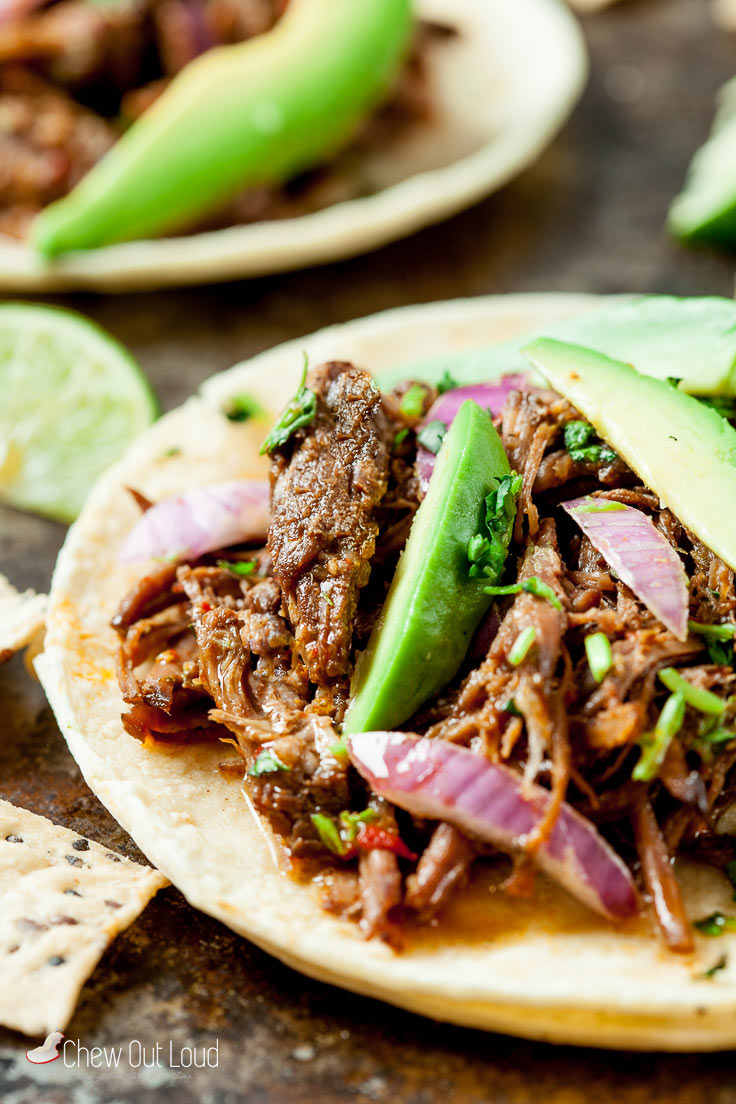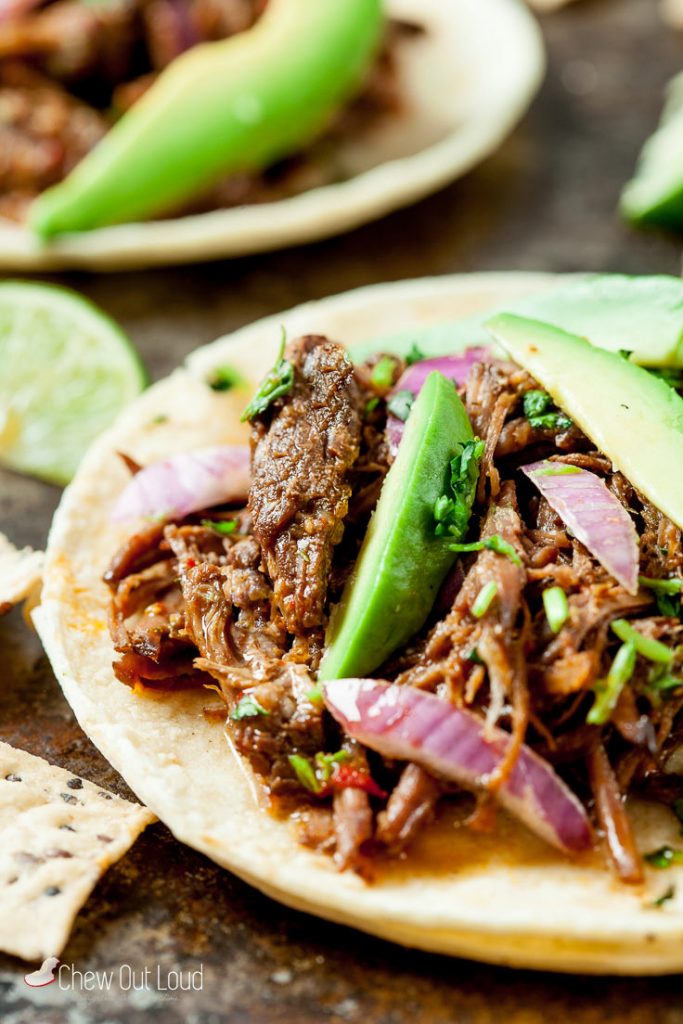 Print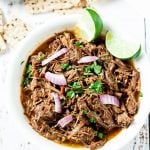 Instant Pot Beef Barbacoa
Author:

Prep Time:

20 min

Cook Time:

60 min

Total Time:

1 hour 20 minutes

Yield:

8

-

12

1

x

Category:

main, beef

Method:

pressure cooker

Cuisine:

Mexican style
---
---
Scale
Ingredients
For the Sauce:
1 cup full flavored beef broth
1/4 cup freshly squeezed lime juice
1/4 cup apple cider vinegar
8 cloves garlic, minced
Half of a sweet onion, minced
4 chipotle peppers from a can, seeds removed, minced
2 TB adobo sauce from same can as chipotle peppers
4 tsp ground cumin
3 tsp dried oregano
1/4 tsp ground clove
3 bay leaves
For the Beef:
4 lb chuck roast, trimmed
2 tsp kosher salt
1 tsp freshly ground black pepper
3 TB olive oil
---
Instructions
Make Sauce (can be made up to 2 days ahead): In a bowl, combine all sauce ingredients. Stir to incorporate well. If making ahead of time, keep chilled in airtight container until ready to use.
Slice beef into 2″ x 2″ chunks. Sprinkle kosher salt and pepper evenly onto all sides of beef pieces. Set Instant Pot to sauté mode. Add olive oil; once oil is heated, add sear beef pieces in 2 batches to avoid overcrowding. Once all sides of beef pieces are nicely browned, place all the beef into the bowl of Instant Pot.
Pour your prepared sauce evenly over the beef. Stir to combine. Cover tightly and set pressure cooker for 1 hour. Use Instant Release method to release pressure when beef is done. Gently shred the beef with forks or tongs, allowing shredded beef to soak up the juices afterwards.
Serve beef barbacoa over rice, tortilla, salad, or chips.
---
Notes
Leftovers can be kept in airtight containers in fridge. Perfect for weekly meal prep!
Kitchen Stuff We Love:
Meats for Meal Prep:
Instant Pot Beef Stroganoff Recipe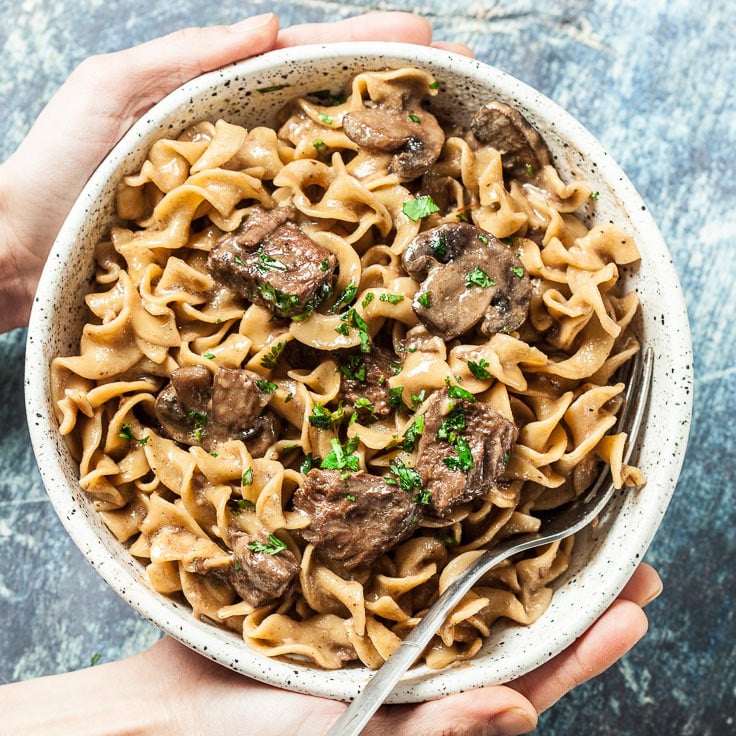 Slow Cooker Corned Beef with Cabbage