This One Pot Pizza Pasta is a weeknight meal saver. It's easy, tasty, and sure to please. Kids and adults alike will devour this one.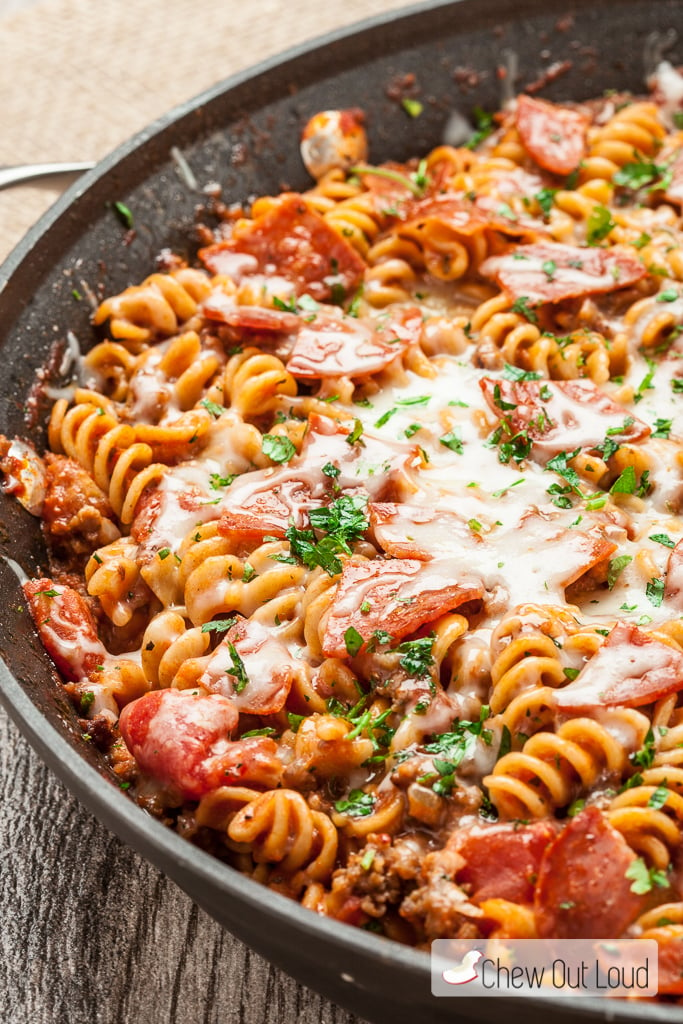 Hope you all had a wonderful Easter weekend!
We spent the last few days celebrating both the holiday and my oldest son's 11th birthday.
Every year his birthday arrives faster and every year it's a little bit sadder to barely glimpse the time zooming by at nanosecond speed…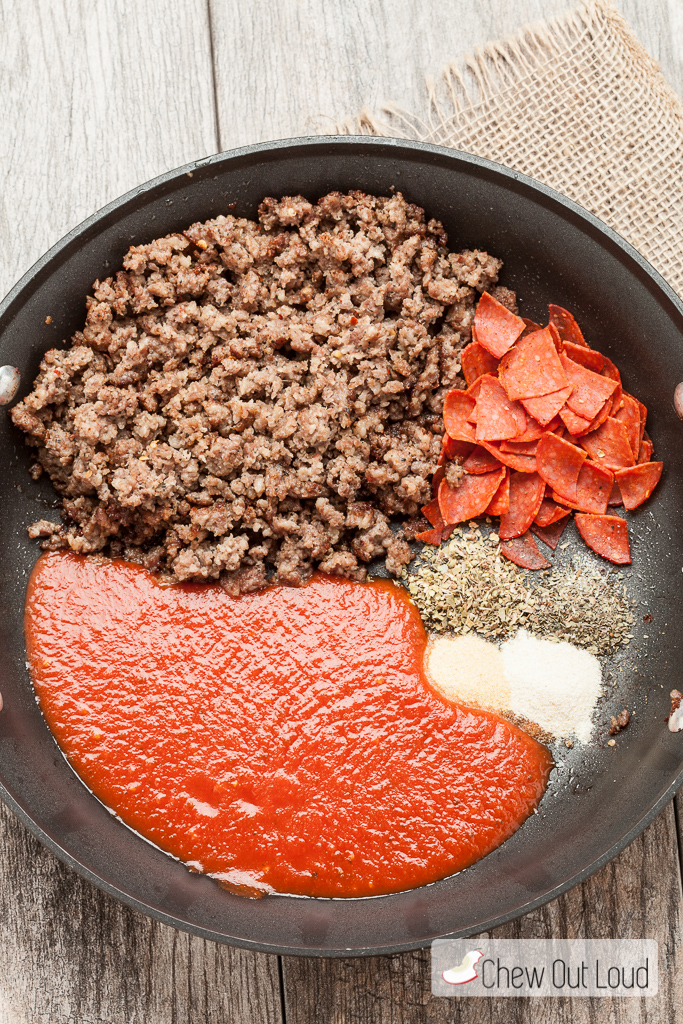 I mean, eleven is tween territory. That's both exciting (for the kid) yet terrifying (for me).
Kind of like a birthday party with a crowd of 11-year old boys. Exciting yet a tweensy bit scary.
Thankfully, we hosted the party at one of those huge indoor trampoline parks where you can literally bounce off the walls and Be Like Mike.
Such a great way to get those crazy boy energies out. And no messy cleanup for us. Which means more time to enjoy the party rather than working the day away.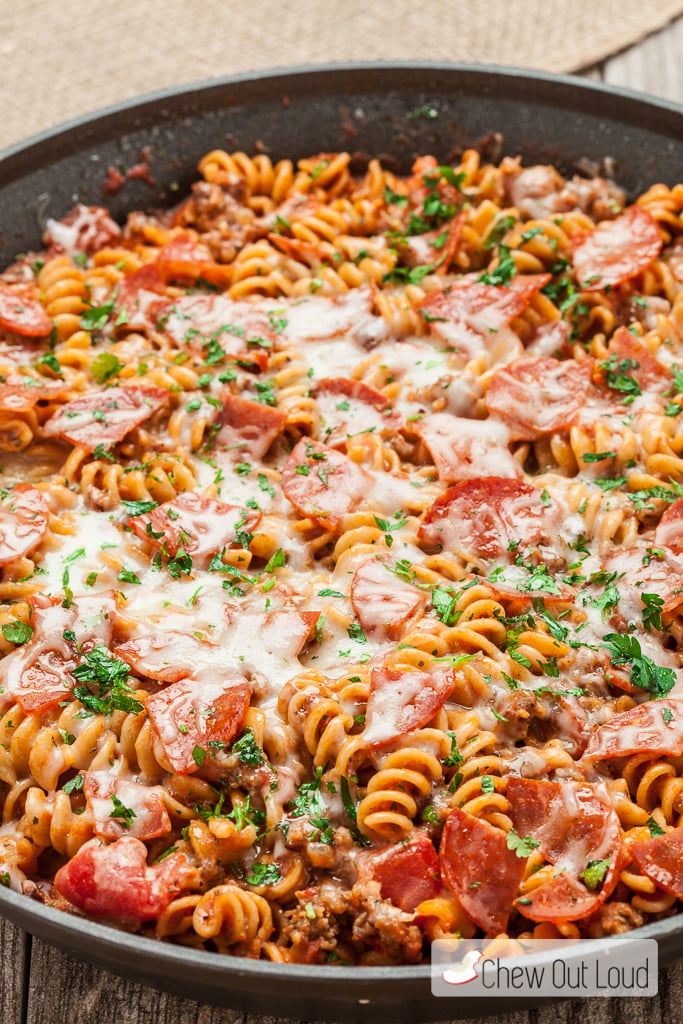 Just like this One Pot Pizza Pasta. This recipe is so easy, leaves no messy cleanup, and gives you more time to enjoy the evening with your peeps. No fussing at the stove all evening.
And everyone has fun. It's funny how dinner time can actually be fun when all the kids devour their meal without any nagging.
It's even funnier when there's only one pot to wash after the meal has been polished off with record speed. I could laugh out loud. I'm that cook that normally messes five pots per meal.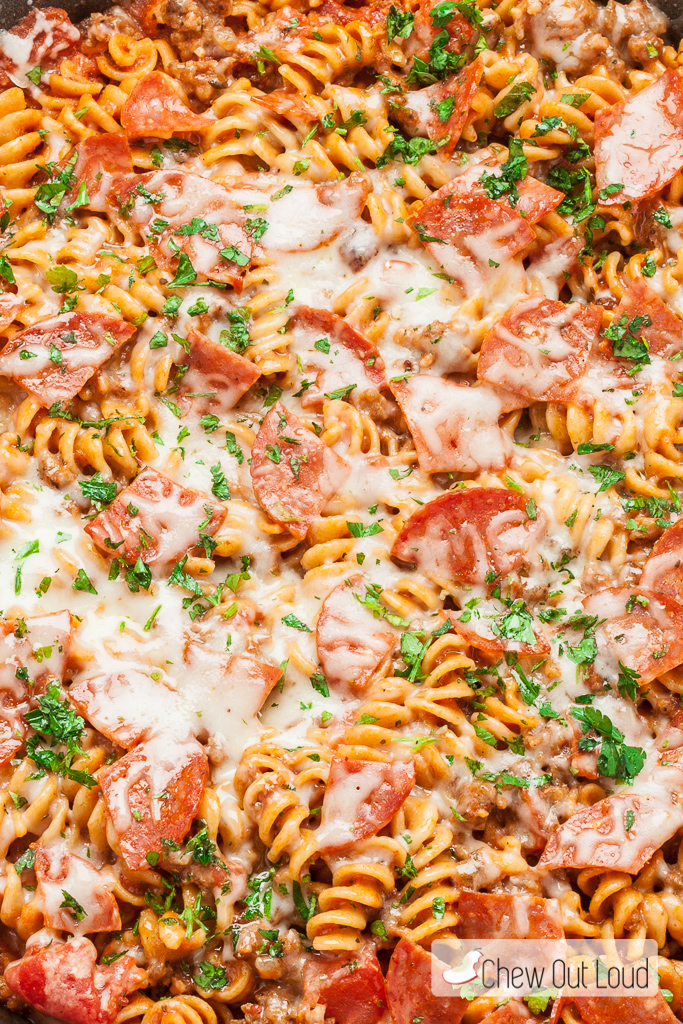 Here's to easy peasy one pot dishes that make our busy lives just a little more manageable during the 5'clock craze.
Go ahead. Grab a fork.
Take a big bite or ten.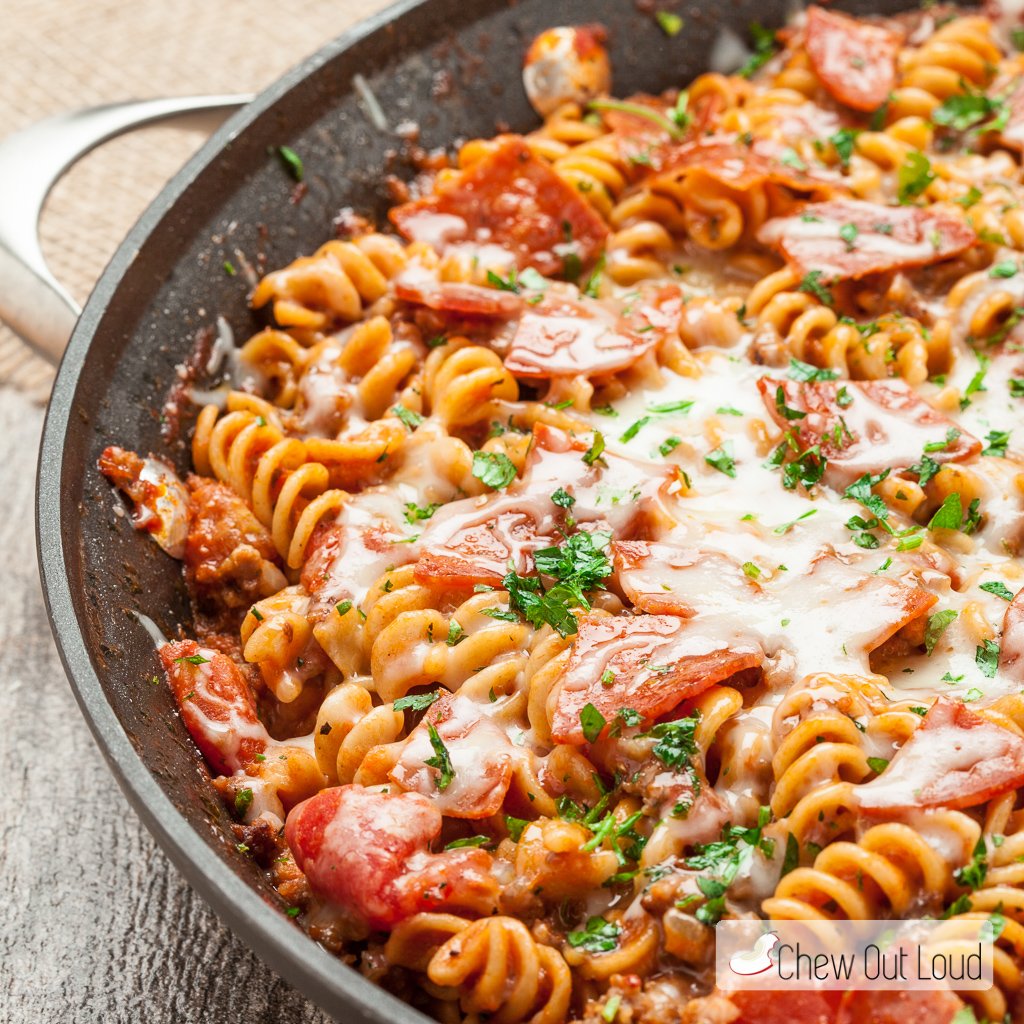 Print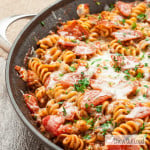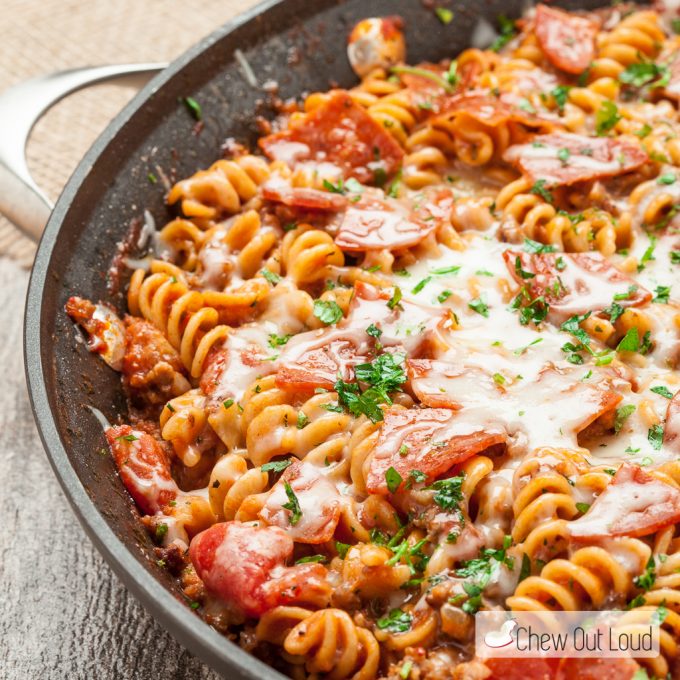 One Pot Pizza Pasta
---
Description
This One Pot Pizza Pasta is super quick, easy, and tasty. It's the perfect busy weeknight meal. The pasta cooks right in the saucy liquid, saving you from cleaning more than one pan for the entire dish. Kids and adults alike adore this simply yummy pasta.
---
8 oz

Italian sausage, no casings

1/2 cup

pepperoni, cut into bite size quarters

24 oz

can pasta sauce

1

(14.5 oz) can diced tomatoes with juices

2

TB sugar

1 tsp

onion powder

1 tsp

garlic powder

1 tsp

dried oregano

1 tsp

dried basil

13 oz

dry rotini pasta

1 cup

mozzarella cheese, shredded

1/2 cup

parmesan cheese, shredded
Kosher salt and freshly ground black pepper, to taste
Optional: fresh parsley leaves, chopped, for garnish
---
Instructions
In a large oven-proof skillet, brown sausage over medium high heat, breaking it up as you brown, 3-5 min. Stir in half of the pepperoni until heated through, 1 min. Add pasta sauce, diced tomato with juices, sugar, onion, powder, garlic powder, oregano, and basil. Add 1 3/4 cups water, stir well, and add salt/pepper to taste.
Add pasta and stir to combine. Bring to a boil. Immediately cover and reduce to simmer. Simmer until pasta is tender, about 14 minutes. Remove from heat. Top with mozzarella, parmesan, and remaining pepperoni. Place into oven, uncovered, and broil 1-2 min or just until cheese melts and bubbles. Serve immediately. If desired, garnish with chopped parsley.
Source: Chew Out Loud, adapted from damdelicious.net
Here are a few of our favorite One Pot Dinners we think you'll like:
1. One Pot Lemon Orzo with Shrimp. This lemony, bright, savory dish is perfect with orzo and shrimp. Makes for a delicious dinner any weeknight that everyone loves.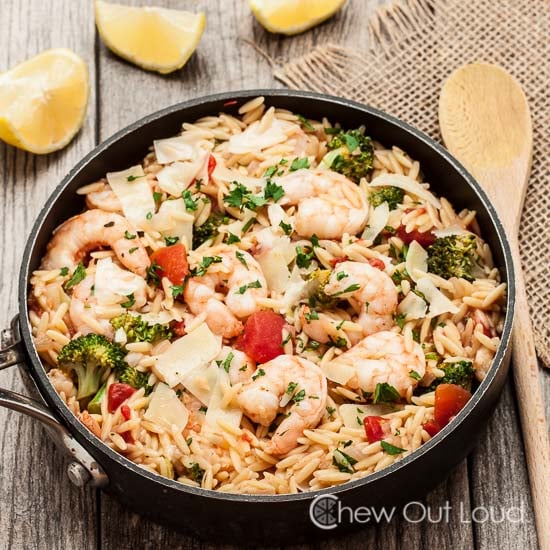 2. One Pot Thai Chicken and Rice . Looking to twist up your chicken/rice routine? Look no further. This Thai inspired dish is full of flavor and easily devoured by all.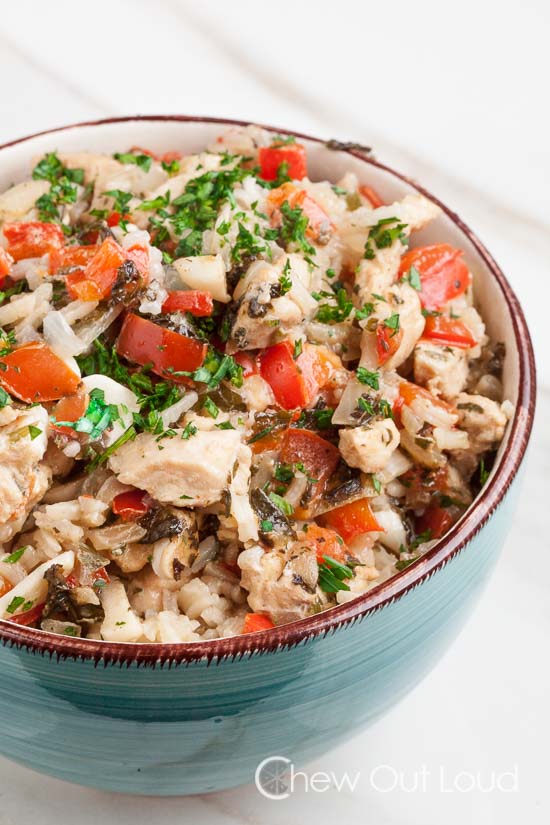 3. One Pot Gnocci with Spinach and Chicken . One of my favorite ways to enjoy gnocci is in this one pot recipe. It's ridiculously easy, tasty, and hits the spot.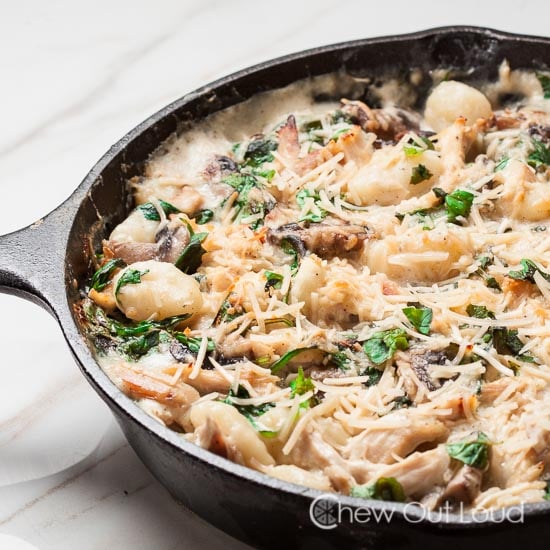 4. Amazing One Pot Pasta. This is the one that started it all. The whole one pot craze began right here with this yummy tomato/basil version.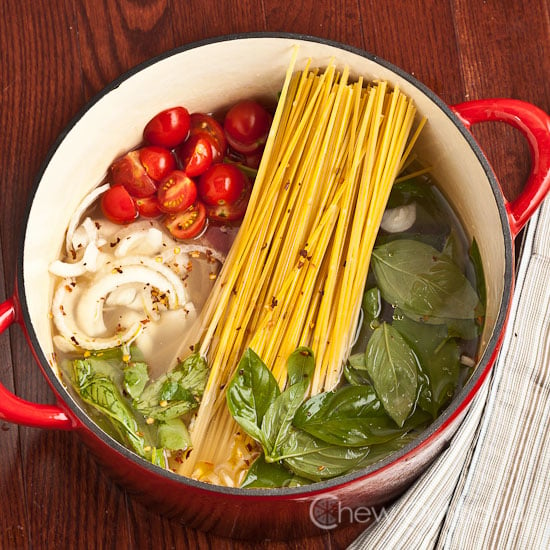 5. One Pot Asian Pasta. This is our take on Asian noodle dishes my dad makes often. One pot easy. Full of flavor.