One Pot Lemon Orzo with Shrimp
This One Pot Lemon Orzo with Shrimp is a burst of mouthwatering flavors with each bite! It comes together in 30 minutes, it's healthy, and requires only one pot. Perfect weeknight meal.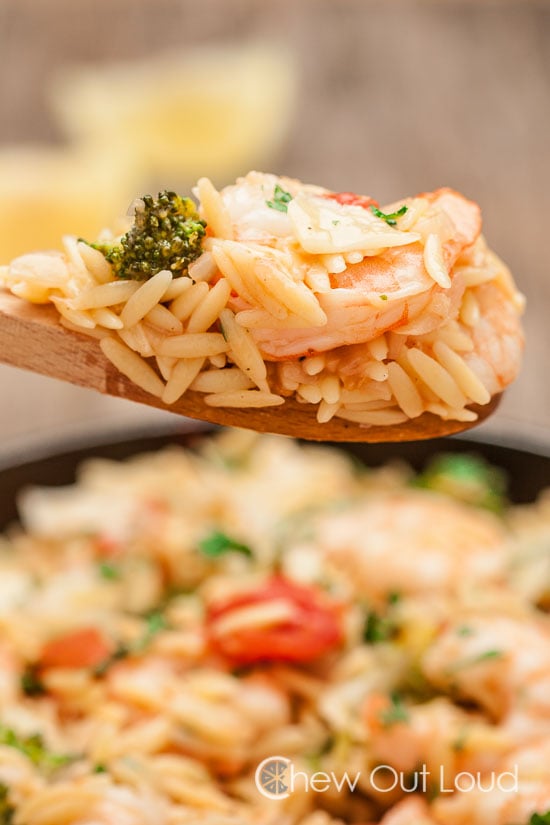 As I promised yesterday, here is yet another super easy, totally delicious one-pot dinner recipe.
Hip hip hooray and boom! The weather has taken a balmy turn for the better (20's = yeah!) and we've got orzo.
This One Pot Lemon Orzo Shrimp rocked my world. Or at least my dinner hour. I'll take it.
This dish tastes sooo delish, it's hard to believe it goes from stove to table in less than 30 minutes…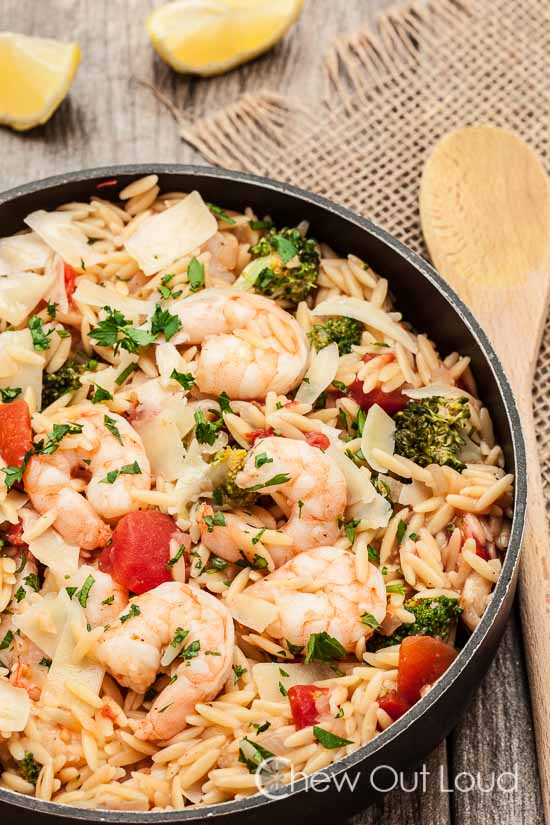 We're talking 120% tasty, healthy, and easy. All in one pot, all in 30 minutes.
In order to make this dish happily fulfill the majors of our good ol' food pyramid, we've got veggies, protein, carbs, and a even a bit of dairy in one succulent dish.
Shrimp is our protein hero here; it cooks at lightening speed velocity. We used little broccoli florets and diced tomatoes for our greens and reds. Orzo is the perfect quick cooking carb, with an al dente time of 7 minutes.
Hands down winner.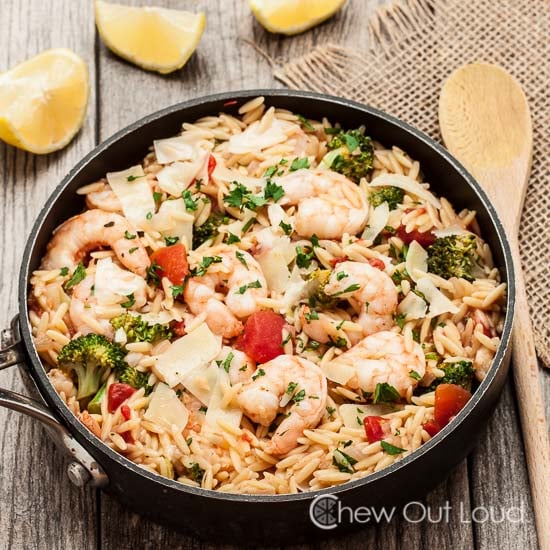 The Littles minus one are really into seafood, so shrimp worked marvelously here. The minus one guy is working on his crustaceans, but we're making good progress.
This dish is a new family favorite, especially with shavings of fresh parm resting on top.
Feel free to change it up as you like; use asparagus instead of broccoli. Make it vegetarian by using veggie broth and skipping the shrimp. Add more veggies.
Or keep it as is, 'cause I wouldn't change a thing 🙂
Enjoy!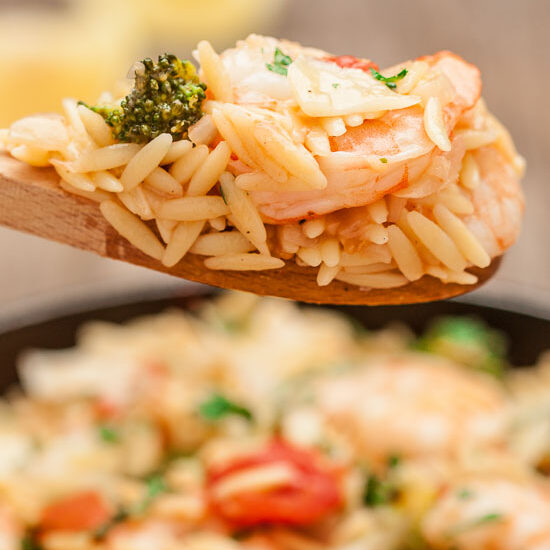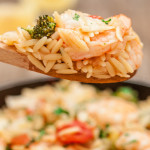 One Pot Lemon Orzo with Shrimp
This One Pot Lemon Orzo with Shrimp is healthy, easy, quick, and absolutely mouthwatering! Kids and grownups alike will devour this dish. It comes together in 30 minutes or less, making it an excellent weeknight meal.
Ingredients
1

lb

raw shrimp

,

peeled and deveined

kosher salt and freshly ground black pepper to taste

1

medium onion

,

diced

3

cloves

garlic

,

minced

1

tsp

dried basil

½

tsp

dried oregano

8

oz

dried orzo pasta

2 ¼

cups

regular chicken broth

1

14.5 oz can diced tomatoes, juices reserved (approx 1/4 cup)

½

cup

broccoli florets

,

bite size

juice of 1 medium lemon

¼

cup

freshly shaved/grated parmesan cheese
Instructions
Towel dry the shrimp. Sprinkle with a pinch of kosher salt and freshly ground black pepper, toss, and set aside.

In a large oven-proof pan, heat 2 TB olive oil over medium high heat. Add onion, garlic, basil, oregano, and stir about 3 minutes. Stir in orzo and continue stirring about 1 minute.

Stir in chicken broth and 1/4 cup reserved tomato juice. Bring to a boil, cover, and reduce to simmer. Simmer just until pasta is under al dente, about 7 minutes. Stir in tomatoes, broccoli, and lemon juice. Stir in shrimp. Cover and simmer for 5 minutes. Stir again and simmer 1 minute longer if needed, just until shrimp turns opaque.

Serve immediately with fresh parmesan.
Did you make this?
Leave a comment below and tag @chewoutloud on Instagram
Source: Chew Out Loud, adapted from Damn Delicious
Here are a few other family favorite weeknight meals that are quick 'n easy!
Cheesy Baked Ziti. Creamy yet not heavy. Uber delicious in every way.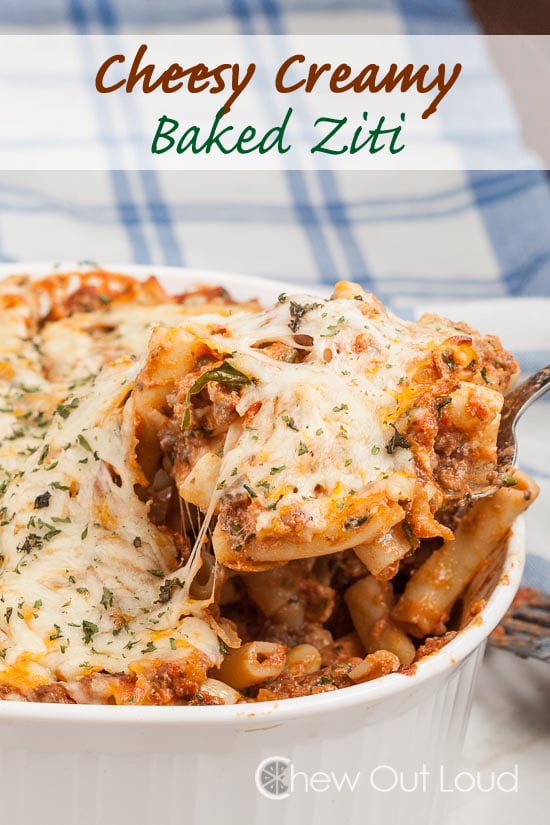 15-Minute Lemon Pepper Shrimp Scampi. Dinner just doesn't get easier than this at home!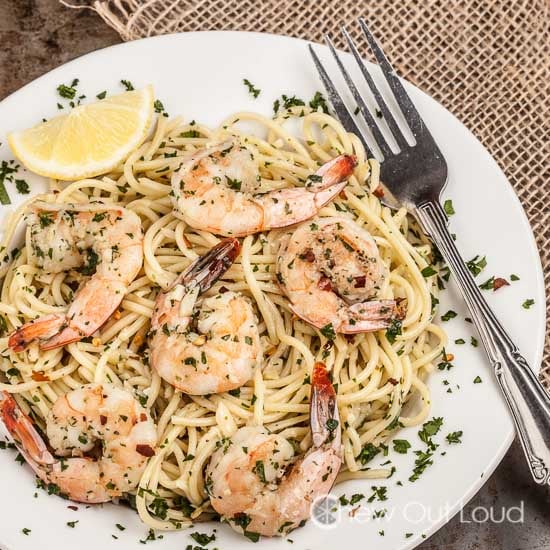 30-Minute Spaghetti with Garlic and Olive Oil. Classic, simple, and flavorful. You can't go wrong with this.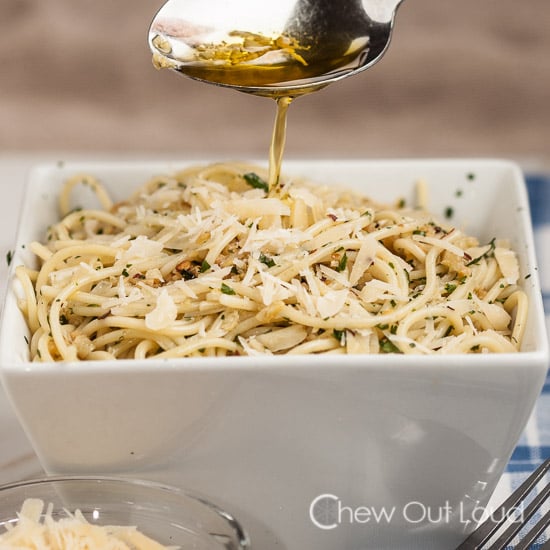 We'd love to have you follow us on Pinterest, where we pin the best finds!
Follow us on Facebook and Twitter for the newest recipes and giveaway prizes (enter our current $50 Target giveaway!!)
Hang with us on Instagram for behind-the-scenes shots of the food we make and lots of inspiration.