Lemon Pasta with Smoked Salmon and Asparagus
By Amy Dong
Published Jul. 20, 2017
Updated Aug. 17, 2022
Lemon Pasta with Smoked Salmon and Asparagus is unbelievably easy, healthy, and mouthwatering! This fabulous dish comes together in just 30 minutes or less.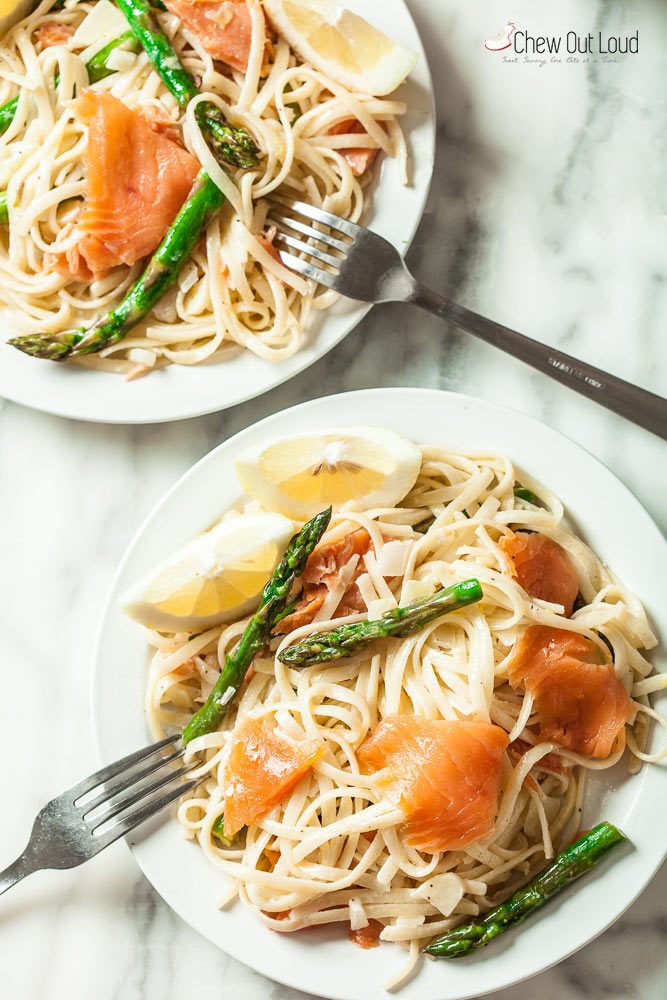 We just got back from a long week of Scout Camp with the boys. A week away at scout camp requires about a week of recovery at home.
I realize I live in the Land of 10,000 Lakes, but seriously. The mosquitos at Scout Camp were raging in the most out of control way. Like, no amount of toxic DEET would stop these viciously hungry 'quitos.
Usually I rely on the safe and non-toxic alternatives to keep my family from being attacked by bugs when we go hiking and camping. But for once, it was a no-go in this Scout Camp forest we tented out in. My poor scout came home with like 100+ bites.
I almost wanted to say No More Camping. But you know, nobody's really gonna say that [out loud] at a scout campsite.
Aside from said bites and 7 loads of laundry, I'd totally go back again. Being out in the beautiful wild forest, with thick trees and clear lakes always brings you back to center. There's something down to earth about the sound of man-boys talking and laughing around a campfire. With no cell phones. Time slows and you can breathe.
But like I said. We needed about a week to recover at home. Which absolutely means chicken nuggets for lunch and 30-minute pasta deals for dinner.
Come on in, Creamy Lemon Pasta with Smoked Salmon and Asparagus. It's a long 'n fancy name for a super simple supper. It takes 30 minutes or less, it's healthy, and tastes phenomenal.
How To Make Creamy Lemon Pasta with Smoked Salmon and Asparagus:
If you just watched that ⇑, you know I'm not lying. This lemony pasta with smoked salmon thing is supremely quick and easy. Plus 200% delicious and 400% healthy-ish 😊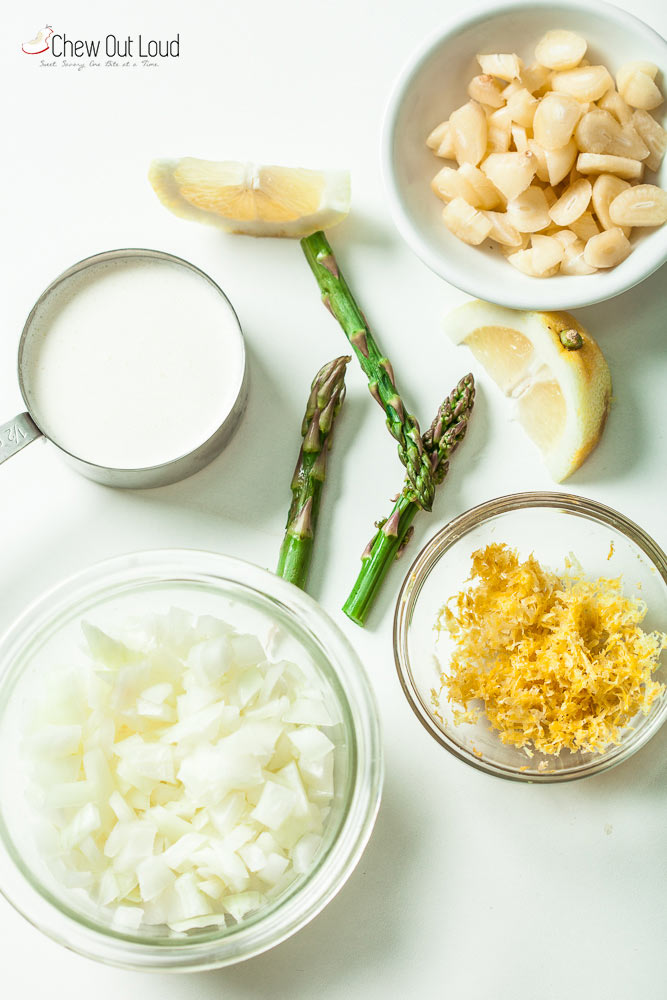 We have the usual players going on in this Creamy Lemon Pasta with Asparagus and Smoked Salmon.
Cream, check. Lemon, double check.
Asparagus, check. Definitely onions and garlic, plenty of garlic.
And glorious smoked salmon. There's nothing like the smoky, salty, succulent flavor of good smoked salmon.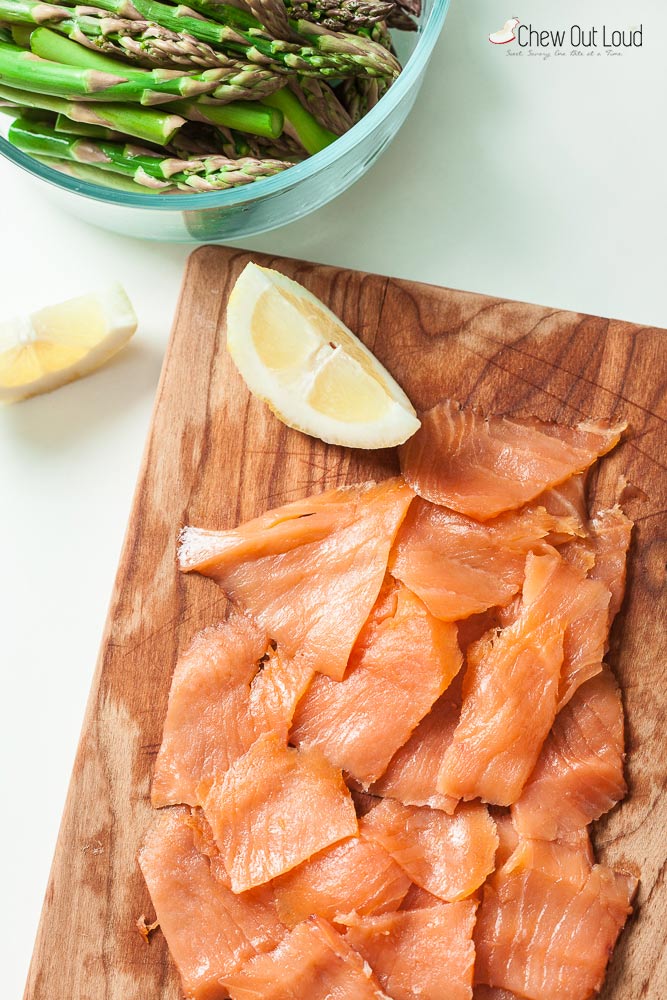 Toss your al-dente cooked pasta with that luscious creamy lemon sauce. Top it with tender asparagus tips and smoked salmon.
The result is a party in your mouth, bite after delicious bite. Plus, it's healthy-ish. And it only took 30 minutes.
So yeah, I'm still catching up on all the laundry and soothing my kid's legs-full of mosquito bites.
But hi, I pretty much crushed it with dinner. 😉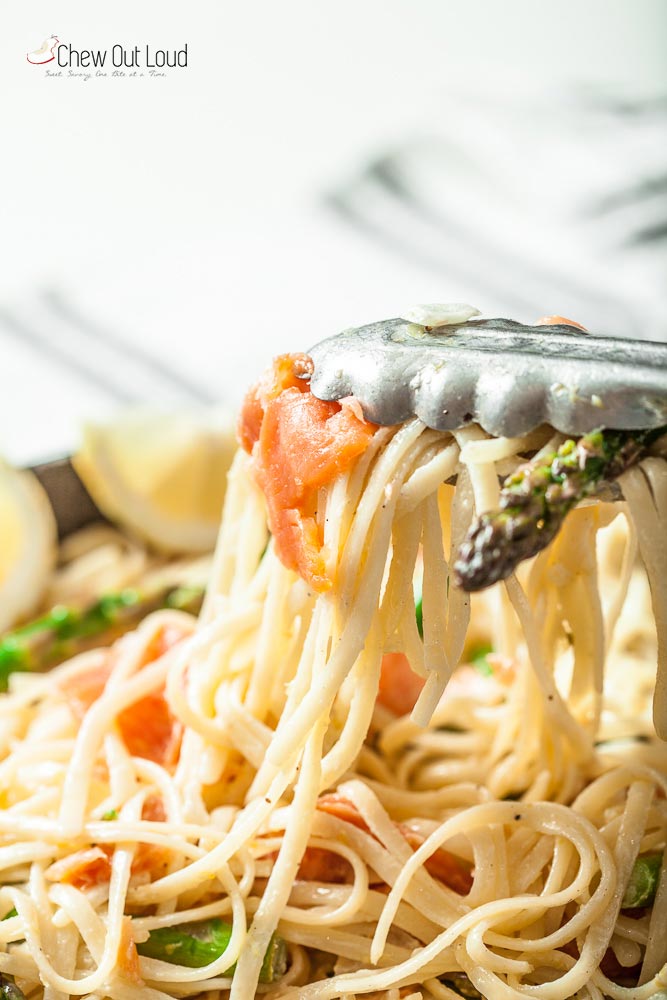 Did you make this?
Please give us a rating and comment below. We love hearing from you!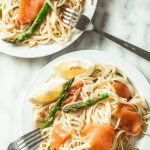 Lemon Pasta with Smoked Salmon and Asparagus
Lemon Pasta with Smoked Salmon and Asparagus is unbelievably easy, healthy, and mouthwatering! This fabulous dish comes together in just 30 minutes or less.
Ingredients
1

lb

dry linguine or spaghetti

3-4

TB

olive oil

1

onion

,

chopped

7

garlic cloves

,

chopped

3

TB

salted butter

½

cup

heavy cream

Zest of 1 lemon

Juice of 1 lemon

2

cups

fresh asparagus tips

,

2-inch pieces

½

lb

smoked salmon

,

sliced into bite size pieces

kosher salt and freshly ground black pepper to taste
Instructions
Bring a large pot of generously salted water to boil. Cook pasta according to package instructions for al dente (do not over cook.) Drain pasta, but reserve 1 cup of the pasta water to set aside. Sprinkle with 3-4 TB olive oil to prevent sticking. Keep warm and set aside.

While pasta is cooking: Place butter in a large heavy skillet and heat over medium high heat until warm. Add onion and stir 1 minute or until translucent. Add garlic and stir 1 minute until fragrant. Stir in heavy cream and lemon zest. Bring mixture to a simmer; stir occasionally and simmer 8-10 minutes or until slightly thickened. Add lemon juice and remove from heat. Cover to keep warm.

Place asparagus tips in a shallow, microwavable dish. Add 1/4 cup water, cover, and microwave 1-2 minutes or just until asparagus turns a bright green color.

In a large pot or serving dish, gently toss pasta with lemon sauce to combine well. Add desired amount of reserved pasta sauce to loosen as needed. Gently toss in the cooked asparagus and smoked salmon. Add salt and pepper to taste, as needed. Serve immediately.
Nutrition (per serving)
Calories:
527
kcal
|
Carbohydrates:
62
g
|
Protein:
19
g
|
Fat:
23
g
|
Saturated Fat:
10
g
|
Polyunsaturated Fat:
2
g
|
Monounsaturated Fat:
9
g
|
Trans Fat:
0.2
g
|
Cholesterol:
46
mg
|
Sodium:
354
mg
|
Potassium:
390
mg
|
Fiber:
4
g
|
Sugar:
4
g
|
Vitamin A:
838
IU
|
Vitamin C:
7
mg
|
Calcium:
57
mg
|
Iron:
2
mg
kitchen essentials:
Healthy, Light, Delicious Pasta: