Shrimp Scampi Pasta
By Amy Dong
Published Apr. 20, 2023
Updated Oct. 28, 2023
Shrimp Scampi Pasta is loaded with garlic, lemon, and basil with plenty of succulent shrimp. This recipe is easy, irresistible, and the perfect spring dinner.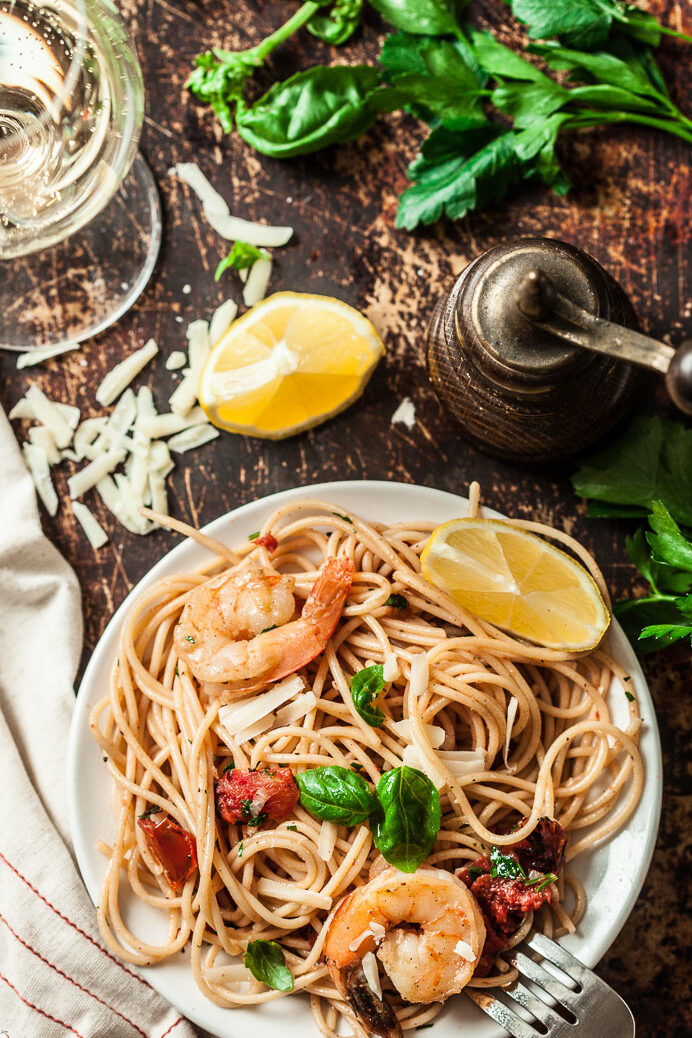 Watch Us Make This Recipe
The Perfect Spring Pick
Spring is a favorite season of many, especially in any location where the snow begins to melt and sunshine returns. Weekends bring Farmer's Breakfast Casseroles. Packing lunches equals Strawberry Aparagus Farro Salad. Dessert shouts out Lemony Lemon Bars. And dinner? This Shrimp Scampi Pasta is a stovetop recipe full of light, refreshing flavors that make it an especially perfect spring choice.
What is Shrimp Scampi?
The word scampi may seem fancy, but it really just means large shrimp with garlic sauce. We promise this recipe is easy enough for a weeknight meal when you need a 30-minute option that the whole crew will love, but it's also delicious enough to impress friends on the weekend with a combination of lemon, basil, and garlic flavors.
Love lemons? Try more of my favorite
best lemon recipes
!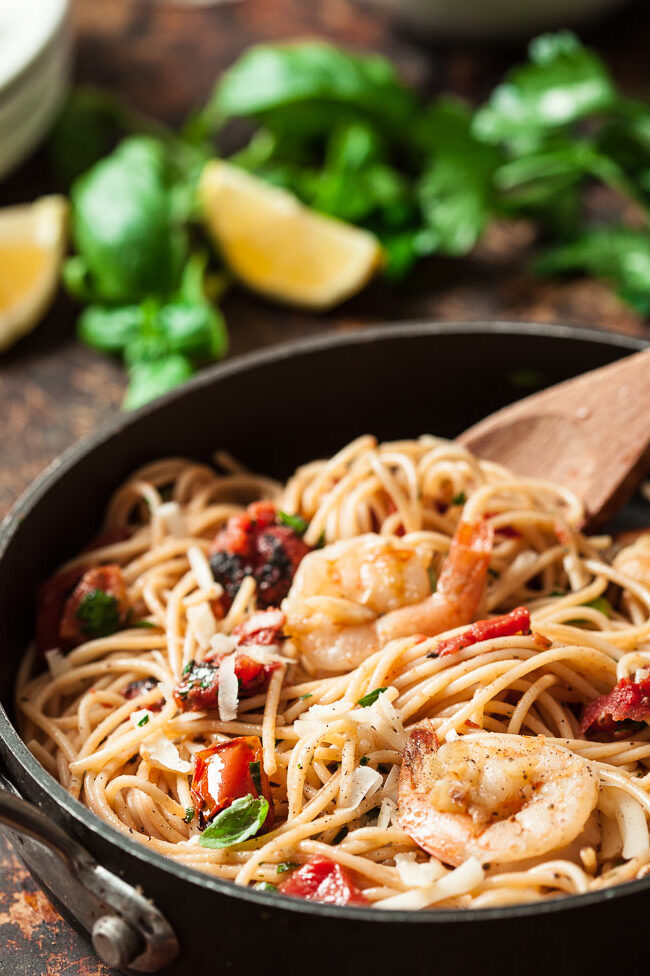 Why You'll Love This Recipe
This recipe is exploding with light spring flavors like garlic, butter, lemon, and parmesan. You seriously cannot go wrong with that combo.
This recipe comes together quickly with only a few ingredients and limited cook time involved in whipping together this decadent meal.
The star of the show, shrimp, is high in several vitamins and minerals making for a great protein choice. Not only is this recipe mouth-watering, but it also boasts health benefits.
Looking to avoid gluten? You could easily transform this recipe to be gluten-free by subbing in gluten-free spaghetti noodles. All of the other ingredients are naturally gluten-free, although it never hurts to double check the labels to ensure there's no risk of cross-contamination.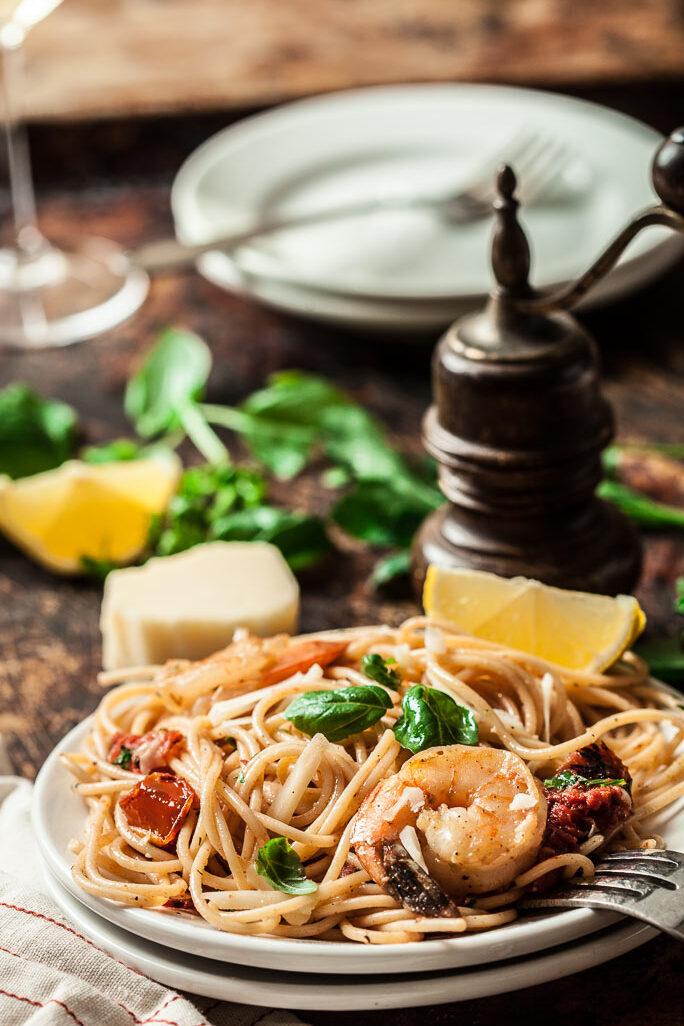 Key Ingredients
Spaghetti – The recipe photos feature a thin spaghetti, but this recipe would be just as delicious using any pasta of your choice.
Butter – Always a must, to give your onions a lovely caramelization.
Olive oil – Olive oil serves a double purpose in this recipe. First, to prevent your noodles from sticking, and second to pan fry the shrimp.
Garlic – Aromatic and flavorful; don't be shy with the garlic!
Red pepper flakes – These give the dish a little element of heat.
Jumbo shrimp – The star of the show! Be sure to peel/devein and then towel dry with a paper towel to remove excess moisture before frying.
Old Bay seasoning – A classic seafood seasoning comprised of salt, celery seed, red pepper, black pepper, and paprika.
White wine – Be sure to use white wine and not red wine. A crispy, dry white wine keeps the dish from becoming overly rich and gives it great acidity.
Lemon – An absolute must for this delicious springtime recipe. Lemon is a key acidic component of any scampi sauce.
Italian-style diced tomatoes – As opposed to regular diced tomatoes, Italian-style diced tomatoes are canned with herb springs, oftentimes basil, for another layer of delicious flavor.
Basil & parsley – Two more flavor elements that take this meal to the next level.
Salt & black pepper – Used to season the dish.
Parmesan cheese – The perfect topping to this dish. We always recommend freshly grated parmesan, but any parmesan you have on hand will be equally delicious in a pinch.
Tips for The Best Shrimp Scampi
Use the tips below to get the absolute best results:
Peel and devein shrimp before consuming. The vein in a shrimp runs right along its back. It is technically edible, but we always recommend the extra step of deveining to ensure the most delicious outcome. Check out this tutorial on How to Devein Shrimp for detailed directions.
Another tip when cooking with shrimp is to pat the shrimp dry with a paper towel before cooking. Shrimp is naturally very moist, so a quick pat down will remove any excess water before frying it in the pan.
Toss the pasta with a sprinkle of olive oil to prevent the pasta from sticking together. If your pasta is done at the same time as the shrimp/sauce mixture, you can skip this step because your pasta will be ready to go right into the pan.
If you're out of wine or prefer not to cook using alcohol, chicken stock makes a great substitute for white wine. This will change the flavor profile slightly, but you'll still have a delicious meal at hand that everyone will want to devour.
Commonly Asked Questions
Can I use frozen shrimp instead of fresh?
Absolutely. The key here will be to let the shrimp completely thaw before cooking. If you're using frozen whole shrimp, you'll want to follow the same steps to peel/devein and pat dry really well with paper towels. It helps to first thaw frozen shrimp in a colander so excess water can drain out. Some frozen shrimp packages come peeled and deveined, in which case you'd only need to let them thaw and pat dry before tossing them into your pan for the perfect sear.
Is Shrimp Scampi spicy?
Shrimp Scampi has a little heat to it, but it isn't overly spicy. The recipe does call for red pepper flakes, but if your family doesn't like as much heat, you can always reduce the amount of red pepper flakes or omit them altogether.
What is Shrimp Scampi sauce made of?
Traditional Shrimp Scampi sauce is made with butter, olive oil, white wine, garlic, red pepper flakes, and lemon juice. Some recipes, like this one, call for basil and parsley which we feel makes this recipe even more delicious.
What type of wine should I use for Shrimp Scampi?
This recipe needs a dry, crisp white wine so that the dish doesn't become overly sweet or caramelized. Crisp dry wines provide flavor and acidity to the dish. A pinot grigio or sauvignon blanc would both be excellent choices.
More to Cook and Eat
Shrimp Ceviche – Out of this world delicious salsa with an added flare of shrimp, and that's what you'll get with Shrimp Ceviche. Refreshing, sweet, and spicy – this one is going to be your new favorite.
Poke Bowl Recipe – Gluten-free, fun to eat, and full of healthy ingredients. Poke bowls are increasing in popularity, and we understand why! Poke Bowls are a great choice for spring meals.
One Pot Lemon Orzo with Shrimp – Another mouthwatering recipe featuring zesty lemon flavor. This one is perfect for weeknight meals as it only requires one pot and less than 30 minutes to pull together.
Did you make this?
Please give us a rating and comment below. We love hearing from you!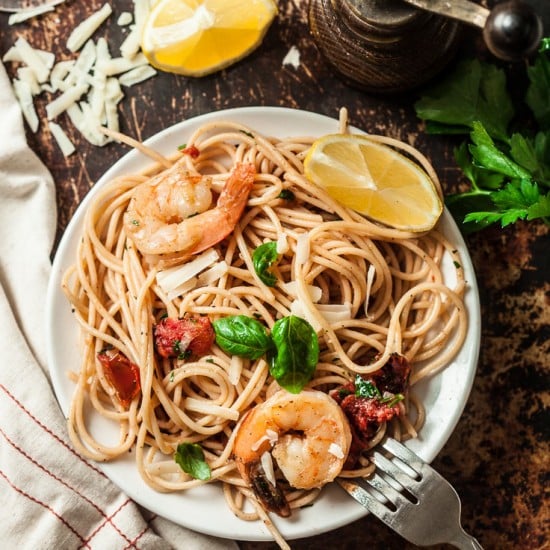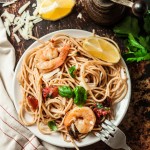 Shrimp Scampi Pasta
Shrimp Scampi Pasta is loaded with garlic, lemon, and basil with plenty of succulent shrimp. This recipe is easy, irresistible, and the perfect spring dinner.
Instructions
Bring a large pot of generously salted water to boil. Cook pasta just until almost al-dente (a minute shy of package instructions for al dente.) Drain well and toss with a sprinkle or two of olive oil to prevent sticking (only need to do this if pasta is done before the shrimp/sauce mixture.)

While pasta is cooking: Heat 3 TB olive oil and 1 TB butter in a large heavy skillet over medium-high heat. Add onion and cook 3 minutes, stirring. Add garlic and red pepper flakes, stirring 1 minute.

Toss Old Bay with shrimp – be sure excess moisture has been dried off shrimp first. Add to skillet and stir 2 minutes or just until shrimp turns opaque. Do not over-cook the shrimp. Transfer shrimp mixture to a bowl; keep warm.

Add wine, lemon juice, and diced tomatoes with juices to skillet. Bring to a boil. Add remaining 1 TB olive oil and 3 TB butter, stirring to combine well. Return shrimp mixture to skillet and stir to combine.

Add cooked pasta, basil, and parsley to combine. Add kosher salt (approx 1/2 tsp to 1 tsp) and freshly ground black pepper to taste. Serve immediately, sprinkled with freshly grated parmesan.
Notes
A crisp, dry white wine such as sauvignon blanc or pinot grigio will work well; be sure to choose a good quality one that you'd drink with this dish, as the flavors are better when using a good wine.
If you need to, you can substitute the wine for chicken broth; note that flavors will be a bit altered if this substitution is made.
Frozen shrimp should be fully defrosted; use a colander to drain excess water. Be sure to pat dry really well with clean paper towels before using shrimp, as excess moisture will negatively affect the flavor.
If you enjoyed this recipe, please come back and give it a rating ❤️
Nutrition (per serving)
Serving:
1
serving
|
Calories:
498
kcal
|
Carbohydrates:
62
g
|
Protein:
21
g
|
Fat:
17
g
|
Saturated Fat:
6
g
|
Polyunsaturated Fat:
2
g
|
Monounsaturated Fat:
8
g
|
Trans Fat:
0.3
g
|
Cholesterol:
115
mg
|
Sodium:
475
mg
|
Potassium:
311
mg
|
Fiber:
3
g
|
Sugar:
3
g
|
Vitamin A:
385
IU
|
Vitamin C:
2
mg
|
Calcium:
71
mg
|
Iron:
1
mg