15-Minute Spaghetti Aglio e Olio
By Amy Dong
Published Jun. 21, 2022
Updated Mar. 15, 2023
This 15-Minute Spaghetti Aglio e Olio uses only a handful of healthy, natural ingredients. It comes together quickly and tastes freshly delicious. Pairs well with any protein or veggies.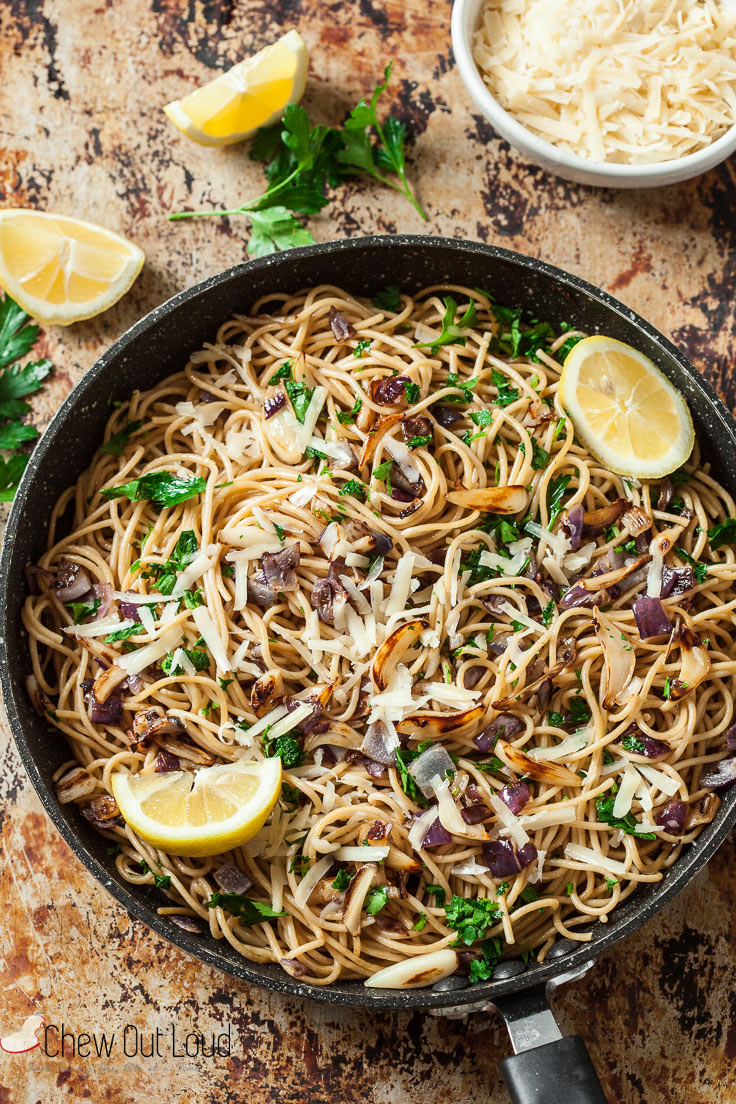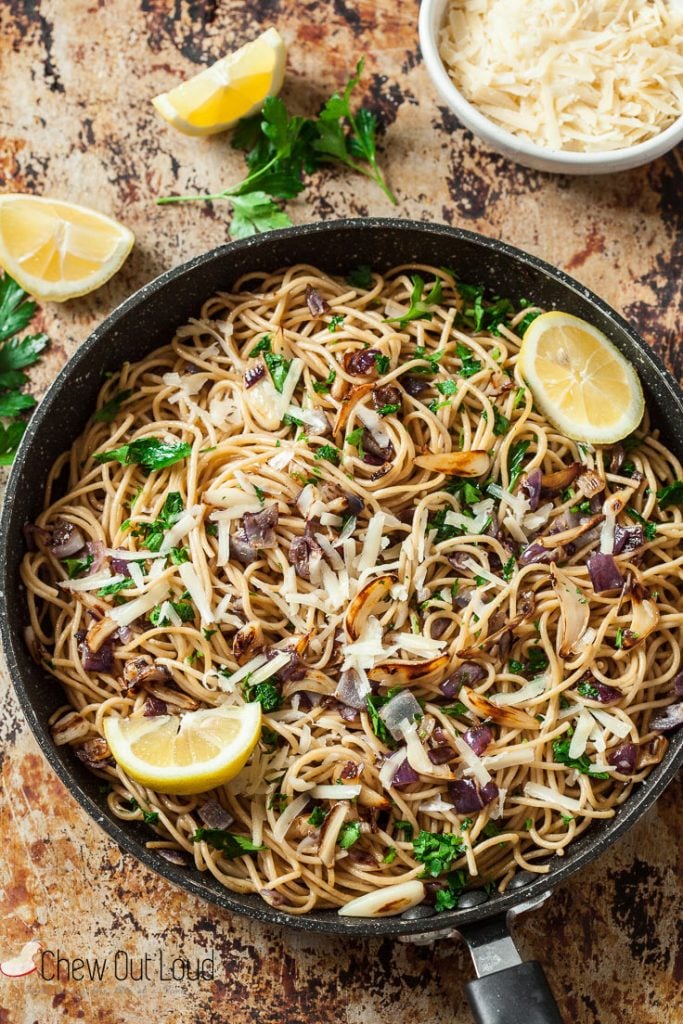 What is Spaghetti Aglio e Olio?
Spaghetti aglio e olio translates to spaghetti with garlic and [olive] oil. It's a traditional Italian pasta dish that's immensely popular, due to its ease of preparation, affordability of ingredients, and pure simplicity. Simplicity is our proud motto around here.
With little more than fragrant fresh garlic, extra virgin olive oil, and a few other basic pantry items you may already have in your kitchen, it's no wonder spaghetti aglio e olio is so well-loved.
Fun fact: aglio e olio is pronounced AH-lee-oh eh O-lee-oh.
What You'll Love About Spaghetti Aglio e Olio
There are less than 10 simple, budget-friendly ingredients in this tasty dish.
You can make it completely vegetarian or you can add your favorite protein.
You likely have most of the ingredients already in your pantry or fridge.
Leftovers keep well for lunch the next day, if you're lucky enough to have leftovers.
You can easily dress it up with sautéed shrimp, grilled chicken, mushrooms, or whatever your eaters desire.
Garlic…olive oil…parmesan…you just know it's gotta be good!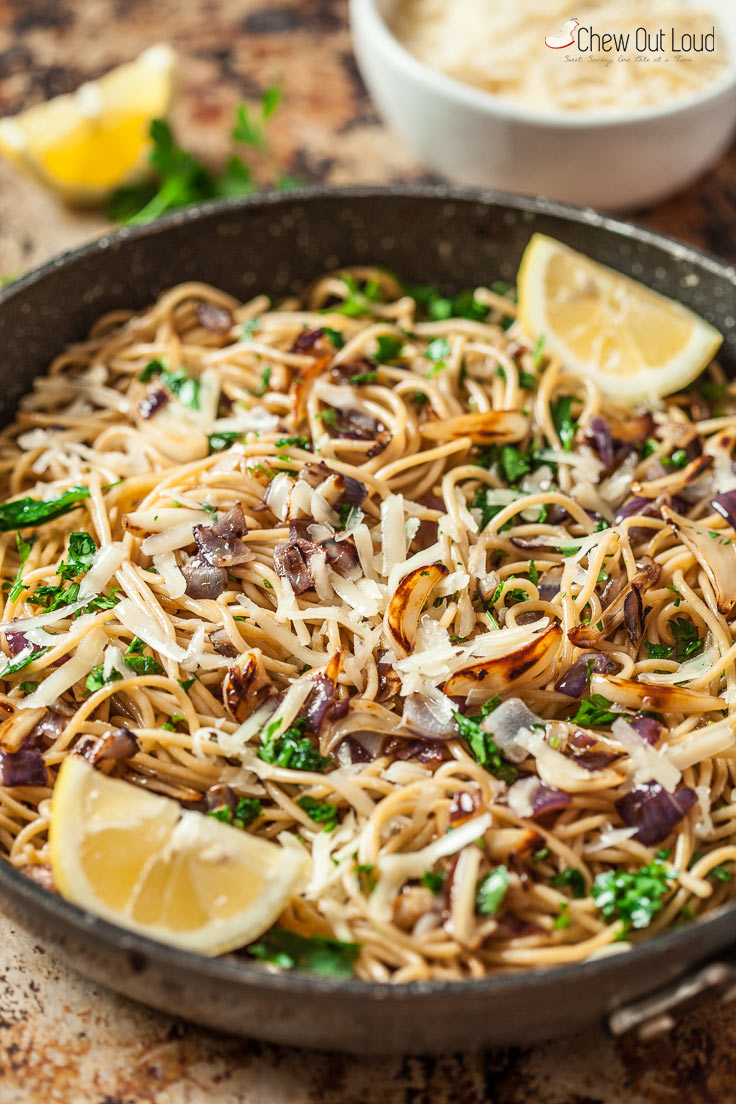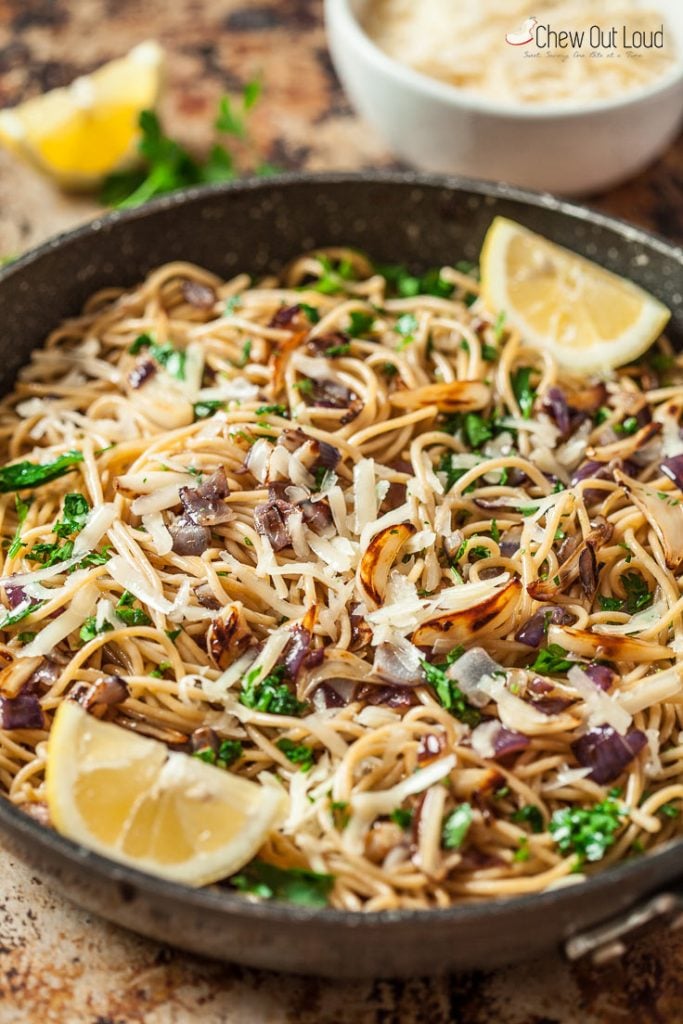 Simple Pantry Ingredients
Though amounts can vary a bit depending on taste, the basic ingredients are items you may already have in your pantry and fridge. Here they are:
Dry spaghetti noodles: feel free to experiment with the type; try gluten-free, whole grain, or even high-protein spaghetti.
Plenty of garlic belongs here! There's nothing as wonderfully aromatic as sautéed garlic. Unless you add chopped onion to the mix, and we do.
Good quality extra virgin olive oil. Since there are only a handful of ingredients that go into this simple pasta dish, use the best olive oil you can find, as it will make a noteworthy difference.
Lots (and lots) of freshly grated parmesan cheese; grab a nice block of parmesan and grate it yourself. You can definitely taste the difference between freshly grated parmesan and pre-grated parmesan from the store. Make your job easy with a good cheese grater.
Aside from pesto sauce, this may be your chance to use almost the entire bunch of fresh parsley, with little going to waste. Fresh parsley is the spotlight-herb for this refreshing pasta.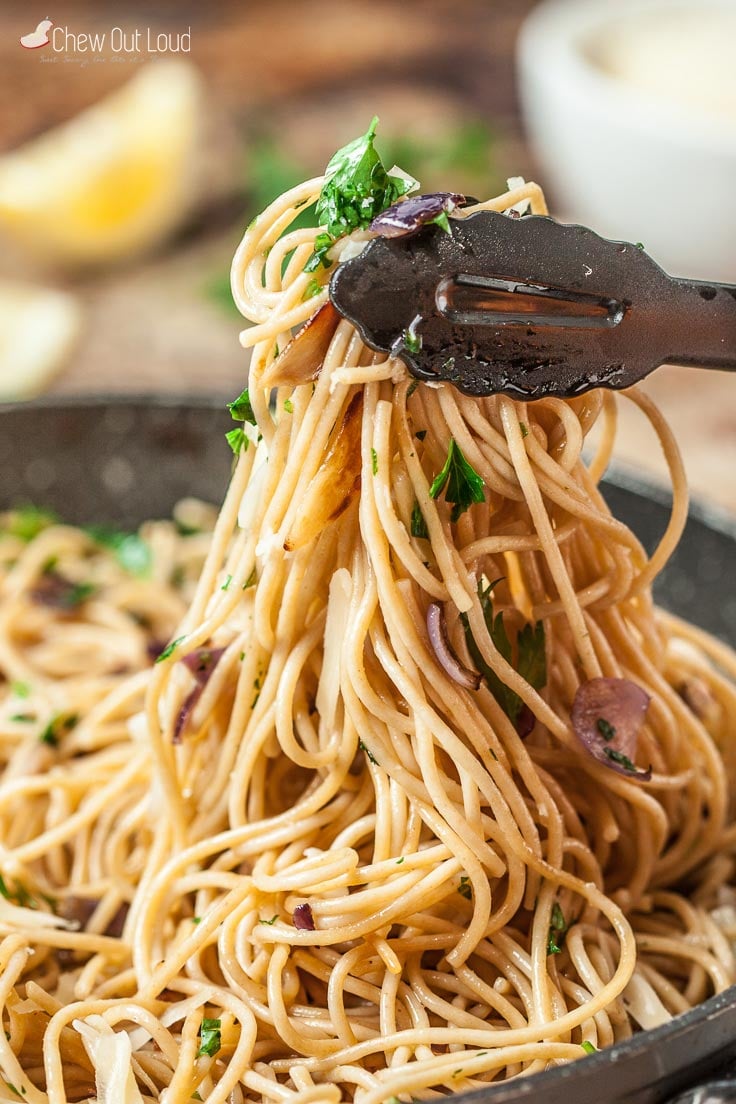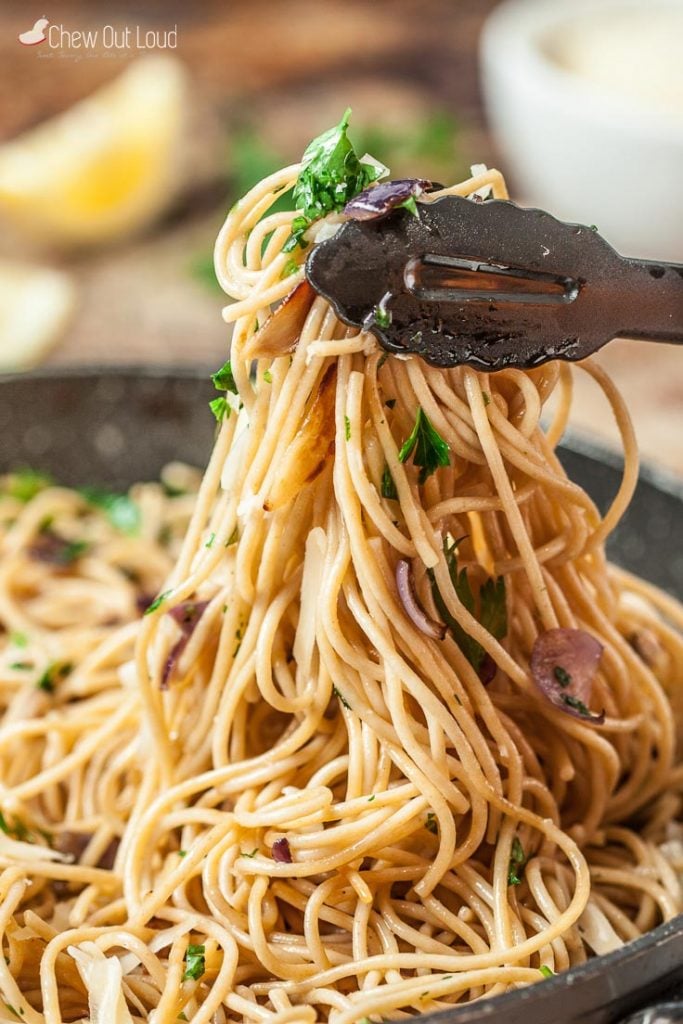 Spaghetti Aglio e Olio
Commonly Asked Questions
What does spaghetti aglio e olio mean?
It translates into spaghetti [with] garlic and oil. For best results, we always use high quality olive oil.
How can I make my spaghetti aglio e olio taste better, with more intense flavors?
Slice garlic very thinly and don't skimp on the good quality olive oil. The mixture of sautéed garlic, onion, and olive oil creates a fragrant aroma for your dish. For a boost of flavor, add a sprinkle of crushed red pepper flakes and a squeeze of fresh lemon over your finished dish. Don't forget to salt the cooking water for your pasta.
Can I use chicken broth instead of vegetable broth?
Yes, in fact, we love using good quality bone broth for its depth of flavor. If you don't need it to be vegetarian, feel free to use chicken or beef broth.
---
More to Cook and Eat
---
---
Did you make this?
Please give us a rating and comment below. We love hearing from you!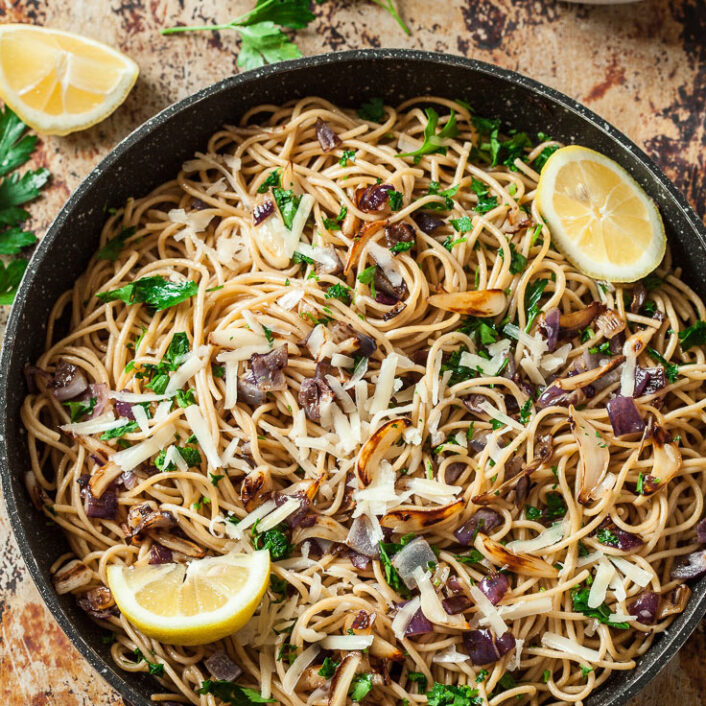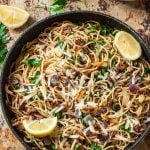 15-Minute Spaghetti Aglio e Olio
This 15-Minute Spaghetti Aglio e Olio uses only a handful of healthy, natural ingredients. It comes together quickly and tastes freshly delicious. Pairs well with any protein or veggies.
Ingredients
13

oz

dry spaghetti

10

cloves

garlic,

thinly sliced

1

small onion,

chopped (I use red onion for color)

½

cup

regular strength vegetable broth, or bone broth, for extra flavor

1

cup

freshly chopped parsley

1 ½

cup

freshly grated parmesan cheese , use a cheese grater
Kosher salt + freshly ground black pepper to taste
Optional garnishes: Dried red pepper flakes,

1 lemon sliced into wedges, extra parmesan cheese
Instructions
Cook Pasta: Bring a large pot of generously salted water to boil. Cook pasta according to package instructions for al dente. Drain pasta in colander. Transfer pasta back into the empty pot and toss with 3 TB olive oil; cover and set aside.

Sauté: While spaghetti is cooking, heat 1 TB olive oil in large skillet until oil is hot. Add garlic and onion, stirring until aromatic and browned, 2-3 minutes.

Combine: Add garlic mixture to the pot of cooked spaghetti and stir to combine well. Add broth to loosen pasta as needed. Add parsley and parmesan cheese, tossing until well coated. Add kosher salt and freshly ground black pepper to taste.

Garnish and Serve: Sprinkle with desired amount of red pepper flakes and serve with fresh lemon wedges/extra parmesan cheese.
Notes
* It's highly recommended to grate your own good-quality wedge of parmesan cheese, as it makes a worthwhile difference. We like this cheese grater, as it makes the job easy.
*I use chicken or veggie broth for extra flavor, but you can use the traditional pasta water instead (reserve some of the pasta water before draining the pasta, and use that for the liquid.)
*This dish is fantastic with Lemon Dijon Grilled Chicken or 10-minute Garlic Shrimp.
*If you enjoyed this dish, please come back and give it a rating 🙂
Nutrition (per serving)
Calories:
489
kcal
|
Carbohydrates:
60.2
g
|
Protein:
19.6
g
|
Fat:
19
g
|
Saturated Fat:
6
g
|
Cholesterol:
17.3
mg
|
Sodium:
474.8
mg
|
Fiber:
3.1
g
|
Sugar:
3.1
g