I lived most of my life in Los Angeles, where fresh tomatoes can be found year round. Here in Minneapolis? Not so much.
When my Gourmet Dinner Club met up in April (think rain/snow), I wanted to make a fresh caprese for the salad course. With farmer's market heirloom tomatoes still far in the distant future, I went for a substitute… mangoes! Bon Appetit showed off an idea of mangoes paired with mozzarella, and I gave it a whirl.
The result was outstandingly delicious! The best part is you can prepare most of it ahead of time and assemble when you need it.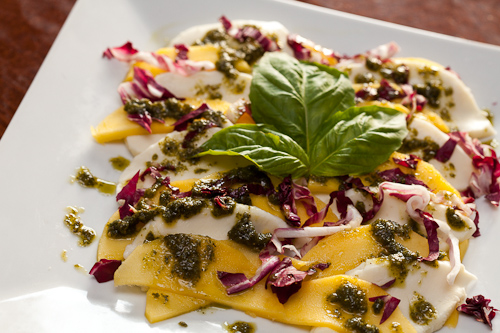 Super ripe, sweet mangoes. Little radiccio leaves for that slightly bitter crunch. Fresh, savory mozzarella. And tons of freshly picked basil over homemade basil dressing. Oh my, the basil vinaigrette is unbelievable. This is soo good, soo refreshing, and a crowd pleaser!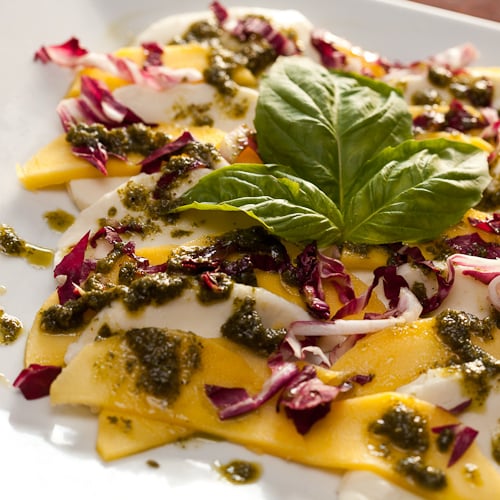 Needless to say, the Gourmet Dinner Club loved this one. The best part is that most of it can be prepared ahead of time, and assembled right when you need it. I love that. Being able to prepare most of a dish ahead of time is awesome. I plan to make this again soon. I still love you, tomatoes, but sweet mangoes are giving you a run for your money.
RECIPE (4 servings)
INGREDIENTS
1/2 cup fresh basil, chopped, plus some whole leaves
3 T extra virgin olive oil
2 T white balsamic vinegar
radiccio leaves, thinly sliced (I used round Chioggia radiccio)*
2 ripe mangoes, peeled and thinly sliced
8-oz fresh mozzarella cheese ball, sliced into 1/4 in. thick slices
salt & pepper to taste
DIRECTIONS
For the vinaigrette: Blend chopped basil, olive oil, and white balsamic vinegar until it is well blended and smooth. Season with salt and pepper to taste. This can be done ahead of time, even the day before.
To assemble: Overlap mozzarella, mangoes, radicchio, and basil leaves on plates (all except basil can be pre-sliced ahead of time). Drizzle with the basil vinaigrette. Pass around leftover dressing.
Note: If you can't find radiccio leaves, you can use thinly sliced red cabbage.