One-Pan Butternut Squash Penne
Enjoy the bounty of fall squash, with this One-Pan Butternut Squash Penne. It's light, healthy, and deliciously satisfying.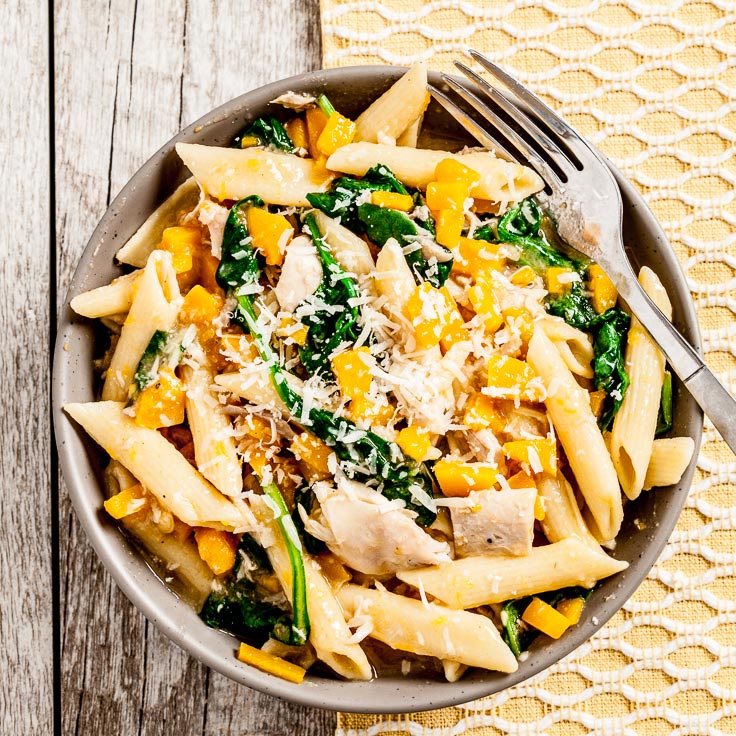 Butternut Squash Penne in a Pan
There are approximately two things that make the transition from the glorious summer months to the chilly days of fall more passable: vivid fall colors and cozy blankets. Those are my two, but I'm sure autumn lovers can think of a plethora of other seasonal advantages. Like, food maybe.
It's true, nobody is complaining about the fall eats around here. The Best Pumpkin Bread and Apple Cake with Caramel are all-time favorites. This is also the time to allow butternut squash its chance to shine.
We know butternut squash is incredible when roasted with cinnamon brown sugar as a side dish. Yet it also holds its own when made into a main dish, as butternut squash adds beautiful color, texture, nutrition, and flavor in this Butternut Squash Penne for dinner.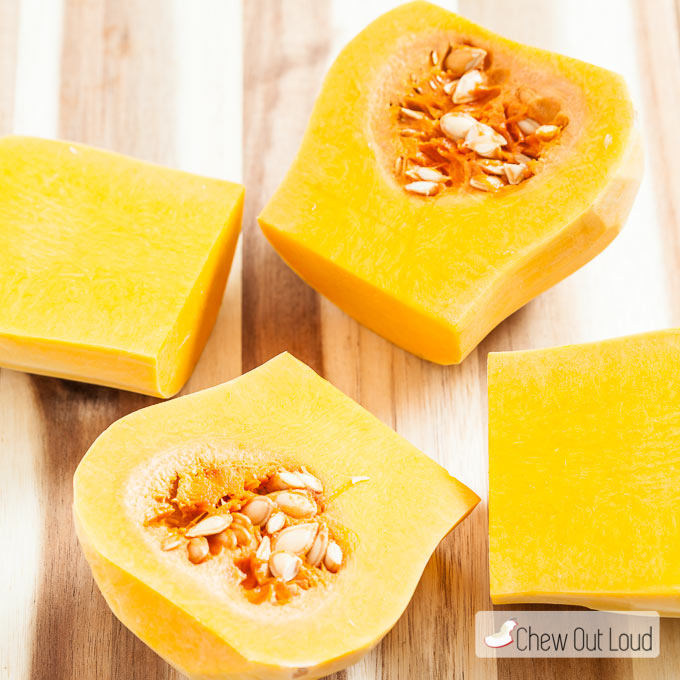 The Best Tools for Peeling and Cutting Butternut Squash
Peeing and cutting fresh butternut squash isn't as intimidating as it may seem when one's first eyeing the pallets of whole squash in the store.
First, it helps to know how to choose your butternut squash, whether you buy it at a grocery store or farmer's market. Size and shape does make a difference.
Next, arm yourself with the best tools. Namely, an excellent peeler, a super sharp and heavy duty knife, and a solid cutting board. My kitchen is home to more types of peelers than I care to admit, and though I use all of them for various tasks, I always come back to my Oxo Good Grips peeler. It just has the best no-slip grip, peels well at all angles, and has stayed sharp for a very, very long time. Plus, it's less than ten bucks.
For a super sharp knife that doesn't break the bank, I love this 8-inch chef's knife. Though I do own pricier sets of knives, I tend to reach for my aforementioned Victorinox on the regular, as it's not as heavy and handles easily, with a nice sharp blade. Bonus: it has a budget price tag that's a fraction of the cost for most high quality knives.
Lastly, reach for your solid wood cutting board, in lieu of something flimsier. A good wood board will prevent slipping and will be sturdy enough to handle the job.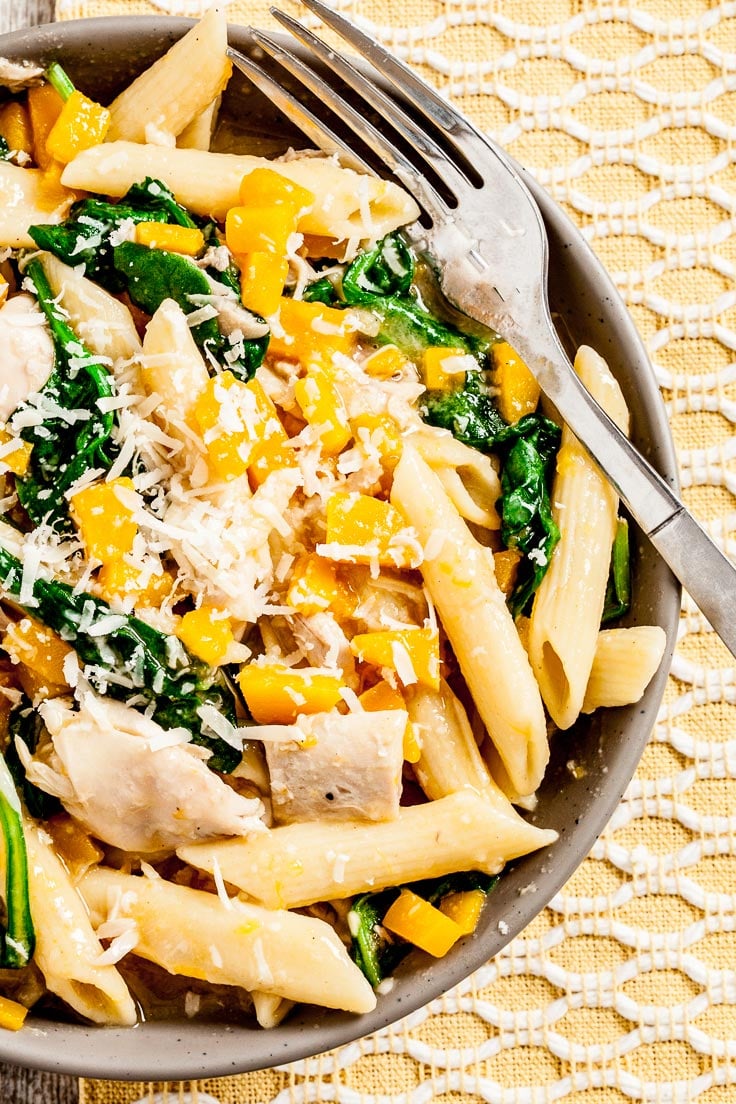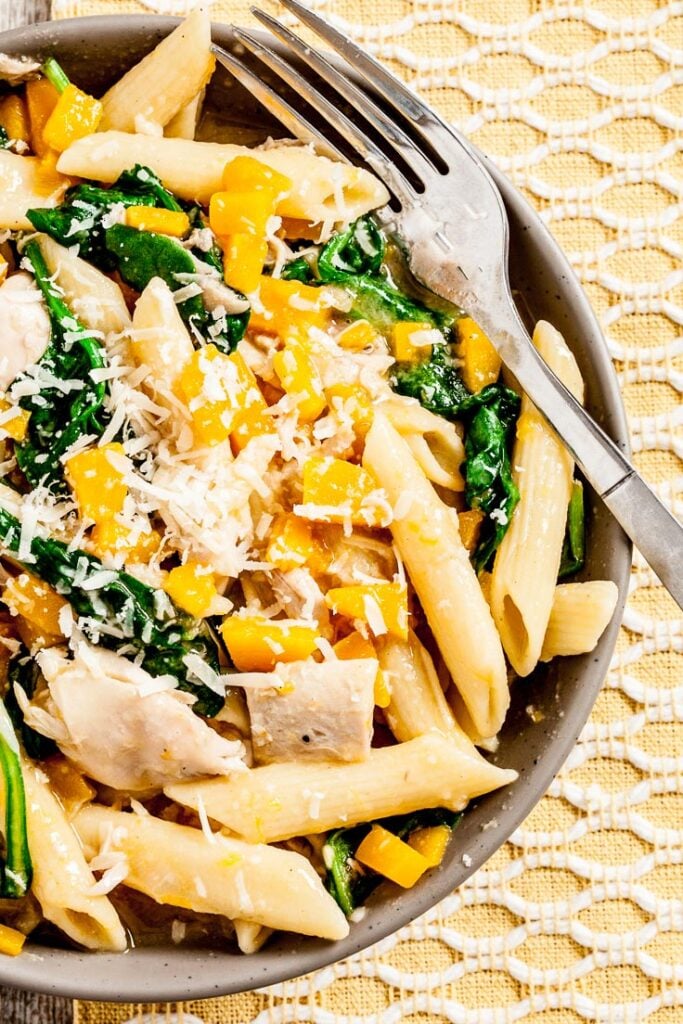 How to Cut Butternut Squash
After you've peeled the squash with your handy peeler, put your workhorse of a knife into use.
Cut off both ends of whole squash, and discard end pieces.
Divide the thinner "neck" from the base of the squash by cutting straight through.
Slice each half of the squash in half again, horizontally. At this point, your squash should be quartered.
Remove seeds and pulp from the seed cavity of the base.
Depending on the size of desired cubes, cut each quarter of squash horizontally into slices, turn the slices 45 degrees, and slice them again in the opposite direction.
Tip: for quicker cooking, dice squash into smaller cubes.
See here for freezing butternut squash and other prep-ahead tips.
---
Try this Cinnamon Roasted Butternut Squash, Too:
---
Did you make this?
Please give us a rating and comment below. We love hearing from you!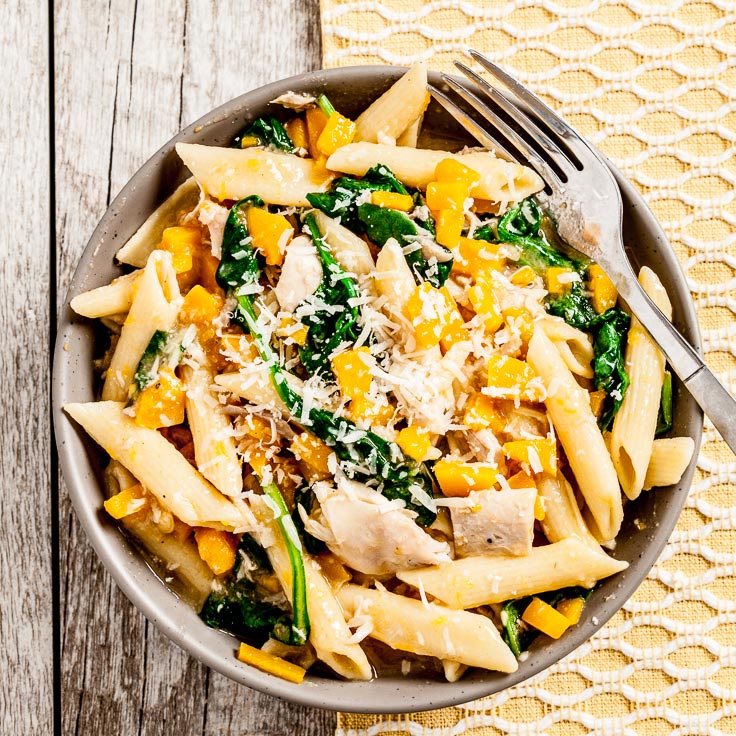 One-Pan Butternut Squash Penne
Enjoy the bounty of fall squash, with this One-Pan Butternut Squash Penne. It's light, healthy, and deliciously satisfying.
Ingredients
2

TB

olive oil

Half of an onion

,

chopped

4

cloves

garlic

,

chopped

kosher salt and freshly ground black pepper

6

cups

chicken broth,

plus more as needed

12

oz

uncooked penne pasta

3

cups

peeled/diced fresh butternut squash

2

cups

shredded cooked chicken

,

rotisserie is great

3

cups

fresh baby spinach leaves

1 ½

cup

freshly grated Parmesan cheese
Instructions
In a very large, deep skillet, heat oil until hot. Add onion, garlic, and a dash of salt and pepper. Stir over medium heat for 30 seconds. Add chicken broth, cover, and bring to boil. Immediately add pasta and lower heat to simmer. Simmer covered, about 8 minutes, stirring occasionally to keep pasta separated.

Stir in butternut squash and simmer 6 minutes longer or until both the pasta and squash are tender. If needed, add a bit more broth to keep pasta loose and "brothy." Add chicken and stir to warm through.

Turn heat off and stir in the spinach just until spinach is wilted. Add salt and pepper to taste, if needed. Stir in 1 cup of Parmesan cheese. Divide into bowls and sprinkle with remaining Parmesan for topping. Serve immediately.
Notes
This pasta is a flavorful, light, and brothy dish (not rich or heavy.) If you'd like a creamier sauce, feel free to add a splash of heavy cream.
Make it meatless by omitting chicken, or change up the flavors by swapping the chicken for Italian sausage.
If you enjoyed this recipe, please come back and give it a rating ♡
Nutrition (per serving)
Calories:
482
kcal
|
Carbohydrates:
54.7
g
|
Protein:
35
g
|
Fat:
13.6
g
|
Saturated Fat:
4.8
g
|
Cholesterol:
74.5
mg
|
Sodium:
1315.9
mg
|
Fiber:
3.8
g
|
Sugar:
5
g
---
Squash It Up:
Cinnamon Roasted Butternut Squash. So roasted-good, even kids enjoy this one.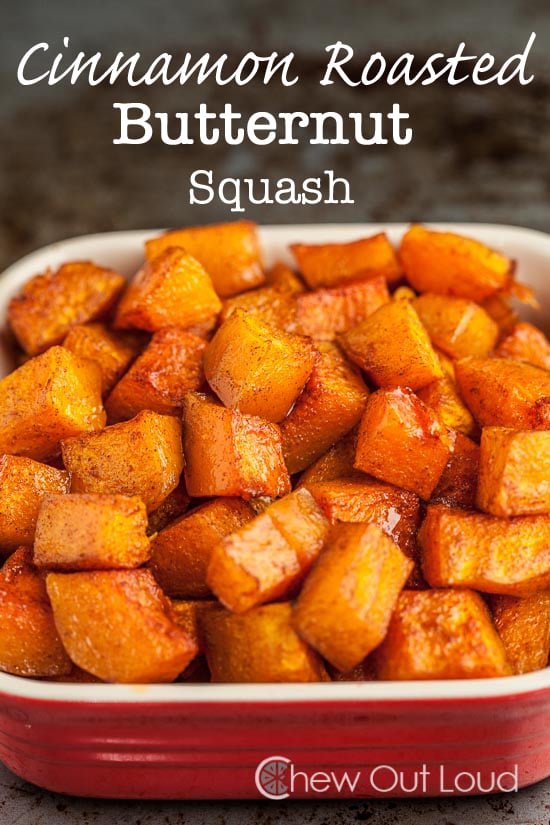 2. Curry Butternut Squash Soup. Add a bit of curry to elevate the old butternut soup into something special. Creamy, rich, healthy, delish.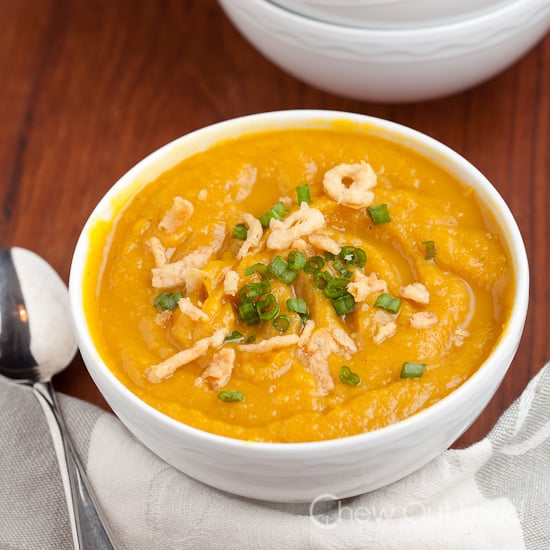 3. Chicken Fettuccini Alfredo with Zucchini. Just hands down delicious and lighter than most Alfredo recipes, all without missing a beat of flavor.