Cinnamon Roasted Butternut Squash
Cinnamon Roasted Butternut Squash is a simple yet delicious side dish to serve with any meal. Plus, they're a powerhouse of nutrition in every golden bite.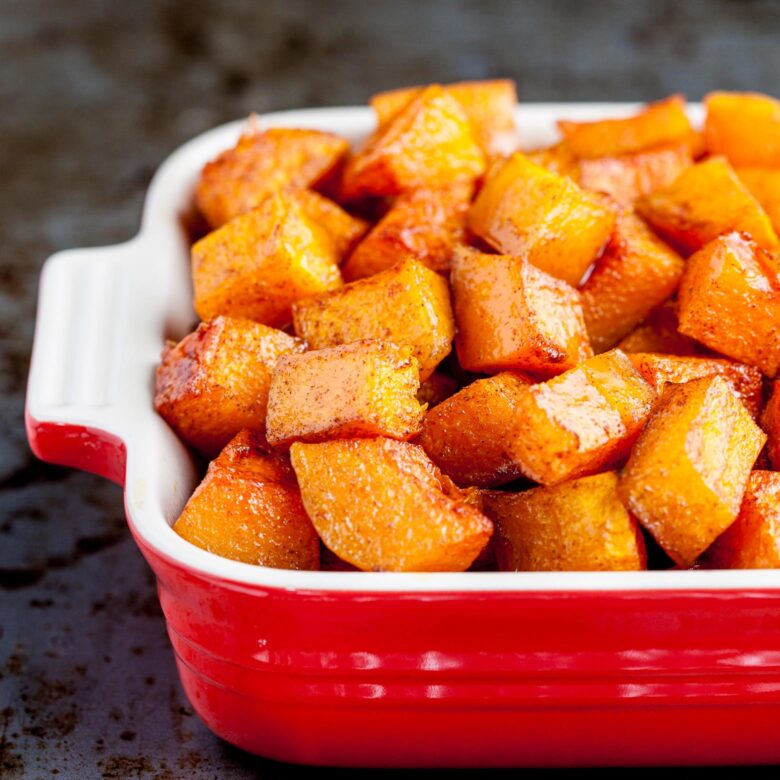 Video: Watch Us Make this Recipe
Why This Recipe Stands Out
Want to add nutritious butternut squash to the fall dinner table, while hoping the kids will embrace a side of squash? Fear not, as you're about to show even the finickiest of eaters just how delicious roasted butternut squash can be.
How to Buy and Store Butternut Squash
Butternut squash gets plenty of love in the autumn months, but they're often available all year round in the produce section of major grocery stores. Look for smooth, firm skin without soft spots or discoloration that could be indicative of mold. Large bulbed squash with elongated necks tend to have bigger seed cavities inside. Go for the butternut with a short, wide neck and compact bulb for smallest cavities and easier cutting.
Once your fresh butternut squash comes home with you, store it in a cool and dry place for up to several weeks. There's no need to refrigerate it unless your house is quite warm or you need to keep your squash fresh for a longer period of time.
Because many recipes like Butternut Squash Chili and Butternut Squash Risotto call for peeled/cubed squash, we're happy to report that you can peel, seed, and cube your fresh squash several days early. Simply place freshly cut butternut squash in an airtight container and keep chilled.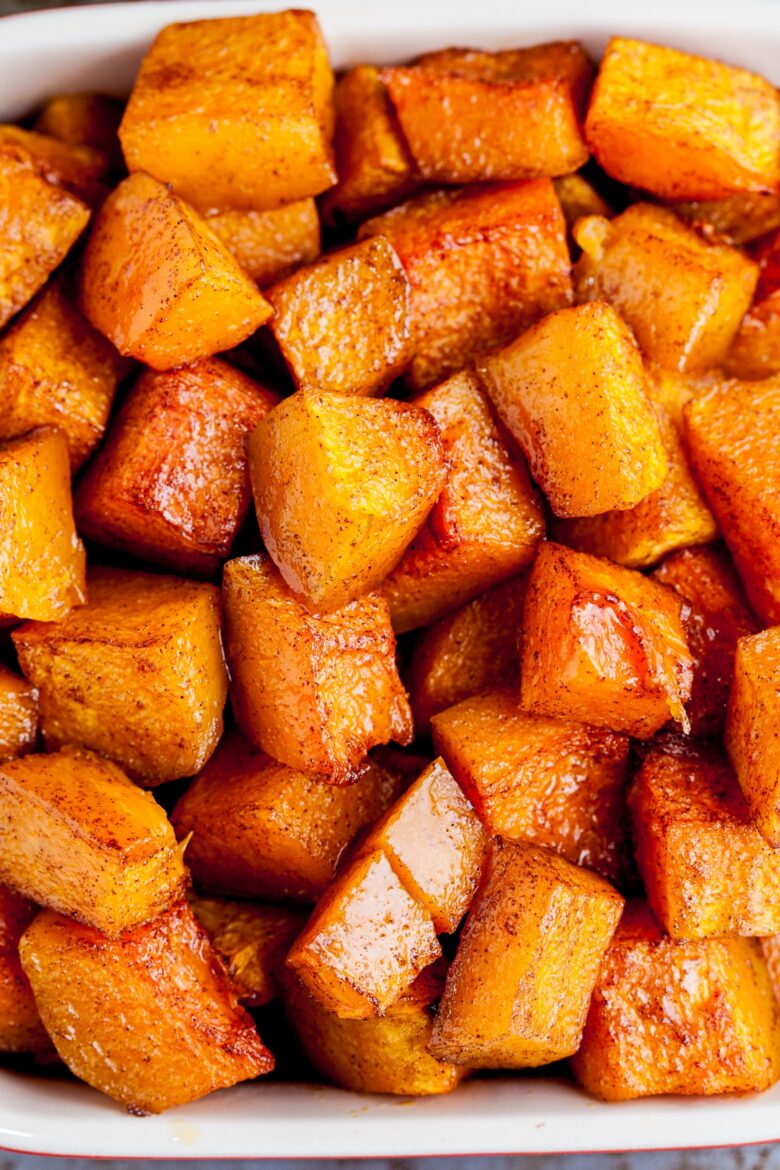 Make-Ahead Tips
There are only 5 ingredients aside from the butternut squash itself in this recipe, so it's already on the extremely easy side. However, we don't stop there in our quest to ensure no stone is left unturned when it comes to cooking efficiency. Thus, here are a few bonus tips to help you prep ahead:
Because fresh, whole butternut squash keeps extremely well, you can go ahead and buy it while you're already shopping at the store; there's no need to make a special grocery trip for it.
Feel free to peel, seed, and cube your fresh butternut squash 2-3 days prior to cooking. Just be sure to place cubes in an airtight container in fridge (note that cut squash must keep free of moisture or water.)
You can also freeze freshly cut butternut squash, sealed airtight, for up to a few weeks.
Combine seasoning ingredients (everything but the squash) a day or two ahead of time; store it covered at moderate room temperature.
---
Roasted Butternut Squash
Commonly Asked Questions
Do you need to peel the skin of butternut squash before roasting?
We do recommend peeling your fresh, whole butternut squash before seeding, cubing, and roasting. It will cut down on your cook time tremendously, as well as allow for maximum flavor infusion.
How do you know when butternut squash is cooked?
The rule of thumb is: when butternut squash is fork-tender, it is done. The roasted squash cubes should be golden brown; be sure to remove from oven immediately, to avoid burning.
Is roasted butternut squash healthy?
Butternut squash is naturally packed with fiber, potassium, and vitamin A. This recipe uses olive oil for roasting, which keeps it nutrient-dense.
What does roasted butternut squash taste like?
The flavor profile is between that of roasted sweet potatoes and pumpkin; it's naturally slightly sweet, which makes it well-loved by grownups and kids alike.
Can I make roasted butternut squash ahead of time?
For easy meal prep, we recommend peeling, seeding, and cubing the squash ahead of time, up to 3 days in advance. Store it chilled airtight until ready to season and roast.
Did you make this?
Please give us a rating and comment below. We love hearing from you!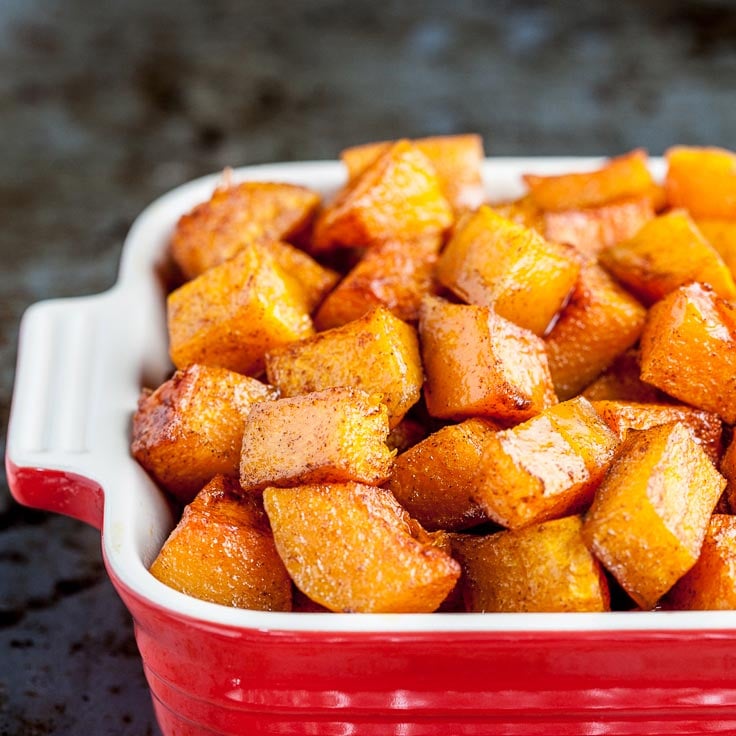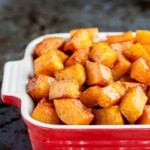 Cinnamon Roasted Butternut Squash
This Cinnamon Roasted Butternut Squash is the perfect side dish for your fall/winter meals. It's fantastic as is, or tossed together in salads, soups, or rice bowls.
Instructions
Preheat oven to 425F with rack on upper middle position. Line baking sheet with heavy duty foil.

In a large bowl, toss the squash with remaining ingredients until thoroughly coated. Transfer to foil-lined baking sheet, in a single layer, without overcrowding the pieces.

Roast about 40 minutes, rotating pan midway during baking. When edges are browned and cubes are fork-tender, remove from oven immediately. You may want to start checking squash around 35 minutes, just to ensure that they don't become overcooked.
Notes
Butternut squash can be peeled and cut up to 2 days ahead of time; keep chilled in an airtight container until ready to use.
Serve butternut squash with Wild Rice Pilaf and Instant Pot Turkey Breast for a healthy and flavorful meal.
If you enjoyed this recipe, please come back to give it a rating ♡
Nutrition (per serving)
Serving:
1
g
|
Calories:
131
kcal
|
Carbohydrates:
20
g
|
Protein:
1
g
|
Fat:
6
g
|
Saturated Fat:
1
g
|
Polyunsaturated Fat:
1
g
|
Monounsaturated Fat:
4
g
|
Sodium:
289
mg
|
Potassium:
447
mg
|
Fiber:
3
g
|
Sugar:
7
g
|
Vitamin A:
13288
IU
|
Vitamin C:
26
mg
|
Calcium:
67
mg
|
Iron:
1
mg
Sides for the Season
1. Curried Butternut Squash Soup — Creamy, smooth, and with a little kick of curry. Scrumptious.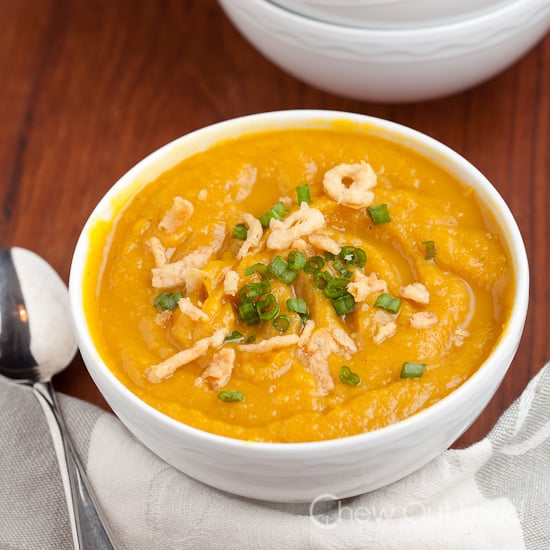 2. Pomegranate Pear Salad with Candied Walnuts — oh, and don't forget the blue. This is the best holiday salad we've ever put on the table.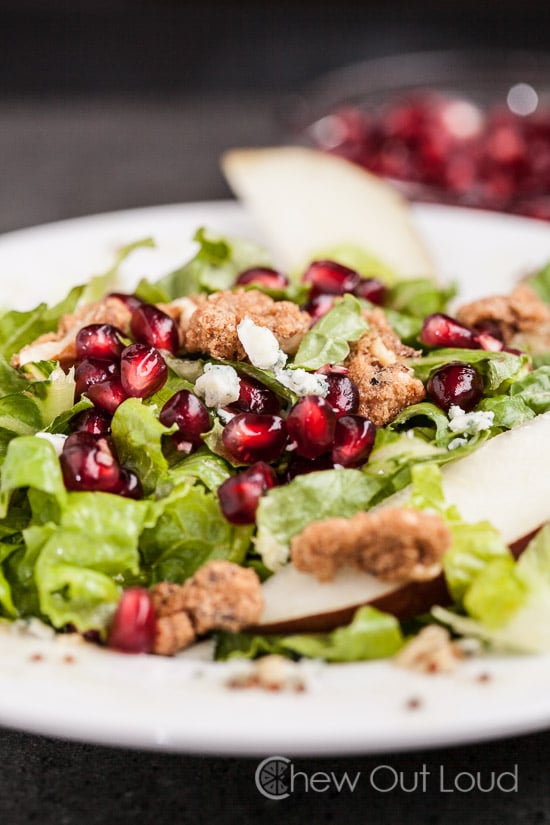 3. Apple & Sausage Stuffing — stuffings and preferences abound. But after years of stuffing testing, this one took the blue ribbon at our most recent big festive gathering. Everyone loves this so much, it's here to stay.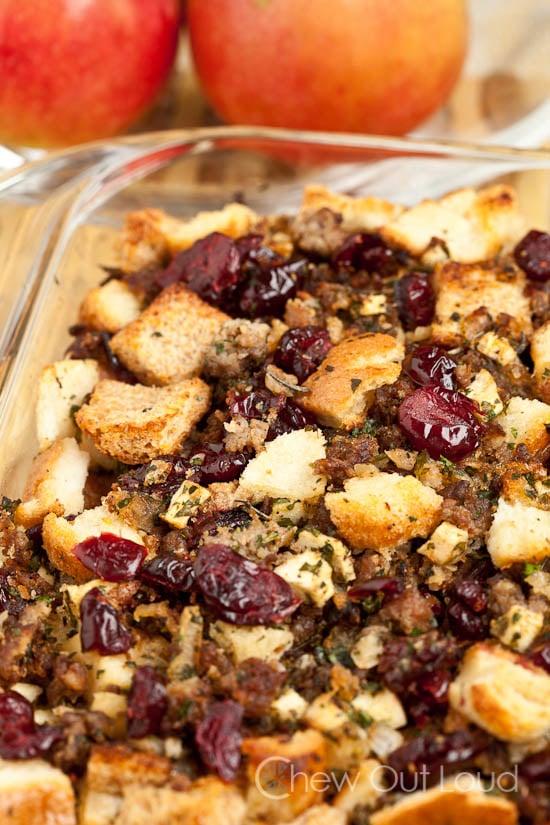 4. I'd be remiss not to bring back this ever-popular Sweet Potato Casserole with Brown Sugar Crumble. It's like dessert. On the dinner table. People load their plates full of this because it is that good.