Peanut Noodles with Sesame Ginger Sauce
By Amy Dong
Published Sep. 6, 2013
Updated Jan. 15, 2023
This peanut noodle recipe has a savory, spicy, and refreshing flavor profile. It's as easy as it is delicious. Prepare it partially or completely in advance.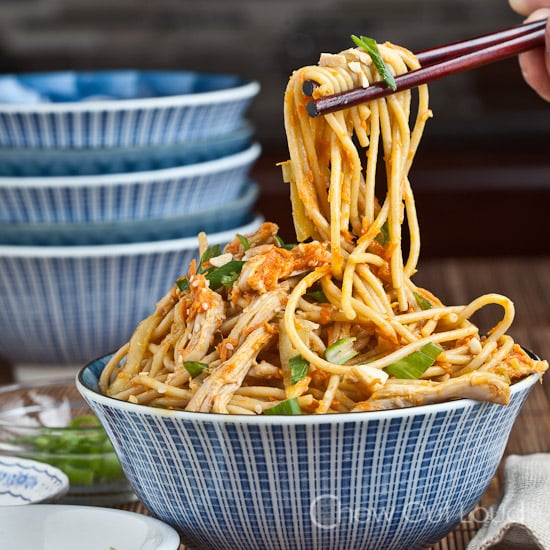 Peanut Sesame Noodles are healthy & flavorful
Here's a simple recipe for Peanut Noodles that's as easy as it is delicious. No need to break a sweat in order to bring this well-seasoned dish to the dinner table. Uncomplicated yet full of flavor.
Our whole family adores this noodle dish, which is best served at room temp. The flavors of peanut butter and Asian sesame oil make your taste buds do a happy dance. Make it vegetarian or vegan by omitting the chicken.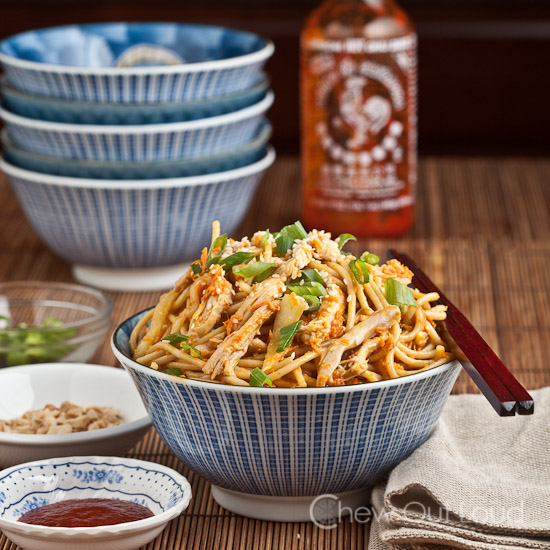 Prepare it in advance for weeknight dinners
Some days call for easy dinners like frozen pizza. Other days call for dinners that taste amazing, that you feel great about, and that are in the easy-to-prepare-ahead category. This peanut sesame noodle dish is just that.
Today was the kind of day where I couldn't be happier that I'd prepared this noodle dish ahead of time. Our youngest was still awaiting his first day of school, since preschool had a later start date than the big-kid schools do. He's missing his brothers this week. So, the baby and I packed ourselves into the car and drove downtown to have lunch with Hubby. We enjoyed a simple, clean lunch in a refreshing space. Just the three of us (like I said – very rare.)
After our unlimited salads, we took a leisurely stroll around the farmer's market. During which our boy joyfully hopped and skipped over sidewalk cracks. He then proceeded to fall asleep on the car ride home, and awoke just in time for my announcement that he and Mommy were going for a bike ride.
I felt unusually recharged by the sporadic simplicity of the day I just described. The majority of days in our current season of life are spent in a flurried rush; sometimes it's a downright rip-roaring jungle. A day of slowing down is truly invigorating.
I happily pulled out this sesame-peanut-ginger sauce that was prepared ahead of time and waiting for me in the fridge.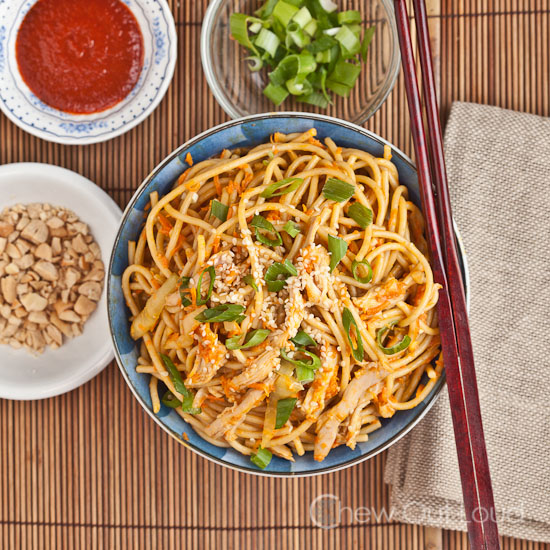 About the Sesame Oil
Be sure to use Asian sesame oil that is darker in color than regular sesame oil and highly fragrant; it tastes completely different than light colored sesame oil. It can be found in Asian aisles of most major grocery stores.
A bit of Sriracha adds a little zip, snap, and sweet tang to the noodles. There's a reason Sriracha is all the rave. If you have littles in the house who aren't fond of spicy flavors yet, you can omit it just for them.
More to cook and eat:
---
Did you make this?
Please give us a rating and comment below. We love hearing from you!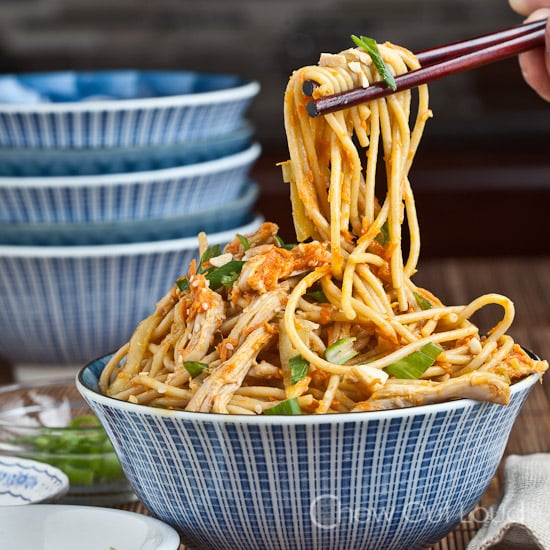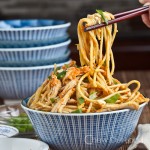 Peanut Sesame Noodles with Sriracha
This peanut sesame noodle dish is fragrant with toasted Asian sesame oil and the nutty goodness of peanut butter. Sriracha provides the perfect sweet and tangy kick. You'll keep coming back for more!
Ingredients
1

lb

uncooked spaghetti

1

cucumber; peeled

,

seeded, and cut into matchsticks

1

cup

finely shredded carrot

3

cloves

minced fresh garlic

½

cup

freshly chopped scallion

2

cups

shredded rotisserie chicken
Instructions
Sauce: Whisk together all ingredients for the Sauce in a medium bowl (except for garnishes) and set aside. *This can be done a day or two in advance.

Cook: Cook spaghetti in large pot of salted boiling water to al dente, according to package instructions. Drain and rinse in cold water. Transfer drained noodles into large serving bowl. Sprinkle 2 TB sesame oil onto cold noodles and toss to coat.

Toss: Add cucumber, garlic, carrots, scallions, and shredded chicken to the noodles. Toss well. Whisk sauce again and pour over noodle mixture; toss well to ensure even coating.

Serve: Divide into serving plates and serve at room temp. Garnish with toasted sesame seeds and/or chopped peanuts if desired.
Notes
For meal prep: The sauce can be prepared a day or two in advance and kept in airtight container in fridge. Vegetables can be sliced and chicken can be shredded a day or two ahead. Entire dish can be assembled the night before serving (we recommend tossing sliced cucumbers in right before serving.)
In lieu of rotisserie chicken, boil 2-3 chicken breasts or thighs in salted water until cooked through; shred the cooked chicken.
Nutrition (per serving)
Calories:
415
kcal
|
Carbohydrates:
49.3
g
|
Protein:
19.5
g
|
Fat:
15.8
g
|
Saturated Fat:
2.9
g
|
Cholesterol:
26.3
mg
|
Sodium:
297.5
mg
|
Fiber:
3
g
|
Sugar:
5
g