Pad See Ew (Thai Noodles)
By Amy Dong
Published Jan. 6, 2023
Updated Apr. 2, 2023
This Pad See Ew is a quick version of the popular Thai noodle dish that's easily made at home. This homemade version is much healthier and 200% delicious!
Pad See Ew (Thai Noodles)
If you love Thai noodles, you've landed in the right place. We're throwing out our best tips for easy homemade pad see ew, which is part of our Better-than-Takeout collection. Once you've learned how to make your favorite take-out dishes, you may never go back to anything other than your own healthier and just-as-gratifying versions.
Homemade pad see ew is healthier, colossal in flavor, and comes together in about 30 minutes. Bonus: you only need a trusty wok (or large, deep pan) to make it happen. All the ingredients get cooked together in just one pan, making cleanup easy.
Watch This Recipe in Action
What is Pad See Ew?
Pad see ew is a popular stir fried noodle dish served by street food vendors in Thailand. The name of the dish translates into "fried with soy sauce" and typically utilizes both light and dark soy sauces. However, if you need to keep your dish gluten-free, you can use a gluten-free soy sauce such as Tamari.
Wide rice noodles, greens, eggs, and proteins such as tofu, chicken, pork, or shrimp are often used. The best part is that this is one of the easier Thai noodle dishes to make at home, as it comes together quickly and easily, and doesn't require any hard-to-access ingredients.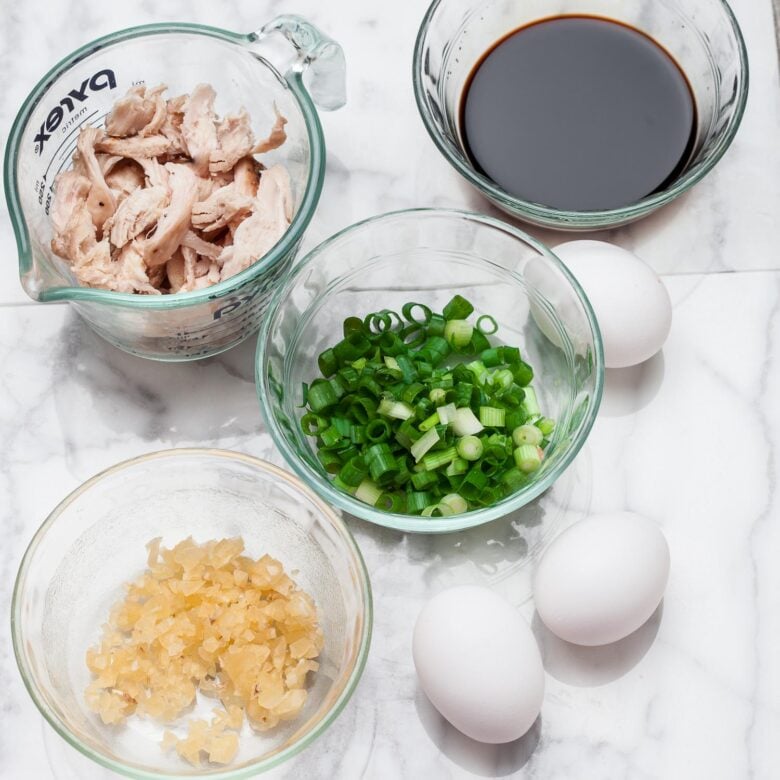 What Kind of Rice Noodles Should You use?
Asian noodle dishes often call for rice noodles in lieu of wheat-based noodles. That's good news for gluten-free eaters. It's also a deliciously fun way to switch up the pasta routine (pssst: we're enamored with soba noodle recipes as well).
As the goal for this easy homemade version of Pad See Ew is for ingredients to be readily available in most major grocery stores, use extra wide dry rice noodles or the widest cut rice noodles your store carries. Follow package instructions for pre-soaking in preparation for your stir fry.
If you're lucky enough to live near an Asian grocery store (I'm jealous) then feel free to buy fresh rice noodles. If using fresh, simply add noodles directly to the stir fry; no need to pre-soak fresh noodles.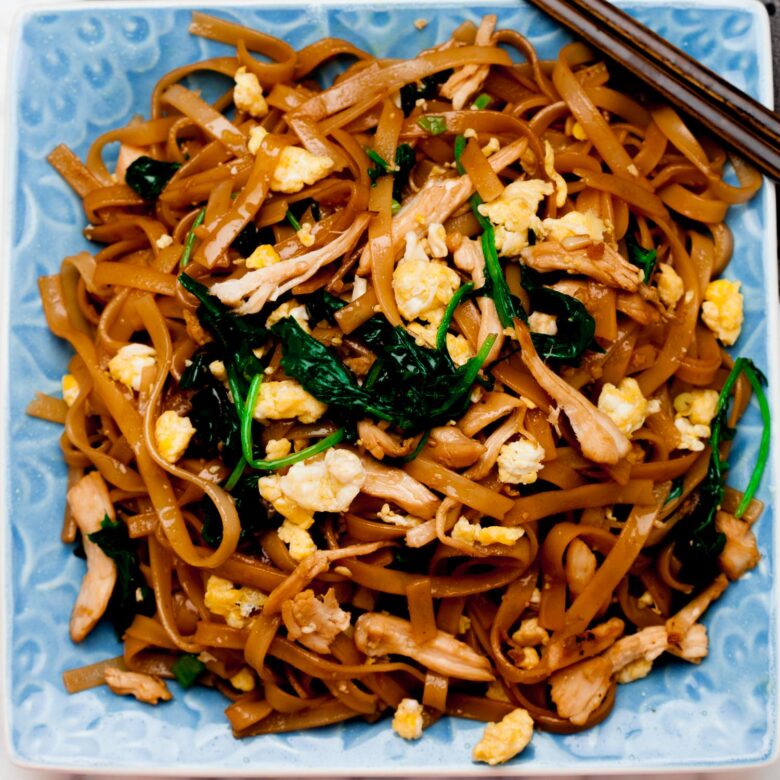 Variations and Substitutions
Try leafy Chinese broccoli, aka gai-lan, in place of spinach. Baby bok choi can be used as well. Both are found in Asian grocery stores.
If you'd like to switch up the protein, try using browned ground meat of your choice or toss in some raw shrimp.
We use honey for sweetness and flavor, but you can also use the same amount of packed brown sugar instead.
We like serving pad see ew with some Sriracha on the side. Feel free to use your favorite spicy sauce for a little kick.
We use vegetable oil, but you can use peanut oil or any other oil that has a safe high smoke point. Tip: Do not skimp on the oil, as its essential for even cooking without sticking.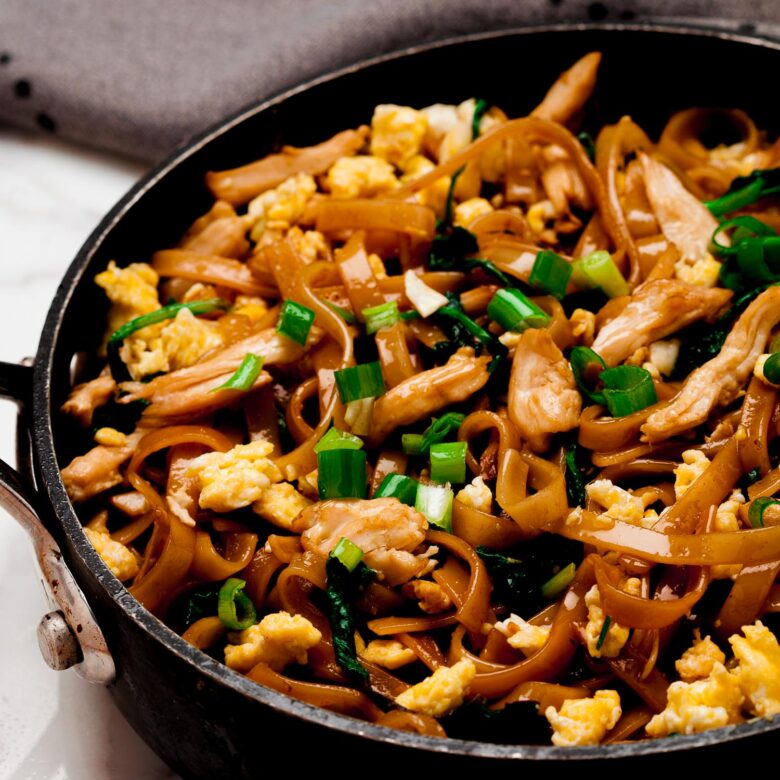 ---
Pad see Ew
Commonly Asked Questions
How do you pronounce Pad See Eew?
This popular Thai noodle dish is pronounced "pat-see-you".
What does Pad See Ew mean?
The name of this dish translates into "stir-fried with soy sauce."
What's the difference between Pad See Ew and Pad Thai?
While both noodle dishes are extremely popular, pad thai noodles are thinner rice noodles, whereas pad see ew noodles are extra wide. Pad thai is also quite a bit more involved, as it uses special ingredients such as tamarind and dried turnip. Pad see ew, on the other hand, has a simpler ingredient list and uses light/dark soy sauces for flavor.
Does Pad See Ew taste fish?
No, not at all. We don't use fish sauce in our recipe, and oyster sauce will not impart any fishy flavors.
Is Pad See Ew healthy?
Pad see ew is considered healthier than many takeout dishes, especially when homemade. As we use chicken breast, spinach or Chinese broccoli, and gluten-free rice noodles, it's packed with nutrition and has little fat, aside from the oil needed for cooking.
More to Cook and Eat
---
Did you make this?
Please give us a rating and comment below. We love hearing from you!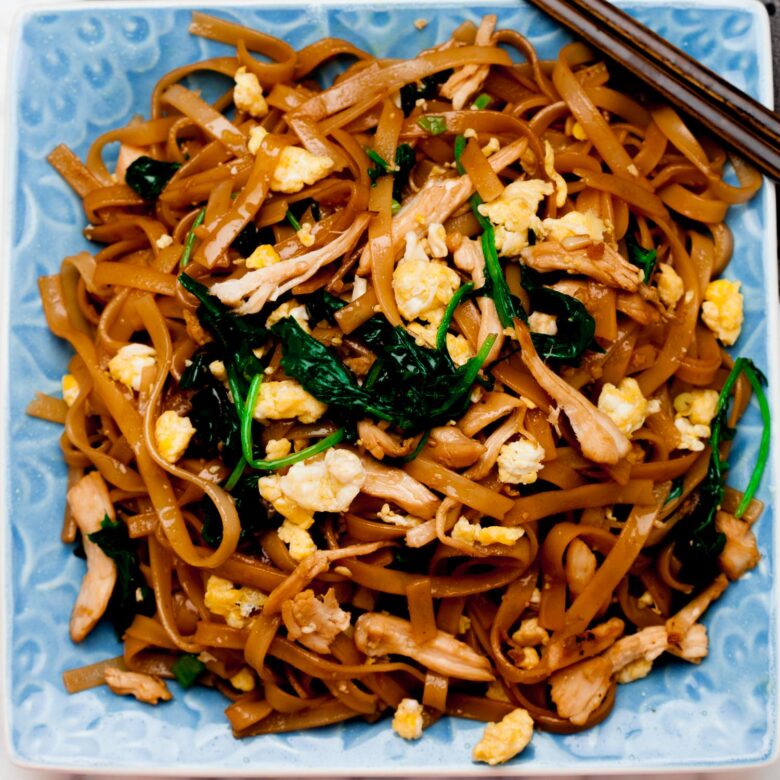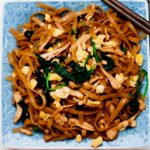 Thai Stir Fry Noodles – Pad See Ew
Now you don't have to go out for great Pad See Ew. Easily and quickly make your own mouthwatering Thai Stir Fry Noodles at home. Healthier than restaurants and 200% delicious.
Ingredients
For Stir Fry:
14

oz

Asian rice noodles,

wide-cut, dry

4

TB

vegetable oil

4

cloves

garlic

,

chopped

1

large

raw chicken breast

,

boneless/skinless, sliced into bite-size pieces and tossed with 1/2 tsp kosher salt and 1/2 tsp black pepper

2

large

eggs

1

bunch

spinach leaves

,

or Chinese broccoli leaves

Optional: Sriracha for serving

,

if you like some heat!
Instructions
In a bowl, combine all sauce ingredients and whisk to combine well. Set aside.

Soak or prepare rice noodles according to package instructions. Drain and set aside.

In a large wok, add oil over medium-high heat. Once oil is hot, add garlic and Stir constantly until fragrant, about 30 sec. Take care that garlic doesn't burn.

Add seasoned/sliced chicken and stir well, about 1 minute. Push browned chicken to edges of wok, leaving a center well. There should still be plenty of oil in the center; add 1-2 TB oil if it's dry.

Crack eggs one at a time into center well. Stir eggs in center until fully scrambled. Add drained rice noodles to the mixture. Add the sauce evenly over noodle mixture.

Using long chopsticks or tongs, very gently toss noodle mixture so it's fully coated in sauce. Add spinach leaves and stir just to wilt. Remove from heat immediately, and serve while hot. Serve with Sriracha on the side, if desired.
Notes
If you need it to be gluten-free, use Tamari sauce instead of soy sauces (note that Tamari sauce has a lighter flavor profile than dark soy sauce.)
If you'd like more of a browned or "burnt" edge to your noodles: remove chicken/egg mixture from wok after cooking them. Heat 1/4 cup oil in pan until it's smoking, and add in the noodles with sauce. Stir a few times to coat noodles, and let noodles brown in the hot oil for 1-2 minutes until edges are a bit burnt/caramelized. Then add back chicken/egg mixture and spinach to warm through.
This dish is best eaten right after it's cooked. Generally speaking, dishes like Pad Thai and Pad See Ew made with rice noodles are best when fresh.
As this recipe is intended for an easy homemade Pad See Ew, the ingredients chosen are available at major grocery stores or online. You can also use 28 oz fresh extra-wide rice noodles found at Asian grocery stores, which can be added directly to the stir fry until cooked through.
If you enjoyed this recipe, please come back and give it a rating ♡
Nutrition (per serving)
Serving:
1
g
|
Calories:
372
kcal
|
Carbohydrates:
10
g
|
Protein:
5
g
|
Fat:
2
g
|
Saturated Fat:
1
g
|
Polyunsaturated Fat:
0.5
g
|
Monounsaturated Fat:
1
g
|
Trans Fat:
0.01
g
|
Cholesterol:
62
mg
|
Sodium:
536
mg
|
Potassium:
387
mg
|
Fiber:
2
g
|
Sugar:
4
g
|
Vitamin A:
5904
IU
|
Vitamin C:
18
mg
|
Calcium:
77
mg
|
Iron:
2
mg