Roasted Tomato Basil Soup Recipe
By Amy Dong
Published Oct. 3, 2017
Updated Aug. 17, 2022
This Roasted Tomato Basil Soup is chock full of nutrients and big, bold flavors. It's both skinny AND rich at the same time. Perfect with crusty bread and a sprinkle of fresh Parmesan.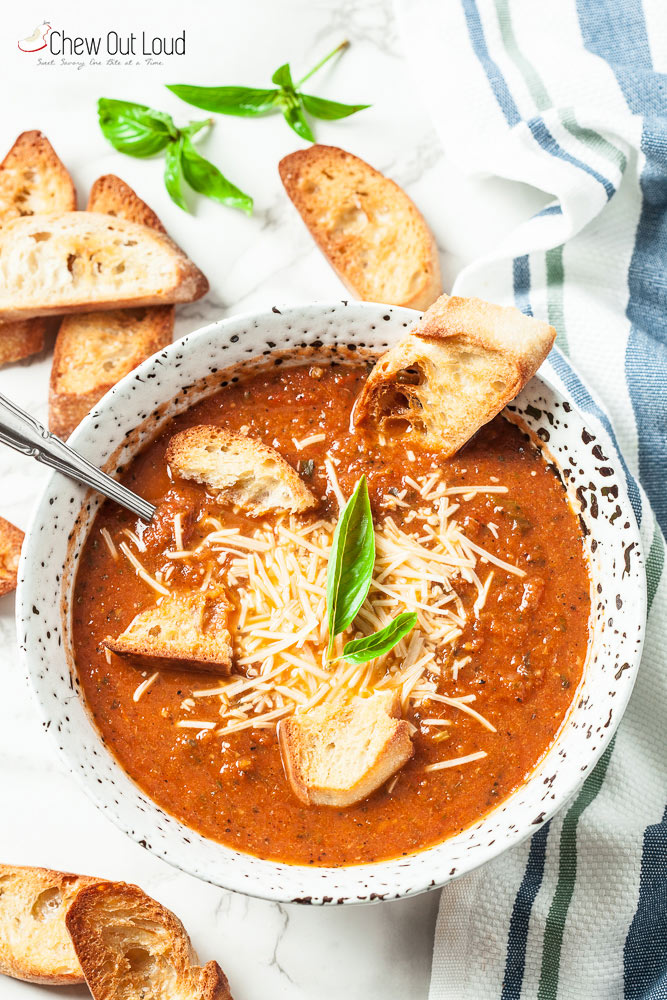 We've said our farewells to all the crops. Goodbye, Sweet Corn from our favorite local farm.
Adiós, Hearty Basil Plants from our little herb garden.
Sayonara, Sweet 100 Cherry Tomatoes that sprouted in our garden out of nowhere.
I'll miss the Hulk-sized zucchini that transformed into glorious One-Bowl Zucchini Carrot Bread. And lush homegrown kale that evolves beautifully into Kale, Brussels, and Cranberry Salad.
I'm just about to pluck off what remains of our heady, aromatic basil leaves and dry them for the fall-winter seasons. By the way, if you have any clue at all how to successfully grow basil in a pot indoors, please tell me now. All past indoor basil attempts have been grand ol' disappointments. Calling all winter herb experts: help me out.
If the boys and the bulldog haven't already munched the last of the cherry tomatoes, I may toss them into one final Bruschetta (Tomato Basil) Pasta before the yard is cleared out for the season.
So. Here's one of our favorite ways to use up all the remaining tomatoes and basil. It's fresh, cozy, and ultra comforting.
Hello to the most tantalizing Roasted Tomato Basil Soup ever slurped…
We aren't shy with our garlic here. You'll use 10 fresh garlic cloves. But really, who's counting? Feel free to use even more if you're a garlic fiend like I am.
Loads of fresh tomatoes combine with fire-roasted canned tomatoes to provide that ultra robust flavor. Pack in the basil, just pack it in. It might seem like 3 cups is a lot because it is. But trust us on this one; that basil melts magically into the soup. It's key, so don't skimp on the basil.
Once your lovely tomatoes are nice and roasty, it's a dump-and-simmer deal. Roughly 30 minutes later, you'll have a mouthwatering soup that's ready to be blended into the smooth, velvety pot of goodness it was destined to be.
Here's where you'll want an immersion hand blender; it eliminates the need to fuss with transferring soup to a blender or straining hot liquid. Pretty much makes your soup-life so. much. easier. Plus, it's weirdly fun to use.
But maybe don't wear your favorite white shirt while making [or eating] this soup. Just a suggestion.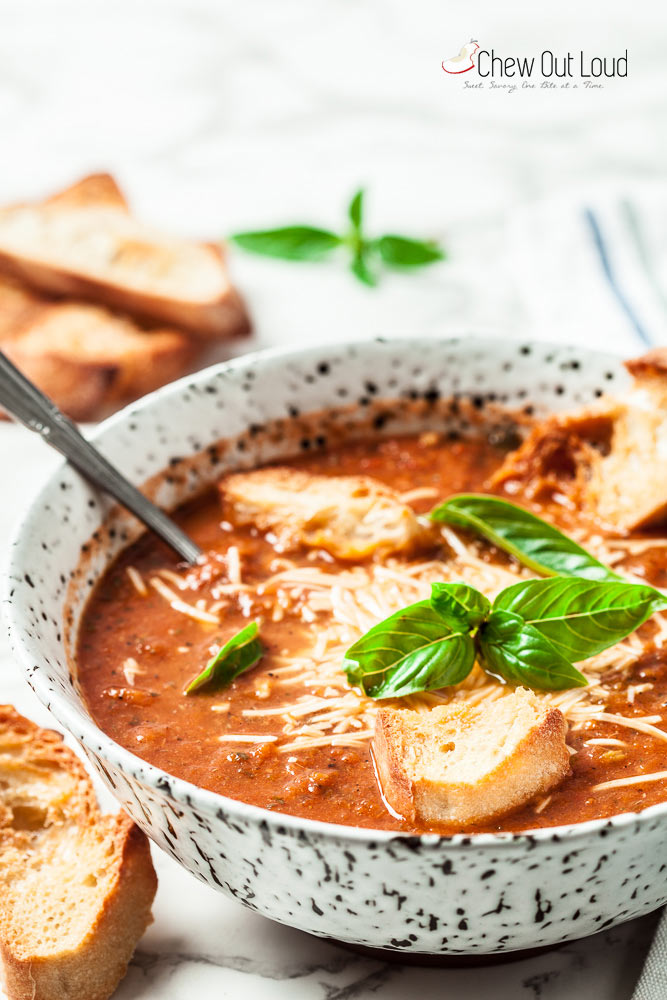 This roasted tomato basil soup is both skinny and rich. It's comforting and cozy. Healthy yet flavorful.
Imagine all that in a single bowl.
And yes to lots of crusty bread and generous shavings of fresh parmesan 😇
You might like this, too:
Did you make this?
Please give us a rating and comment below. We love hearing from you!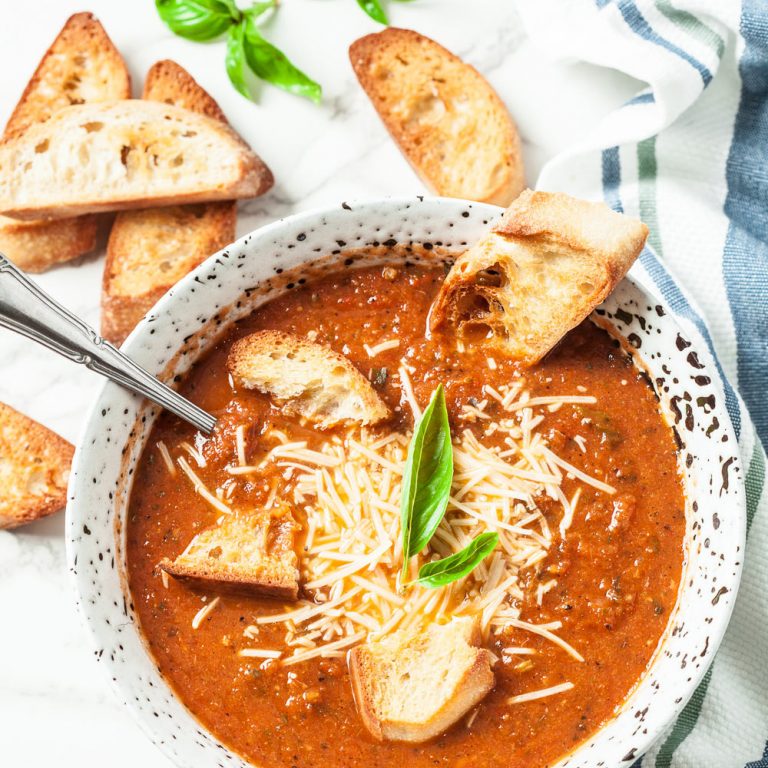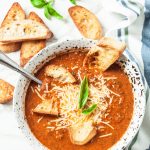 Roasted Tomato Basil Soup Recipe
This Roasted Tomato Basil Soup is chock full of nutrients and big, bold flavors. It's both skinny yet rich at the same time. Perfect with crusty bread and a sprinkle of fresh Parmesan.
Ingredients
2 ½

lbs

fresh,

ripe tomatoes (any variety), sliced in half

1

TB

kosher salt,

plus more to taste

1

tsp

freshly ground black pepper,

plus more to taste

2

medium

onions

,

chopped

10

garlic cloves

,

chopped

2

14.5 oz each cans fire roasted tomatoes with juicees

3

cups

fresh basil leaves

,

lightly packed

2

tsp

dried oregano

6

cups

good quality chicken stock

,

vegetable stock, if you want it vegan

1-2

tsp

sugar,

depending on sweetness of tomatoes
Instructions
Preheat oven to 400F with rack on middle position. In a large rimmed sheet pan, combine the tomatoes, 2 TB olive oil, salt, and pepper. Roast in an even layer for 45-60 min or until edges are nicely roasted.

While tomatoes are roasting: In a heavy large pot, add 2 TB olive oil and heat over medium until hot. Add onions and sauté 1 min. Add garlic and sauté another minute. Add the fire-roasted tomatoes with juices, stirring to combine. Add fresh basil, oregano, and chicken or vegetable stock. Stir to combine well.

Add your oven roasted tomatoes (and any liquid that may be on baking sheet) Bring to a low boil. Low boil for 30 minutes uncovered. Use an immersion hand blender to puree soup until it's the texture you desire. Add 1-2 tsp sugar to taste, if needed. Add additional kosher salt and/or black pepper as needed.

Serving ideas: freshly shaved parmesan cheese, additional leaves of basil, and crusty bread.
Nutrition (per serving)
Calories:
199
kcal
|
Carbohydrates:
22
g
|
Protein:
7
g
|
Fat:
10
g
|
Saturated Fat:
2
g
|
Polyunsaturated Fat:
1
g
|
Monounsaturated Fat:
6
g
|
Cholesterol:
5
mg
|
Sodium:
1298
mg
|
Potassium:
617
mg
|
Fiber:
3
g
|
Sugar:
11
g
|
Vitamin A:
2083
IU
|
Vitamin C:
26
mg
|
Calcium:
89
mg
|
Iron:
2
mg
Kitchen Stuff We Love:
Cozy Fall Soups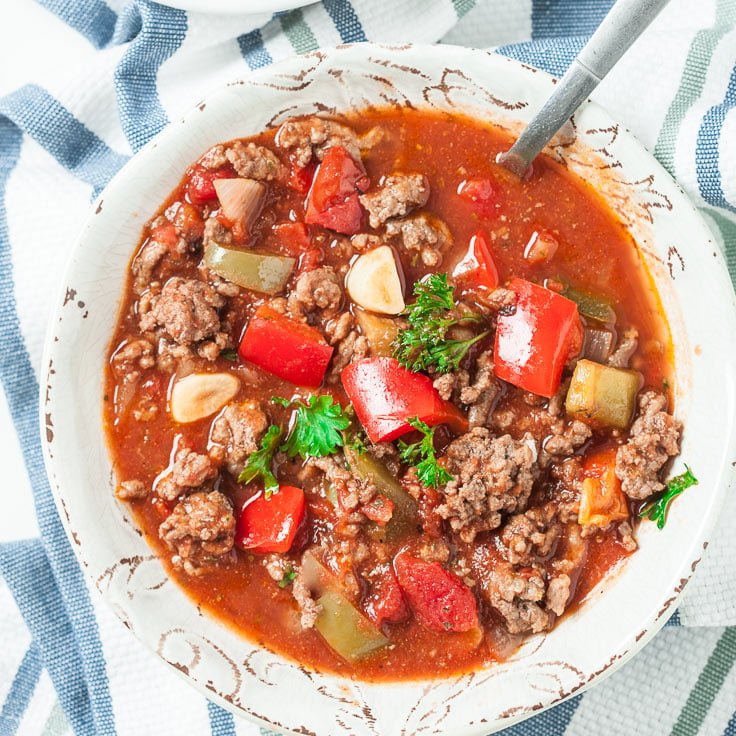 2. 30-Minute Nacho Chicken Soup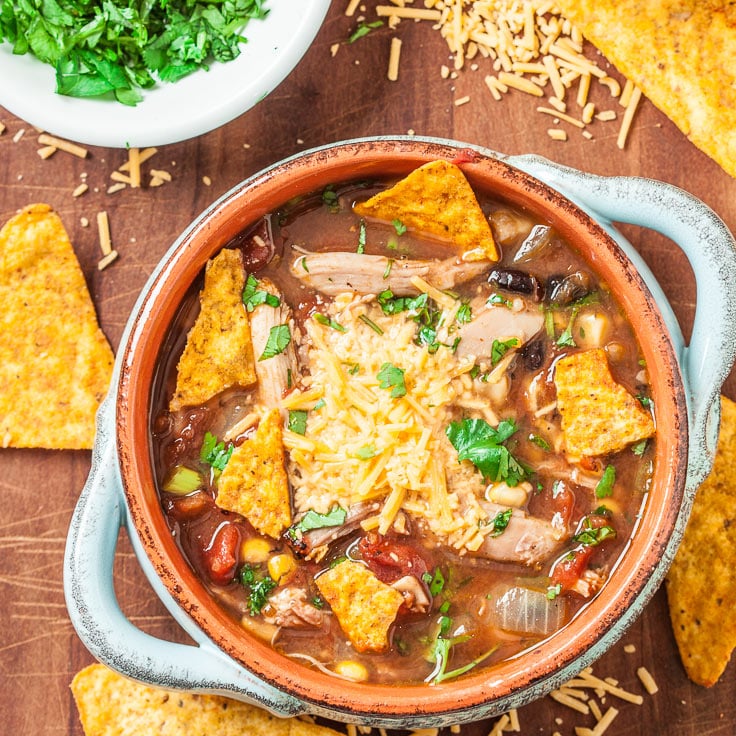 3. Creamy Chicken Wild Rice Soup (GF)