Easy Homemade Brownies (8 Pantry Ingredients)
These easy homemade brownies yield supremely chewy, fudgey, perfectly balanced brownies. Using only 8 simple pantry ingredients and a hand whisk, you'll learn how to make brownies that are better than the box.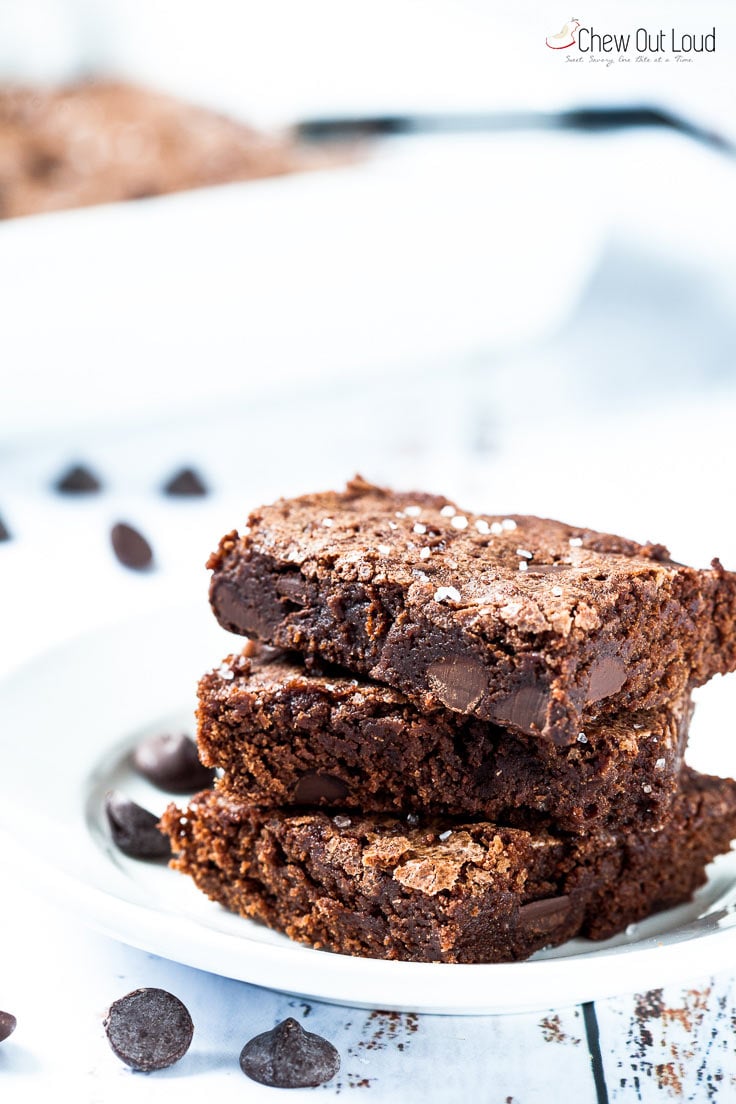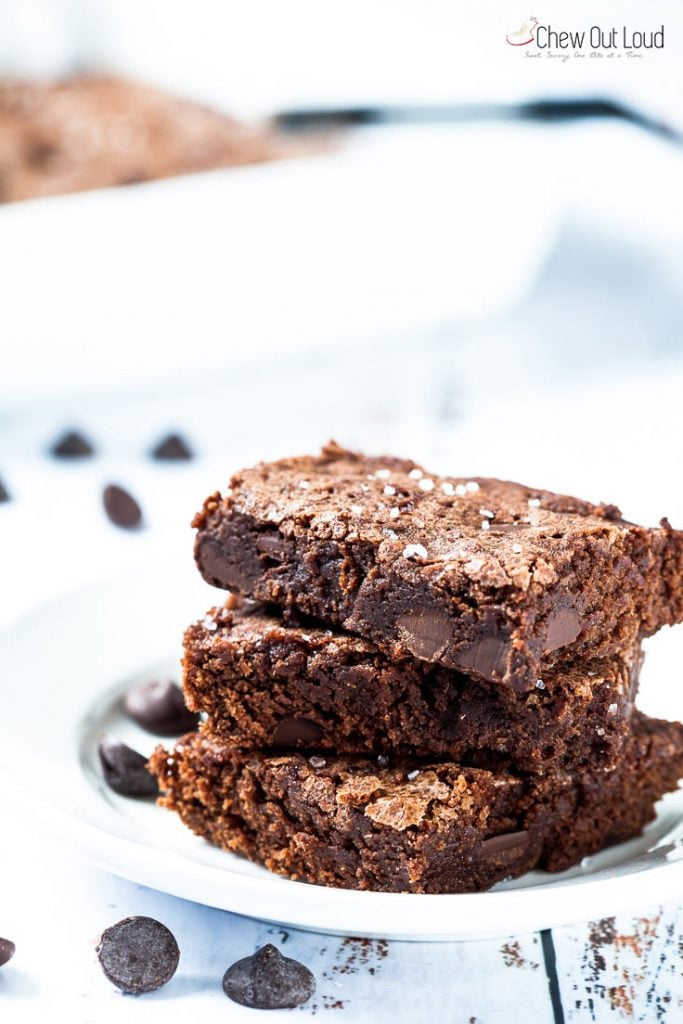 Easy, fudgey Homemade Brownies
One [very big] bite of luscious, fudgey brownies was all it took for me to know these salted dark chocolate brownies are going straight into my keeper-files.
Here's why these chewy, fudgey chocolate brownies disappeared in a nanosecond:
Chewy and fudgey. No other explanation needed there.
These brownies are über chocolatey and rich, which is the only reason anyone eats brownies
These brownies are crazy-easy to make. They might be the easiest homemade brownies I've ever made. No special tools needed, no mixer, no stovetop mess.
The bit of coarse salt is a stunning balance for the sweetness. Not overly sweet — simply perfect.
You only need 8 simple pantry ingredients.
Your people will really really like you for making these brownies.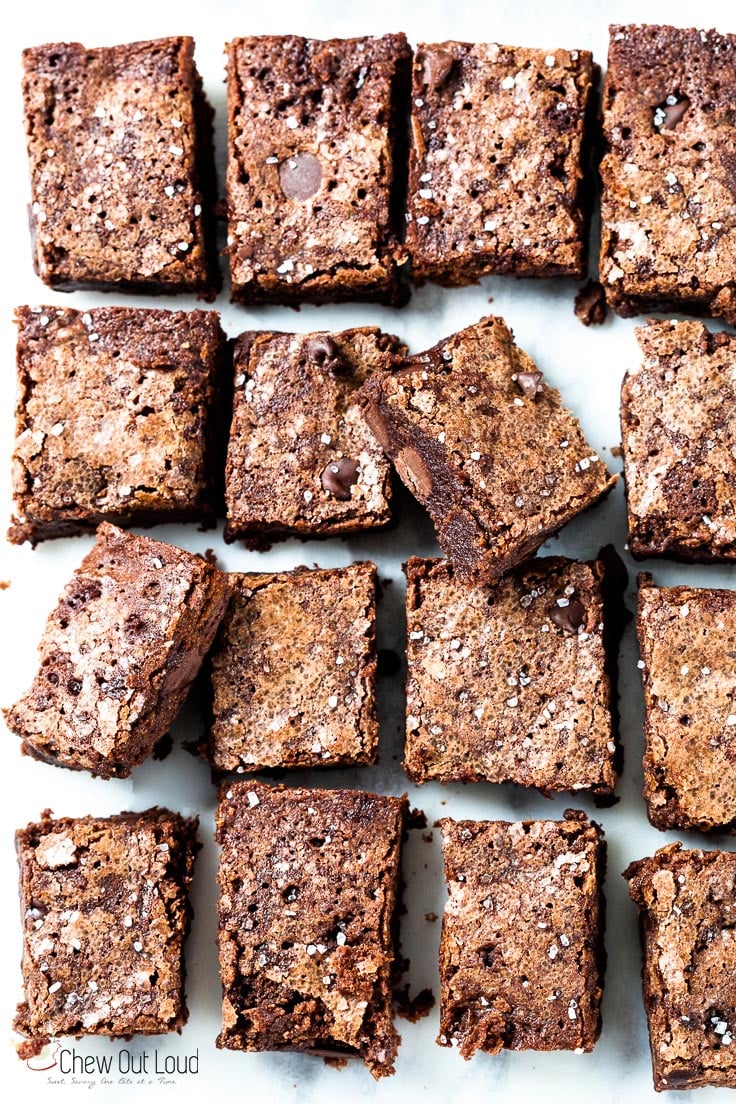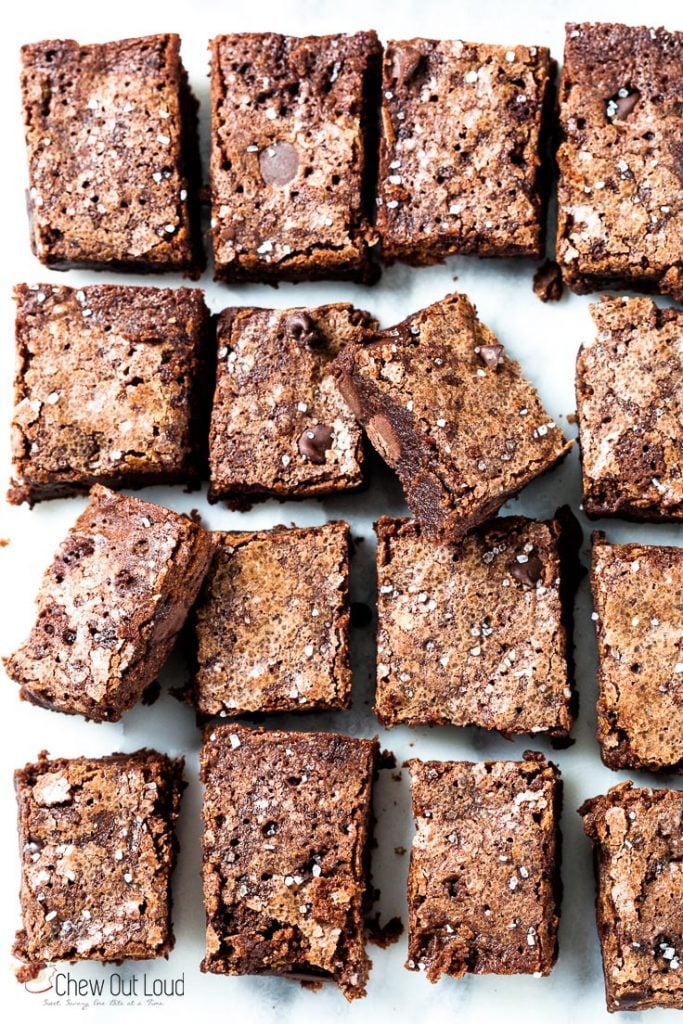 Why These are the Easiest Brownies
There are only 8 ingredients or less in this luscious brownie batter
All ingredients are basic pantry staples; nothing hard to find
The butter is melted simply by microwaving; no stovetop or pans needed
The only tool you need is a hand whisk; no stand mixer, electric hand held mixer, or anything that needs to be plugged in
Variations and Ingredient Substitutions
Yes, these are technically dark chocolate brownies using bittersweet or semi-sweet chocolate chips, but feel free to use your favorite combination of chocolate chips.
Feel free to add chopped pecans or walnuts, if you like a bit of texture
If you'd like to use salted butter, omit the 1/4 tsp kosher salt.
Again, these brownies were designed with flaky sea salt as a topping, but feel free to forgo the sprinkling of salt for a few dashes of powdered sugar.

Plan Ahead/Make Ahead
Dry mixture can be prepared ahead of time and used when ready to make the batter. Simply combine the flour, cocoa powder, and kosher salt in a bowl with lid. Keep at room temperature for up to 2-3 weeks.
Melt butter earlier in the day and let sit at room temperature so you can eliminate wait time when you're ready to mix the batter.
Take eggs out to rest at room temperature ahead of time, as they need to be room temp in order to mix correctly.
Brownies can be baked the day before, let cool to room temperature, and covered until ready to slice the next day.
Other Treats to Bake and Eat:
Try this 4-Ingredient Homemade Salted Caramel, too:
Did you make this?
Please give us a rating and comment below. We love hearing from you!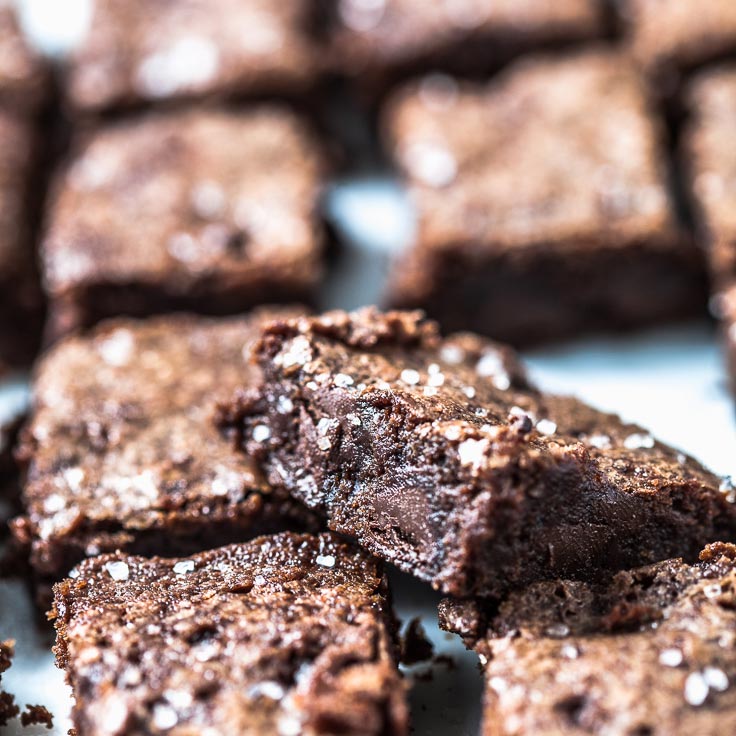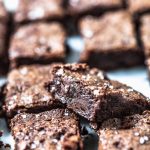 Easy Brownies Recipe
This super easy Brownies Recipe yields a supremely chewy, fudgey, perfectly balanced pan of brownies. Dark chocolate and coarse salt make them taste like a restaurant indulgence, but you only need a handful of simple ingredients.
Instructions
Preheat oven to 350F, with rack on lower middle position. Generously spray an 8-inch baking dish with nonstick cooking spray. Set aside.

In a bowl, whisk together flour, cocoa powder, and kosher salt. Set aside.

In a microwavable bowl, melt butter in microwave in 20 second increments until just melted. Whisk in the sugar and vanilla, stirring to combine well. Whisk in eggs, stirring until fully incorporated and smooth.

Use rubber spatula to fold flour mixture with butter mixture until just a few streaks of dry ingredients remain. Gently fold in the chocolate chips. Transfer batter evenly into greased baking dish, ensuring edges are filled evenly. Bake 24-28 minutes or just until toothpick inserted in center comes out with a few tender crumbs attached. Do not over-bake.

Remove pan from oven and immediately sprinkle a light layer of turbinado sugar evenly on top followed by light sprinkle of flaky sea salt evenly distributed on top, if desired. Let cool completely in pan before cutting into squares. Serve at moderate room temp.
Notes
If using powdered sugar on top, wait until brownies are completely cool first.
Use bittersweet or dark chocolate chips for dark chocolate brownies.
Add chopped walnuts or pecans, if you like.
If you enjoyed this recipe, please come back and give it a rating ♡
Nutrition (per serving)
Calories:
201
kcal
|
Carbohydrates:
24
g
|
Protein:
2.8
g
|
Fat:
11.5
g
|
Saturated Fat:
6.9
g
|
Cholesterol:
51.3
mg
|
Sodium:
39.5
mg
|
Fiber:
1.5
g
|
Sugar:
18
g