Fudgy Brownies
You're about to be treated to the absolute BEST brownies you can sink your teeth into. They easily blow all boxed competition out of the water. Once you try these, you'll never look back.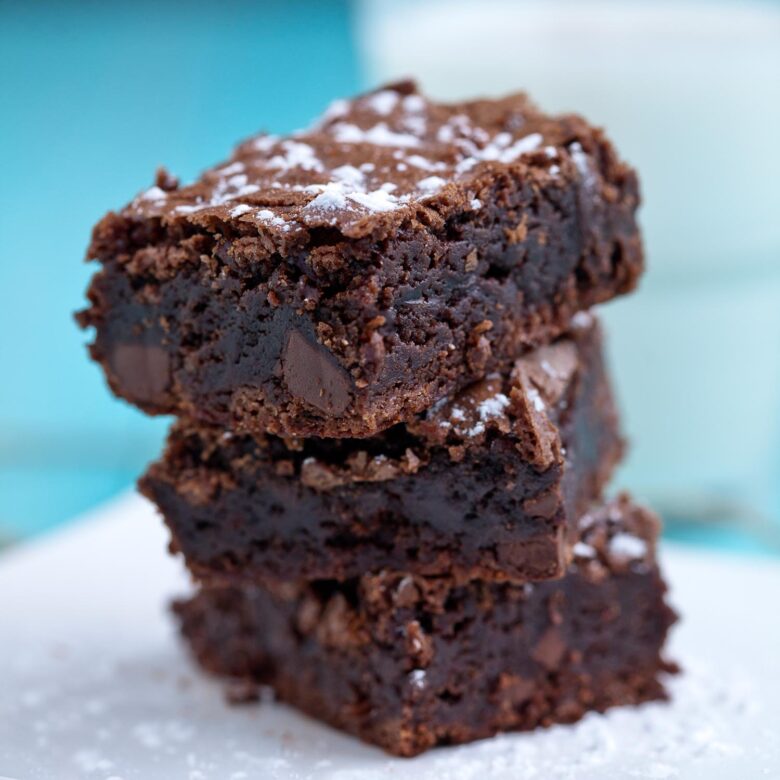 Fudgy Brownies
I know it's hard to beat the ease of boxed brownie mixes. I used to be a die hard Ghriradelli fan, and if a sister makes me a plate of them, I won't turn them down.
Some may hail Betty C. or Duncan H. as their brownie heroes. This is a judgment-free zone, and all brownie eaters deserve their chocolate fix. There's a time and place for all walks of brownies, but today we're spotlighting the most chewy, fudgy, chocolatey brownies.
The Test: These homemade brownies completely outshine our favorite box mixes. To prove it, we did a side by side comparison brownie bake-off. For a big neighborhood party, we made various batches of brownies. These brownies went up against popular boxed mixes, including my old favorite Ghirardelli's brownie mix.
The Verdict: all of us were amazed by how clearly these homemade brownies stood out. They have such a rich, complex, chocolate flavor. A perfectly thin crisp top. A chewy moistness that can't be beat. It honestly wasn't even a contest.
What YOu'll Love About These
Fudgy Brownies
There's triple chocolate goodness in these brownies, which means all chocolate lovers will rejoice.
These brownies keep well at room temperature.
They're chewy, fudgy, and moist – never dry.
You'll get that thin top layer of crackly exterior.
There is zero artificial anything in these brownies, and you can taste the difference.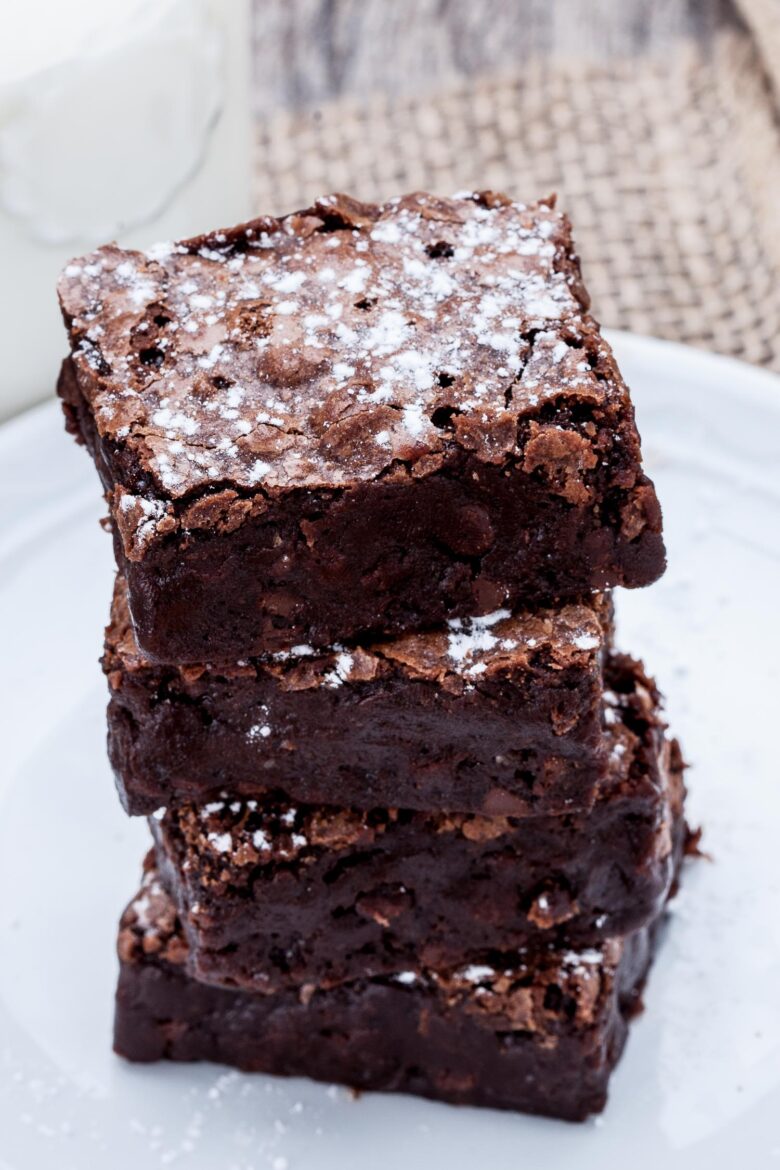 Key Ingredients for The Best Brownies
We've mentioned these brownies are a fabulous triple chocolate threat. Besides the usual flour, butter, sugar, and eggs, here are the key ingredients for the best brownies: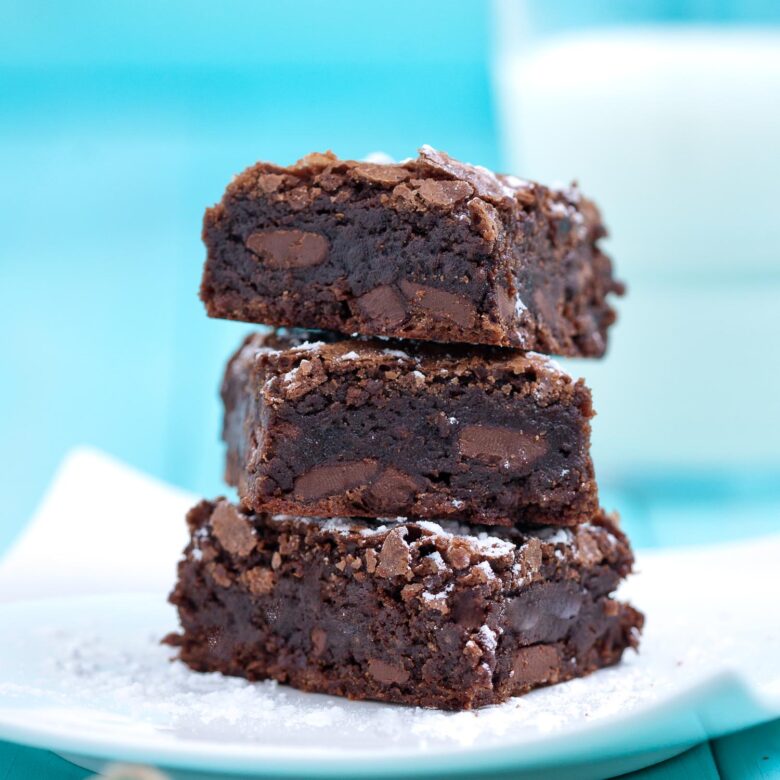 Pro Tips for the Best Brownies
Not all brownies are the same. Here are pro tips to help you make the best brownies you and your family have ever tasted.
Line pan: Line your baking pan with enough excess foil over the sides (called "overhang") so that the baked/cooled brownies will be easy to remove from pan. It's so much easier and cleaner to slice brownies that way.
Don't over-bake: When checking for doneness, insert toothpick into center of pan. When toothpick comes out with a few tender crumbs still attached (not fully clean) then your brownies are done. If your toothpick comes out completely clean, brownies are likely to be over-baked and dry.
Cool completely: Always allow brownies to cool completely at room temperature prior to slicing. This will give brownies time to fully set. It also makes the job of slicing much easier.
Homemade Brownies
Commonly Asked Questions
How do you ensure tender, moist brownies that aren't dry?
By far, the most common reason for dry brownies is over-baking. Brownies should be taken out of the oven when a toothpick inserted in the center of the pan comes out with a few tender crumbs attached – toothpick should not come out completely clean.
What makes brownies cakey vs. fudgy?
A fudge-like brownie contains a higher fat-to-flour ratio. By using the right amounts of butter and chocolate vs. flour, you'll be rewarded with fudgy brownies.
What makes brownies dry?
Brownies tend to come out dry if the flour was measured incorrectly (too much flour) and if they're over-baked. It's important to check for doneness 5 minutes prior to completed bake time to ensure they're never over-baked.
How long should I let brownies cool before cutting?
Brownies should be allowed to cool completely at room temperature prior to cutting into them. Not only will they be much easier to slice, but they actually taste better after they're cooled.
How do you cut brownies so they don't fall apart?
Always start off with a clean, sharp knife. Run knife under hot water and wipe it clean in between each slice.
More to Bake and Eat
Did you make this?
Please give us a rating and comment below. We love hearing from you!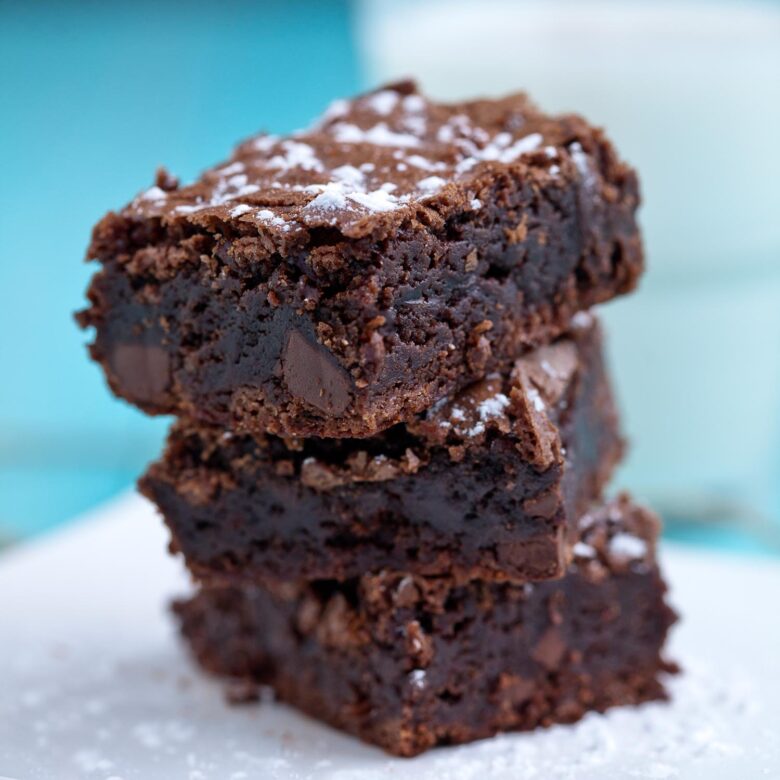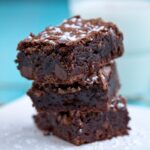 Fudgy Brownies
These fudgy brownies are tender, moist, and ultra-chocolatey. They're infinitely better than boxed brownies – you can taste the difference immediately.
Instructions
Adjust oven rack to lower middle position and preheat to 350F. Line a 9×13 baking pan with long sheets of foil so that excess foil hangs over edges of pan for easy removal later on. Push foil into corners and up sides of pan, smoothing foil against pan. Grease foil generously and set aside.

Whisk cocoa, espresso powder, and boiling water (measure out correct amount from your kettle of boiling water) together in large bowl until smooth. Add unsweetened chocolate and whisk until chocolate is melted. Whisk in oil and melted butter. Add eggs, egg yolks, and vanilla. Continue to whisk until smooth and incorporated. Whisk in sugar until thoroughly incorporated. Sprinkle salt and flour into batter and fold with rubber spatula until just combined. Fold in mini chocolate chips.

Transfer batter into prepared pan evenly. Bake for about 35-40 minutes. It's done when toothpick comes out with moist crumbs attached; should not come out clean. Do not overbake, or brownies may be dry. It will seem underbaked, but will set to fudgy consistency upon cooling.

Transfer pan to wire rack and cool for 1 1/2 hours if pan is metal; 20 minutes if pan is glass. Very gently remove brownies from pan using foil sling. Return brownies to wire rack and let cool completely. Cut brownies into squares; you may have to gently peel foil off bottoms.
Nutrition (per serving)
Serving:
1
g
|
Calories:
258
kcal
|
Carbohydrates:
40
g
|
Protein:
3
g
|
Fat:
11
g
|
Saturated Fat:
3
g
|
Polyunsaturated Fat:
4
g
|
Monounsaturated Fat:
2
g
|
Trans Fat:
0.1
g
|
Cholesterol:
38
mg
|
Sodium:
15
mg
|
Potassium:
58
mg
|
Fiber:
2
g
|
Sugar:
31
g
|
Vitamin A:
71
IU
|
Vitamin C:
0.1
mg
|
Calcium:
27
mg
|
Iron:
1
mg