These Brownie Peanut Butter Cups are easily made in a muffin tin. They're the perfect combination of chocolate + peanut butter.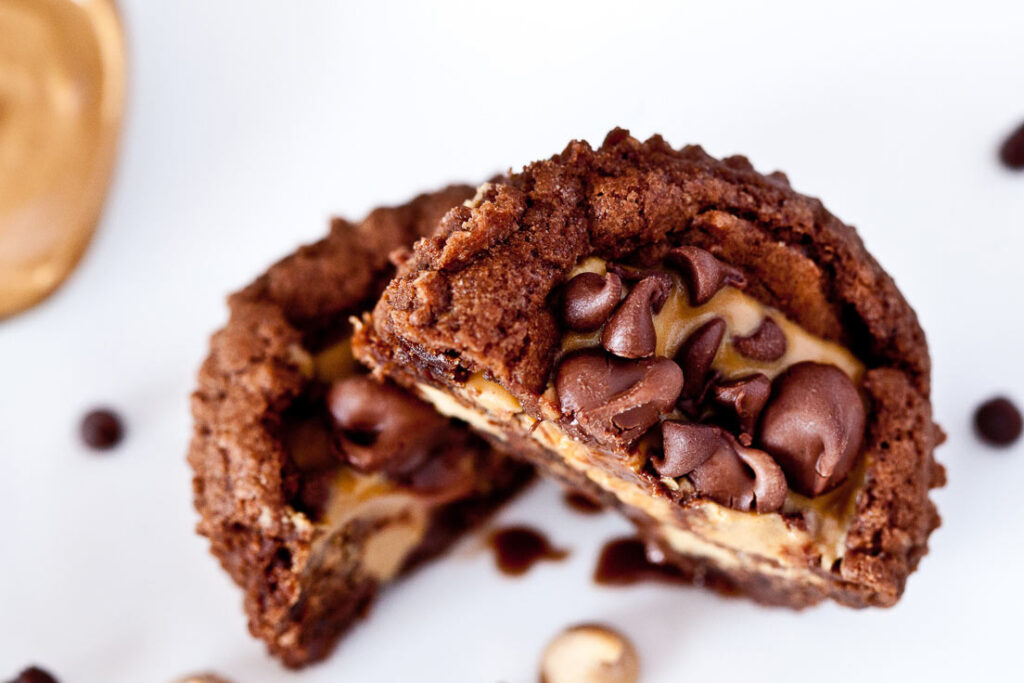 I have been searching for a home-made brownie with a twist. Don't get me wrong; Ghirardelli boxed brownies are a favorite in our dessert diet. In fact, I have a happy box waiting in my pantry now. But switching things once in awhile is fun. If you're reading this, you are probably a fan of the unparalleled chocolate + peanut butter combo. Reese's PB Cups are the one candy I cannot safely keep in my house. I sometimes just buy them during Halloween, but only for the trick or treaters.
So, I've been shopping around for a home-made brownie recipe with peanut butter involved. This is the result:
Wowzers, this was rich and creamy and gooey and… perfect partner to a glass of cold milk!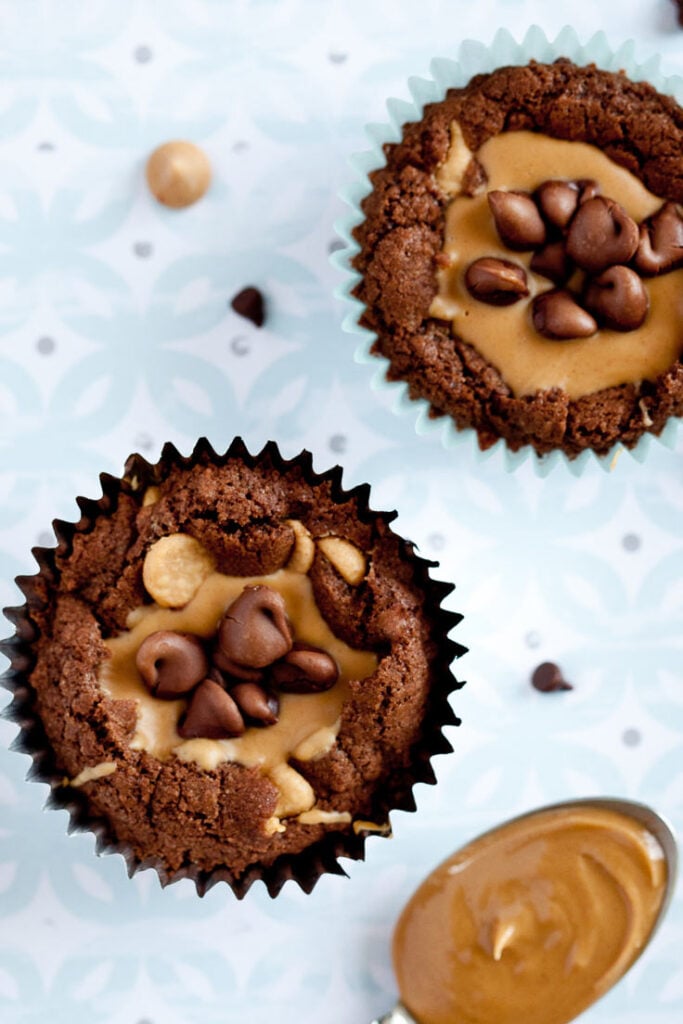 This brownie has a soft, rich interior and a moist, chewy exterior. I must say these brownies are best eaten the same day. I know it's hard to imagine eating them the day you make them, but really… if you want the most chewyness and moistness, serve them while still slightly warm. These babies will tend to get a crisper exterior the next day. Um, they might not stick around that long anyways.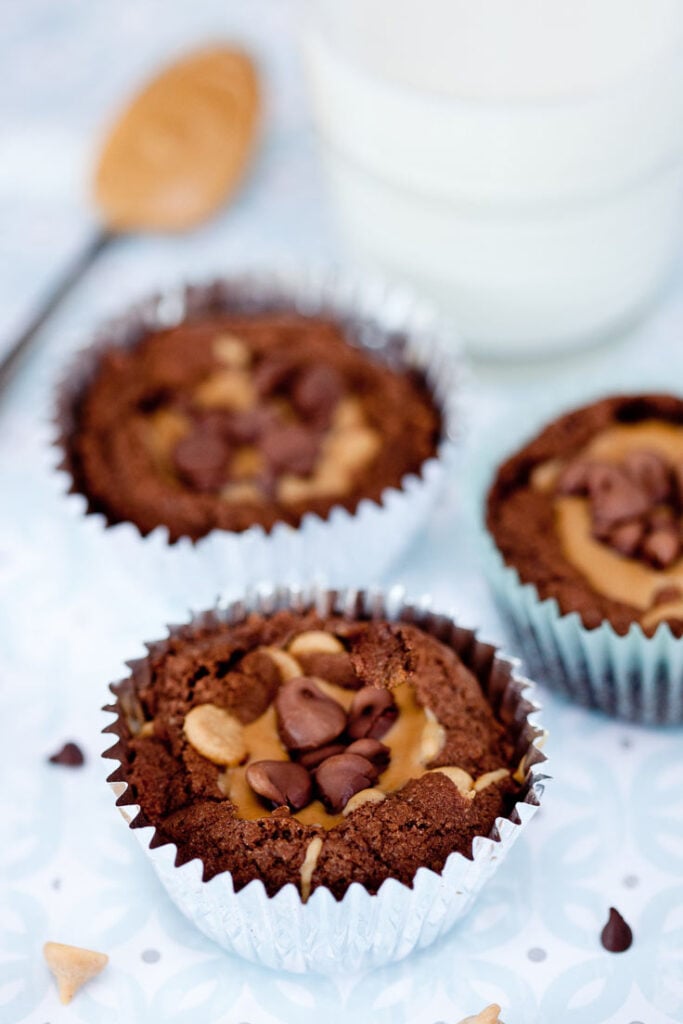 The recipes I found used both semi sweet and peanut butter chips sprinkled on top after baking. Because of the richness of peanut butter and chocolate in this recipe, I used only semi sweet chips on the brownies to sprinkle on after baking. Loads of peanut butter chips are already baked into the brownie, giving it lots of peanutty flavor. However you choose to do it, your sweet tooth will undoubtedly be satisfied.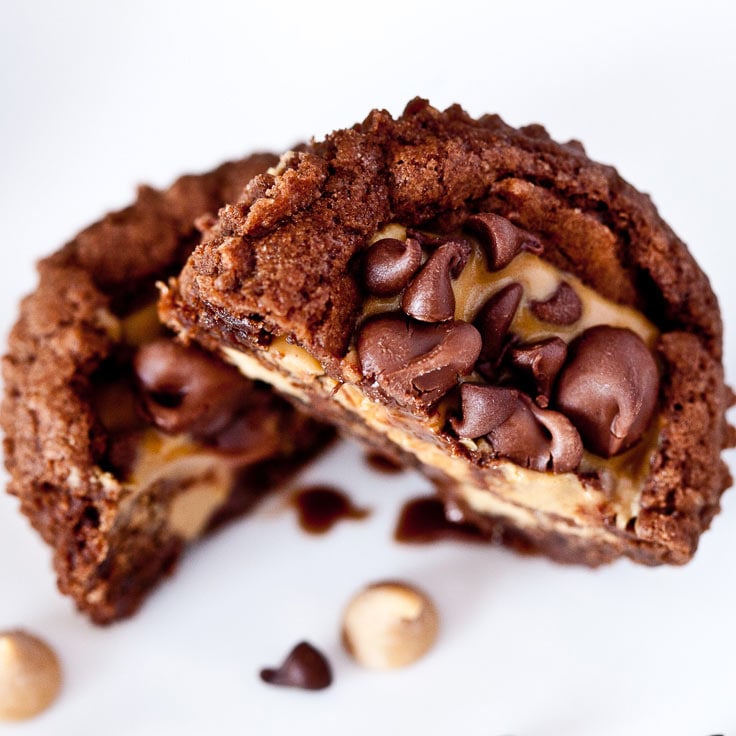 Enjoy your chocolate + peanut butter fix.
RECIPE (12 brownies)
INGREDIENTS
3/4 cup white sugar
1/4 cup regular butter, softened
1 TB water
3/4 cup semi sweet chocolate chips, for melting
1 large egg
1 tsp vanilla extract
1 cup flour
1/4 tsp baking soda
1/2 cup peanut butter chips
1/2 cup semi sweet chocolate chips
1/3 cup semi sweet chocolate chips, for garnish
3/4 cup creamy peanut butter
DIRECTIONS
Preheat oven to 350F. Line muffin pan with liners. Spray liners with oil.
In large glass bowl, combine sugar, butter, and water, and microwave until butter is melted (about 1 min).
Stir in 3/4 cup semi sweet chocolate chips until melted. Mix in egg and vanilla extract.
In separate bowl, mix flour and baking soda to combine. Add flour mixture to melted chocolate mixture, stirring until blended. Stir in 1/2 cup peanut butter chips and 1/2 cup semi sweet chocolate chips. Spoon batter by heaping tablespoonfuls into liners.
Bake 13 minutes, or until top looks set, but toothpick inserted in center comes out somewhat wet (it will set up once cooled.) Place muffin pan on wire rack for 5-10 minutes, to allow centers to fall upon cooling. If centers don't fall, tap centers gently to make a hole.
While brownies are still hot, place peanut butter in microwave for 45 seconds and stir.  Spoon about a tablespoon of peanut butter into each brownie center.  Decorate with semi sweet chocolate chips.  Allow to set a little and enjoy!