The Best Chocolate Chip Cookies, Bakery Style
These bakery-style chocolate chip cookies are not your average back-of-the-bag recipe. These cookies are slightly crisp at the edges, undeniably chewy in the center, and gooey with melty chocolate in every bite.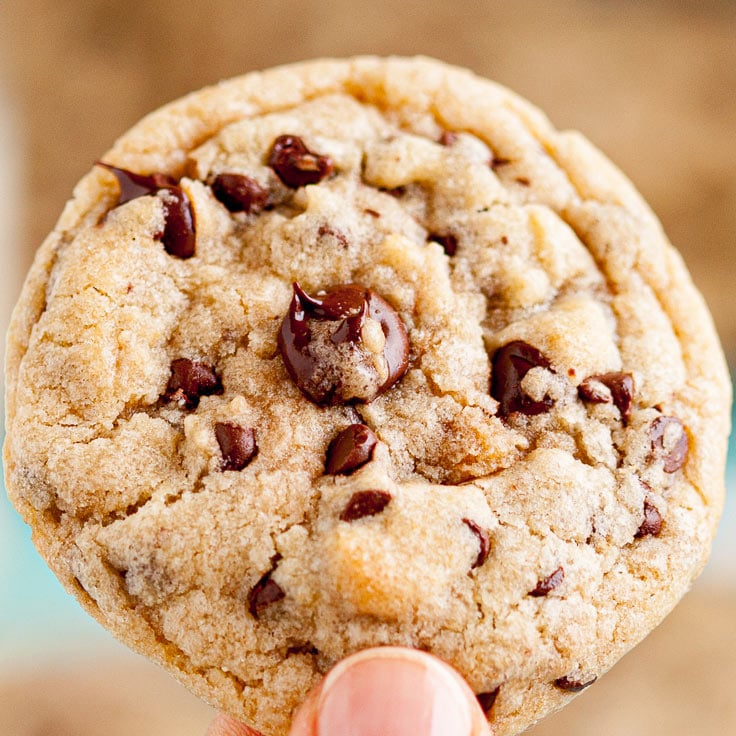 bakery-style Chocolate Chip Cookie techniques
It seems every baker, cookie maker, and sweet tooth owner is on an unending quest to discover the best ever chocolate chip cookie.
I've made hundreds of these Soft Chocolate Chip Pudding Cookies in my baking lifetime, as they are truly my go-to favorite. Those little bites have never failed me, so I almost always have a ball of that dough in my freezer in case I need quick treats for friends. I've also shared the birthday-worthy Skillet Chocolate Chip Cookie that claims unparalleled decadence.
That said, I'm far from done when it comes to testing and eating chocolate chip cookie recipes. Today, the spotlight is on these thick and chewy chocolate chip cookies – they're everything a bakery style chocolate chip cookie should be.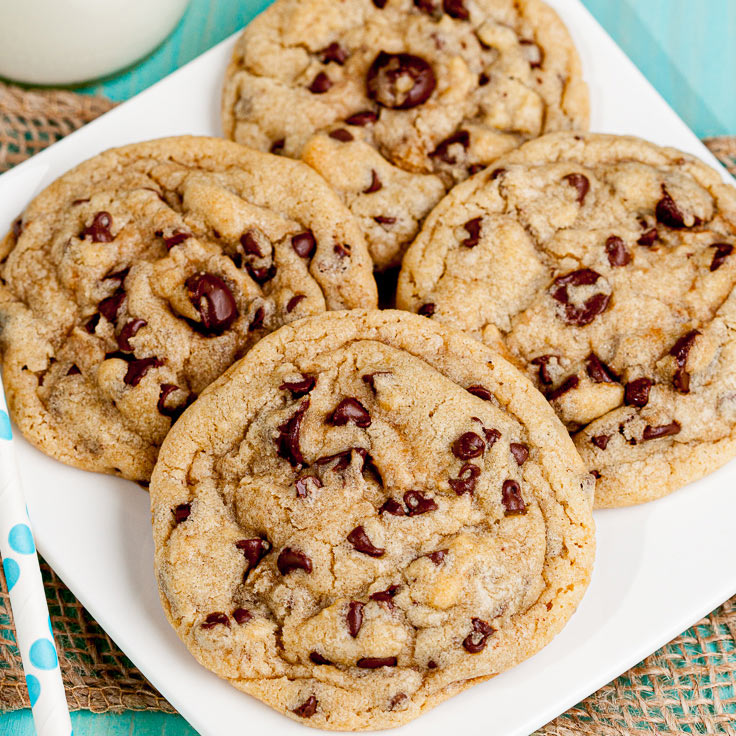 Golden on the outside, chewy on the inside, and melty chocolate in every bite
When I saw these Thick and Chewy Chocolate Chip Cookies for the umpteenth time in my America's Test Kitchen cookbook, I finally went to town and floured up. Because these cookies were adapted from ATK, it's naturally implied and even expected that these chocolate chip cookies should be amazing.
And amazing, they are. These cookies immediately took home the Blue Ribbon around here for being the biggest and chewiest chocolate chip cookies to emerge from our oven yet.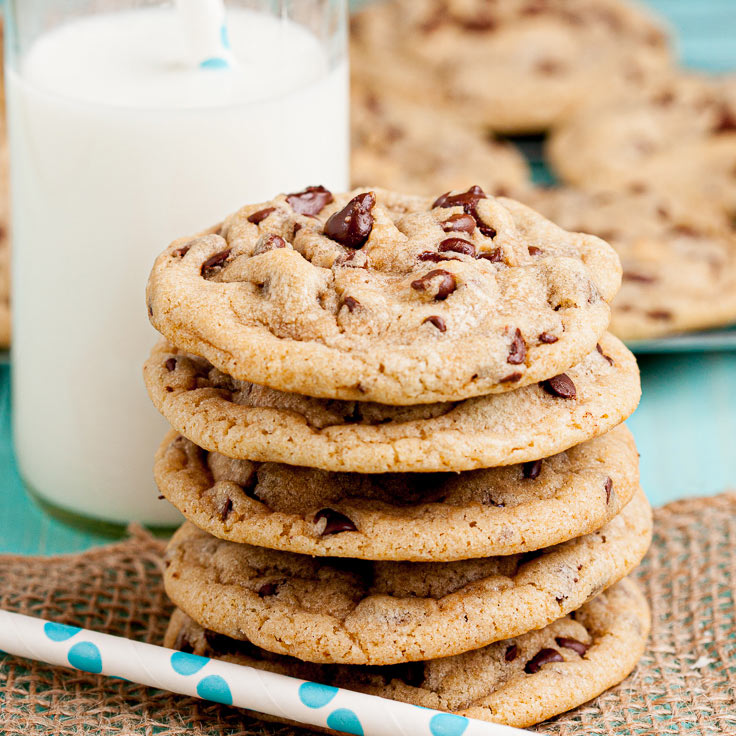 If you want bakery-style chocolate chip cookies, A few tips:
These Thick and Chewy Chocolate Chip Cookies not only taste like they came from a chocolate chip cookie chef (my dream job) but they also look like they emerged from a bakery. They're beautifully uneven and cracked on top, giving them that rustic bakery appearance we usually don't achieve at home. Pssst…there's actually an art to that. Read on.
Always measure ingredients carefully and use the scoop/scrape method to measure flour: use measuring cup to gently scoop flour into cup. Use flat edge of butter knife to gently scrape off excess from the top of cup.
Dry measuring cups meant for measuring dry ingredients such as flour are much more accurate than a liquid measuring cup. Glass Pyrex type measuring cups with extra space on top are meant for liquids.
Don't skimp on the butter/sugar mixing; give it the full 2 minutes or more. Set a timer if you're tempted to speed through this. It takes time for enough air to get mixed into the butter/sugar until fluffy. It makes all the difference in cookie texture.
Regarding brown butter, be sure to pack it down tightly when measuring. Feel free to pound it down with your fist. Also, be sure brown sugar is fresh and has not lost any of its original moisture. If it's somewhat dried out, that will affect the outcome.
Don't over-mix the dough, as it can become tougher as it gets overworked. Do chill the cookie dough, as it helps cookies retain shape and also helps with final tip below.
The secret to chocolate chip cookies that look like they came from your favorite bakery, with nicely cracked tops: divide cookie dough into 1.5 inch balls. Pull one dough ball apart into two equal halves. Rotate the halves so their jagged surfaces face up and rejoin the halves together gently to form a single ball, leaving the top surface jagged and uneven. No forming of smooth cookie dough balls here. Uneven tops are the name of the game.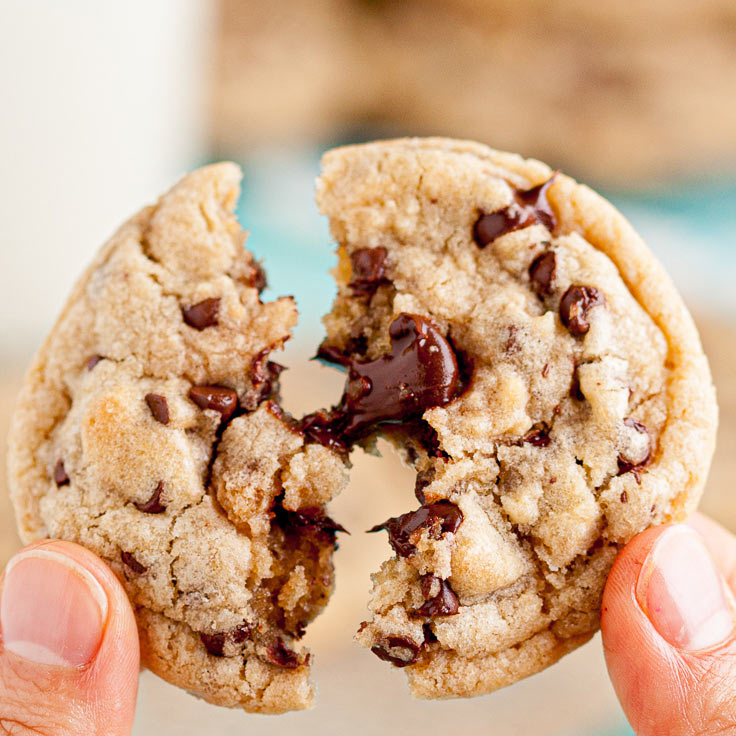 Freezing bakery-style chocolate chip cookies
These cookies are the bomb while fresh and warm, while the plentiful chocolate chips are an ooey gooey melted haven. That said, As long as you don't over bake them, they will reward you by staying chewy for a couple of days. They can easily be refreshed by heating them for a few seconds in the microwave to regain their sensational gooeyness.
The dough for these Chewy Chocolate Chip Cookies can be made ahead of time, wrapped, and chilled until ready for baking. We recommend freezing the unbaked dough in a large dough ball, or freeze after dividing into 1.5 inch cookie dough balls. If you want the bakery style vibe, form jagged tops (described in recipe card) after defrosting the dough balls.
Baked cookies can also be frozen as well; always let them cool completely before storing them in an airtight container. Microwave defrosted cookies a few seconds for that fresh-out-of-the-oven experience.
It's a full on eyes-closed, big smile, and melty-chocolate-on-lips kind of encounter.
---
Tasty Cookies to try:
---
Watch this cookie recipe in action:
---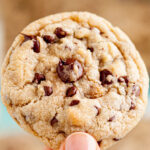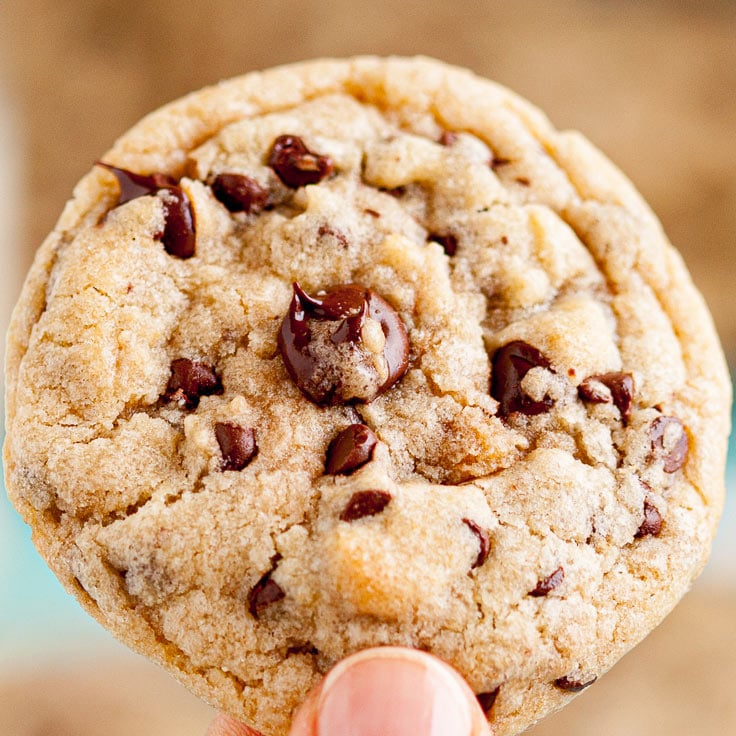 Thick and Chewy Chocolate Chip Cookies
These cookies are big, thick, and chewy. Plus gooey and buttery. They are just like big, thick bakery style chocolate chip cookies. But now you don't have to pay a dollar for just one.
Ingredients
2

cups

plus 2 TB unbleached

,

all purpose flour

½

tsp

baking soda

½

tsp

table salt

12

TB

salted butter

,

melted and then cooled

1

cup

packed light brown sugar

⅓

cup

granulated sugar

1

large whole egg

1

large egg yolk

2

tsp

pure vanila extract

2

cups

semi sweet chocolate chips
Instructions
In a bowl, whisk together the flour, baking soda, and salt until combined. Set aside.

In the bowl of a stand mixer fitted with paddle attachment, beat butter and both sugars at medium speed until smooth and light, about 2 minutes. Add the egg, egg yolk, and vanilla. Beat on medium-low until combined, about 30 seconds, scraping down bowl and beaters intermittently.

Add the dry ingredients into the bowl and mix on low speed just until combined, about 30 seconds.

Gently fold in the chocolate chips just until fully incorporated; don't over mix. Wrap dough in cling wrap and chill for at least 1 hour (chill longer if needed for dough to be cold; I prefer to chill mine overnight.)

Preheat oven to 325, with rack on lower middle position. Line baking sheets with parchment paper.

Divide dough into 1.5 inch balls. Using fingers, pull one dough ball apart into two equal halves. Rotate the halves so their jagged surfaces face up, and rejoin the halves together gently to form a single ball, leaving the top surface jagged and uneven. Repeat with all dough balls.

Space dough balls about 2 inches apart on parchment lined sheets. Bake just until soft and puffy, about 10-11 minutes. Allow to cool on the baking sheets, transferring cookies after they are mostly cooled.
Notes
*Some readers have had good results without chilling the dough. Since everyone's kitchen varies in room temperature, we still recommend you chill the dough until it is cold to ensure thick/chewy results.
If you enjoyed this recipe, please come back and give it a rating ♡
Nutrition
Calories:
156
kcal
|
Carbohydrates:
21.2
g
|
Protein:
1.9
g
|
Fat:
7.7
g
|
Saturated Fat:
4.7
g
|
Cholesterol:
20.5
mg
|
Sodium:
54.4
mg
|
Fiber:
1.1
g
|
Sugar:
14.9
g
Did you make this?
Leave a comment below and tag @chewoutloud on Instagram
More Chocolate Chip Cookies
Here's our super soft Chocolate Chip Pudding Cookies that are reminiscent of soft batch cookies (but so much better.)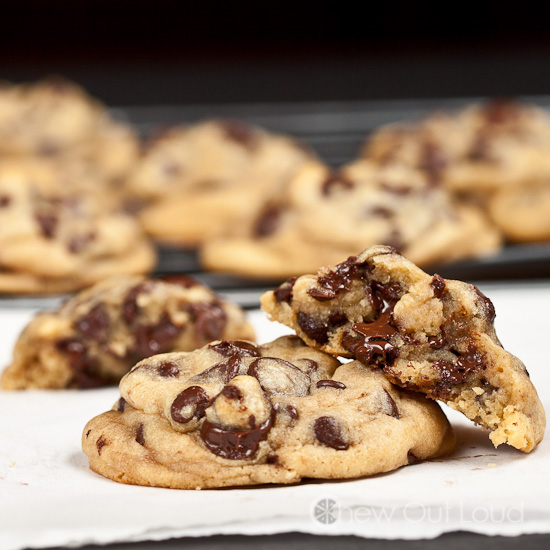 These Chocolate Chip Oatmeal Cookies are my fave for chewy oatmeal and chocolate goodness! Every bite is extremely satisfying. Plus, oats mean they're basically breakfast cookies.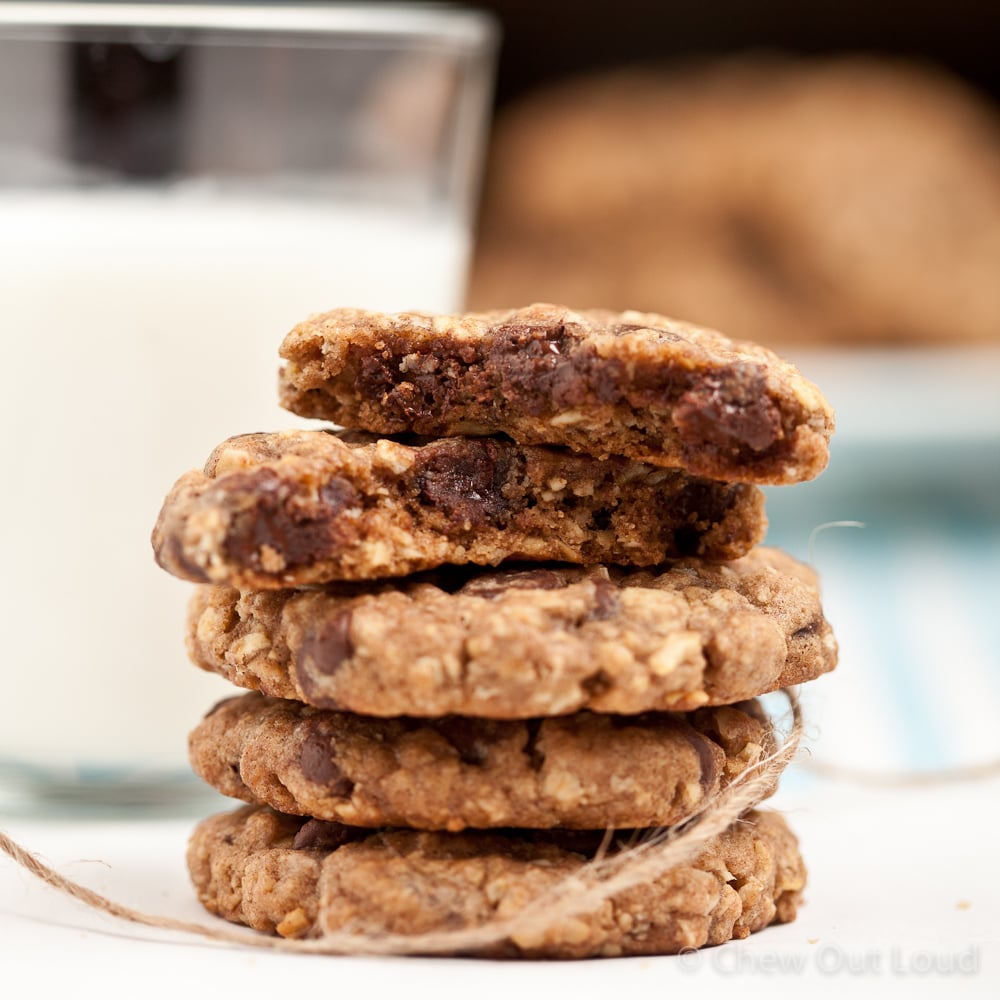 And if you like to sink into peanut butter, these Flourless Peanut Butter Chocolate Chip Cookies are a definite must-try. All our friends are surprised that these are gluten-free.