Thick 'n Chewy Oatmeal Dark Chocolate Cookies
By Amy Dong
Published Dec. 21, 2014
Updated Aug. 17, 2022
These Thick & Chewy Oatmeal Dark Chocolate Cookies are hearty and satisfying. Chock full of rolled oats and dark chocolate, these are for every oat and chocolate lover in your life.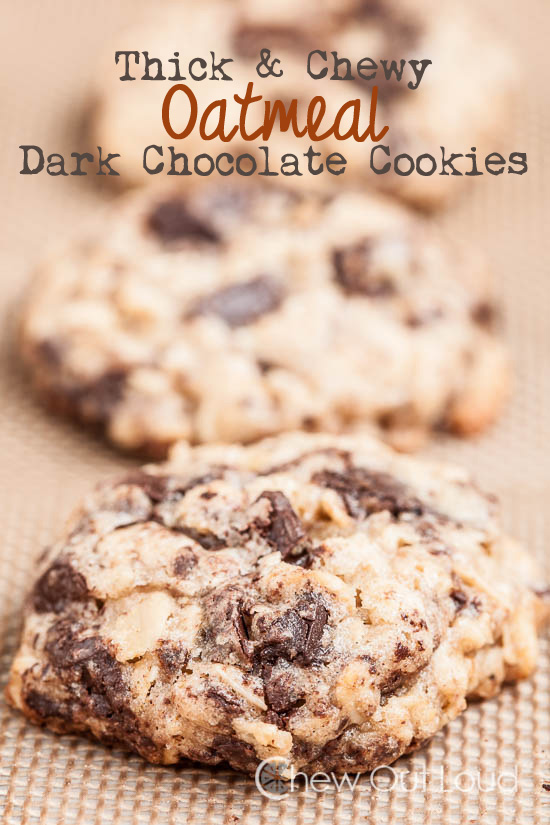 We're just a few days away from Christmas, and my boys are keeping no secrets about how excited they are. The Littlest Little has been belting out every Christmas song his 5-year-old mind knows, and I'm amazed at all the lyrics he recalls.
All three Littles have been creating hand-made presents and placing them under the tree. Their giddiness is contagious.
They can't wait to see what lies underneath the wrapping paper of boxes sent by grandparents and aunts and uncles.
Speaking of which, the streets out there are packed with cars and shoppers doing their last minute holiday shopping.
All I can say about that is yippee for online shopping. Click, tap, done and done. There are definitely happy aspects of technology. The goal is to avoid crowded stores and dizzying parking lots.
I'd rather turn the music up loud and bake it out…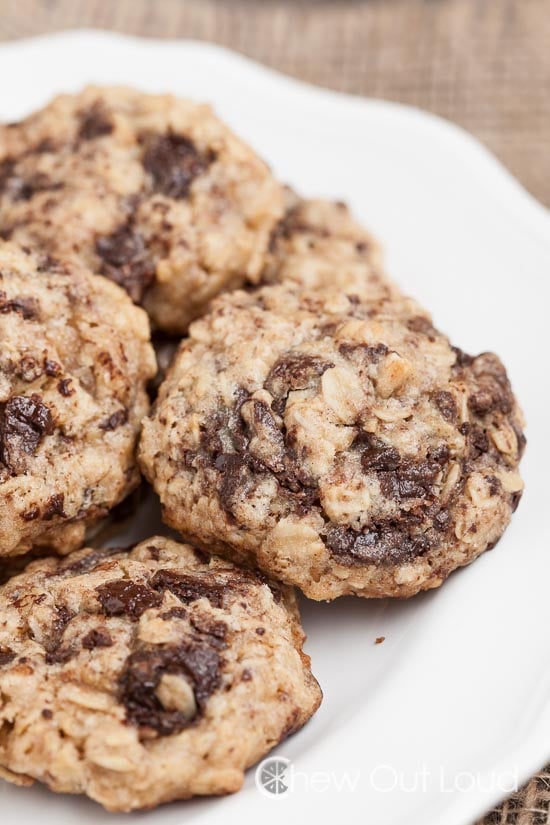 …and bake it out, we have. There are currently at least five varieties of yummy cookie dough in the fridge, awaiting their bake day.
We've already been serving up batches of cookies to munch and share with friends…for like the past ten days.
This is why I am addicted to running. 'Cuz I love cookies. #irunbecauseireallylikefood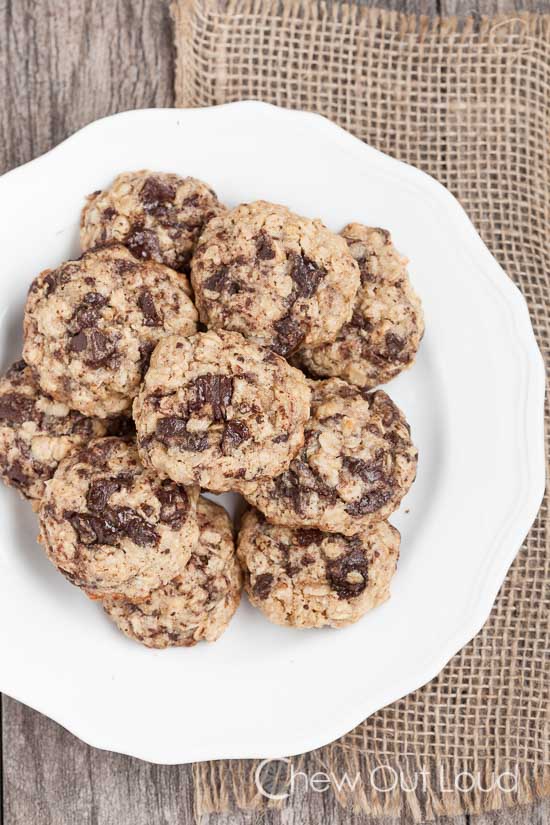 These Thick 'n Chewy Oatmeal Dark Chocolate Cookies have earned their moniker. They are indeed thick, dense, rich, and chewy.
Totally satisfying. Brimming with chunks of dark chocolate.
These cookies don't spread much, which means they are thick and chewy in the middle. I like to press them down a bit before baking to get a bit more diameter on 'em.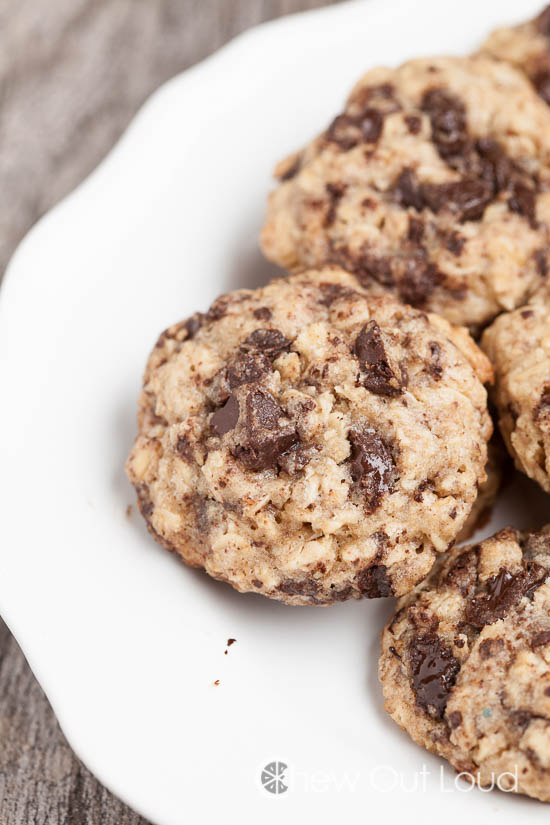 These cookies spell l-o-v-e for all those oaty chocolate lovers in your life.
Here's to a week full of presence over presents.
To turning the music up loud and baking it out.
Did you make this?
Please give us a rating and comment below. We love hearing from you!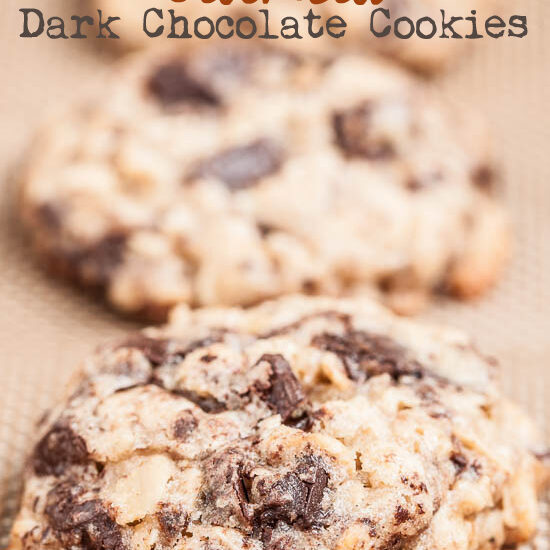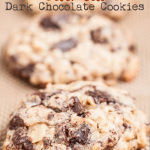 Thick 'n Chewy Oatmeal Dark Chocolate Cookies
These cookies are super thick and chewy. They are chock full of old fashioned oats and dark chocolate, satisfying every oatmeal-chocolate lover. They don't spread much during baking, so free free to flatten them a bit before popping them into the oven.
Instructions
Preheat oven to 350F with rack on lower middle position. Line baking sheets with parchment and set aside.

In a bowl, whisk flour, salt, baking powder, cinnamon, and nutmeg to fully incorporate.

In the bowl of a stand mixer fitted with paddle attachment set to medium speed, beat together the butter and both sugars until light and fluffy, 2-3 minutes. Add eggs one at a time and mix until combined. Reduce speed to low and add dry ingredients, beating just until combined - don't over mix. Gently mix in the oats and chocolate just until combined.

Roll dough into 2 TB sized balls and place 2 inches apart on lined baking sheets. Gently flatten each ball into a disk shape. Bake 13-15 minutes or just until edges are golden. Cookies will seem a bit under, but they will set upon cooling.
Nutrition (per serving)
Calories:
204
kcal
|
Carbohydrates:
30
g
|
Protein:
3
g
|
Fat:
9
g
|
Saturated Fat:
5
g
|
Polyunsaturated Fat:
1
g
|
Monounsaturated Fat:
2
g
|
Trans Fat:
0.3
g
|
Cholesterol:
36
mg
|
Sodium:
79
mg
|
Potassium:
57
mg
|
Fiber:
2
g
|
Sugar:
18
g
|
Vitamin A:
256
IU
|
Vitamin C:
0.002
mg
|
Calcium:
28
mg
|
Iron:
1
mg
Source: Chew Out Loud, adapted from Cooks Illustrated Cookbook
Here are a few more of our favorite oatmeal filled treats to satisfy your sweet tooth: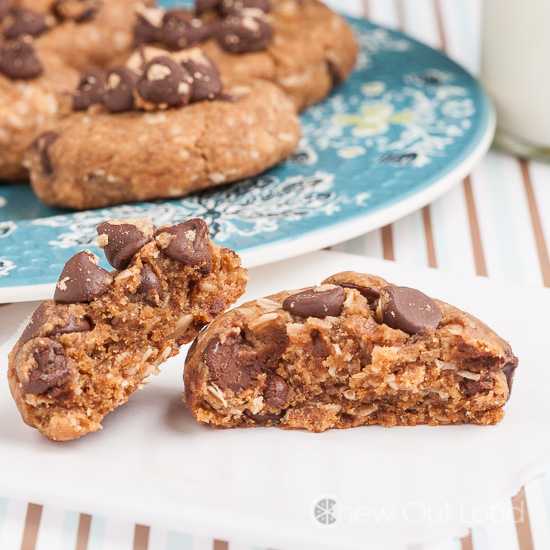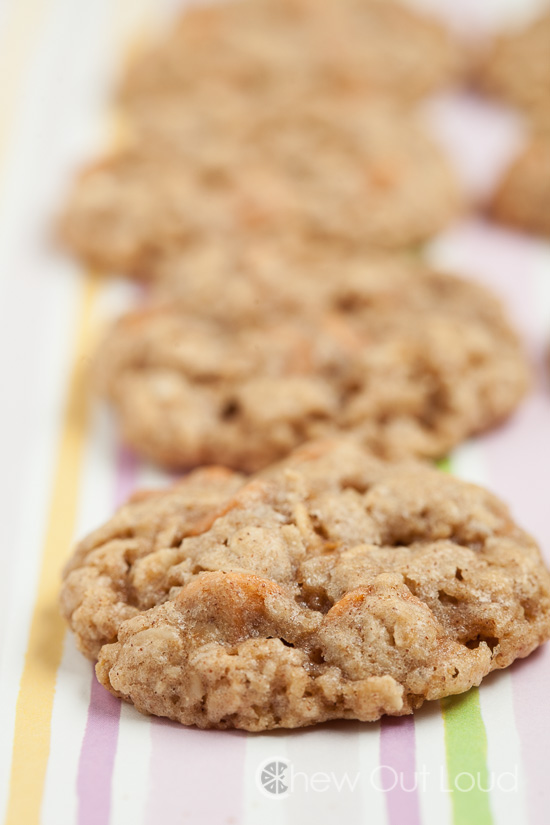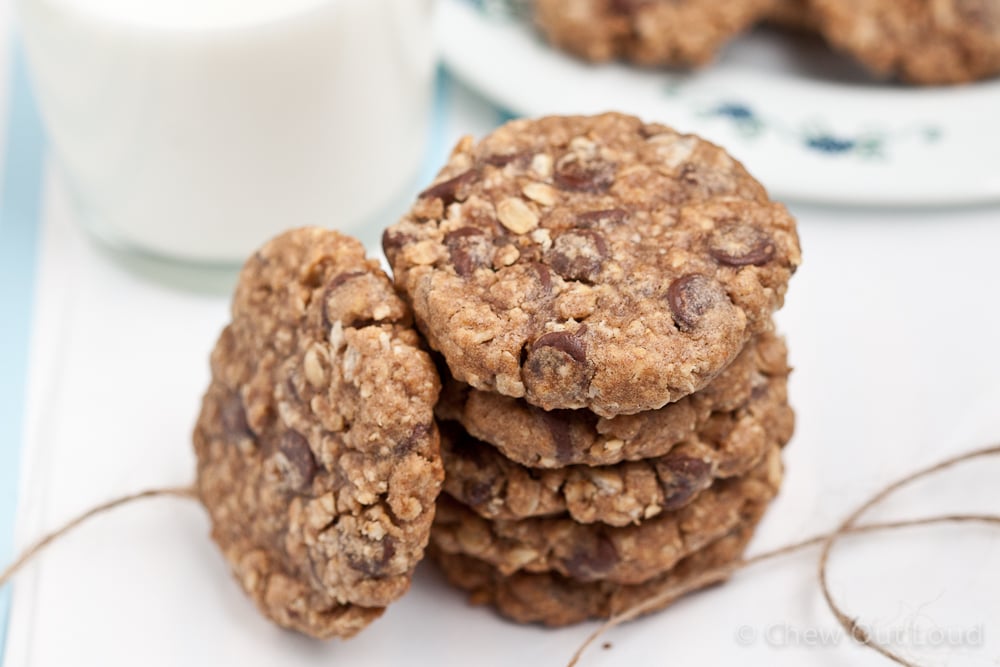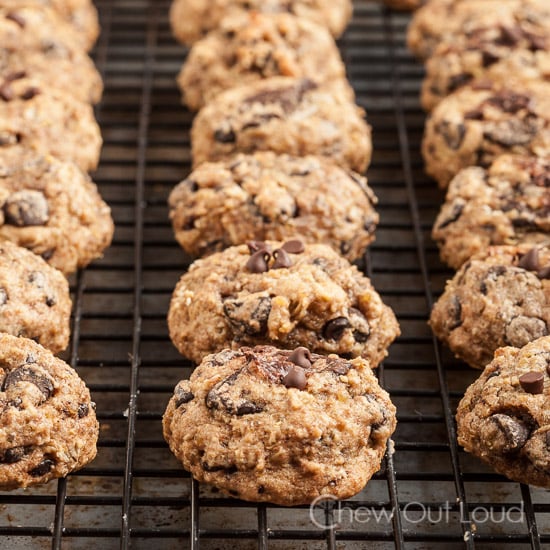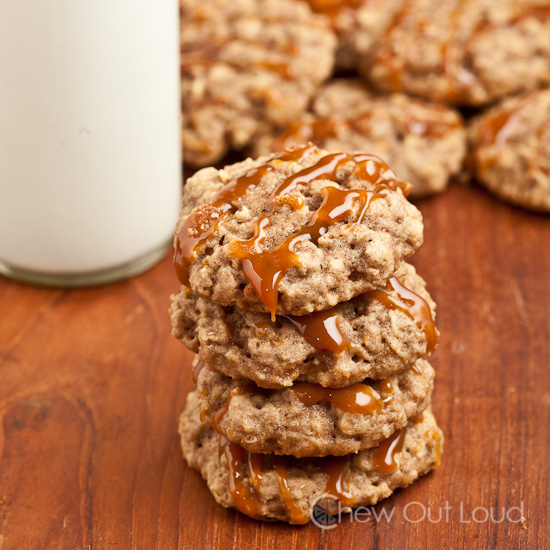 We're honored you came over today and hope you found something you like.
We'd love to have you follow us on Pinterest, where we regularly pin the best stuff!!
Follow us on Facebook and Twitter for the newest recipes and giveaway prizes (currently, our $50 Target giveaway.)
Hang with us on Instagram for behind-the-scenes shots of the food we make and lots of inspiration.