Apple Cookies (With Caramel)
By Amy Dong
Published Sep. 21, 2022
Updated Aug. 26, 2023
Soft and chewy, these apple cookies envelop your tastebuds in warmth and joy. The caramel drizzle on top is just enough flair to make them extra special!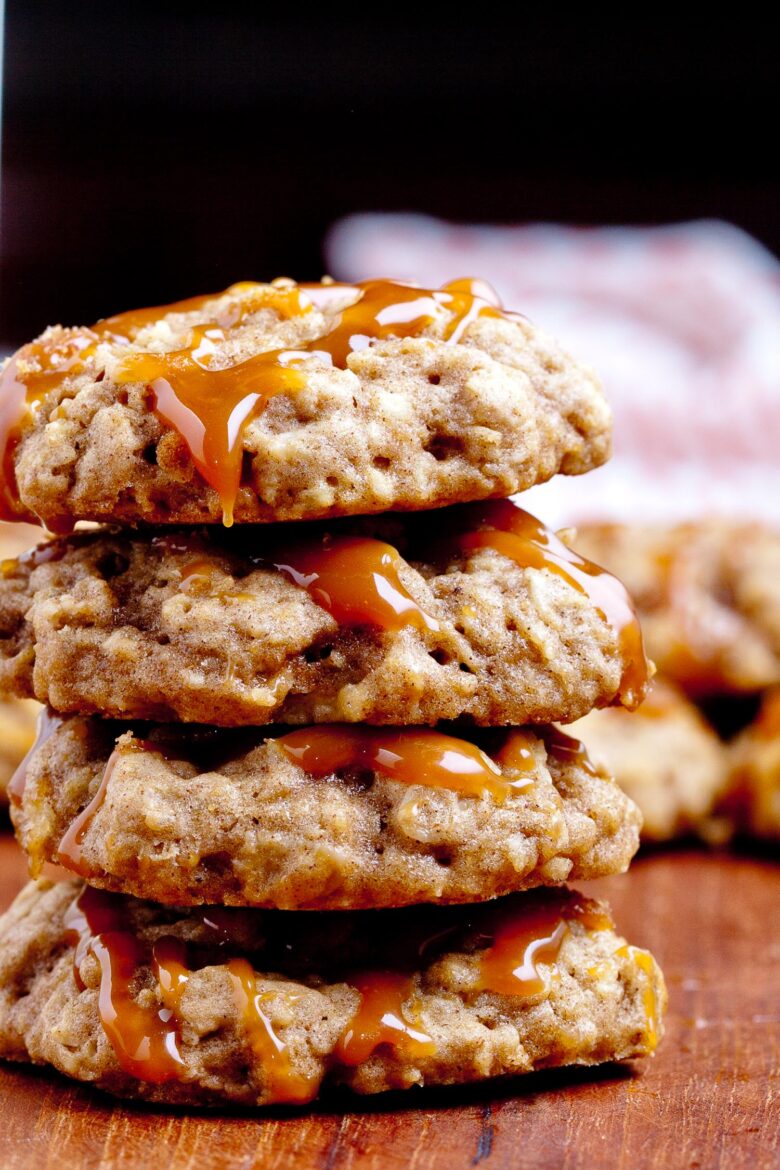 Articles may contain affiliate links, for which we earn a very small amount, at no cost to you.
What Are Apple Cookies?
Apples are a classic fall fruit, with harvest time around October. Apple crisp is one of the most traditional fall apple desserts. These cookies take everything you love about apple crisp and turn it into easy drop cookies.
During the fall season, easy is the name of the game! Who has time for complicated cookie recipes?
These are so easy, you can make a huge batch at the end of the day, or the kids can help you bake some for after-school snacks.
Apple cookies are chewy, soft cookies that literally melt in your mouth. The caramel drizzle on top makes them taste like caramel apples or your favorite apple crumble dessert.
What You'll Love About Caramel Apple Cookies
The ingredients are pantry staples that you probably already have on hand.
You can make it gluten-free with an easy flour swap.
The finely-grated apples give them a deep and sweet flavor that makes them taste like apple pie.
These cookies freeze well, so you can make them ahead of time and store them for 3 months.
It's easy to turn these cookies into lovely single-serve muffins too.
They taste like caramel apples or your favorite apple pie-inspired dessert.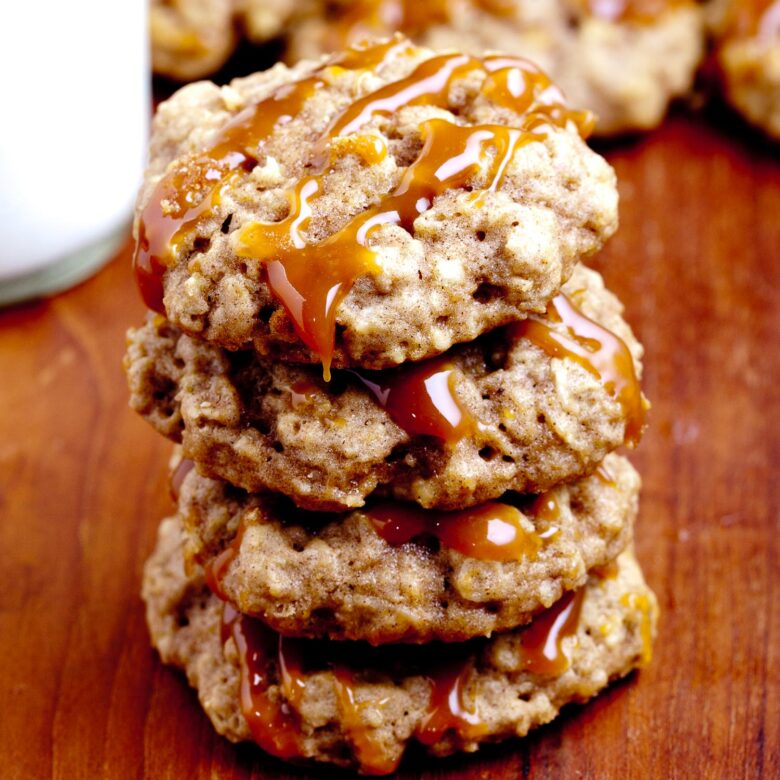 Pro Tips On How to Make Soft Apple Cookies
Prepare the baking sheet. Either cover it with parchment paper or a silicone baking mat. These cookies are sticky and will stick to the cookie sheet.
Use a stand mixer (or electric mixer). The butter and brown sugar mixture should become nice and fluffy. A good stand mixer makes the job much easier.
Carefully fold the wet ingredients into the dry ingredients. Gently folding the dough together prevents it from becoming over-mixed and tough.
Chill the dough for an hour. This prevents the dough from being too sticky to work with and helps give it a better rise in the oven.
Use a cookie scoop to add the cookies to the baking sheet. This will keep them the same size so that they bake evenly.
Let them cool before you move them. They are really soft cookies and will fall apart if you transfer them too quickly.
Add caramel drizzle to room-temperature cookies. If the cookies are too hot, the caramel will melt into more of a glaze.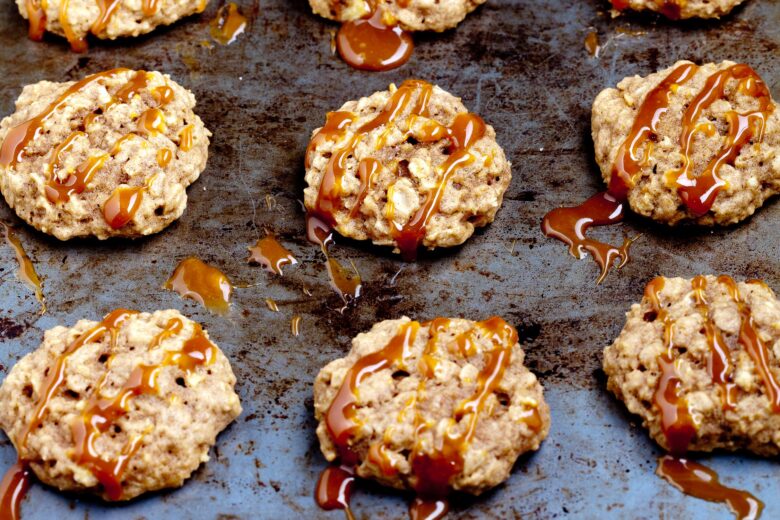 Key Ingredients
Though amounts can vary a bit depending on taste, the basic ingredients are items you may already have in your pantry and fridge. Here is what you will need to have on hand:
Butter: Soften the butter first to make it easier to mix.
Packed brown sugar: This gives these cookies a warm molasses feel.
Maple syrup: Adds sweetness to the cookies without changing the texture.
Egg: A wonderful emulsifier, it holds all the ingredients together.
Whole milk: Whole milk is recommended over skim or low fat, as whole milk provides the creamy, rich liquid needed.
Vanilla extract: Adds a deep flavor to the cookies; be sure to use pure vanilla and not imitation extracts.
All-purpose flour: This is the base of the recipe. To make these gluten-free, use 1 to 1 Baking Flour.
Baking soda: Gives the cookies a soft and fluffy texture.
Salt, cinnamon, and nutmeg: These are classic apple dessert spices.
Old-fashioned rolled oats: Whole oats provide a toothsome, chewy texture.
Apples: Use Granny Smith apples for sweet/tart balance.
Caramel candies: You'll use soft caramels to make the warm and drizzly caramel topping.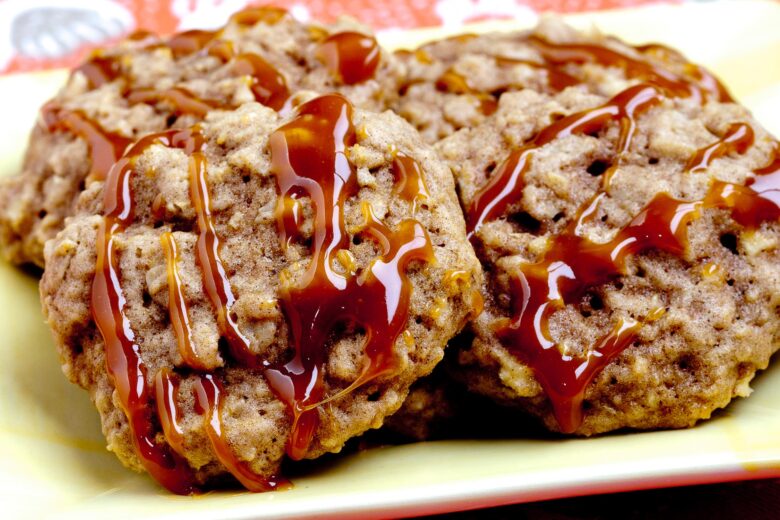 Apple Cookies Commonly Asked Questions
Can you eat apple cookies for breakfast?
As these apple cookies are teeming with apples and good old fashioned oats, itmakes them perfectly acceptable for breakfast. They could be renamed Breakfast Cookies, even.
What are the best apples for cookies?
We like to use either Honeycrisp or Granny Smith apples for baking. They are tart enough to go along well with cookies sweetened with brown sugar.
What makes cookies crunchy or soft?
Believe it or not, the type of sugar you use affects the cookie's texture. This recipe uses brown sugar, so the cookies are nice and soft. The extra egg yolk also contributes to a chewy soft texture. To keep cookies soft, never over bake them.
Can you use melted butter to make cookies?
Use just-softened butter, not melted butter, to make apple cookies that are able to rise in the oven. Melted butter often results in cookies that spread too far.
Can I make apple cookies without the caramel drizzle?
Yes, you can leave the caramel drizzle out. It does make them taste like a caramel apple, but even without the caramel, these apple cookies are still delicious.
More to Bake and Eat
Did you make this?
Please give us a rating and comment below. We love hearing from you!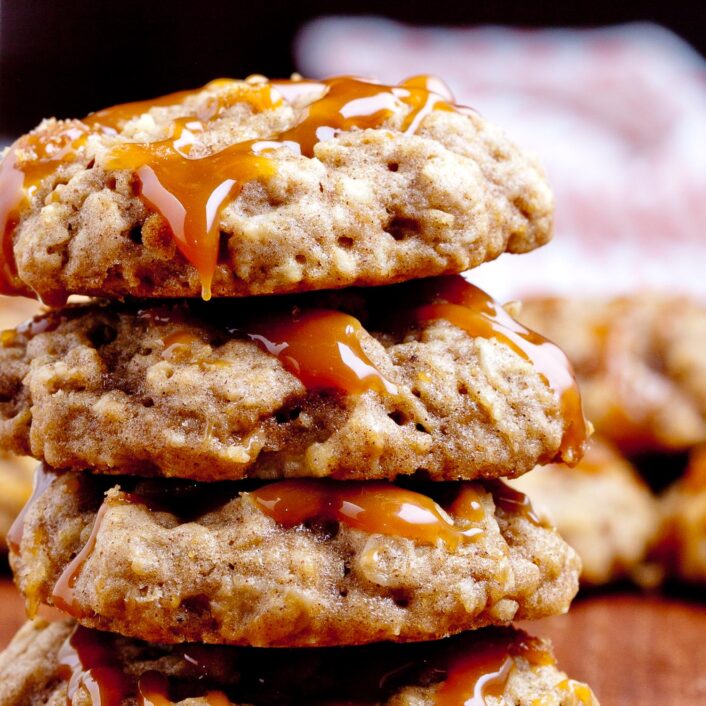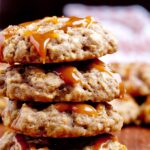 Apple Cookies
These cookies are fluffy, soft, and bursting with apples, oats, spices, and brown sugar. Perfect fall treat!
Instructions
Preheat oven to 325F, with rack on middle or lower middle position. Line baking sheets with parchment paper.

In bowl of electric mixer, beat butter and brown sugar until creamy and fluffy, about 1-2 min. Add maple syrup, egg, egg yolk, milk, and vanilla. Beat on low until fully combined.

In a separate bowl, whisk together flour, baking soda, salt, cinnamon, and nutmeg. Add rolled oats to flour mixture and whisk together.

Using wooden or rubber spatula, fold wet ingredients with dry ingredients. Stir in grated apples until fully incorporated. If dough is sticky, chill 30 min to an hour.

Form rounded 1 tablespoons of dough 2 inches apart on parchment lined baking sheets.

Bake 11-13 minutes, or just until lightly golden; don't overbake. Cookies will set upon cooling. Transfer warm cookies to wire rack and let cool.

Place caramels and water in small heavy saucepan. Stir continuously over low heat until melted and smooth. Let rest a bit until it's no longer too hot to handle. Using fork or Ziploc baggie with tiny hole cut out of the corner, drizzle warm caramel over cooled cookies. Be careful – melted caramel is hot!
Notes
*If you enjoyed this recipe, please come back and give it a rating ♡
Nutrition (per serving)
Calories:
70
kcal
|
Carbohydrates:
8
g
|
Protein:
1
g
|
Fat:
4
g
|
Saturated Fat:
2
g
|
Polyunsaturated Fat:
0.2
g
|
Monounsaturated Fat:
1
g
|
Trans Fat:
0.1
g
|
Cholesterol:
13
mg
|
Sodium:
51
mg
|
Potassium:
20
mg
|
Fiber:
1
g
|
Sugar:
2
g
|
Vitamin A:
99
IU
|
Vitamin C:
0.03
mg
|
Calcium:
12
mg
|
Iron:
0.3
mg
Source: Chew Out Loud