Turkey Panini with Spinach and Roasted Garlic Butter
Quite often, a certain food or dish is easily traced back to a specific person, place, or time in our lives. It's not always that way, of course, because sometimes a delightful meal is just that – delicious, with no strings attached. But, strings can sometimes be good. For me, panini sandwiches come with happy strings attached. 🙂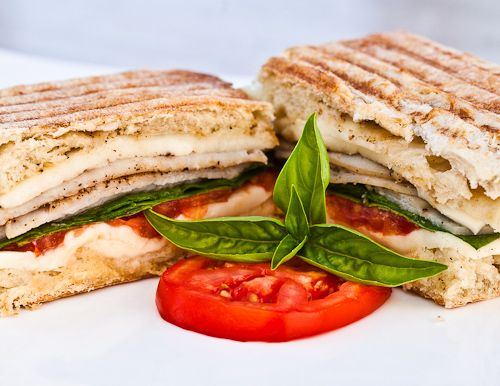 Believe it or not, I can't remember having a panini sandwich prior to a few years ago. I'm sure I've lunched on some grilled Italian sandwiches before that, but my clearest memory of them began at a lunch date with my super-sweet friend, Staci. Actually, our kids were all there…and we were in her beautiful kitchen. So, it was more like a play-date that happily included a yummy lunch.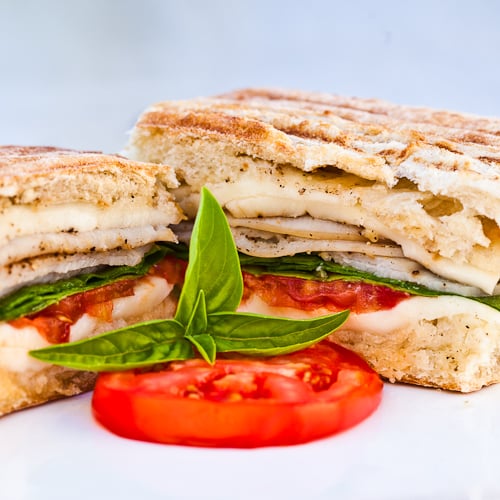 I had been eying panini presses for awhile. Wouldn't you know, Staci pulled one out of her pantry and whipped up some delicious panini sandwiches for us. She arranged a make-your-own panini "party," with various deli meats and toppings for everyone to choose from. What fun, for both grown ups and little ones alike! Everything always tastes better freshly made, just the way you like it.
I immediately went and got myself a cute little panini press. Of course, grilled sandwiches can just as well be made on a ridged cast iron pan, using a bit more oil/butter. Or even a non-ridged pan, if you don't care about grill marks. But then, would it still be called "panini" if there aren't grill marks? I don't know. Anyhow, it's a breeze to grill sandwiches on a press, if you want to go healthy and use less oil and/or butter.
I've since made all kinds of panini, including this delicious Turkey sandwich. Our family loves garlic by the buckets, so I had to make roasted garlic butter for this as well. This recipe is one of approximates, so feel free to eyeball it and make it your way. Enjoy, and press on!
RECIPE (4)
INGREDIENTS
1 loaf Ciabatta bread
Mesquite or smoked turkey from the deli
fresh baby spinach leaves, washed and dried
2 vine ripened tomatoes, sliced
havarti (or cheddar) cheese slices
3 cloves roasted garlic
6 TB butter, softened
butter for grilling
kosher salt and fresh ground pepper
DIRECTIONS
To make garlic butter, roast garlic ahead of time. Mix 3 cloves roasted garlic with 6 TB softened butter, incorporating well. If desired, mix in a pinch of kosher salt and some freshly ground pepper. Set aside until ready to use.
Slice ciabatta loaf into sandwich-size slices. Spread inside of ciabatta slices with garlic butter. Load sandwich with slices of turkey, fresh spinach, tomato slices, and cheese. Brush tops and bottoms of sandwiches with butter. Grill until desired grill marks appear and cheese is melted. If using stove top grill, press down on sandwich to get grill marks on bottom side. Flip over and repeat on other side.
Source: Chew Out Loud