Baked Salmon with Ginger Soy Marinade
By Amy Dong
Published Feb. 18, 2021
Updated Aug. 17, 2022
This Easy Baked Salmon Recipe is tender, flavorful, and only takes 15 minutes to cook. The flavor is amazing, thanks to a simple ginger soy marinade. This salmon recipe can be prepared ahead of time.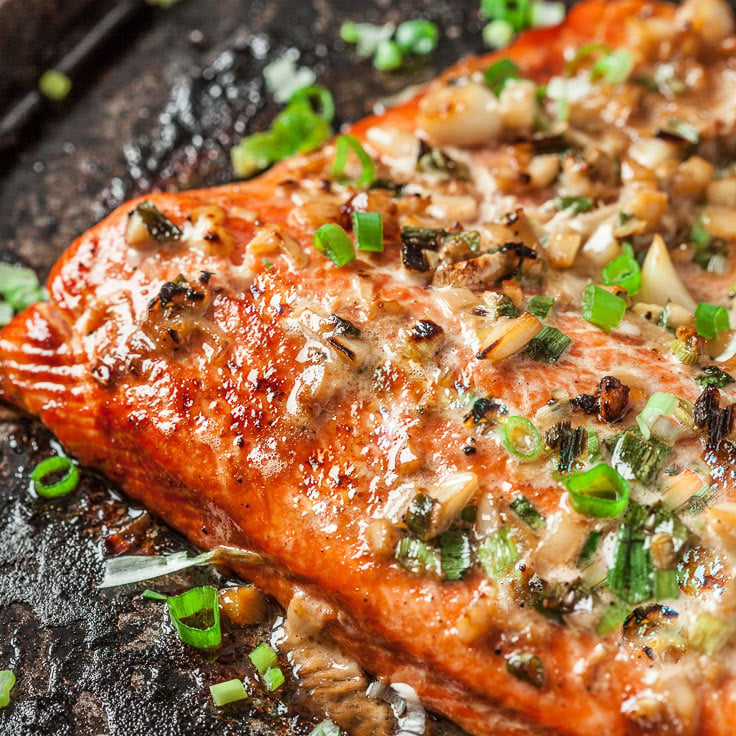 Oven Baked Salmon with Ginger Soy Marinade
If you've never tried marinating salmon prior to cooking it, you're in for a brilliant surprise. Our motto is cook smarter, not harder…and this baked salmon recipe is crazy smart.
Here's why:
This salmon recipe uses only 9 ingredients, which puts it in the category of 10 ingredients or less.
Because it's an oven baked salmon, there's no messing around with a greasy grill or frying pan, which also means less mess in general. All you need is a sheet pan.
This salmon recipe makes smart use of marinating – preferably overnight – so all you have to do the next day is take it out of the fridge and put it in the oven for 15 minutes.
Just restating the above, this salmon only needs 15 minutes of cook time.
Most importantly, this may be the most flavorful salmon recipe you've ever tasted.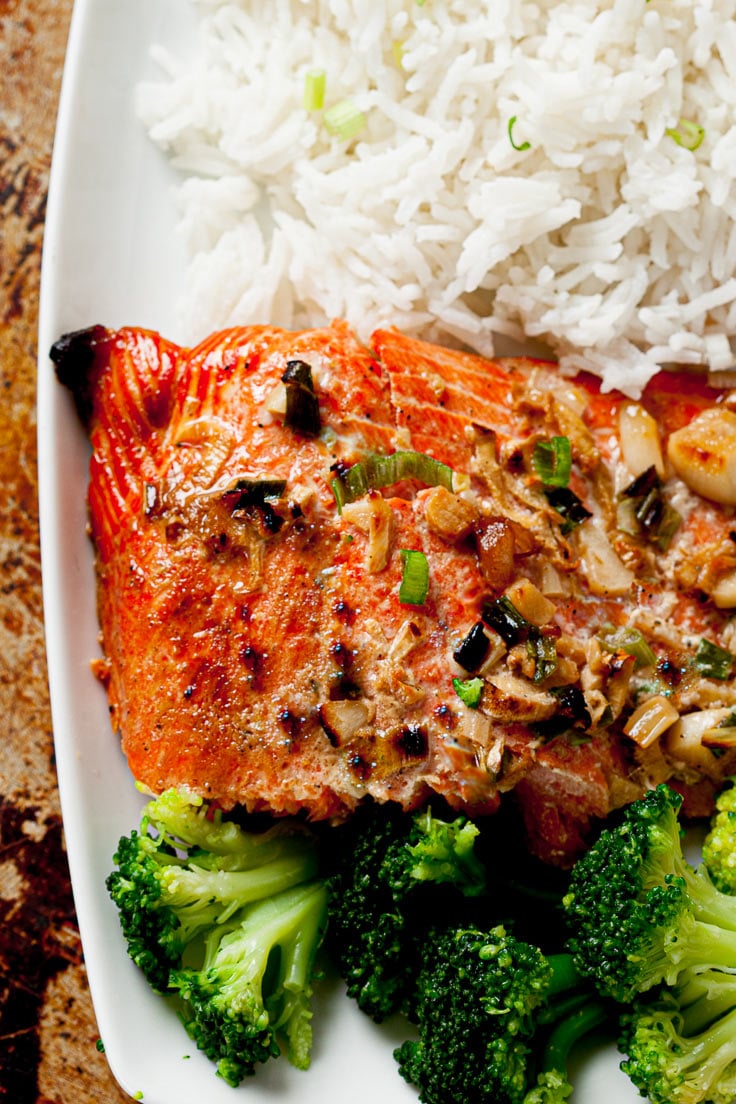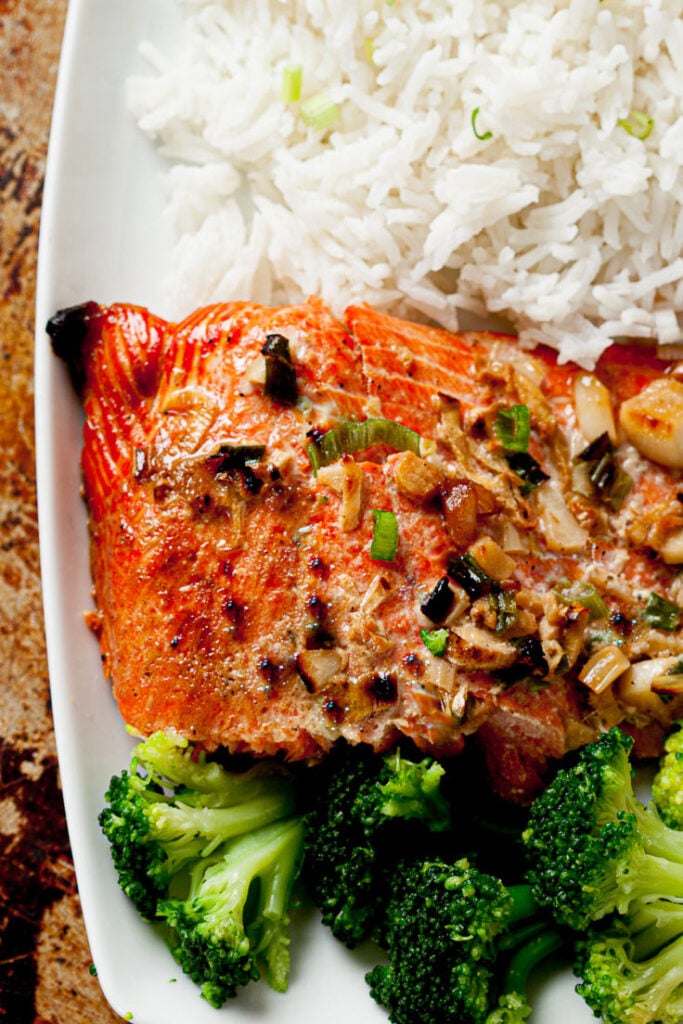 Your Prep Ahead Strategy
This baked salmon recipe is easy to prepare ahead of time. This is our favorite kind of meal prep; put all the pieces together the night before so that it's ready to go straight from fridge to oven the next day when the dinnertime rolls around.
Here's how to prep ahead (and get maximum flavor)
As a general time saver, always have chopped garlic and freshly grated ginger separated into small airtight zipper bags. Label them so you know what's what. These can keep for quite a long time in the freezer. Then whenever any recipe calls for garlic or ginger, you're ready.
Mix together the marinade sauce up to days ahead of time. As long as you keep it covered and chilled, it stays fresh for days.
Marinade salmon overnight, for best flavor. That means all you have to do the next day is take it out and put it in the oven for 15 minutes. Pat yourself on the back because you deserve it.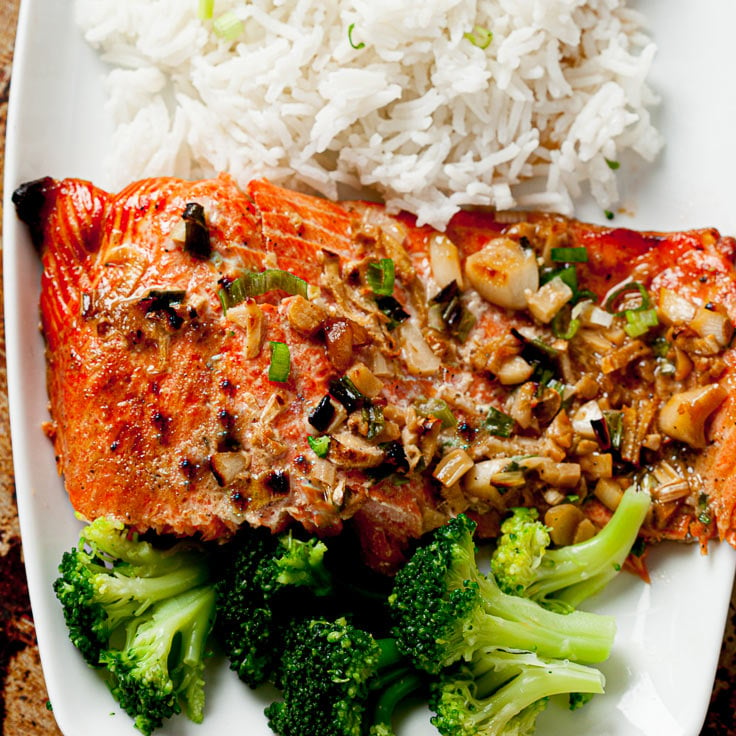 Common Questions and Answers:
Q: Do you bake salmon covered, or uncovered?
A: In order to achieve good caramelization on top of the salmon, bake it uncovered. If you cover it, it will more likely appear steamed.
Q: How do you bake salmon in foil?
A: This salmon recipe is baked on a parchment or foil covered sheet pan. If you're looking for foil packet salmon recipes, see How to Make Baked Salmon in Foil.
Q: What's the best temperature to cook salmon?
A: Some recipes ask for higher oven temperatures, but we've found best results baking at 350F on the middle rack. With just 10-15 minutes' cook time, a whole salmon fillet should be just-cooked through in the center, with nice color on top. Note that you'll broil the salmon for a few minutes at the end, for exterior browning.
Q: How do you reheat cooked salmon?
A: It's easy to overdo it when reheating any fish, resulting in an overcooked dish the next day. We recommend a low-slow reheating method that prevents drying out: brush salmon with a bit of olive oil or butter, cover loosely with foil, and reheat at 275F in the oven for about 15 minutes.
---
Did you make this?
Please give us a rating and comment below. We love hearing from you!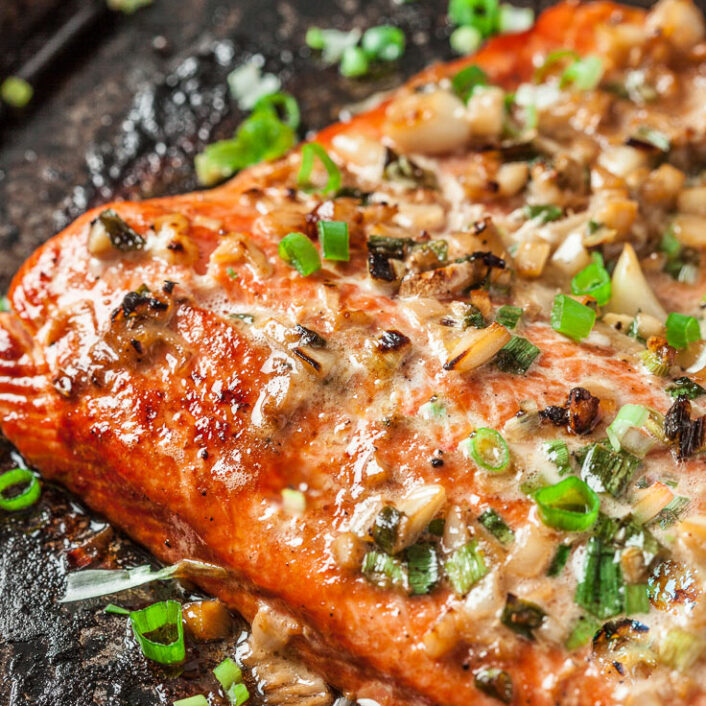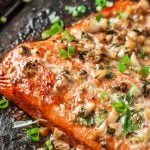 Baked Salmon with Ginger Soy Marinade
This Asian Baked Salmon Recipe is tender, flavorful, and only takes 15 minutes to cook. Asian Baked Salmon is the perfect weeknight meal to feel great about.
Ingredients
2 ½

pounds

whole salmon fillet

,

with skin on bottom
Instructions
Prep ahead: In a bowl, use a hand whisk to mix together the Asian rice vinegar, soy sauce, honey, Asian sesame oil, garlic, ginger, black pepper, and green onions. This can be done up to a day ahead and kept chilled until ready to use.

Use paper towels to thoroughly dry salmon fillet on all sides, removing as much excess moisture as you possibly can. Place salmon in a large glass baking dish. Very slowly, pour marinade over the salmon, ensuring salmon is thoroughly coated. Cover and chill overnight (at minimum, marinate for several hours.)

Remove salmon from fridge and let rest at room temp while oven preheats to 350F, with rack on middle position. Transfer salmon to a large rimmed baking sheet. Salmon should be skin-side down. Evenly distribute marinade over salmon. Bake 10 minutes (if your salmon is extra thick, or very cold, you may bake an additional 3-5 minutes.)

Remove the salmon from oven, move rack to upper position, and place salmon back on rack. Broil on high for about 5 minutes, watching carefully so salmon doesn't burn. It should reach a nicely browned color on top. Remove salmon from heat, let rest a few minutes at room temperature, and serve warm.
Notes
If you can't find salmon with skin on, you can use a skinless salmon fillet. if skinless, bake on either parchment paper or foil lined sheet pan to prevent sticking.
The longer the marinade time, the more flavorful your salmon will be.
Note that as the salmon rests after removing from oven, it will continue to cook a bit. Salmon is most tender when it's just barley cooked through, so take care not to overcook it.
Salmon is a healthy and delicious meal, with brown rice and Chopped Asian Salad.
Nutrition (per serving)
Calories:
245
kcal
|
Carbohydrates:
6.5
g
|
Protein:
32.4
g
|
Fat:
10.2
g
|
Saturated Fat:
1.7
g
|
Cholesterol:
72.4
mg
|
Sodium:
329
mg
|
Fiber:
0.2
g
|
Sugar:
4.9
g
Delicious ways to cook salmon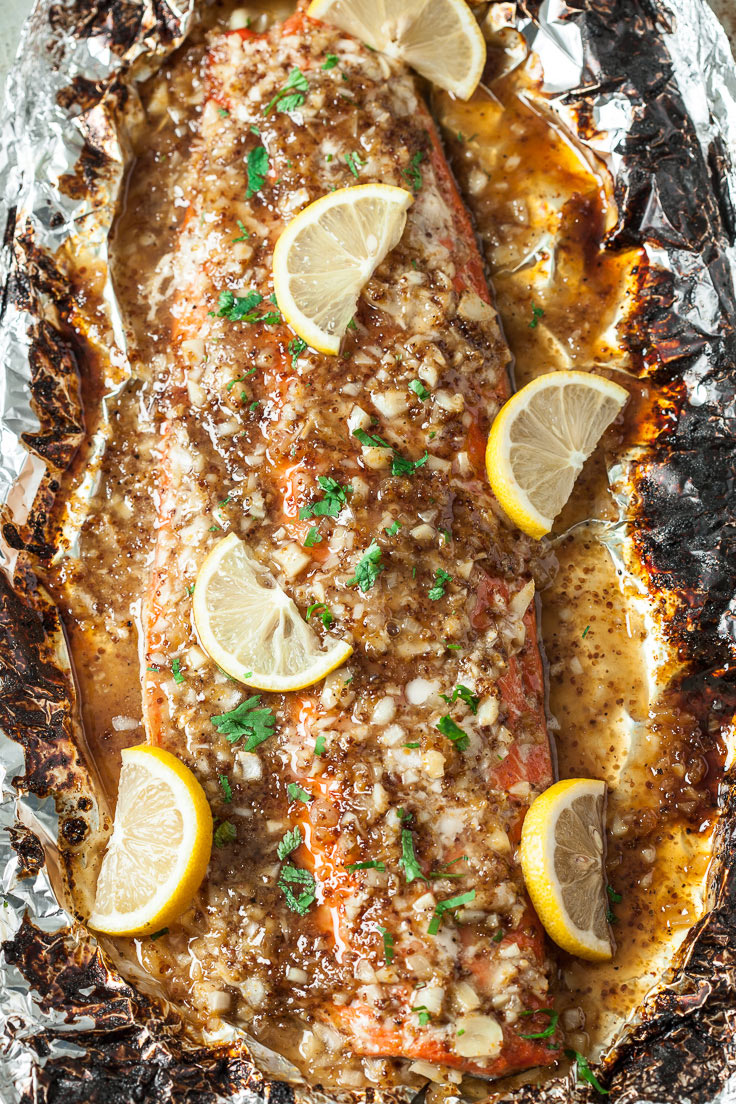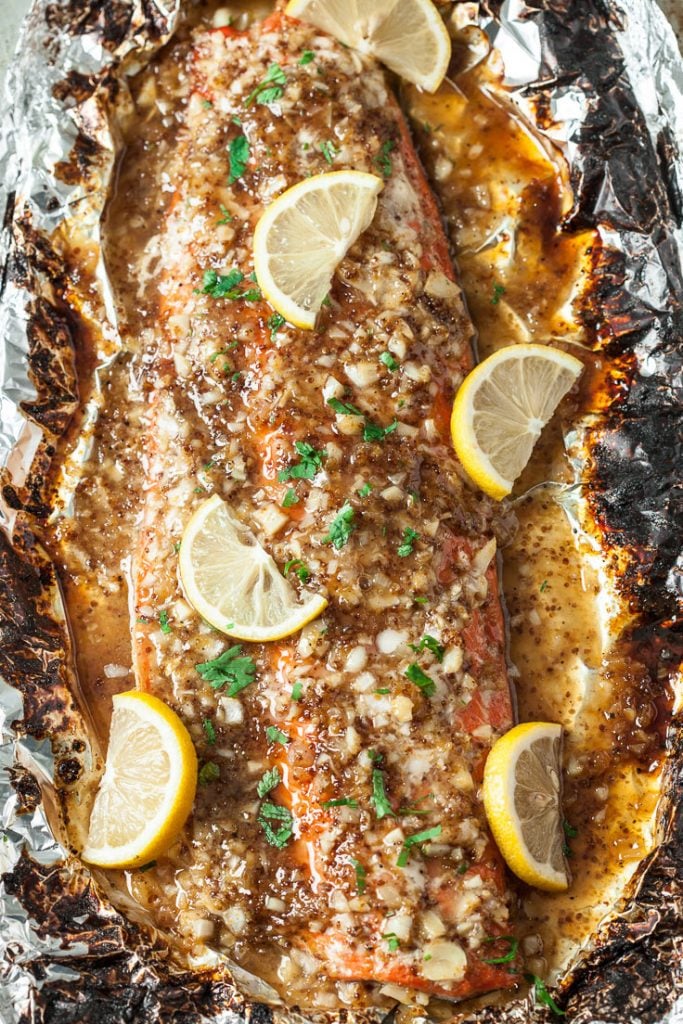 2. Miso Glazed Salmon – Healthy and Easy