This Asian Baked Salmon Recipe is tender, flavorful, and only takes 15 minutes to cook. Asian Baked Salmon is the perfect weeknight meal to feel great about.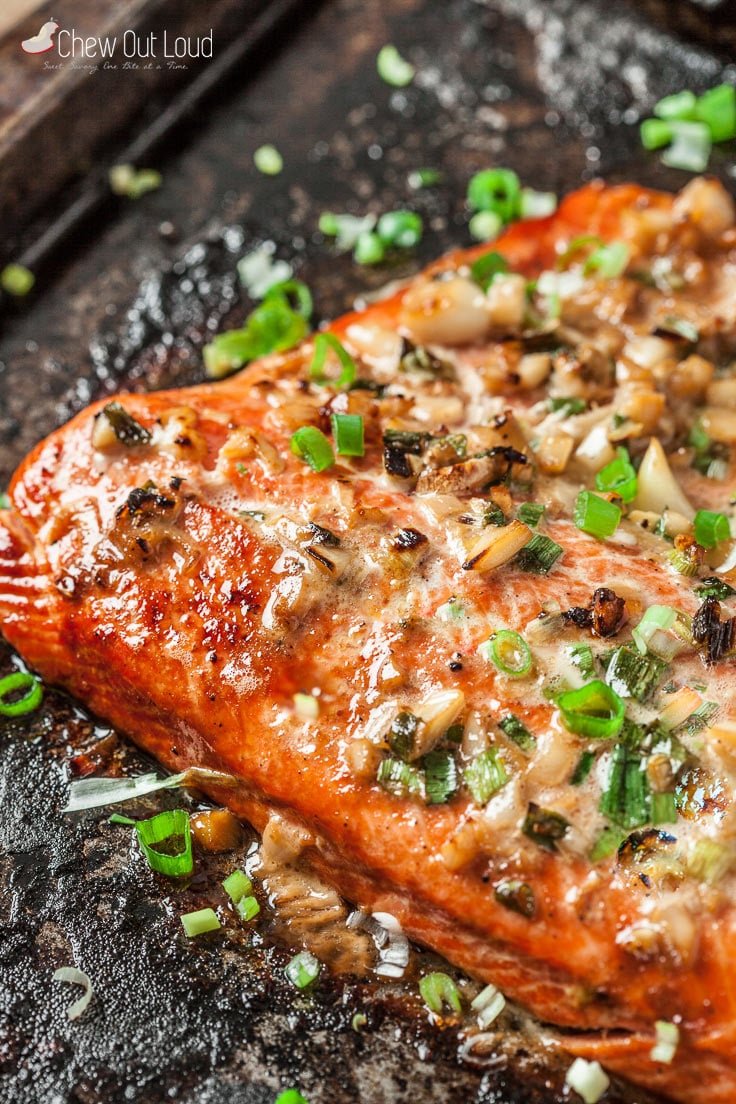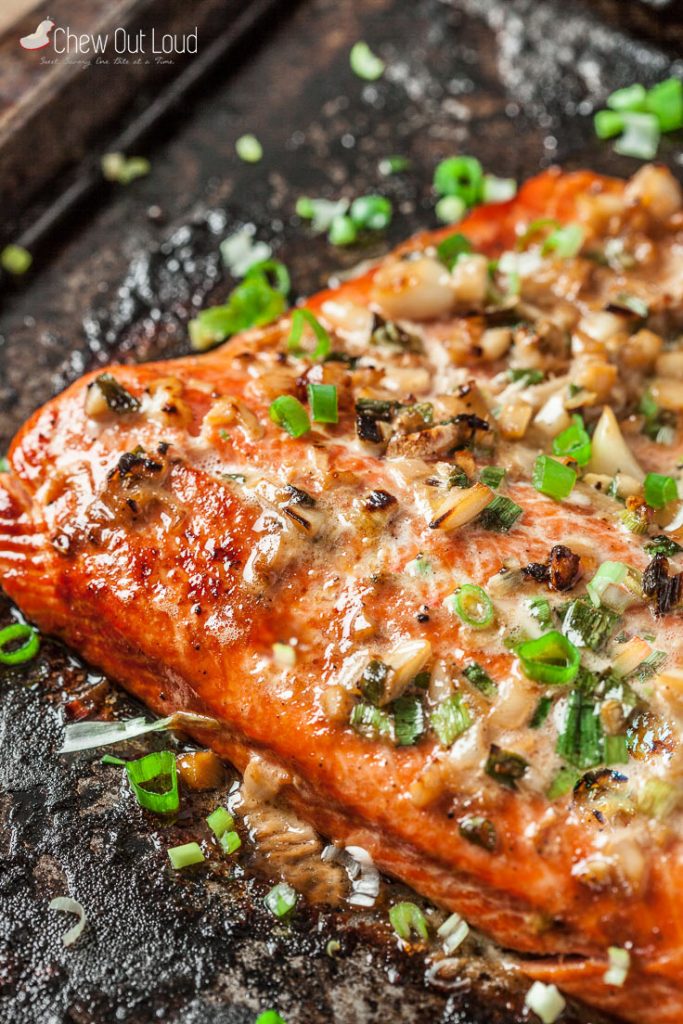 This was the nuttiest week ever. Not only did our lovely Minneapolis get hit with a monstrous late-April snow storm that left us with 20 inches of snow, but that same storm went on to gift Boston with 2 inches of freezing rain.
The wicked downpour in Boston would have been fine. Except that the entire soaking occurred exclusively on the date of the 2018 Boston Marathon. (The days before and after Marathon Monday were gorgeous.) Nature's MVP treatment for 30,000+ runners. 🤪
I don't normally do my geeky run talk here, as this space is dedicated to all y'all foodies in the house. But I just can't help it today. The 2018 Boston Marathon experience was too much insanity and I have to get it off my chest.
Feel free to scroll straight down to the recipe today if running and marathons feel ultra boring. I get it and won't be mad at all…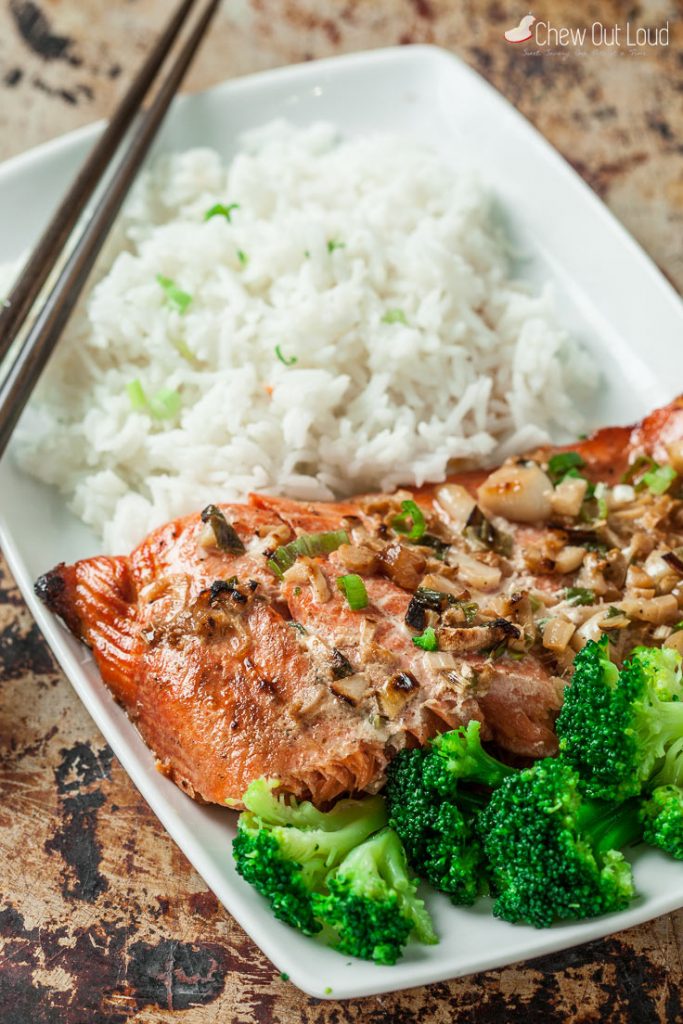 When I ran Boston last April, it was unseasonably hot. At the starting line, it was already over 70F. For a marathon race, that's like a furnace.
This year the Boston marathon couldn't have been more opposite. It was windy, 30F, with a relentless onslaught of pouring rain the entire race.
Poncho-clad runners fought 25-30mph headwinds much of the time. Our clothes and shoes were soaked to the bone for the entire 26.2 miles.
Tip to Self and anyone who cares: don't agonize over waterproof gear in that kind of downpour; nothing will prevent a full-on drenching. Not even shower caps and trash bags. Basically, embrace the suck.
I gotta say, once we got thoroughly drenched and running, it felt bad but not that bad. No, okay, it really was bad.
But post-race was even worse. Your body temp rapidly declines immediately after a cold race. Blankets weren't readily available, due to the traffic jam of runners waiting in line. By then, I couldn't feel my extremities at all. I'm a grown woman, but it took me 35 minutes just to change into warm clothes. I felt like a 2-year-old trying to tie her shoelaces. Because frozen extremities = useless.
Aside from finishing the hardest race ever, the best part was obviously eating boat loads of lobstah. No, I didn't actually eat lobster because I don't super love it. Instead, I devoured tons of shrimp and fish. So, so happy-good.
Since I couldn't convince my favorite Boston seafood chef to hand over her fish recipe, I'm sharing my personal favorite Asian Baked Salmon recipe. It's tender, flavorful, and only takes 15 minutes to cook. You do need marinade time for max flavor, which actually makes for an easy overnight soak. Just take it out and bake the next day.
This baked salmon recipe is way too easy and delicious not to put into dinner rotation pronto.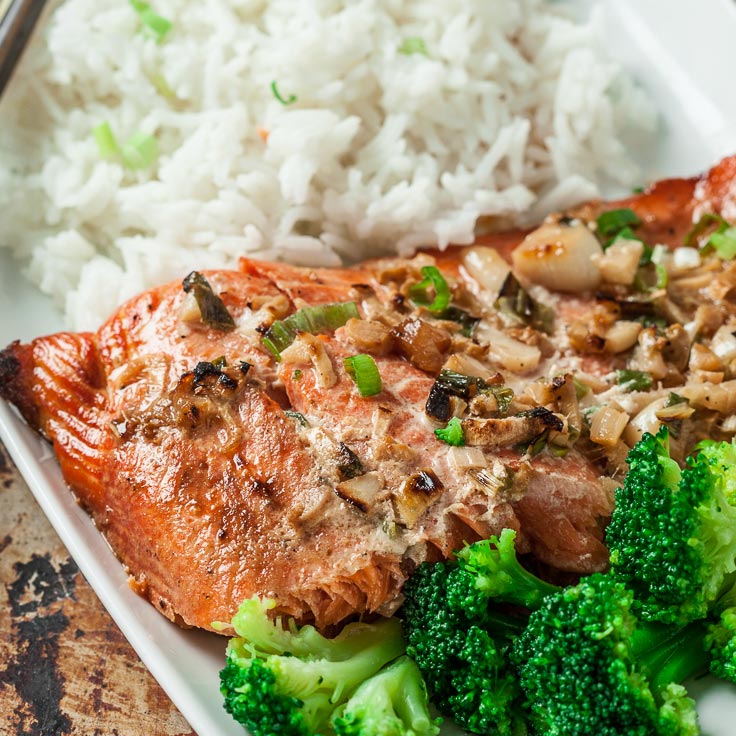 Here's to all the super gritty runners who fought their way to the finish line this past Marathon Monday, not to mention similarly intense spectators that braved the elements to support us. Which includes Hubby and The Littles –
You may really like this recipe, too:
Print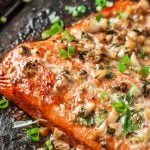 Asian Baked Salmon Recipe and Boston Marathon 2018
Author:

Prep Time:

5 mins

Cook Time:

15 mins

Total Time:

20 mins

Yield:

6

1

x

Category:

seafood, fish, dinner, main dish

Cuisine:

Asian American
---
Description
This Asian Baked Salmon Recipe is tender, flavorful, and only takes 15 minutes to cook. Asian Baked Salmon is the perfect weeknight meal to feel great about.
---
Scale
Ingredients
2

to

2.5

lbs whole salmon fillet with skin on

4

TB Asian rice vinegar

4

TB regular strength soy sauce

2

TB pure honey

2

TB Asian sesame oil

6

cloves garlic, minced

1

TB freshly grated ginger

1/4 tsp

freshly ground black pepper

2

stalks green onions, thinly sliced
---
Instructions
Use paper towels to thoroughly dry salmon fillet, removing excess moisture. Place salmon in a large glass baking dish and set aside.
In a bowl, use a hand whisk to mix together the Asian rice vinegar, soy sauce, honey, Asian sesame oil, garlic, ginger, black pepper, and green onions. Pour mixture evenly over the salmon, ensuring salmon is coated with marinade. Cover and chill at least 6 hours to overnight, if possible.
Remove salmon from fridge and let sit at room temp while oven preheats to 350F (with rack on middle position) Transfer salmon to a large rimmed baking sheet. Salmon should be skin-side down. Evenly distribute marinade over salmon. Bake 10 minutes.
Remove the salmon from oven, move rack to upper position, and place salmon back on rack. Broil on high for about 5 minutes, watching carefully so salmon doesn't burn. It should reach a nicely browned color on top. Remove salmon from heat immediately and serve.
---
Notes
If you don't have time to marinade at least 6 hours, try for at least 1 hour. Of course, the longer the marinade time, the more flavorful your salmon will be.
Salmon is delicious with fluffy rice and Chopped Asian Salad.
The Great Salmon and Amazing ways to cook it: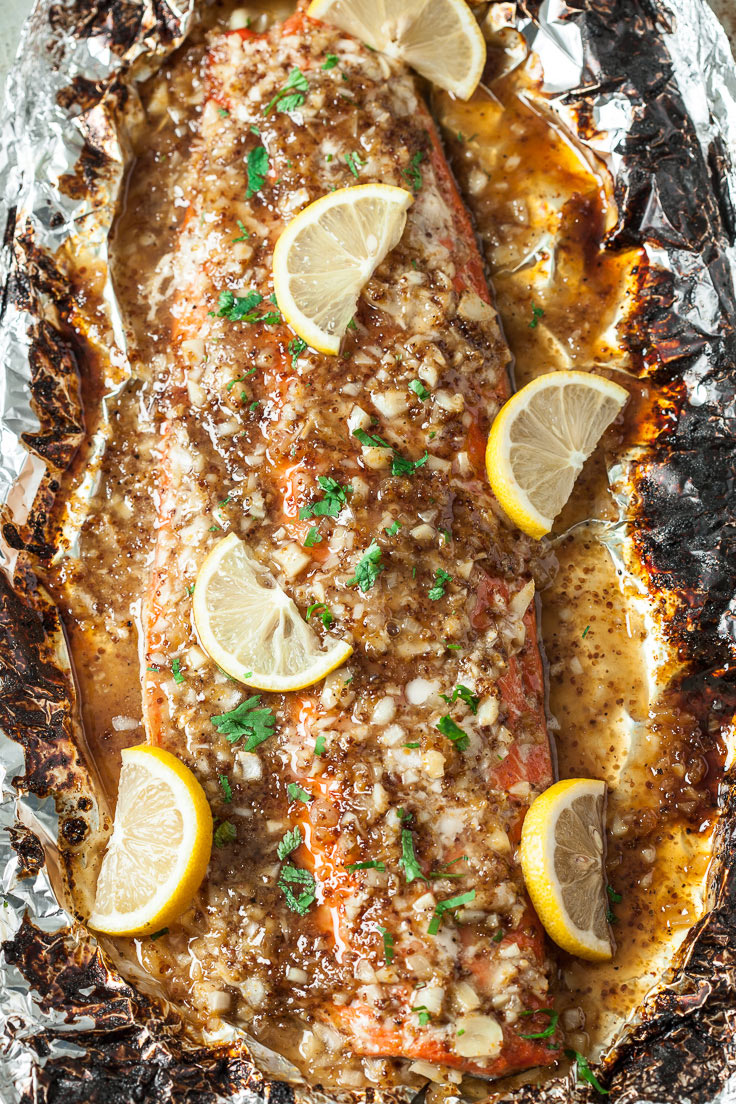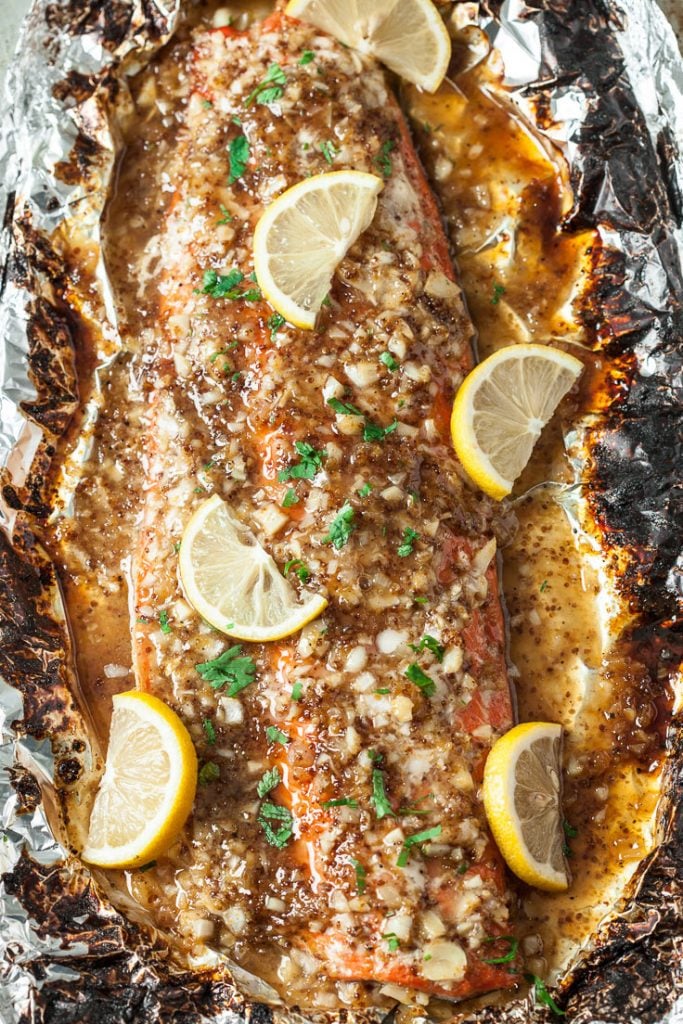 2. Miso Glazed Salmon – Healthy and Easy