Hawaiian BBQ Grilled Chicken Recipe
This Hawaiian BBQ Grilled Chicken is inspired by the bright, lively flavors of Hawaii. Friends and family love this flavorful dish. One bite and you'll be in grilling paradise.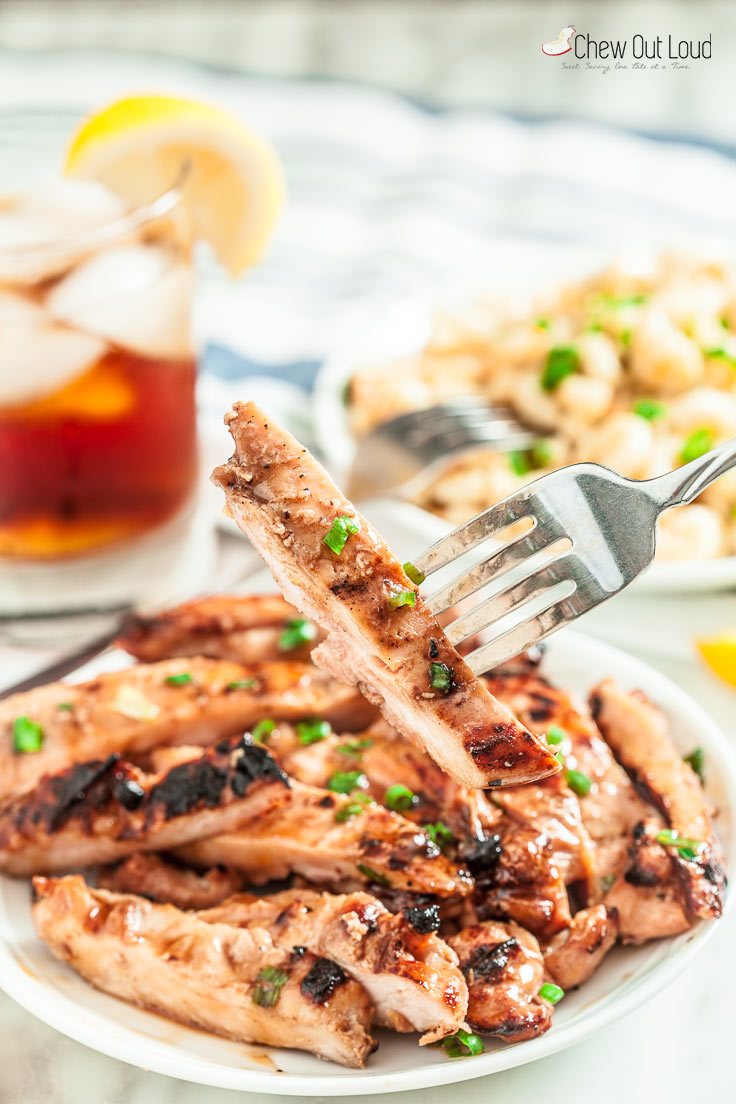 By now, ya'll know we've got a major crush on Hawaiian style eats.
Despite our currently Midwestern stomping grounds, we still go back to sunny So. Cal. each summer and get our fair share of Hawaiian fare. In fact, our last vacation caused some major foodie inspiration in my hungry head. I seriously can't wait to share some new 'n zesty recipe creations here.
Starting with this Hawaiian BBQ Grilled Chicken. You'll definitely want to bookmark, pin, or somehow save this recipe to try ASAP…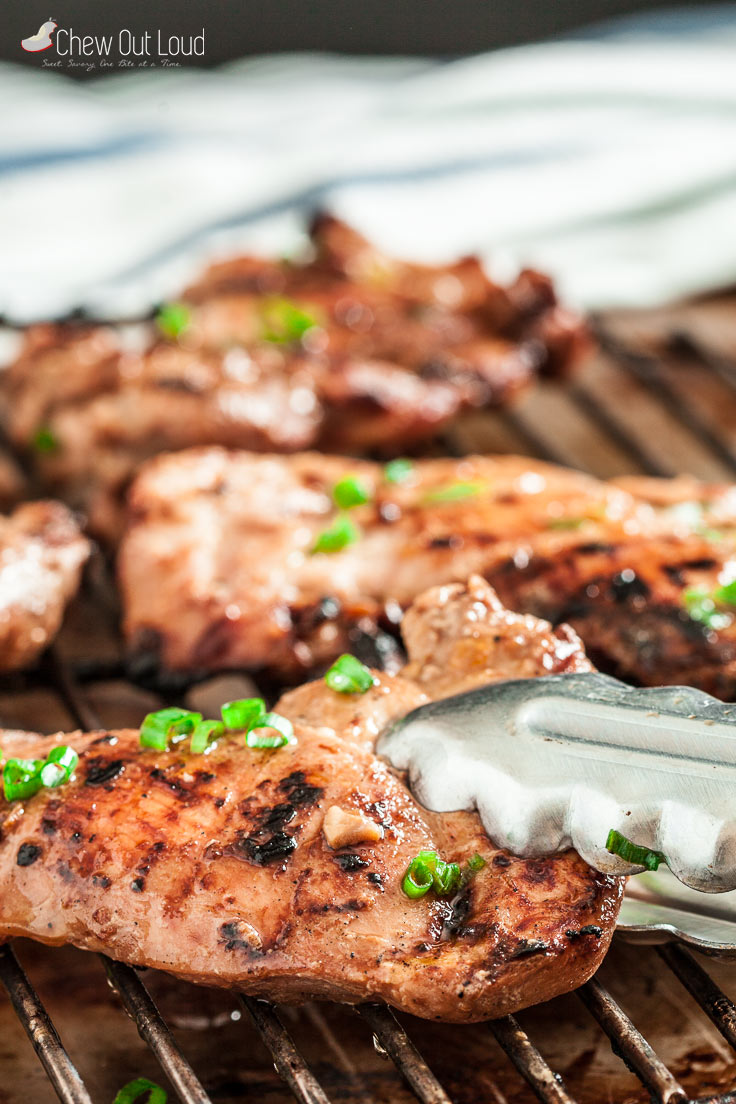 This luscious chicken gets bathed overnight in a mouthwatering sweet 'n savory marinade. Then it's grilled up to tender perfection. This isn't your ordinary BBQ grilled chicken. It's an amazing mashup.
We've devoured this Hawaiian BBQ Grilled Chicken in groups large and small. It's awesome for both a family weeknight meal and for cookout parties.
Don't forget that big bowl of Hawaiian Mac Salad for a crowd-pleasing side.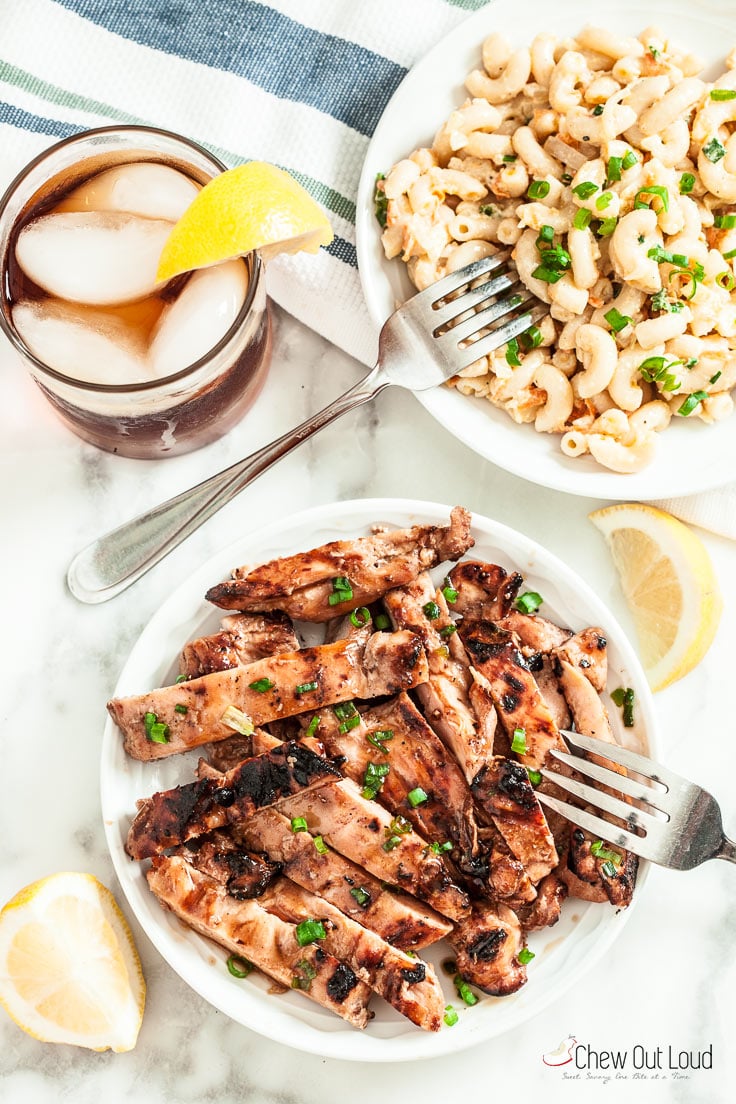 The last time I served this Hawaiian-inspired dish for a party, I made a ton of chicken so that I'd have plenty of leftovers for the week.
I ended up having only enough left over for lunch the next day. Guess that's a good thing.
Another good thing: to go with the grill, I made Hubby's favorite drink of all time. Sweet iced tea. The man downs gallons of iced tea on a regular basis.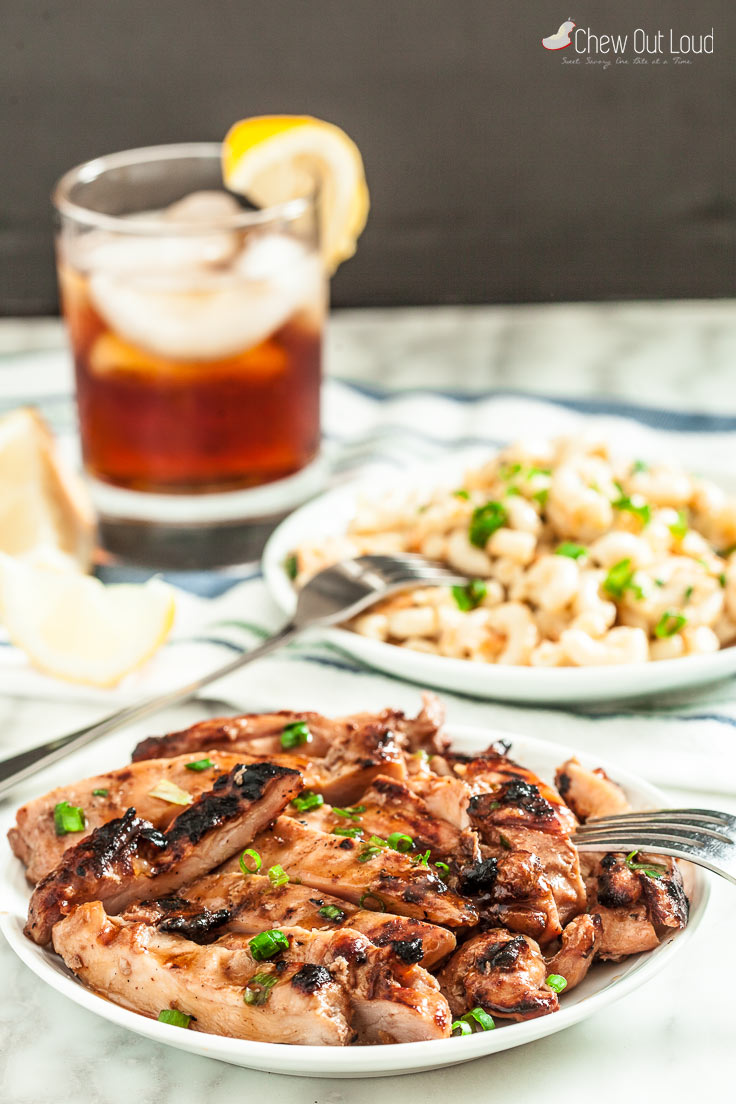 Island-style BBQ chicken, sweet iced tea, and summer.
Now we just need a hammock.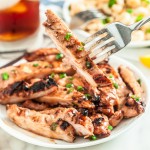 Hawaiian BBQ Grilled Chicken
This Maui BBQ Chicken is marinated overnight in a sweet and savory sauce. Then, it's grilled to tender perfection. Serve with rice or mac salad for a delicious Hawaiian style meal.
Ingredients
½

cup

chopped onion

6

garlic cloves

,

chopped

1

piece

about 1-inch fresh ginger, peeled and chopped

2

cups

pineapple juice

½

cup

regular strength soy sauce

½

cup

granulated sugar

5

TB

apple cider vinegar

1

TB

Asian sesame oil

table salt

8-10

boneless

,

skinless chicken thighs (thighs are recommended for flavor and tenderness)

Optional: freshly chopped green onions or cilantro for garnish
Instructions
In a large bowl, whisk together the onion, garlic, ginger, pineapple juice, soy sauce, sugar, vinegar, and Asian sesame oil. Whisk until sugar is dissolved and marinade is well incorporated.

Use paper towels to thoroughly pat-dry the chicken pieces. Place chicken in a single layer on a cutting board, place a sheet of cling wrap over the chicken, and pound to an even thickness. Throw out cling wrap. Use a fork to pierce chicken pieces throughout. Lightly sprinkle chicken thighs on both sides with table salt.

Place chicken in bowl of marinade. Toss to completely coat chicken pieces with marinade. Cover and chill overnight, or up to 2 nights. Be sure to turn chicken pieces over halfway through, if all pieces aren't completely immersed in marinade.

Oil and heat grill to medium-high. Remove chicken from marinade and grill (basting with marinade as desired) just until center is no longer pink, taking care not to over-cook. Serve immediately, garnished with chopped green onions or cilantro as desired.
Notes
I like to make extra marinade to freeze for future use. Just be sure to place in a freezer proof container and lay cling wrap directly over the marinade to avoid freezer burn. It's an easy way to have a delicious marinade at the ready!
This dish is fantastic with Hawaiian Mac Salad!
Did you make this?
Leave a comment below and tag @chewoutloud on Instagram
Summer Grill-Outs: