Caramel Apple Baked Donuts
By Amy Dong
Published Sep. 25, 2018
Updated Aug. 17, 2022
If you enjoy the classic fall flavors of apple and caramel, these Caramel Apple Baked Donuts are a must-try! They are tender, yummy, and a quintessential fall treat. Bonus: they're baked, not fried.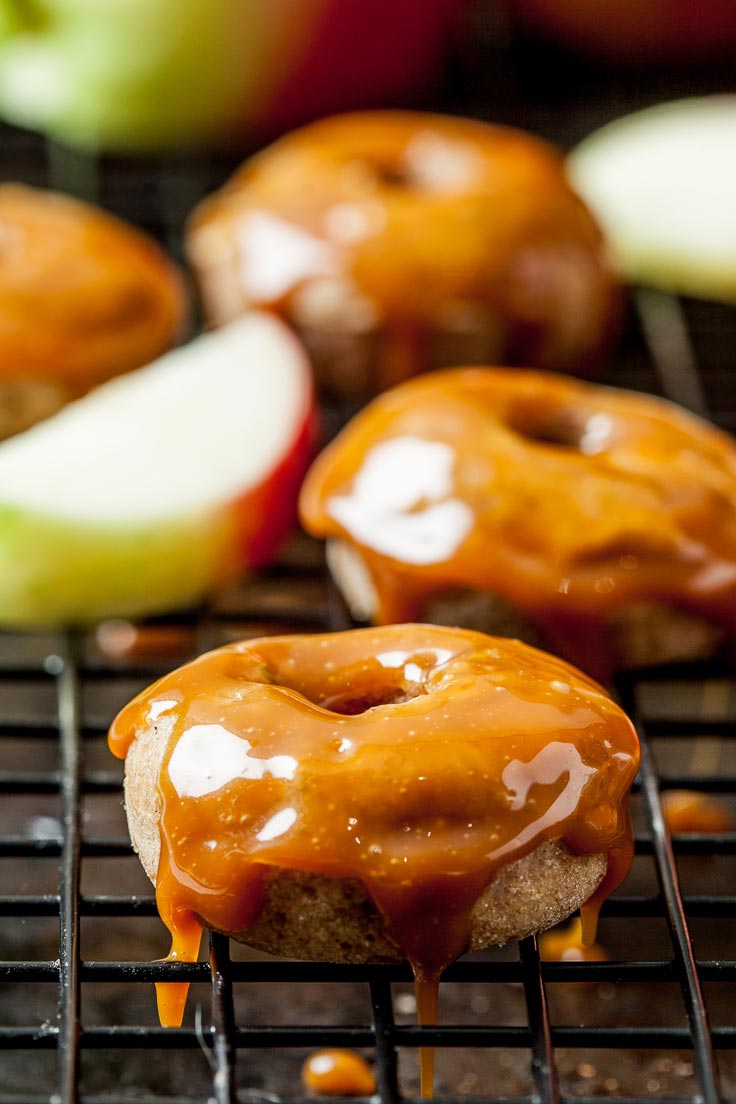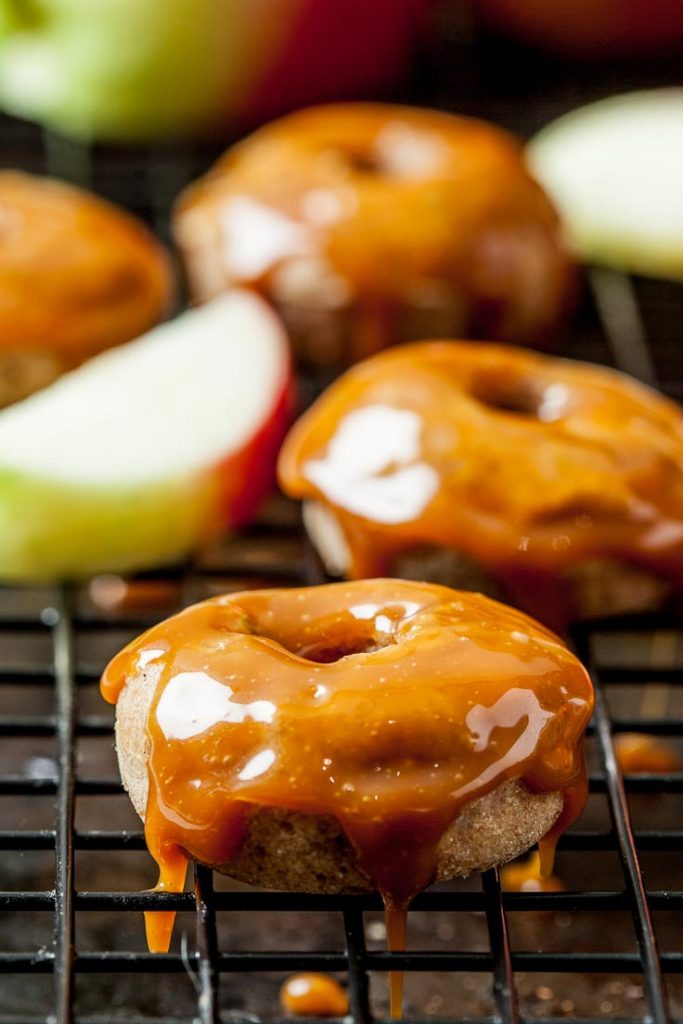 Caramel Apple Donuts (Baked)
Every fall, I totally anticipate piling alltheboys into the car and heading for our local apple orchard for some honeycrisp apple picking. It's worked out well the past many years, with all of us trekking out onto the apple orchards and coming home with way too many honeycrisps.
But this year? I probably should have known, but I didn't. When I mentioned apple picking to my guys, I was met with less than enthusiastic responses. Alltheboys did not want to go. They did not think it would be fun, thank you very much, and they wanted to shoot hoops with friends. [Because, teens.]
Now, I am fully aware that when it comes to Littles, life is full of both firsts and lasts. The last time I shampoo their hair OR the last big mama-kiss (in public)…. those were kinda expected. But the last apple picking excursion?? Why has nobody ever told me about that?!
In my denial, I was about to firmly announce that everyone needed to go to the apple orchard, like right now.
But then that dear, logical Hubby of mine kindly asked me whether I thought it would be fun if our Big Littles were forced to pluck apples while grumbling and complaining. The. Whole. Time. #heisright #donttellhimthat
So it ended up being the best fall date for just the two of us. We took all the time we wanted strolling around the orchard. We had apple cider and apple brats, all to ourselves. We listened to live music while we munched on kettle corn. For the first time, I noticed tons of other couples doing the same thing. We even threw in some wine tasting and ice cream afterwards. Nobody fought over which flavors to get. It was awesome. This might be the best new fall tradition 😉
My tween-teens might not want to pick apples, but they'll possibly never outgrow these Caramel Apple Baked Donuts. It's a little scary when I pull apple baked donuts out of the oven, because all the hands start trying to grab. Granted, it is hard to wait. These caramel apple baked donuts are a burst of yummy fall in every bite.
And. The 4-ingredient caramel topping is O-M-G phenomenal…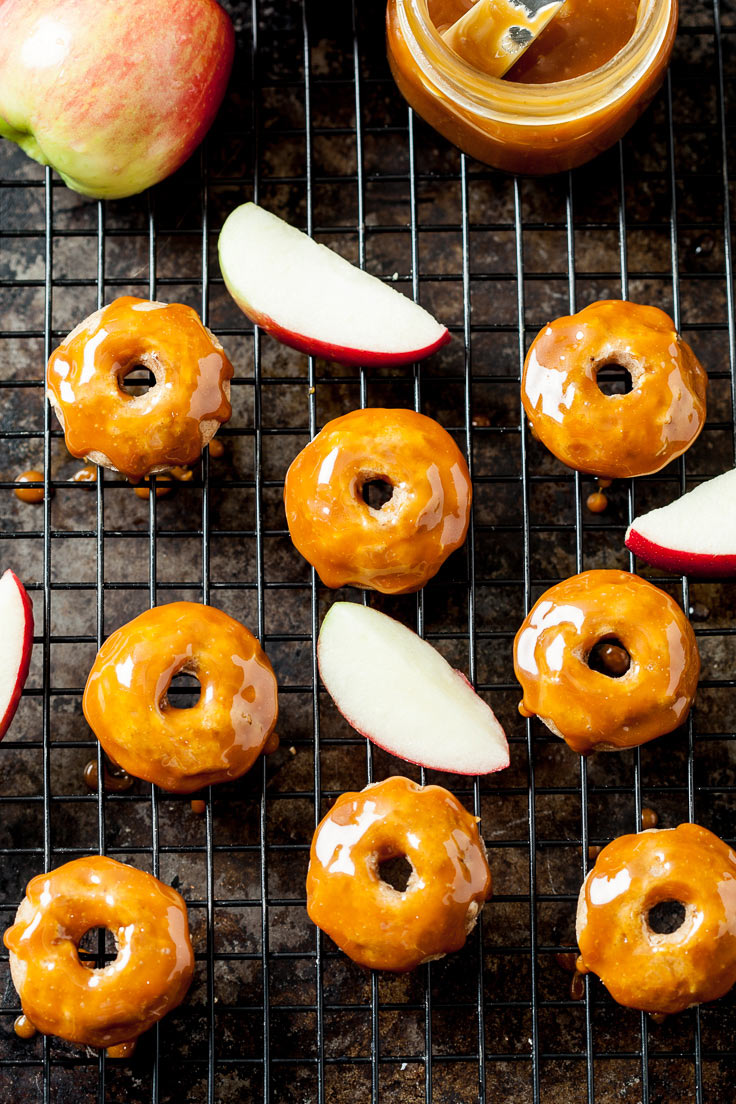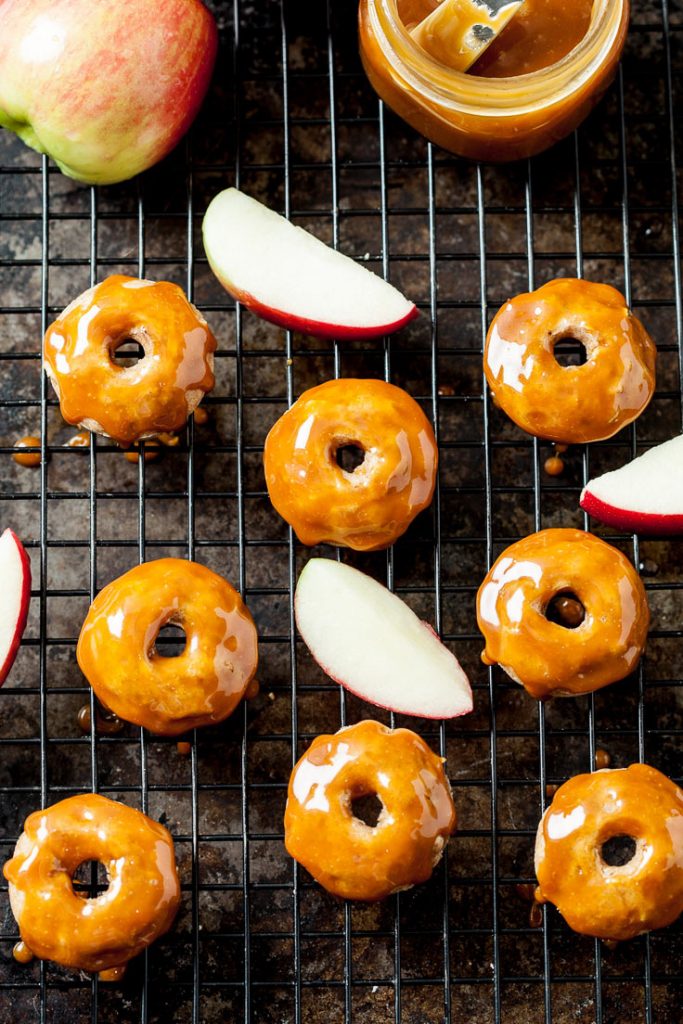 How to Make Caramel Apple Baked Donuts:
What I love about these caramel apple baked donuts is that they are baked. I know it's in the name, but it deserves extra recognition. No frying, no extra grease or fat. Plenty of big fall flavors. Guilt-less donutting, I call it.
We start with common baking ingredients that many of you already have in your kitchens. Flour, cinnamon, nutmeg, sugar, milk, eggs, butter, and vanilla are all part of the amazing mixture.
To that, we add in freshly grated apples. Yum and yum. I use the large holes of my box grater for super easy grating. We'll need to squeeze all the excess juice of out of the grated apples to prevent too much excess moisture in the batter. [Tip: save that juice and drink it. If you've never had freshly pressed apple juice, this is the real deal.]
We use our mini donut pans to make bite sized donuts that only need 7 minutes of bake time and result in a big batch of shareable treats. You can definitely use regular sized donut pans, but will need to adjust bake time.
Then. The 4-ingredient salted caramel drizzle that will change your [taste bud] life forever. I realize it's tempting to grab a jar of store bought caramel, and if you're truly in desperate time-crunch mode, no judgment for going that route. But for reals, homemade salted caramel sauce is easy and a quadrillion times better. You can always make the caramel sauce days ahead of time and keep it chilled in a glass container until ready to re-warm and use.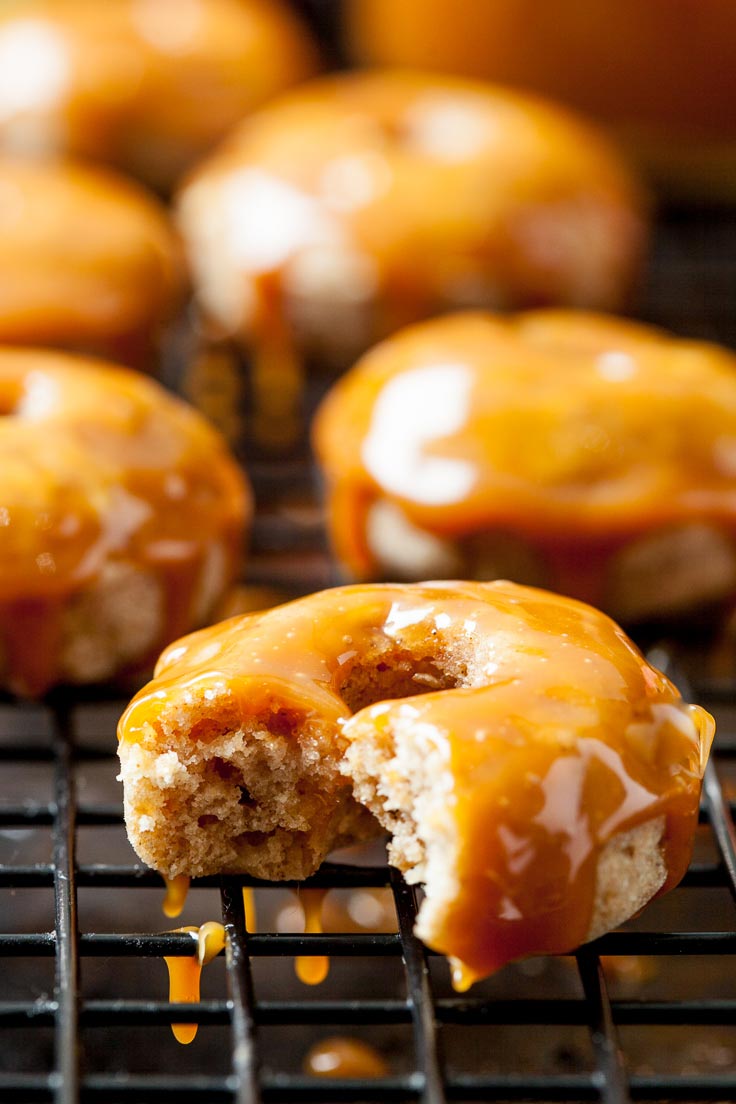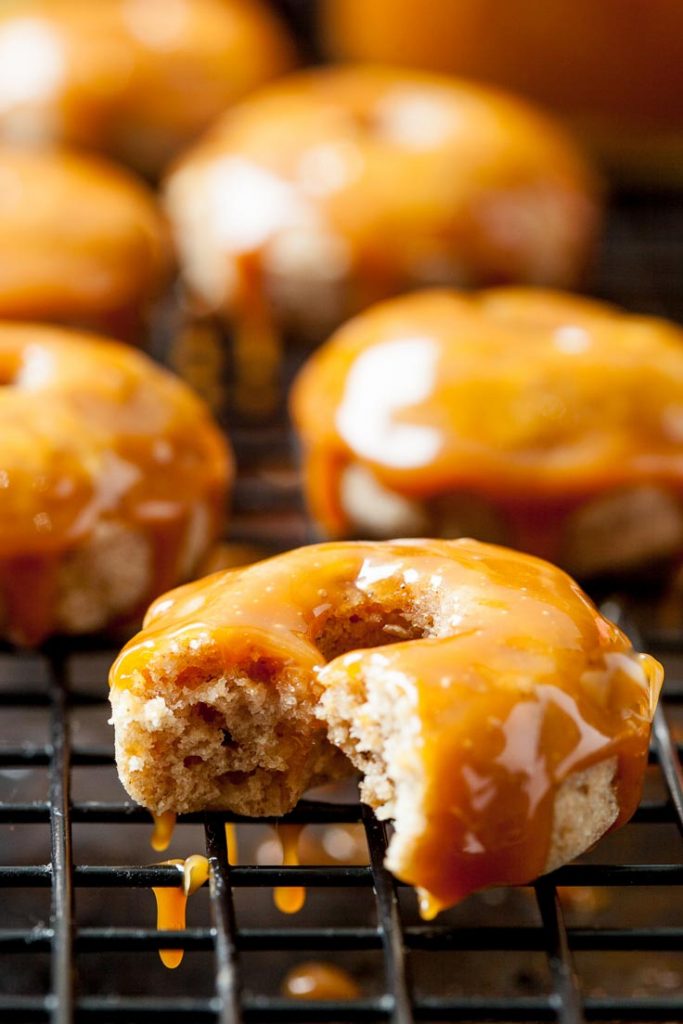 Why we love caramel apple baked donuts:
They're baked, not fried
They taste deeelicious
They're soft and tender
They're perfect for fall treats
Apples + Caramel = No Words Needed
You'll want to Pin, Bookmark, or Save this, too:
Did you make this?
Please give us a rating and comment below. We love hearing from you!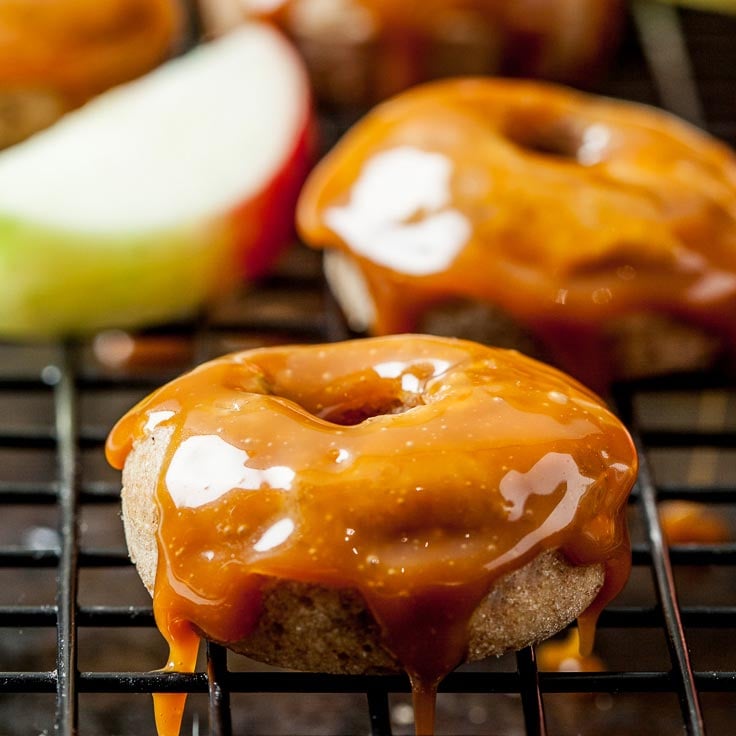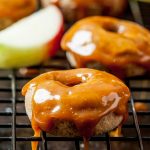 Caramel Apple Baked Donuts
If you appreciate the classic fall flavors of apple and caramel, these Caramel Apple Baked Donuts are a must-try. They are tender, yummy, and a quintessential fall treat. Bonus: they're baked, not fried.
Instructions
Preheat oven to 400F and set rack on middle or lower middle position. Grease

mini donut pans

and set aside.

In a large bowl, whisk together flour, sugar, baking powder, cinnamon, and nutmeg.

In another bowl, whisk together milk, eggs, 2 TB melted butter, vanilla extract, and grated apple (I use the largest holes of box grater; then squeeze out as much juice as you can. Save juice for drinking - yum.)

Use rubber spatula to fold wet ingredients with dry ingredients, gently folding just until combined; do not over-mix or it won't be as tender. Spoon or pipe batter into greased mini donut pans until batter is level with the top of pan. Use damp fingers to gently smooth out the tops.

Bake about 7 minutes or until lightly golden. Cool in pan just until they are able to be easily removed. Set donuts on wire rack to cool while you make the Caramel Drizzle.
Notes
You can make the Caramel Drizzle days ahead of time. In fact, I often have a jar of this amazing sauce in my fridge. Just re-warm and use when ready!
If not serving donuts right away, don't drizzle with caramel yet. Keep donuts in an airtight container at moderate room temp for up to 24 hours. Warm caramel to lukewarm and drizzle before serving.
Nutrition information is for donuts only, not including caramel sauce.
If you enjoyed this recipe, please come back and give it a rating ♡
Nutrition (per serving)
Calories:
84
kcal
|
Carbohydrates:
16
g
|
Protein:
1.9
g
|
Fat:
1.5
g
|
Saturated Fat:
0.8
g
|
Cholesterol:
18.2
mg
|
Sodium:
10.2
mg
|
Fiber:
0.6
g
|
Sugar:
7.3
g
Apple-y Delicious: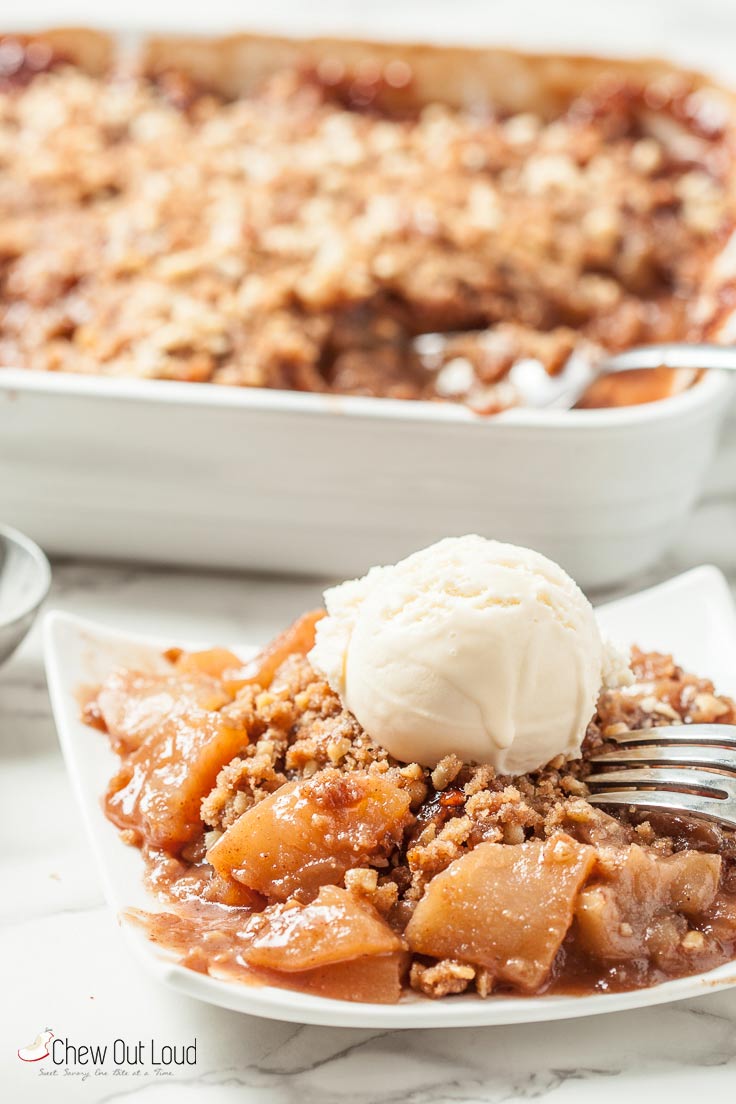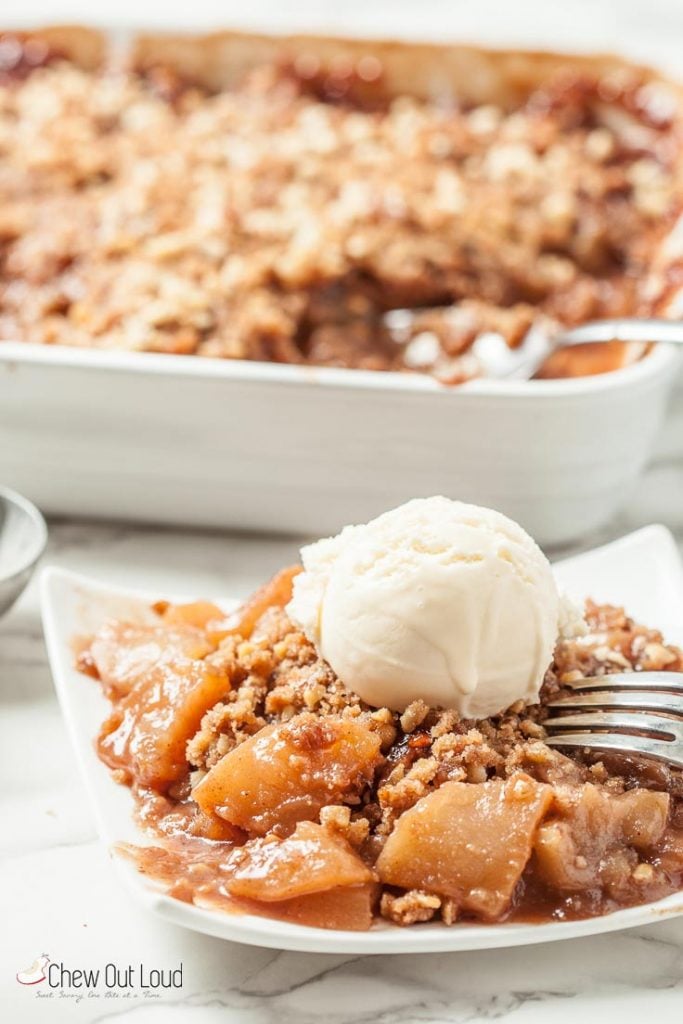 Easy One-Bowl Apple Cake Recipe