Peanut Butter Chocolate Pretzel Bars (no-bake)
By Amy Dong
Published Oct. 16, 2014
Updated Aug. 17, 2022
Creamy, fudgy peanut butter. Rich chocolate. Salty pretzel bits throughout. Meet these dreamy Chocolate Peanut Butter Pretzel Bars. For all PB & Chocolate lovers everywhere.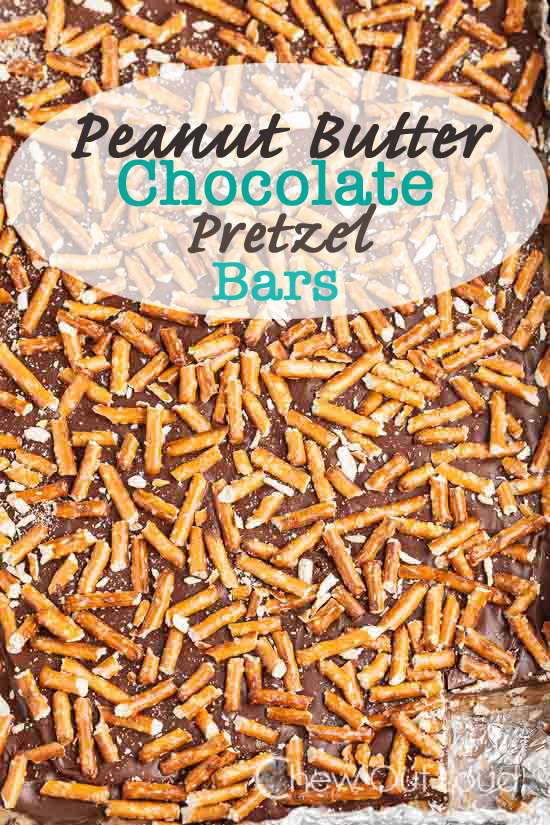 We spent last night going to three teacher-parent conferences at school.
Three different meetings for three different boys. Hubby and I walked out of each classroom with a renewed appreciation for how unique each child is.
We also walked out feeling extremely grateful for the teachers our boys have this year. The teachers themselves have such diverse teaching styles. They are just the right fit for each of our boys.
It never ceases to amaze us how vastly different kids are, with such distinct personalities and bents of their own. Starting from the minute they cry hello to the world.
We have this conversation often with people…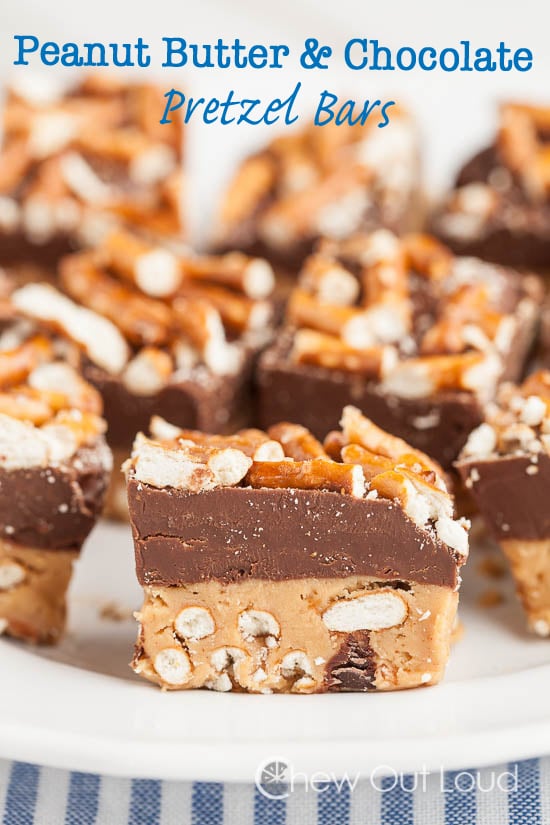 Everyone unanimously and emphatically agrees. Every kid is crazy different, from the moment they're a little melon in your arms.
Hubby and I are tickled silly by the whole birth order thing, too.
Ever read The Birth Order Book? No sales pitch by me, just ridiculous fascination.
Even if you don't have kiddos, that book will be impossible to put down. It's amazing to realize how much your birth order (and that of those around you) affects personality.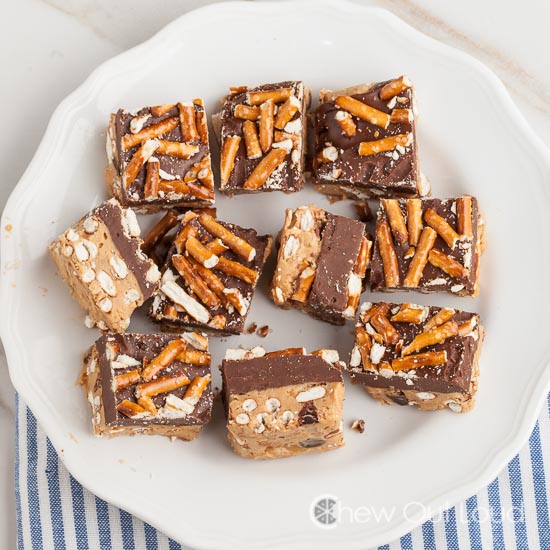 Me, I'm the firstborn of my family. It shows all over the canvas of my personality. Because of that, I totally understand my firstborn son. I just get him, like to a T. We are two peas in a pod.
Hubby is the baby of his family. He absolutely identifies with our own "baby." I'll just leave it at that 🙂
But neither of us is the middle. So our sweet middle boy? We are clueless as to what goes on inside that precious chid's head. He marches to the beat of his own drum, and only he knows the rhythm. Which he dances to with reckless abandon.
And I am starting to really love that about him.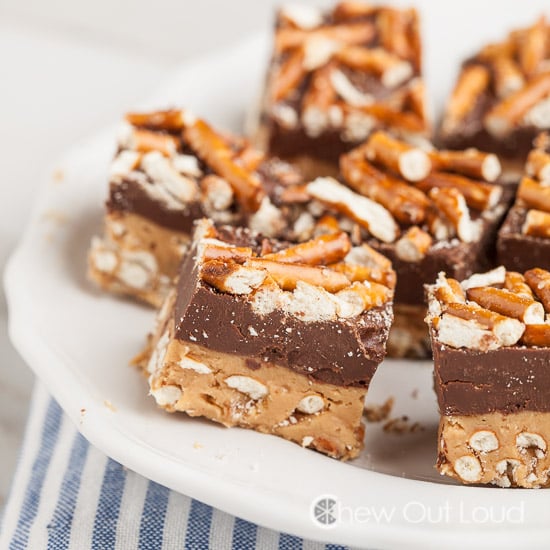 So when my boys ooh'd and ahh'd over these Peanut Butter Chocolate Pretzel Bars, I couldn't help but draw the parallel between them and their treats. #mommybrain
The kids are candy bars? I promise I'm making sense.
Sometimes totally distinct flavors are put together to make the most awesome combination.
You've got the sweet and salty peanut butter. Topped with a sweet, fudgy chocolate. Mixed with salty, crunchy pretzels. All three totally different flavors on their own and delicious in their own right.
But put 'em together, and it's extraordinary.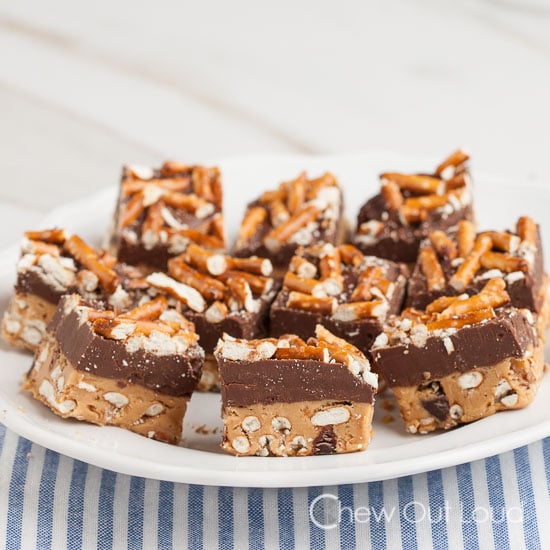 Wonderfully sweet. Slightly salty. Some crunch mixed in. The combination here can't be beat. I love how rich and creamy these bars are, so I cut them all cute and tiny. We can all eat more of 'em that way.
Your peeps will crave and devour these Peanut Butter Chocolate Pretzel Bars. They are Dangerous. Capital D.
But so worth every bite. Enjoy.
Did you make this?
Please give us a rating and comment below. We love hearing from you!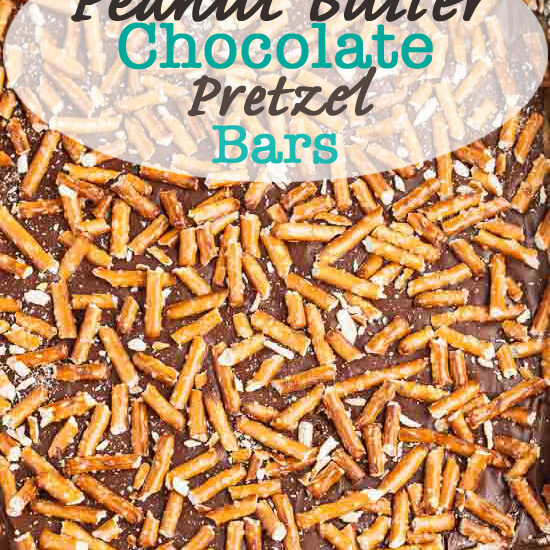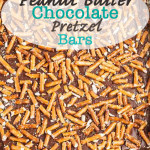 Chocolate Peanut Butter Pretzel Bars
These PB Chocolate Pretzel Bars are going to knock your socks off! Everyone will be noshing on these like no tomorrow. Easy to make, no bake, and keeps super well. Be sure to keep these chilled until serving. They tend to soften if left sitting out too long.
Instructions
Line a 13x9 baking pan with heavy duty foil, leaving an overhang on both sides so that it can easily be lifted from pan. Grease foil.

In a large mixer bowl, beat together 1 1/4 cups peanut butter and softened butter until creamy and well combined. Gradually beat in 1 cup of powdered sugar. Stir in the remaining 1 cup of powdered sugar, 3 cups pretzel bits, and 1/2 cups chocolate chips. Combine well. Spread evenly into the greased/foiled baking pan, smoothing evenly.

In a heavy pan on lowest heat, stir together the remaining 1 1/2 cups chocolate chips and 3/4 cup peanut butter. Constantly stir until just melted. Remove from heat. Spread chocolate layer evenly over the peanut butter mixture. Smooth surface evenly over the top. Sprinikle with remaining pretzel bits, lightly pressing down. Cover and refrigerate several hours or until very firm.

Using foil overhang, lift entire dessert from the pan and onto cutting board. Divide dessert in half and place one half back in fridge while you cut up the other half. Use a sharp bread knife to cut into small squares. Immediately chill squares until ready to serve. Be sure to serve chilled, as the bars will soften too much if left to sit out too long.

*Note: I like to place my cut squares in mini muffin paper cups and freeze them like that in an airtight container. They're easy to serve up, stay firm longer at room temp, and won't make a mess 🙂
Nutrition (per serving)
Calories:
138
kcal
|
Carbohydrates:
15
g
|
Protein:
3
g
|
Fat:
10
g
|
Saturated Fat:
4
g
|
Polyunsaturated Fat:
1
g
|
Monounsaturated Fat:
4
g
|
Trans Fat:
0.1
g
|
Cholesterol:
7
mg
|
Sodium:
122
mg
|
Potassium:
106
mg
|
Fiber:
1
g
|
Sugar:
4
g
|
Vitamin A:
75
IU
|
Vitamin C:
0.1
mg
|
Calcium:
11
mg
|
Iron:
1
mg
Source: Chew Out Loud, adapted from Nestle
We love dessert bars! Here are a few more super fab bars you'll want to make, like now.
Chocolate Chip Cookie Dough & Cheesecake Bars. These bars are so yummers, they won accolades at an office dessert cook-off! We think you'll agree.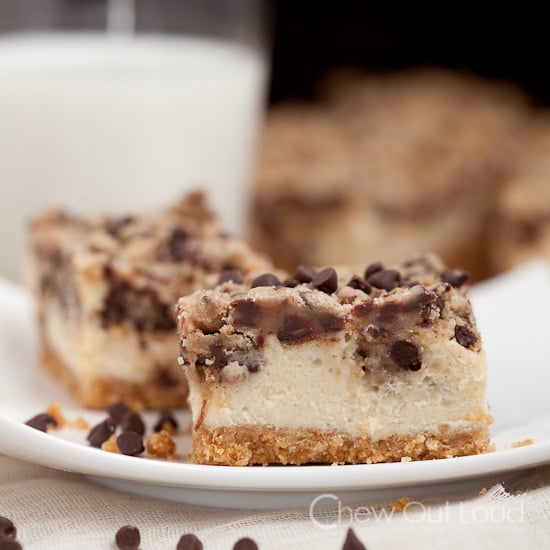 S'mores Peanut Butter Chocolate Cookie Bars. Melty marshmallows aren't just for summer. Our pantry is always s'more ready. These bars? Crazy good.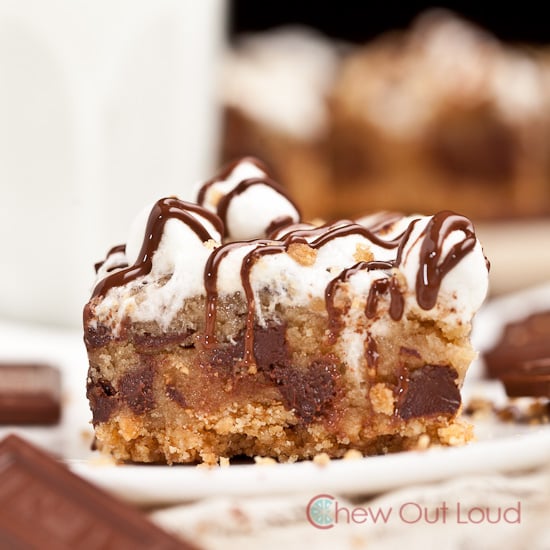 Congo Bars. Blondies. Chocolate chip cookie bars. Whatever you want to call them, they are unanimously delicious. Addiction guaranteed.